Hey Everyone!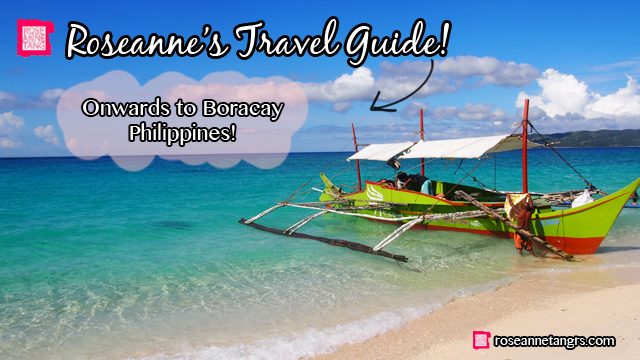 I don't know about you but when I'm stressed out, I always look at pictures of a tropical paradise and they never fail to cheer me up. I even had one as a desktop background for a while. The white sand, the crystal clear water, the true blue sky and well, all it's missing is..well, me. But just a week ago, I finally got a chance to turn my desktop background into reality when I went on a trip to Boracay with the Gushcloud team! I've always imagined Boracay to be some distant island and to be honest, I didn't even know it was in the Philippines! Super geography noob right here. It was really a wonderful, unique and special trip. I thought I might sum it up into a handy guide for you if ever you're keen so here's 7 must do and amazing things to do in Boracay!
The Journey from Singapore to Boracay via Tiger Airlines to Kalibo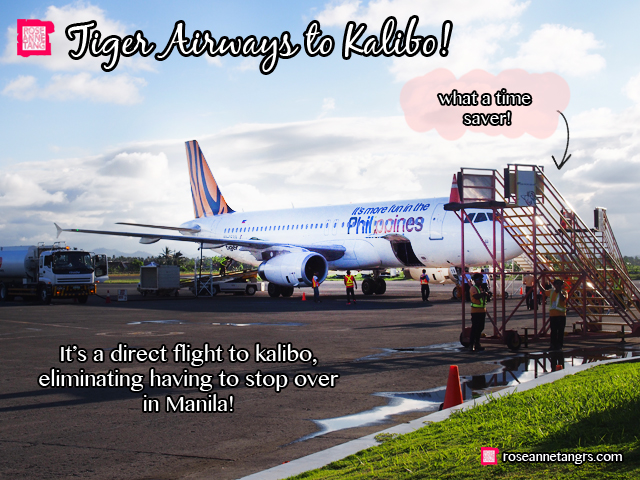 Getting to Boracay kind of took almost an entire day and believe it or not, before that it would have taken much longer. Tigerair now has a flight straight to Kalibo from Singapore where I live, bypassing a transfer from Manila, saving more time for beach fun instead of travelling. I can't imagine having to go to Manila first before flying to Kalibo. I'm really thankful for this tigerair flight! By the way they are also having a promo at the moment here – you might want to check it out if you're flying tiger this holiday season.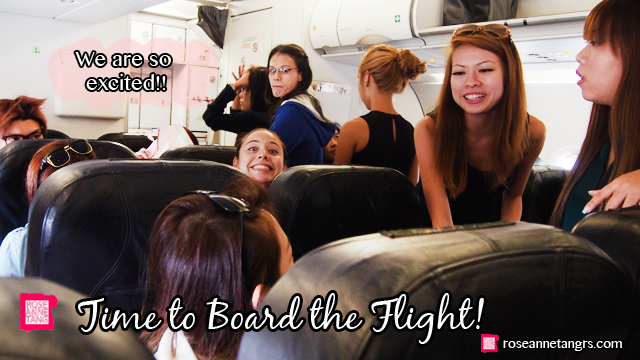 The flight was comfortable and I managed to finally meet some lovely other bloggers in Gushcloud too! I was already really sleepy and ready to snooze on the flight which took around 3 hours and 40 minutes. After we reached Kalibo airport in the Phillippines, it was time to gather our luggage and take a mini bus to Caticlan Jetty. I thought this was going to be a 45 minute journey but the driver calmly answered 2 hours! Therefore, it's 2 hours from Kalibo to Caticlan.
Even though the ride did take 2 hours (1.5 hours if your driver drives fast) we did go past some great scenery of the Filipino countryside which included plenty of cows and rice paddy fields. I noticed that Kalibo was especially a very clean town and that everyone really cared about their town. Everyone's in a family or in a group of people chatting and having fun. It was a really warm and friendly atmosphere as we passed through. When we reached Caticlan, we hopped onto a wooden ferry for a ten to fifteen minute ride to Boracay! We actually had to step into the water to board the boat and you'll find that the majority of boats in Boracay are traditional and wooden with wings. I really like that concept because I feel that it does help the environment from falling too much into tourism.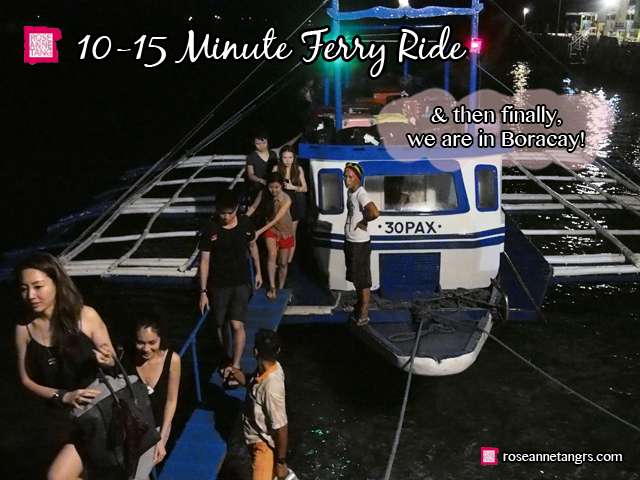 We finally got to our hotel at 7pm! It was for sure a journey and I was looking forward to seeing the ocean the next morning at breakfast! We checked in to our hotel at The District which sits just on the beach and is super convenient. It's a really beautiful hotel. After checking in, we scurried off to finally grab a bite which consisted of a team dinner of modern filipino food!
The District, Our Hotel in Boracay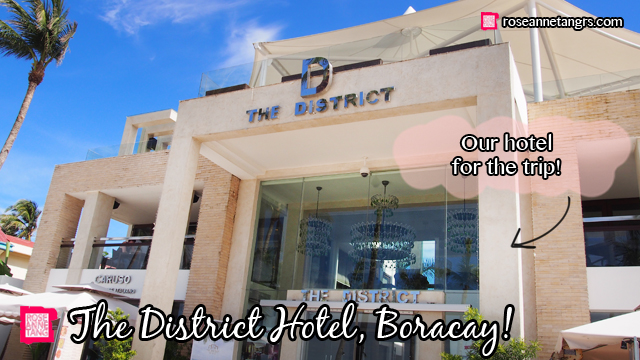 For the entire stay at Boracay, we stayed at The District Hotel! The District hotel is at amazing location, right smack in the touristy part of Boracay. I was suprised to find that the town is nowhere near as dirty or overcrowded as Phuket and Bali can be and was seriously legit clean. The beach is literally at your doorstep and of course, this amazing view. Man, when I went to breakfast the next morning, I was just captivated by the view. You kind of just stop what you're doing and stare. It's been a while since I've seen a view like this.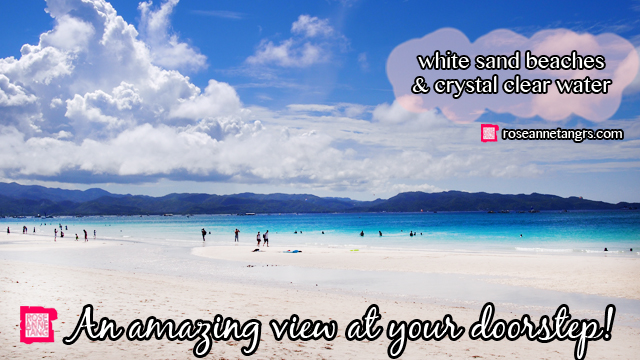 There are a list of rooms and suites available at The District including two level suites, honeymoon suites or more "normal" options like the one I stayed at. It's a four star luxury resort without the oversized swimming pool and with good reason. I mean, c'mon, all you have to do is take two steps and you can swim in a tropical paradise. The beds were soft, comfy and were very welcoming after a night prowl or a midnight foot massage at one of the many basically 24 hr massage salons scattered across the area.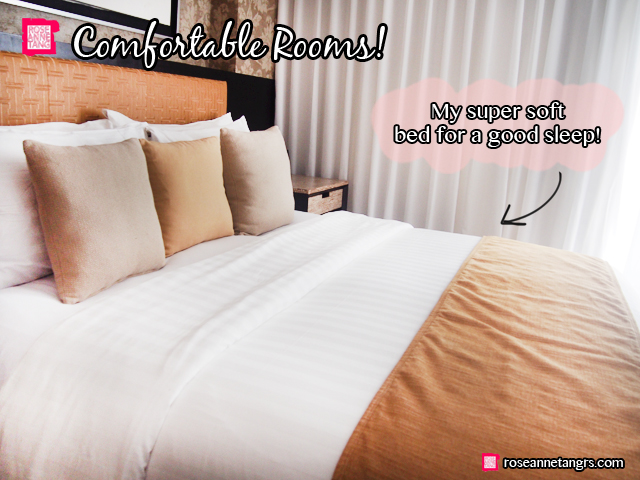 Our room also came with a buffet breakfast! It's always good to stock up before engaging in the time of your life. Here's my healthy side but don't worry, I had a lot more than that after. You know me! A girl's gotta eat. It was a pretty good spread featuring a few local Filipino dishes, eggs, fruits, um..free flow mango (yes please) and two special options of the day that ranged from waffles to breakfast tacos.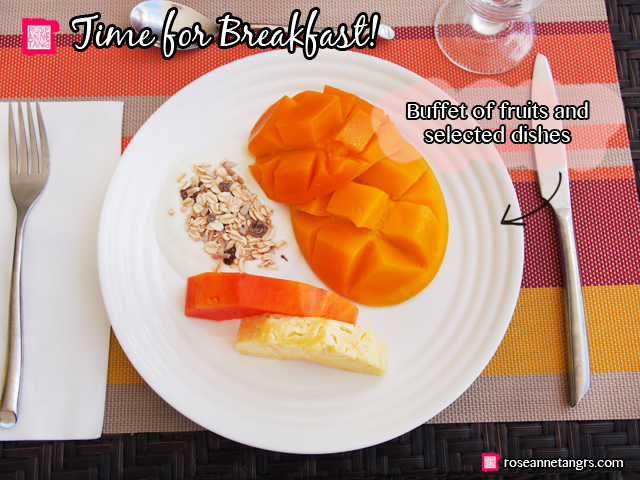 Day 1: Island Hopping & Snorkeling at Crocodile Island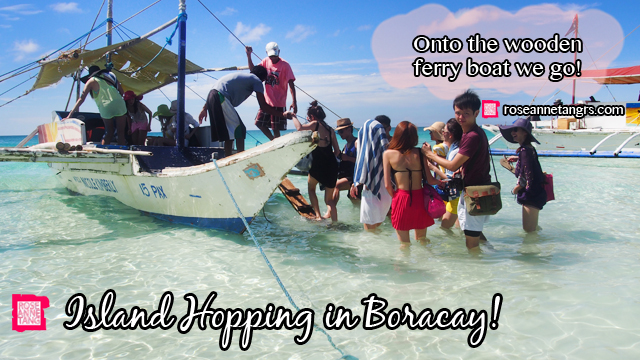 After breakfast, we explored the area near our hotel. It's very close knit with all the bars, restaurants, massage salons and shopping stores in one walkable distance. It's like your own little world and everything you need is around you and near you. Things aren't very expensive at all either and shop owners are willing to haggle for their wares. There are many people on foot selling hats, sunglasses and craving for your business so it's extremely competitive for them and tourists usually have the upper hand in negotiating prices.
We went island hopping on our first day to Crocodile Island and Puka beach which is a popular package tourists take to see the overall area. It costs us each around 1,500 pesos which is about SGD$44 for basically the entire day, transport and lunch. Boracay is extremely hot. It's seriously sunny business so make sure you bring a sun hat or some kind of hat because you'll need it. I bought mine for about 200 pesos (SGD$5) because I don't wear hats at home and didn't bring one. Make sure you pack your sunscreen with you to re-apply, a towel, mosquito repellent, a camera and it's even better if it's waterproof.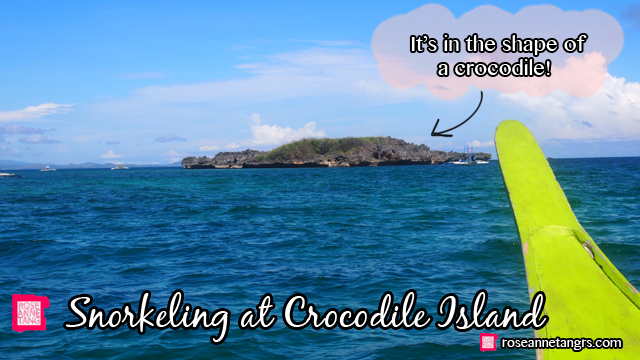 Our first stop was Crocodile Island. Don't worry, I'm in one piece and there are no crocs at Crocodile Island – but it is in the shape of one! The company provides the snorkeling gear for us and after a quick lesson, we wore our life jackets and were ready to get in the water!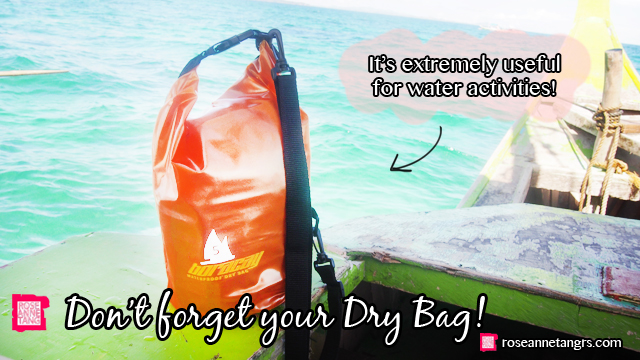 I totally reccommend getting a dry bag for all the sea activities you're planning in Boracay. The boats are pretty shakey and you do have to get into the water to board the boats so having one in case your entire bag drops into the water is extremely useful. I bought mine from one of the local vendors for about 200 to 250 pesos so it's not much at all for dry assurance.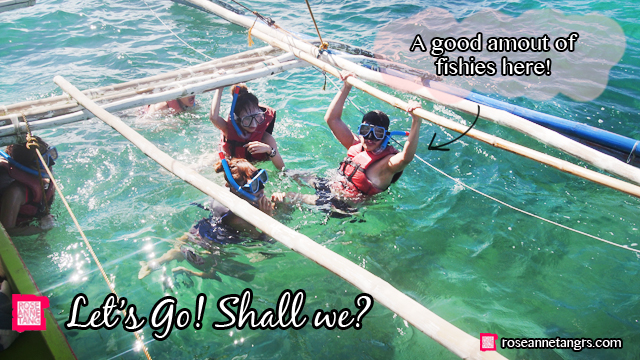 Snorkeling was fun! The waves were a bit on the rough side so the life jackets were a must have. We did see fish and coral but would have enjoyed myself more in still water. Our guide gave us little crackers to feed the fish too!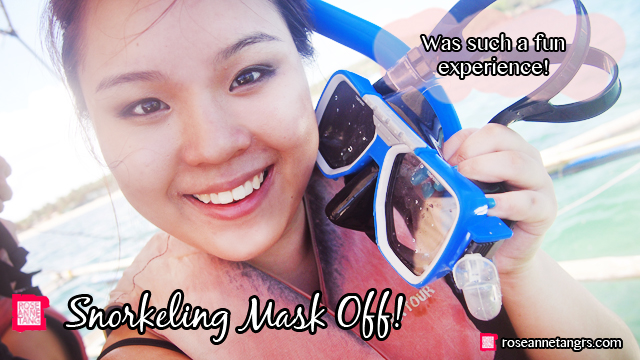 Day 1: Puka Beach & Lunch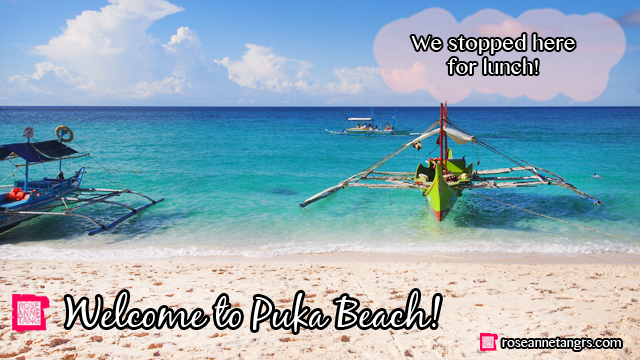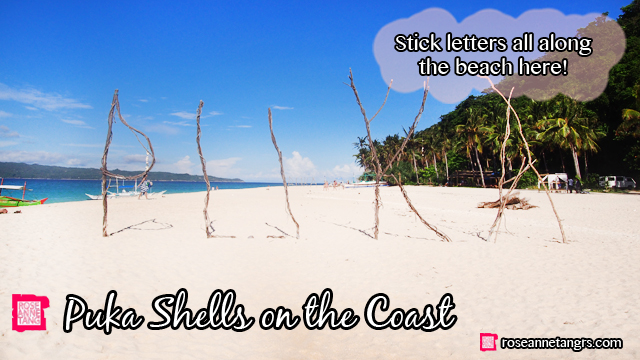 After finishing up at Crocodile Island, the boat took us to Puka beach which is a recent hot spot. When we first landed, there were small tiny shells instead of the usual white and soft sand. That's probably why the island is called Puka beach because of the puka shells that make the well-known Puka necklaces.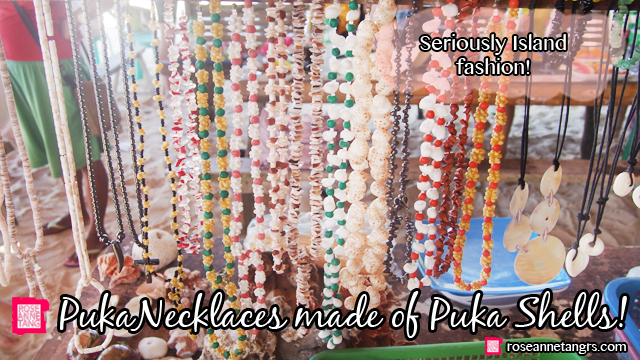 The locals at Puka beach prepared us a huge feast – different types of pork, large prawns, sliced mangoes, rice, an entire roast pig, and even an entire grilled fish! You just have to be prepared for insects who might want to join the feast too but all that is really expected when it comes to island living!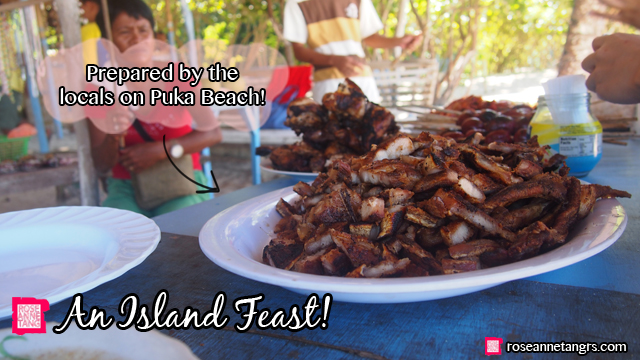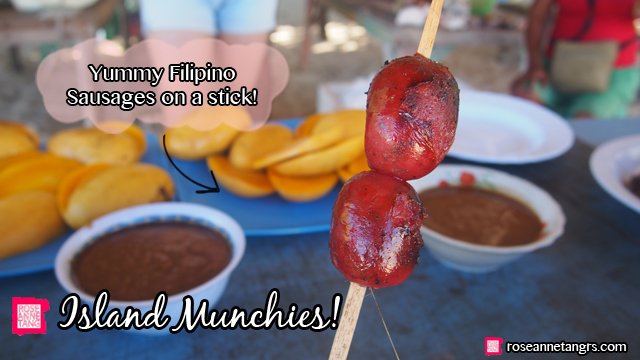 After lunch, we lazed around for a bit until we went back to the main beach to wash up for dinner. I feel like saying that the main beach where we were staying was a lot nicer than Puka Beach but I guess it is just personal preference!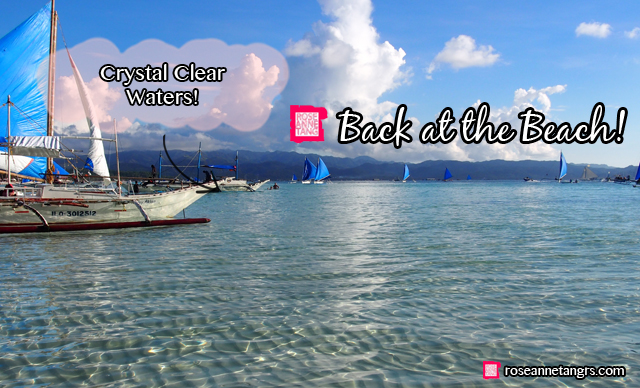 Day 1: D'Talipapa Seafood Dinner & Market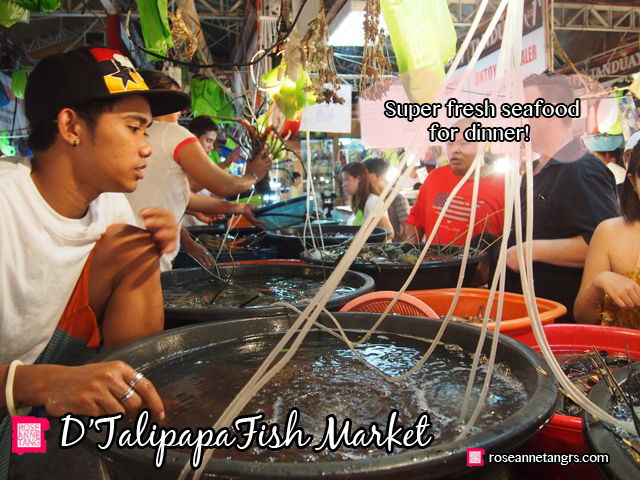 For dinner, we made it to D'Talipapa Fish market. I've seen a couple of these in various touristy spots and probably did the same concept when I was in Bali. Basically, you get to pick your own seafood and they'll cook it for you – either grilled or with sauce! Just the amount of seafood available was amazing. There were even sea urchins, but don't get those because they're not like the ones you get in Japan at all. There were tons of lobsters though but don't expect them to be cheaper here, they're basically the same price as those at the restaurants. They are huge though!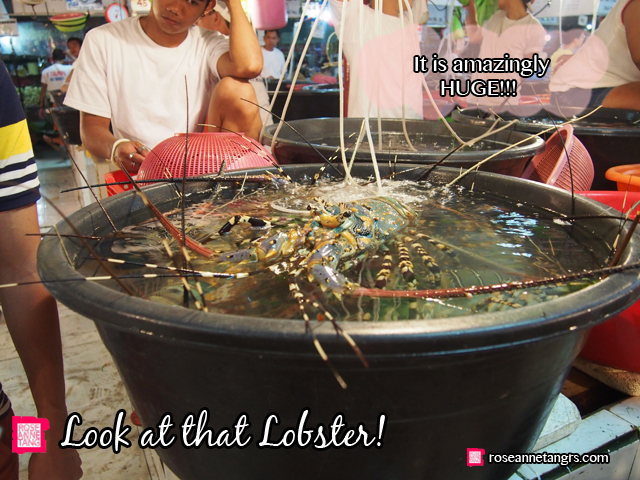 We grabbed a couple of crabs, some prawns and mussels too. They were so good especially the butter sauce ones. I don't even eat that much crab because I'm like the ultimate lazy eater but this was too good to be lazy. It's like, man, this stuff is fresh.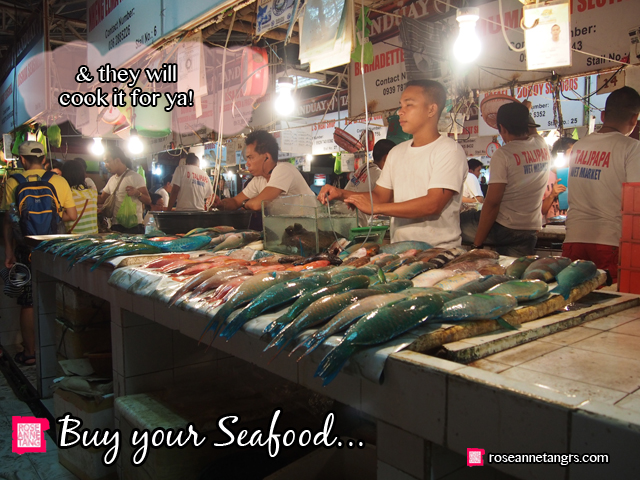 Day 2: Jonah's Fruit Shakes in Boracay!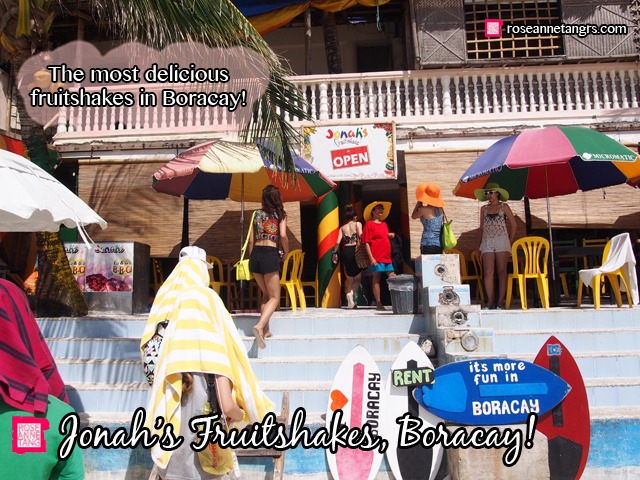 If there's any place that people will recommend you go in Boracay, it's this fruit shake place called Jonah's fruit shakes. It was about a 15 minute walk in the burning sun to this little joint and I must say it was pretty worth it.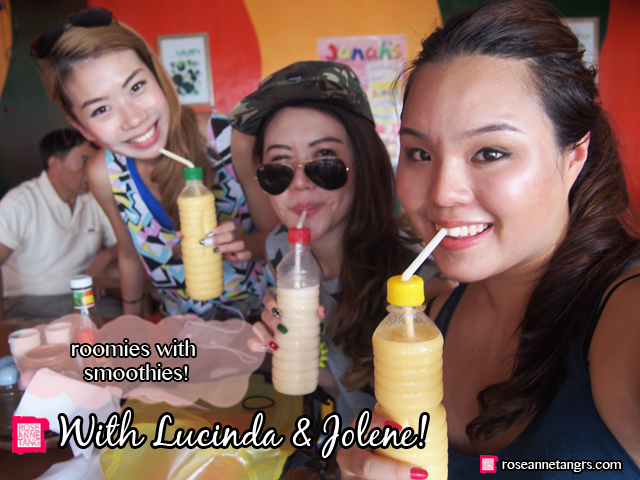 They were possibly one of the best fruit shakes I've had in my life. There's a whole menu of them but the most popular are the mango shakes. I was surprised to see so many shake places around Boracay, it's a popular drink here and for good reason. I had the mango pineapple, Jolene had the mango banana (the best one of the lot) and Lucinda had the melon milk! They were were my gorgeous roomies on the trip and I'm so happy to get to know them better because they are so sweet and both are super nice and made my trip here so much more enjoyable!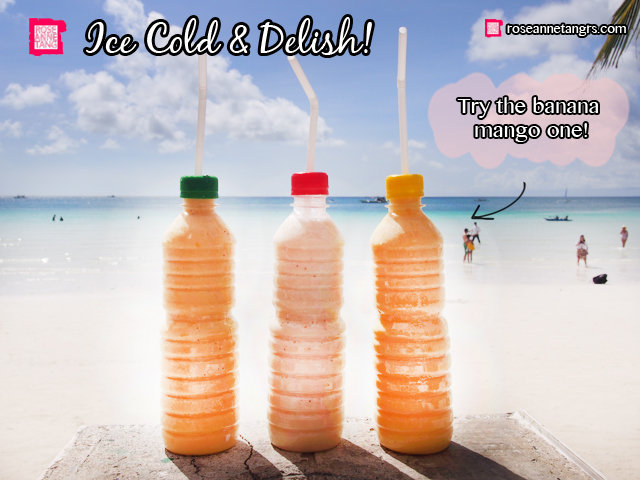 Day 2: ATV in Boracay & Mt. Luho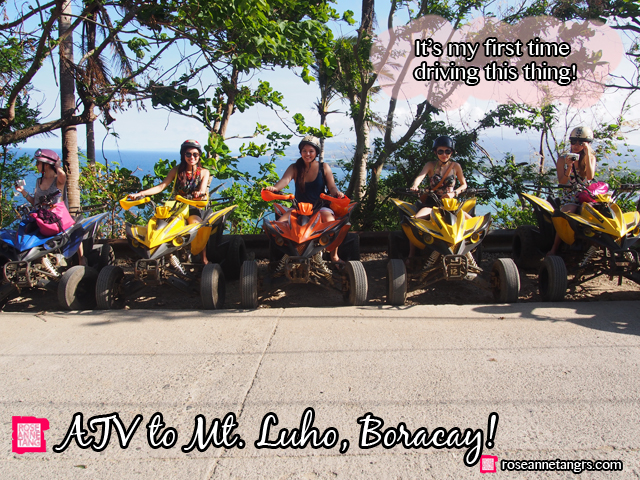 The second day was a day for new experiences! It's really all about getting the best of Boracay on the land, in the sea and of course in the sky! We started off with an ATV drive to Mt. Luho which is the highest point in Boracay! I've never ridden an ATV before so it was pretty freaky for me but knowing I've done driving lessons (nope still haven't passed) made me feel a little more confidant I guess?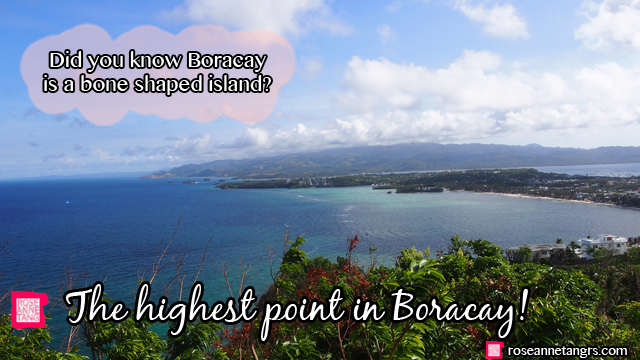 The drive was pretty amazing with sneak peeks at the bay through clusters of forest. We finally reached Mt. Luho and had to climb a bunch of stairs to get up and see the view! It was so beautiful.
Day 2: Helmet Diving in Boracay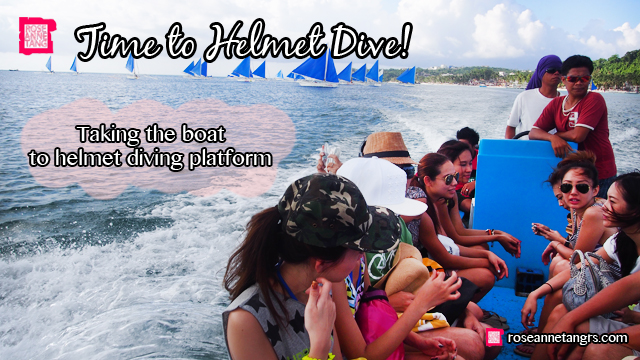 Then we all got on a boat and went to the helmet diving platform! It sounds so exciting to helmet dive! You wear this big clunky helmet underwater and get to walk on the sea bed while air is pumped into your helmet. I've been snorkeling before but never so deep as to be able to touch a sea anemone!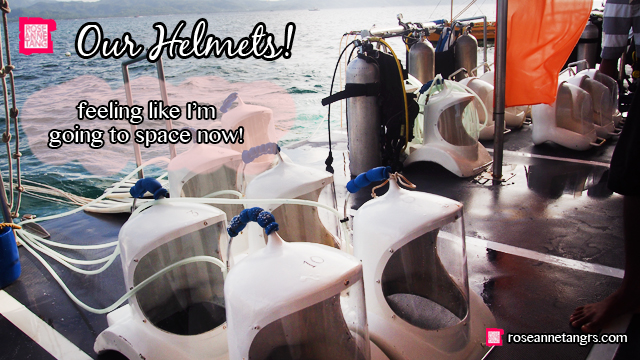 At the platform, you'll change into your swimsuit and then they'll walk you through some hand signals before you step into water with your helmet. It's seriously like entering into another world right here.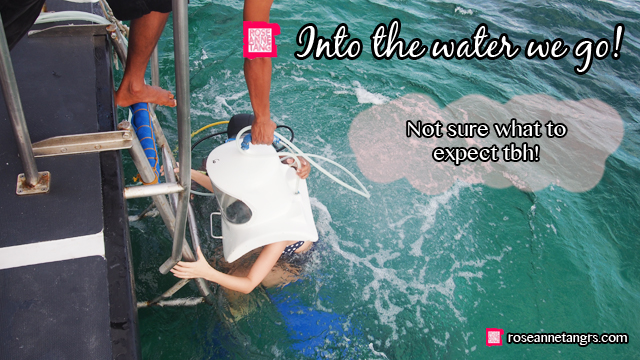 That's us underwater! We could breathe because our head was in the hollow cavity in the helmet. It was just that when we got onto the sea bed it was full of corals so be careful where you step because the corals can be quite sharp. Nonetheless, it was an amazing experience. I mean how cool is it that you can walk right next to fish and coral. There's a diver who takes photos of you for the whole time you're underwater so enjoy yourself instead of taking photos!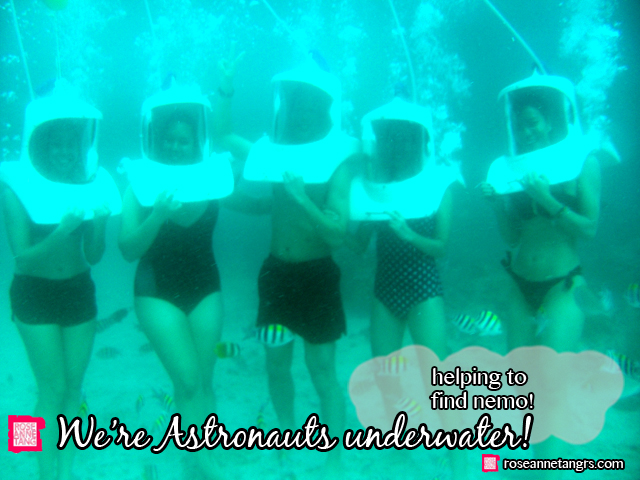 Look, it's nemo! It's my first time seeing nemo NOT in a tank. Right there and there are tons of nemos and their homes. It was also really interesting to see different types of fish. There was a school of angel fish looking fish and they were smaller than the tip of my pinkie! It's so amazing how God has really made so many things we don't even know of yet. I touched a sea anenome too! I know it's dangerous but I saw everyone touch it lol. And it was slightly sticky. Our fingers were a little itchy after but I guess we did have itchy hands.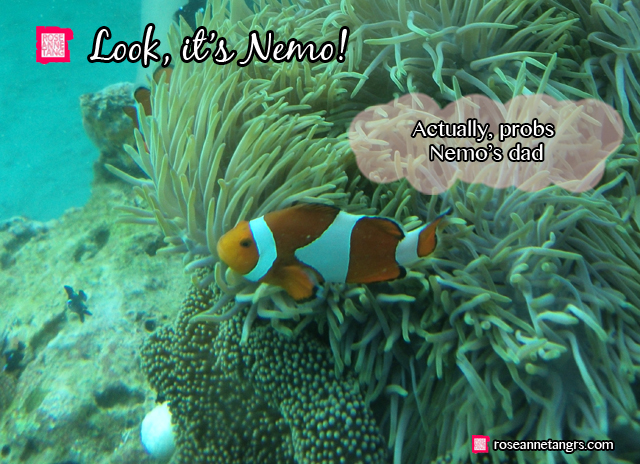 Day 2: Sunset Parasailing in Boracay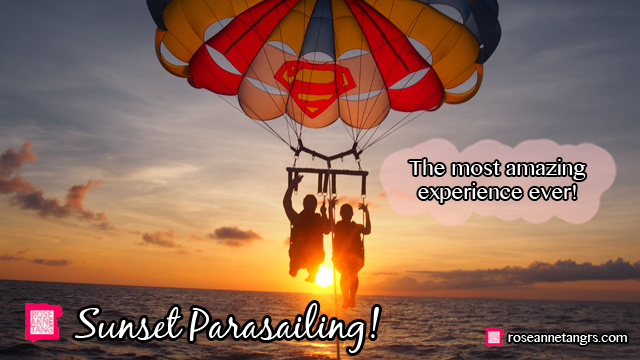 Probably the most amazing experience I had in Boracay and a MUST-DO if anything, was parasailing. I was really actually quite nervous to do this since I'm afraid of heights but I was like seriously when will I ever get a chance to do this again so I guess I just signed up for it. I'm honestly even afraid of riding cable cars, like really afraid. A boat drove us to another boat with a platform for parasailing which happened to be the nicest boat we sat in (it was more like a mini yacht looking boat). We then got strapped in. My heart was beating at this point because I realised that I was going to be high in the sky with my legs hanging.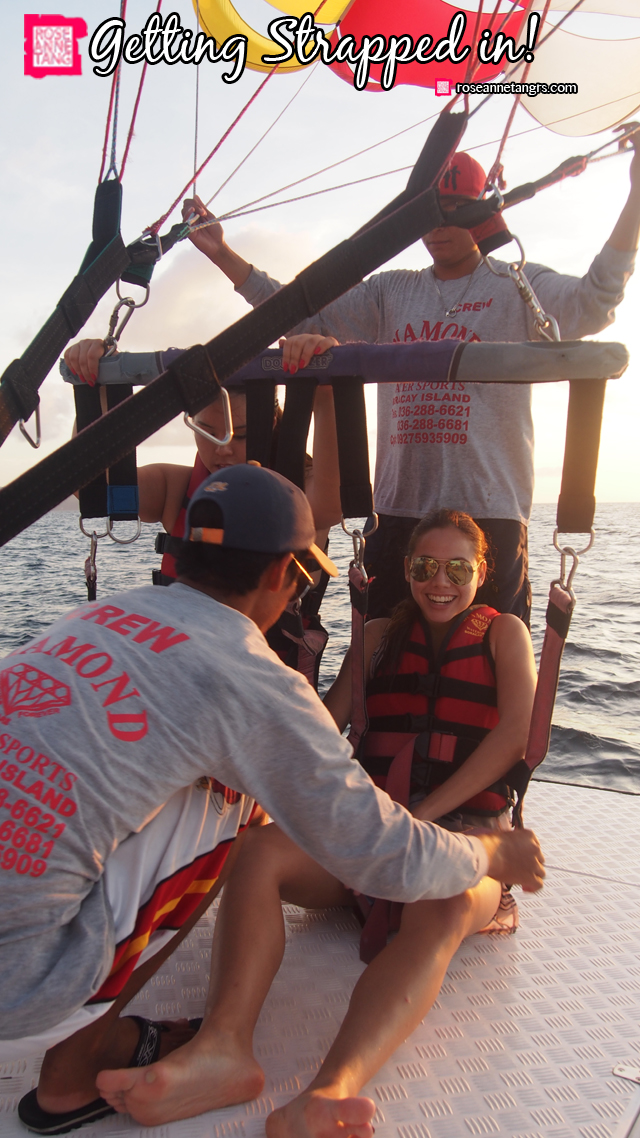 Thankfully though, the parasail experience was so steady and safe. We gently lifted off from the platform and before we knew it, we were in the sky! It was such an amazing experience and totally one of a kind. The flight was so steady and it just felt like we were siting in the sky and slowly moving bit by bit and that made it not scary at all. You kind of forget that you're so high up and get lost in the scenery around you.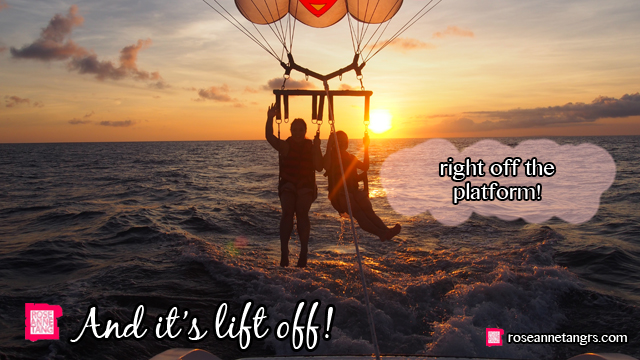 The sunset was right behind us. I was like parallel to the sun while it was setting. It was an expereince I will always remember and if there is anything you should do, please go parasailing at 5pm to catch the sunset. You'll never regret it.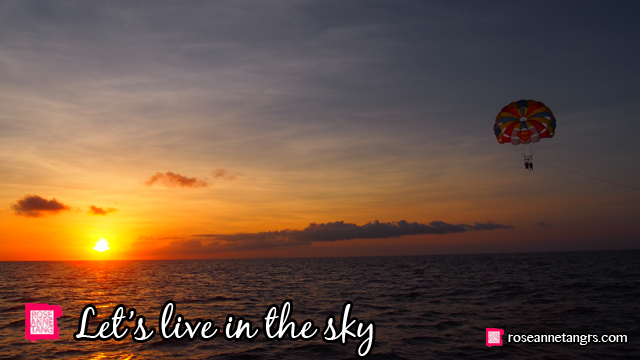 I had an amazing time in Boracay and hope it gives you a list of things to do when you visit Boracay too. I say you gotta try helmet diving and the parasailing at the sunset, it is really something you can't miss. I just want to thank Gushcloud for bringing me along, Tigerair for sponsoring the flights and The District for providing the accommodation so that we can fully enjoy the trip! By the way you'll be pleased to know that Tigerair is now flying to Yangon! It is a great destination to explore and is a former capital of Burma. It is for sure a city to get to know with an abundance of parks, lakes and gleaming pagodas and street life!
Hope you liked this post and happy travels this holiday!
Roseanne