Hey Everyone!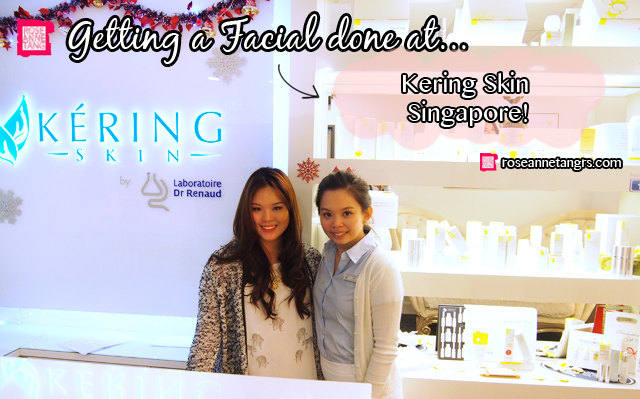 Sometimes getting a facial for me is simply like getting a massage. They claim all sorts of magical things and put all sorts of creams and masks on you that make you feel totally refreshed but to be honest, don't really heal your skin for the long term. I've been going to a new facial place more often now called Kering Skin and for once, I have to say that they're actually doing wonders for my dull, tired and spotty complexion. I really do like this place and can't wait to share more with you how special and unique they are and my future sessions with them!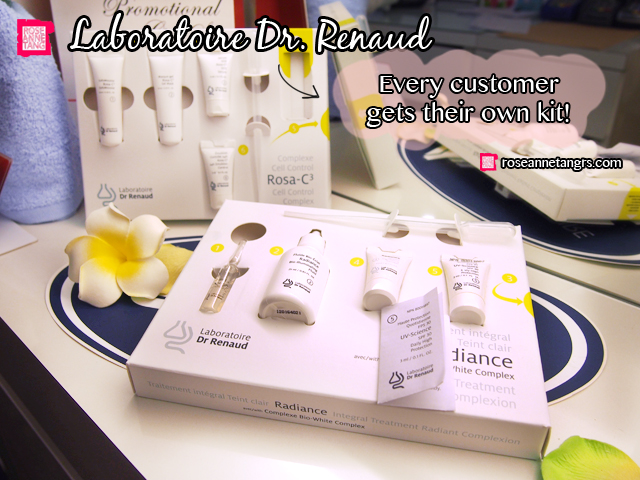 First off, Kering Skin only uses Laboratoire Dr. Renaud products from Canada. I've heard of them before and they are very much an established brand in the United States and Europe, backed up by science and Dr. Renaud who is a french medical doctor and leader in cosmetology for sixty years and going. It's research and development is dedicated to the advancement of skin science and all products have a seal of medical credibility. Their products are also derived from natural sources giving preference to certified organic ingredients, fair trade and biodiversity awareness. If the products you are using are top notch like this, there's not much room to go haywire right! By the way, those little sets you see up there? Each customer from Kering skin gets their own set so you can make sure that you're using Dr. Renaud products!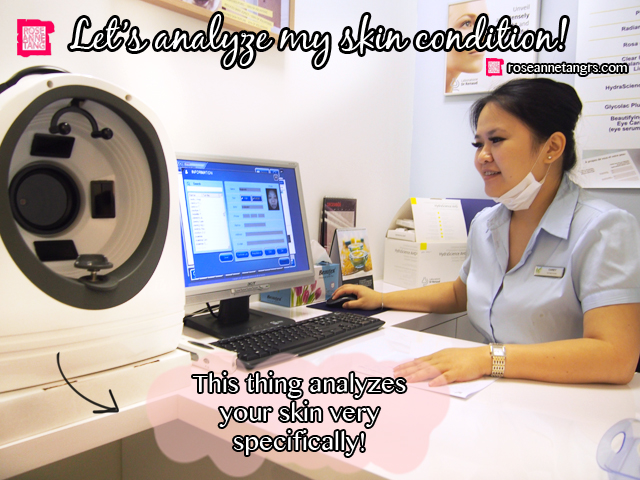 Your facial first starts off with a skin analysis. I love how they don't just offer you a set package and assume that everyone's skin is made the same! I forgot what this machine is called but you're supposed to close your eyes and put your face in and it takes two shots, one without heat, and one with a little bit of heat. I'm sure it's not taking just a photo but it's probably sending electrical signals so that it can read, analyze and observe your skin condition. It's pretty spiffy.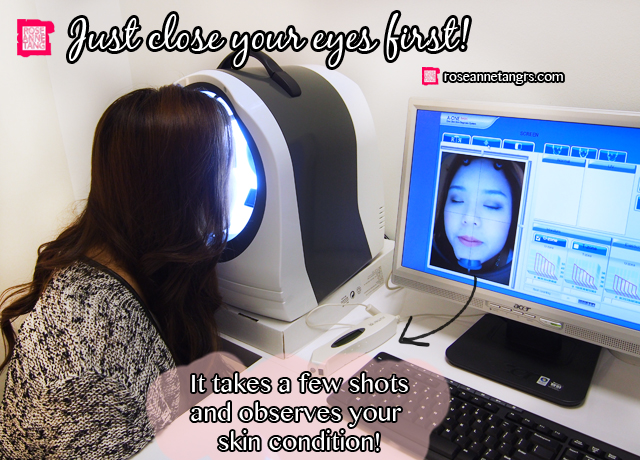 So what do we have here. I apparently have dehydrated skin and low sebum which means my skin isn't producing enough "natural oil". To think I was too oily. I have to stop using too many oil control products and start back on my hydration routine again. I haven't been the best caretaker of my skin lately. I've been sleeping late because of the amount of work I have to do. In the day, I'm doing make-up jobs or having meetings and in the night is where I blog, write articles for various clients or help create social media schedules and sometimes pack orders for my store. In the meantime, I still try to make time for my friends and boyfriend so yep, that's where all the spots and dull and tired skin is coming from – and the lack of videos :(. Of course sometimes my camera is super nice to me and doesn't pick up the majority of my flaws but I still have them and want to rid of them which is why I'm at Kering skin in the first place!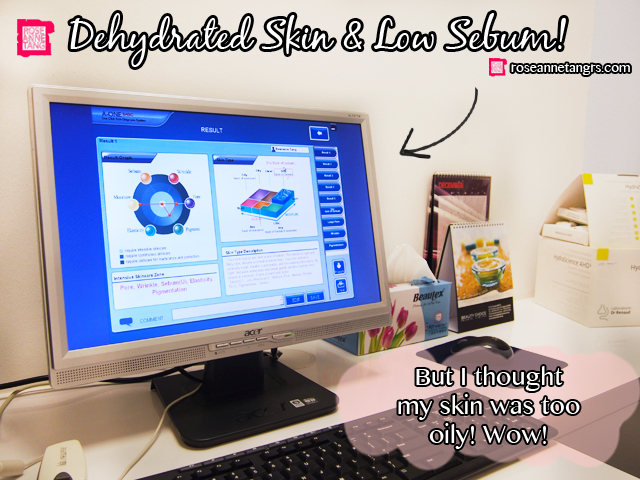 The rooms here are beautiful. You're greeted with a nice hallway and at the end there's a vanity and sink so you can touch-up before you leave. There's even a straightener there!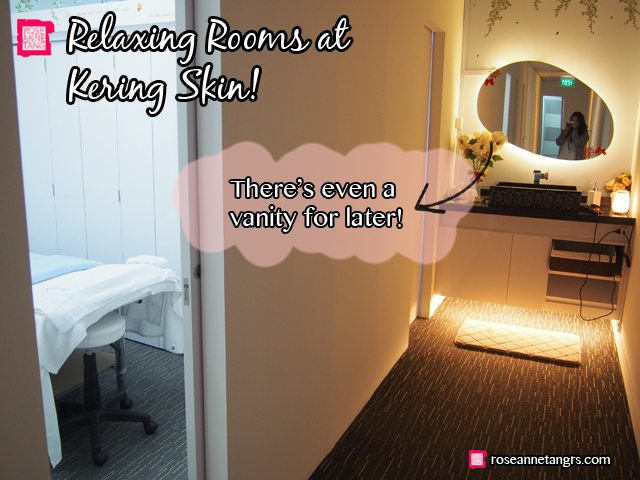 I like how the room is very spa like with those nice towels and flowers! Usually the light is dim but I told them to leave it on so I can share with you what went on during my facial!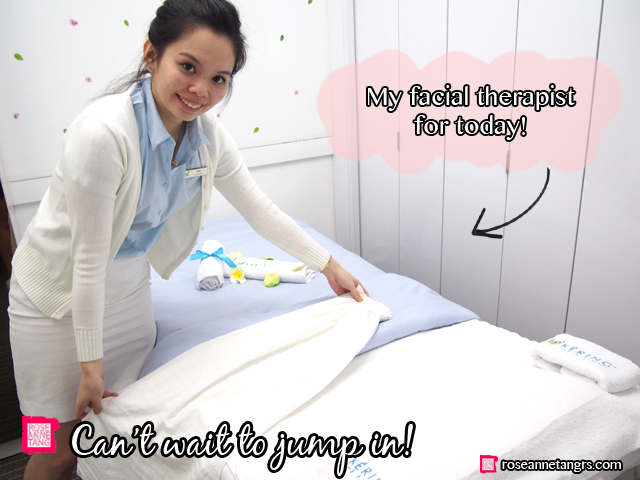 This is me without face make-up on. They left my lipstick on because it's my favourite Revlon ColorStay one and it's super hard to remove. Plus they are doing the facial on my skin and not my lips anyway! At the moment, I have an uneven skin tone (also a tan from Boracay) and a few spots here and there that keep coming back around my mouth area. I really hope they can stabilise this condition!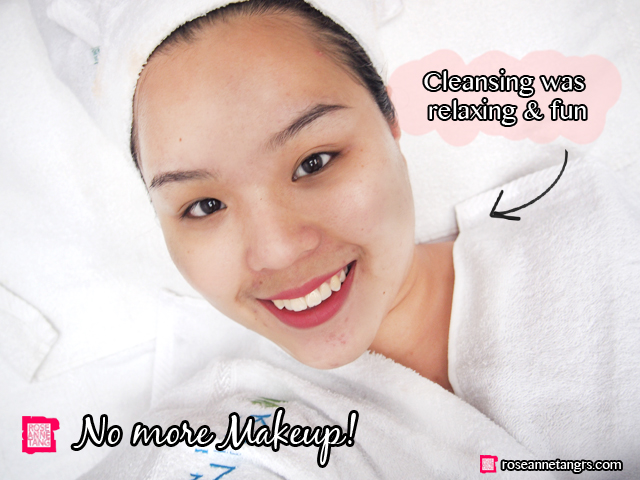 My facial first started off with applying the Hydrascience AHD3 Prep Lotion that prepares the skin so that it can better absorb the other products to come. This is paired with a cold steam that helps my skin absorb the prep lotion and hydrates the skin. Man, cold steam on a hot day is the greatest. It's like putting your face in the polar bear exhibit in the Singapore Zoo. Oh my gosh, I love cold so this is highly refreshing for me.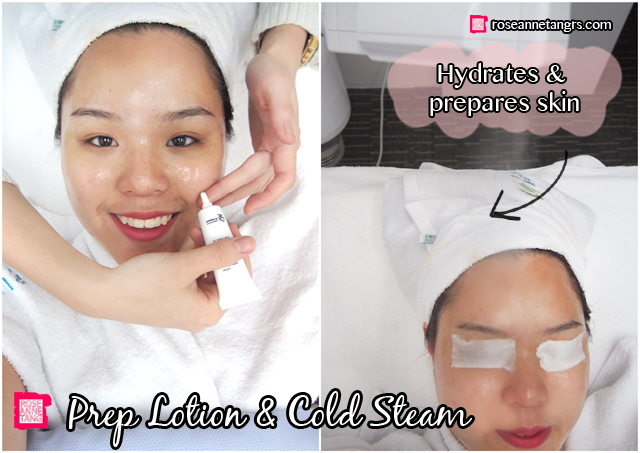 After the prep lotion, it was time for the Phyto Effervescent Treatment which I thought was the most effective for me to kill any acne bacteria especially around my mouth. When mixed, it turns into a green foam just like this!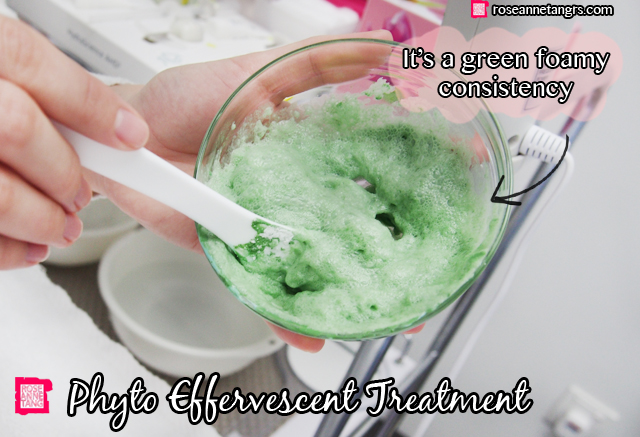 The therapist then applied it all over my face. It has a slight spicy feel to it but nothing too bad. It's much like putting a really strong acne medication on but I like it in a way because then I know it's actually working. I like it so much that I actually wouldn't mind purchasing it so I can do it at home more frequently!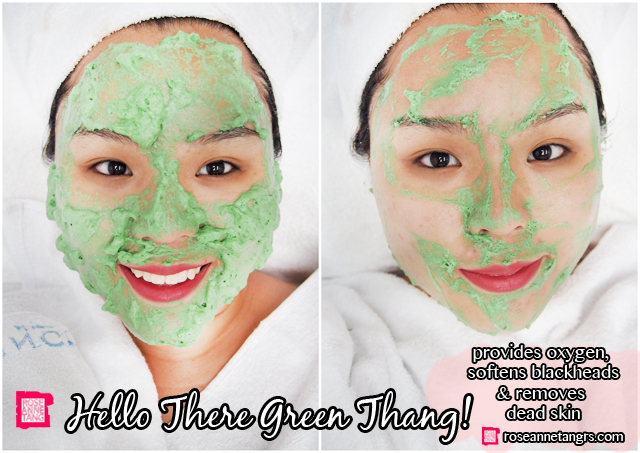 After the treatment, I was then treated to a little pressure point face massage. My therapist mixed the Liposerum Hydrascience AHD3 with the Aquacream Aqua Gel and Liposerum to create an ointment that when paired with the massage would detox my skin and drain all the impurities from it. It was really relaxing and probably comforting me for the extraction that was to follow. I'm not going to lie, I really don't like extraction (squeezing out clogged pores and zits). I usually tell them to skip it but I really want to see if Kering skin does work so I instead trusted them to decide whether my skin needs it. I'm not surprised that my skin does. So yes insert extraction process here. It's painful and is painful anywhere and everywhere and it's the happiest and most relieved feeling when the extraction process is finally over.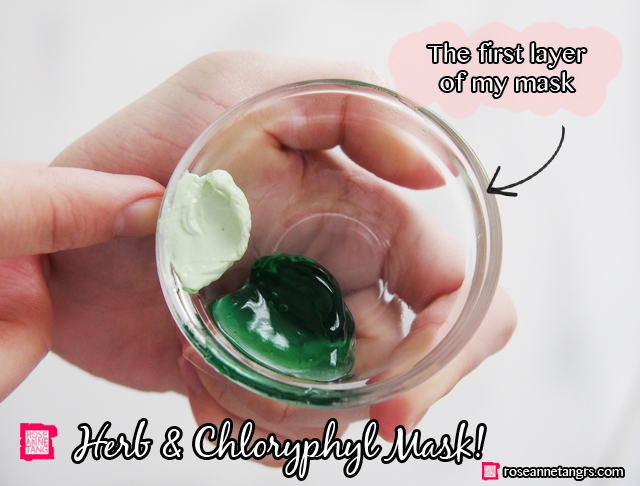 After the extraction process, it's time for a face mask. It's not just any normal face mask though, it's a two layer one. The only other time I received this special mask was when I was reviewing spas in bangkok! I've always been amazed at this process. The first layer consisted of Herb and Chlorphyl Mask. The Chloryphyl Mask absorbs oiliness and gives oxygen and once the oxygen is absorbed into the skin, everything dies off. The herb mask hydrates and repairs and is great for acne scarring (yes please). She just applied these two around my trouble spots.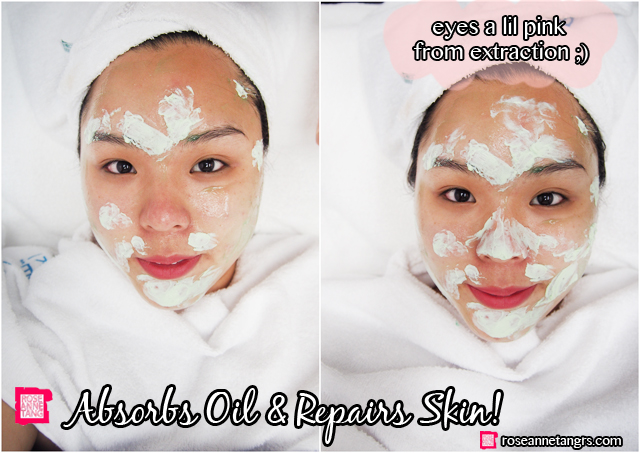 A cotton gauze net is then applied over it and then layered ontop is this – the SensiVital Powder Mask. My therapist mixed it up and then poured it on top to spread. This mask is great for sensitive skin like mine and calms the skin down.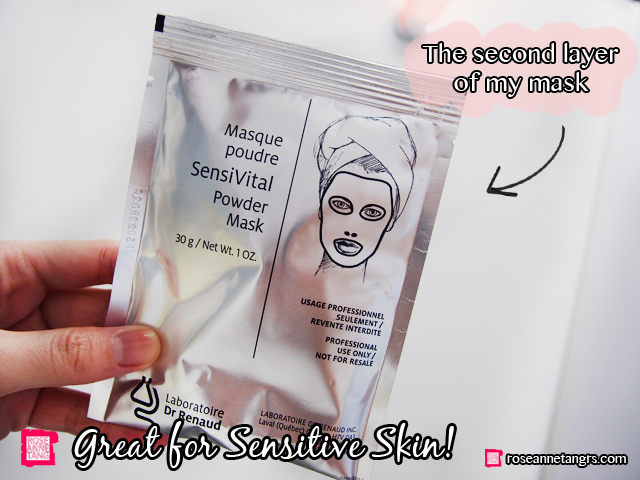 It really does look like she's icing a cake right. That cake is my face lol. The mask actually dries to a peel off gel mask that sits there for 20 minutes. I have to be honest with you, I really can't sit still. Like I can't so this is a bit uncomfortable for me because I wanna play candy crush but I can't see a thing and I can't sleep either. So yeah, it's a little awkward because underneath all that, I'm like..do…do..do doo.. waiting.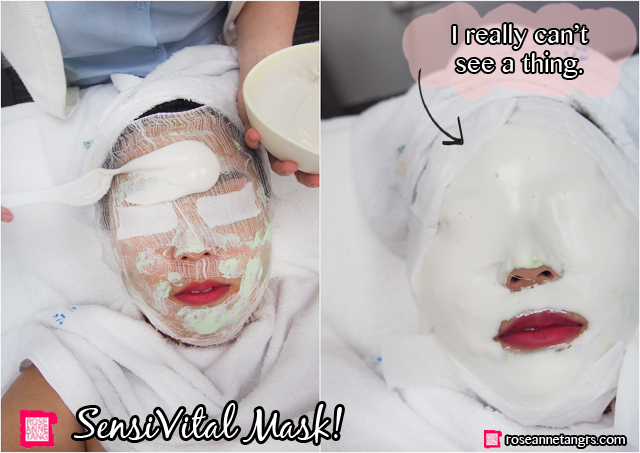 I was so happy to hear the therapist walk in the room and when she cleaned off the mask, I felt so clean and awake. My face felt much calmer too. If it looks like my body doesn't match my face, it's because the spot light is shining right on my face and my tan from Boracay is not helping. Anyway look! My skin looks happy. Yay! And it's been a week already since this facial and I'm happy to say that it still is looking fresh which means that the products are actually working!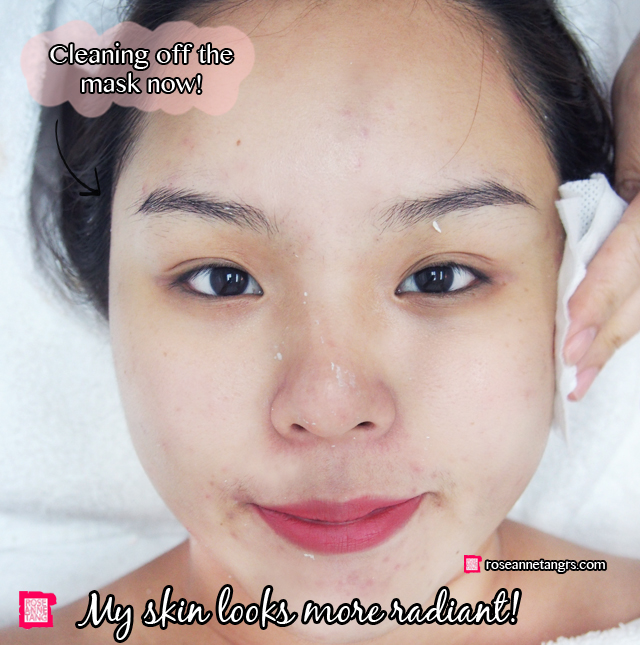 I'm really looking forward to more facial sessions with Kering skin and I can't wait to see what my skin looks like after it all. I'll keep updating on my sessions too to keep ya updated! Hope you have an amazing week. Christmas in like 2 days. Hip hip horrayyy!
By the way if you do book a session with them, there's a 1 for 1 deal for all my readers (which means you too) can enjoy a Kering Skin facial for only S$68! Book your appointment now and mention that you read my blog to take advantage of this deal!
Kering Skin is located in Orchard (next to Shaw & above TCC) at:
60 Orchard Road, #07-07A International Building
S'pore(238869)
Love,
Roseanne