Hey Everyone!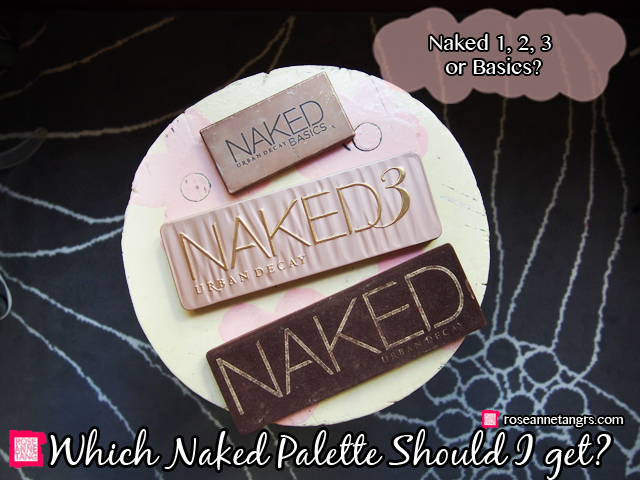 "Which Urban Decay Naked Palette should I get?" That's probably one of the most common questions I get asked around this time of the year! Whether you're getting the Urban Decay Naked Palette for yourself or for somebody else, it really can be a tough decision. There are four eye palettes now that belong under the Naked family – Naked, Naked 2, Naked 3 and finally Basics. I'll break each palette down for you and give you my opinions on which palette is the most worth while. By the way, I totally lost my Naked 2 Palette this morning. I have no idea where it is :( But I have done a review on it already a while back so you can check it out here.
1. The Urban Decay Naked Palette
The Urban Decay Naked Palette is the first palette to come out of all four. It features 12 shades of mainly shimmer and matte shades with plums, golds and browns in the mix too. The shadows are all amazing quality as expected and are of the intense and "creamy" powder consistency. This quality is consistent across all four palettes. This palette is great for girls and their nights out. The majority of the palette has more of a darker mix of colours like creep, gunmetal, hustle , darkhorse, smog and half baked. Even though some colors may appear light, they may actually appear quite dark on the lid. Out of the colors you can choose for your base shade (which is a lighter color) – there is only virgin (too light and shimmery), sin (too pink), Naked (not light enough & matte), sidecar (silver shimmer isn't so hot) and Buck which is more of a crease color than an all over base shade. I hope you're getting what I'm saying. It's great for a night out but not convenient a mix of colors for day use. There's just not enough warm base shades. However, it does make a good smokey eye palette.
Score: 4/5
2. Urban Decay Naked 2 Palette
The Urban Decay Naked 2 Palette is my all time favourite. Funny because I have no idea where it is at the moment :( I must have put it somewhere and now I can't find it and it happens to be my favourite one. Anyway I love this palette because it seems that finally UD has got the right mix of colors of base shades and dark shades to create a complete eye look. It's a much lighter palette to look at in general but still has a few dark shades to define your eyes with and more than enough. My all time favourite is Suspect which has completely run out in my palette and it is the perfect base shade. I hundred percent recommend you getting this palette out of the four. The colors are buildable and you can do so much more with the Naked 2 than any of the other Naked palettes.
Score: 5/5
3. Urban Decay Naked Basics
Why do I feel like I'm talking about iPhone generations haha. UD took a turn and instead of launching the Naked 3, launched the Naked Basics which is tiny compared to the last two but only features six shades – Venus, Foxy, W.O.S, Naked 2, Faint and Crave. They are all matte except Venus which is extremely handy. Matte shades are useful for two areas. The first is creating shadow. A shadow cannot be sparkly because that instead does the complete opposite in trying to darken and push down certain features. For example, if you apply a shimmery base shade over the lid, you can use a matte shade in your crease to create a deeper crease and shadow. Naked 2 shade in Naked Basics is great for this because I appreciate a slightly grey tone to the brown which mimics how shadows are on your face. They aren't completely brown but more of a greyish brown. Matte shades are also really good for more mature skin. I use it on my more mature clients who have more droopy lids and uneven skin because it doesn't highlight these flaws. Stay away from shimmery if you have a more mature skin client. I also use Faint and Crave together as eyebrow colors and they work perfectly when I can't seem to find my brow powder. Overall, this is a fantastic palette and can't really be compared to the rest because it is so different. However I feel that this is more of a palette for a makeup artist than an everyday consumer as it can get quite boring to use matte shades entirely on an eye. It should compliment another palette you or your friend has and shouldn't be the only eye palette you have.
Score: 3/5 for everyday girl, 5/5 for professional makeup artist
4. Urban Decay Naked 3 Palette
This is the newest addition to the Urban Decay family and is now wildly popular. It's currently being sold at Sephora Singapore. What do I think about it? Well, to be honest, I was a bit disappointed. This palette happens to be a mix of purple, pink and cool toned colors. Opening the palette up, you'll see that most of the colors are plum toned and cool. This is not good for our asian skin which tends to be warmer. In fact, the only real brown is Factory which is a darker shade. Dust, Burnout, Buzz, Trick are all pink toned or rose gold. Limit and Nooner are cool matte shades. Liar and Mugshot are cool silver based. Opening this palette up, I found it inconvenient and I didn't like what I saw in the mirror after. The cool tones of this palette just don't look good on my warm skin. It lacks proper base shades and darker shades for Asian skintones. However, if you're more of a cooler skin tone, you might like it. I would prefer more browns. It's fine to add a few here and there but why is it entirely purple and pink based? I just don't understand.
Score: 2/5
Overall if you ask me, the most versatile and varied palette is the Naked 2 palette. It's for sure a winner out of all of them. If you have the Naked 2 already, go for the Naked Basics or the Naked Palette. The Naked 3 palette you can get for the hype and brand but I wouldn't think much more of it to be honest just because of the colors involved. Which is your favourite?
Love,
Roseanne