Hey Everyone!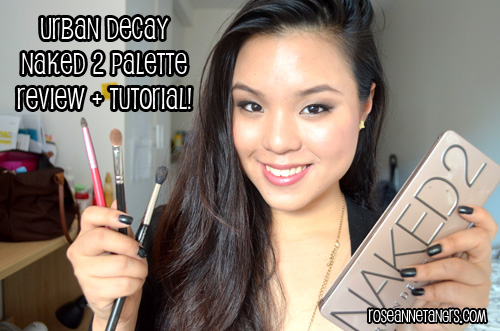 It's no surprise how much I am in love with the Urban Decay Naked 2 Palette – not because everyone else loves it or the fact that there are probable queues outside Sephora right now begging for it – but because genuinely, it's pure awesome. To me, getting a single shadow from a store is a waste of money. I'll probably never finish just one color and getting a palette for me is tons more worth the price. I know how ridiculously long over-due this review is, but if you're thinking of getting the Naked 2 Palette – Girl, you gotta stop thinking, and start saving because I'm going to tell you straight off – it's worth it.  Here's my take on this daily baby and my everyday eye tutorial to boot. At the end, I'll tell you whether you should be getting the Naked or Naked 2. Get the Naked 2.
What's the package like?
The Naked 2 Palette comes with 12 shades, a double sided brush and a lip gloss which aren't pictured because I don't really use either. The main star of the show of course are the shadows. I've never really been disappointed with Urban Decay eye-shadows. The color payoff is amazing, the texture is great and I don't have trouble with creasing. That's probably why they're the only shadows I use in tutorials. The only thing I would watch out for is really chunky eye-shadows like Midnight Cowboy which tend to cause a lot of fall-out. Thankfully, the palette doesn't include much of those ones. It does have a majority of shimmery shades than matte but includes a good matte black. At first glance, it seems that Urban Decay has provided a lighter overall palette that might be unsuitable for dark smokey eye lovers like yours truly but upon using it, it's much more versatile than the first Naked palette because the colors are build-able. You can make more looks with the palette in other words. It also comes in much sturdier packaging, similar to the tin case you brought to school with your pens and pencils. It's shall I say more heavy duty. As you can see, I already hit pan on "suspect". Whoops.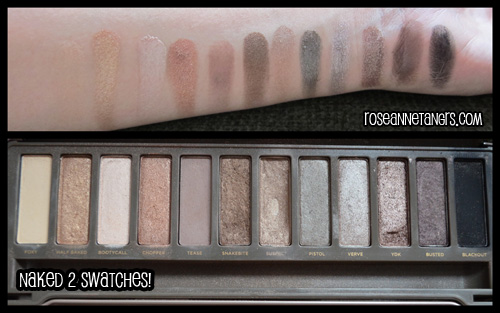 But seriously, how can I prove a point if I don't show you how to use the eye-shadows. So here's a tutorial of my eye-look that I do daily, plus or minus the false lashes. It's a look that's versatile and a neutral smokey eye everyone should learn to do if they choose to get this palette. I'm also using my three favorite eye-shadow brushes – the M.A.C 217, 224 and a sigma pencil brush. You can easily learn the basics of how to create any smokey eye with this tutorial.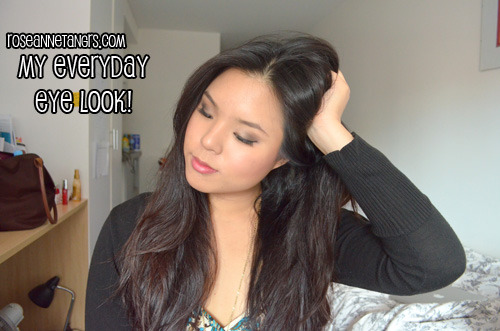 Step 1: Start with a neutral shimmery base shade. Not too shimmery though. Suspect is perfect for this to add a little glisten to your lids. Don't forget to apply a primer beforehand. You know my favorite is the Urban Decay Primer Potion. Using the flat side of the M.A.C 217, apply the shadow all over the lid. As you can see, minimal difference but a slight enhancement that is more than needed.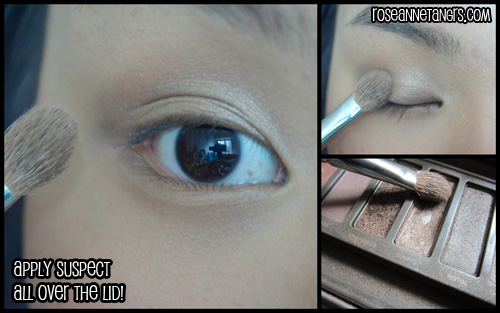 Step 2: Here's a trick with matte shadows. Once you apply a shimmery shadow on your lid, apply a matte darker color to your crease. This really makes the crease stand out because of the difference in finishes to your eye. It's great to use the M.A.C 217 by just flipping it to it's front. I love how versatile this brush is. It's great to pack on color and blend at the same time for a flawless look. I'm using tease which is a plum brown in my crease.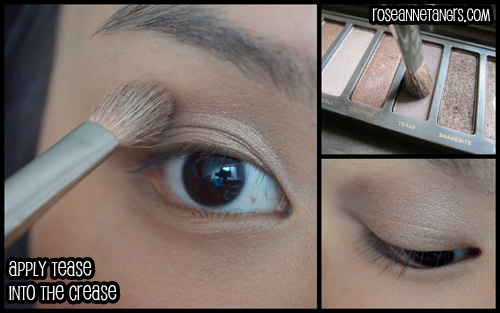 Step 3: Use a pencil brush to apply a dark smokey plum like Busted into your outer V and tracing along your lid line as well. You basically want to cover your outer corner of your eye to add dimension. Using a pencil brush is great for this because it allows you to add color specifically where you want it – which is great for eye-definers like busted.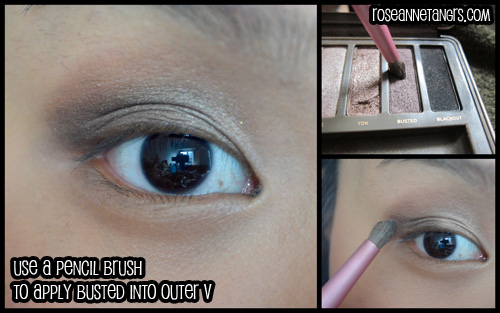 Step 4: Use the M.A.C 224 or any blending brush. I know the HDB stores in Singapore near Ang Mo Kio even sell blending brushes for a dollar. Those do just fine as well. Blend away the harsh lines and then it's time for your liner. I'm using the Revlon Color-Stay on my lid line and my favorite pencil liner the Covergirl Liquid Line Blast for my waterline.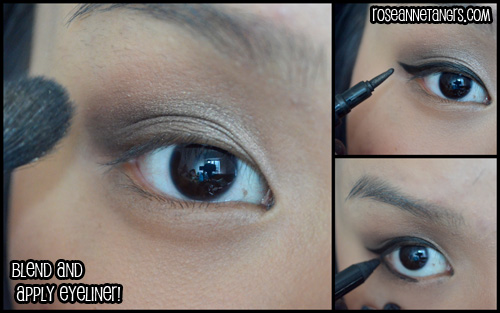 Step 5: Time for your lashes! This step in putting on your falsies is totally optional. To be honest, when I'm lazy, I don't even bother putting false lashes on. But for the purpose of this tutorial and on days when I want to impress, I do. I love my Ardell 110 Natural lashes, I have not found any similar comparison. A trick to using false lashes is to get a tilty mirror and use tweezers to apply your lashes. Press in in the corners so you don't get any loose ends and you're done. Remember to apply your mascara like normal before you put on your lashes. Do your brows and viola, you are done with your eye-makeup.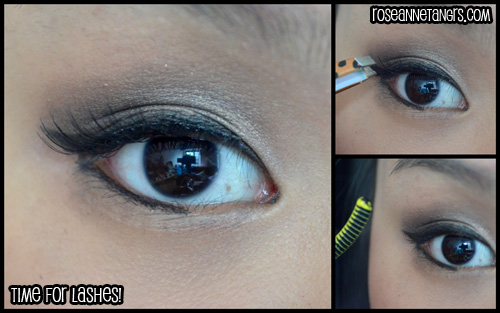 Step 6: The last thing I do is touch-ups. I love using a good matte black for this job and blackout is amazing. I just use a little with my pencil brush and then apply it to my outer corner and outer v just to complete the look. It works like a charm.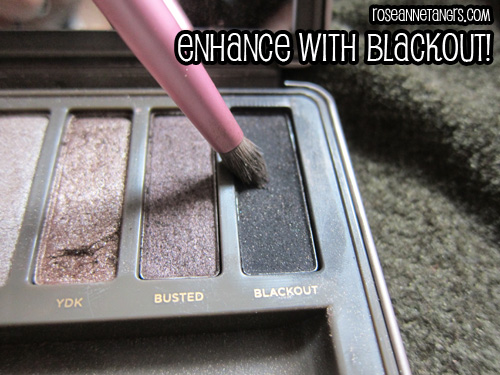 To top it off, I'm using the new Revlon Lip Butter in Sugar Plum, my new favorite that pairs well with a neutral eye. It's kind of a very similar color to the Chanel Rouge Allure in Darling that I usually wear but this is tons cheaper.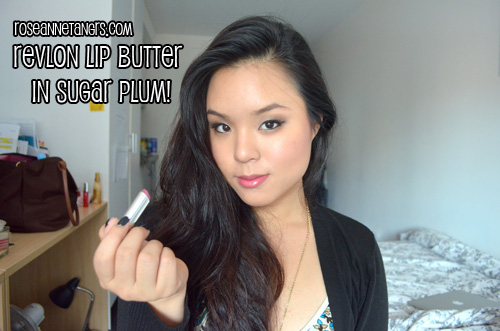 and you are finished! As you can see, the shadows go on great and look great! I can't express enough how much I love this palette.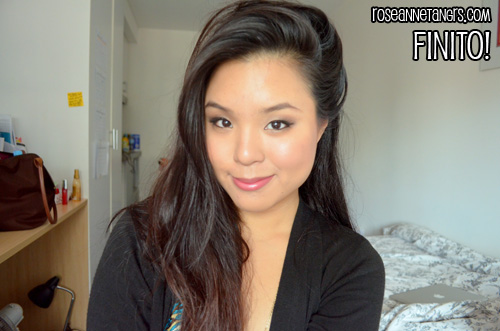 Should I get the Naked 1 or Naked 2 Palette?
But seriously, the question of the day is probably – which palette should I get? Because honestly, not all of us have the moo-lah to get both. I would say skip the first palette and go for the second. I find that the first palette has shades that are too dark and the base shades are too light.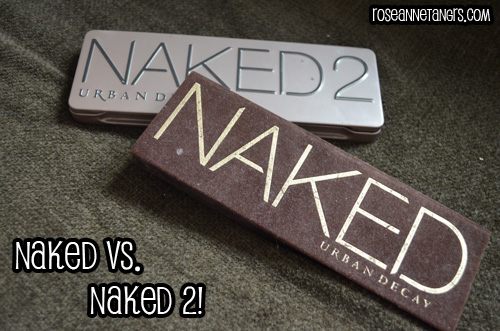 The only thing I really like about the Naked 1 palette is the two matte shades in Buck and Naked because together, they make the most perfect combination for any bold lip color. The Naked 2 palette is buildable in color and you can do so much more with it. The Naked 1 palette is too dark in my opinion to create many looks at all. I always find myself using an additional base shade from somewhere else because there are too many "definer" shades to choose from in the first one. Thus, get the Naked 2, it's better, trust me! Maybe it's also because half-baked and smog are really gold shades that I'm not used to using either. I just like the Naked 2 a lot better.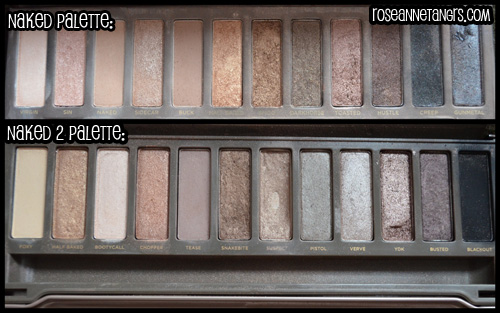 So there you have it!
What do you think of the Naked Palettes? Which one are your favourites?
♡ YouTube Channel | Facebook Page| Online Store | Hellocotton | Bloglovin' | Twitter | Instagram
Love,
Roseanne