Hey Everyone,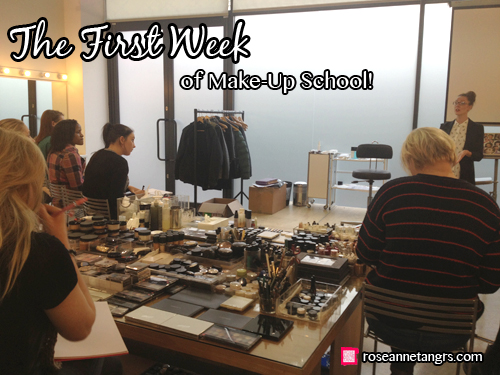 I've been having an amazing time at make-up school so far. I absolutely love it and have been learning a lot too. I thought it would be fun to regularly keep you updated on all the great tricks I'm learning from professionals.
Here at the school, the teachers have been doing it for at about 20 years. In fact, coming here revealed to me a whole new side of make-up, the make-up artistry bit isn't as easy as just applying make-up – it's really your own business and everyone kinda specialises in something whether it's bridal to SFX to fashion or film. We work with mainstream brands like Bobbi Brown, M.A.C, MUFE to more speciality like Kryolan, Graftoban and Screen Face to drugstore like L'Oreal, MUA and Maybelline. Overall, The London School of Beauty & Make-Up being Europe's Largest is a very, very up to date and industry standard school!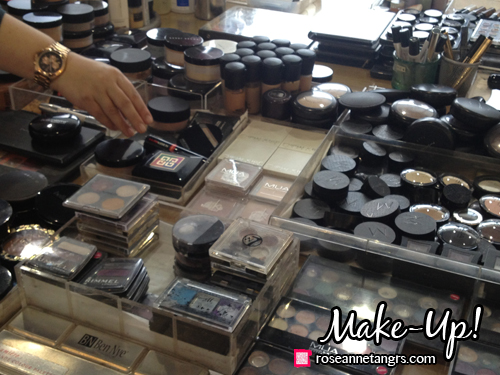 It was surprising to learn that the whole class was really varied. There were people from Milan to Germany to even Columbia and myself being from Singapore. I didn't really know what to expect out of the school as I've been self-taught for about three years. I was really eager to learn because putting make-up on someone else is really different than putting it on yourself and I haven't been very good in dramatic and super colorful makeup.
To my suprise, there's actually a lot of admin work to do. We are going to do 2 photoshoots, 2 examinations already after week 2,  business proposal and more. I also realised what a different world make-up artists are exposed to. Our teacher is very professional and I love the way she stands when she does someone's makeup, it's very straight and she doesn't have to go in close to the client at all. Her posture reminds me of a ballet teacher. The examination is carried out by IMA, not affiliated with the school and is an external body that gives you an IMA diploma if you pass. IMA meaning International Makeup Artistry.
Every time we do a make-up look, we have to fill in an IMA template face chart. This face chart includes all the products that you used, where and will allow a stranger to re-create the look just from the face chart. I also learned about what "aftercare" (how the client can maintain the make-up) and "homecare" (what the client should do at home – CTM (cleanse, tonse and moisturise). Also about contraindications (anything that prevents you from putting make-up on the client) and contra-actions (anything that happens during the make-up application that prevents you from going further or something that just happens). The client should sign the face chart and so does your teacher to approve it.
Top Tips from Make-Up School! 
Here are some of my top tips from the first week of school! There will be 8 in total (still a long way to go right? :D). And I thought it would be fun to go more in depth with some of the tips throughout the week! :) In the first week, we managed to learn about bases, day time looks, bridal looks and looks for darker skin. Let me know if you have any preferences or anything that you'd like me to ask my make-up teachers!
#1 Cleansing the Professional Way
There is a special way to massage the cleanser into the skin. You must first disperse it on the forehead and cheeks. Then cup from chin to chin and slowly massage into cheeks from the chin to the ears. Then move up to the nose, upper lip and forehead to the temple. Then she used wet cotton pads to wipe away the existing makeup and cleanser. You must do this until all traces of makeup disappear. If the client has eye-makeup on, you cut cotton pads into two, wet them and split a half moon into half so that it becomes thinner and put them underneath the eye. Then, ask the client to close their eyes and use a Q-tip dipped in grapeseed oil to rub down on the lashes and remove any mascara. Grab a cotton pad and apply grapeseed oil onto it and leave it on the eye for about 15 seconds and then wipe away any product. Use a Q-tip dipped in grapeseed oil to remove any makeup that is left and don't forget the lower lashes too. Then, tone and moisturise the face. I really liked the massage technique. I'm sure my future clients will appreciate that.
#2 Color Correcting & The Color Wheel
For color correcting, we had a little introduction to the color wheel. To neutralize and cool down certain tones, we need to take the opposite color on the color wheel to the one we are analyzing. For example, green correctors can be used for red spots or blemishes while dark under eye circles can be corrected by yellow correctors. Sallow skin may be brightened with a bit of lilac. It's always good to remember that with correctors, you aren't looking to conceal, but rather just correct. I found them quite hard to do since the correctors are quite stiff to blend and if you put a little too much, it can be hard to blend it out and make it transparent. I have to work on that.
#3 Concealing Dark Circles
To conceal a dark circle, first pat the concealer into the inner corner of the eye and then pat on the to the outer corner and blend underneath the eye. Sometimes your own nose bridge is the cause of your dark circles as it casts a shadow on the rest of your face. To make sure, conceal your inner corners and outer corners first underneath your eye and slowly proceed with the remainder underneath!
That's all I'm going to say for now, keep updated throughout the week on these topics ;)
#4 Bridal Make-Up Tips
#5 How to properly clean up Eyeshadow Fall – Out
#6 Foundation for darker skins
#7 Finding the Most Flattering Shade of Lips
#8 How to Build Your Kit as a Make-Up Artist
Overall, it was a great first week and I learned many tips and tricks. Make-up artistry is a tough industry to get into too. You really need your own unique selling point and to build your make-up kit. I'm really looking forward to the rest of the course and practicing on different faces. The experience is great!
Love,
Roseanne