Hey Everyone!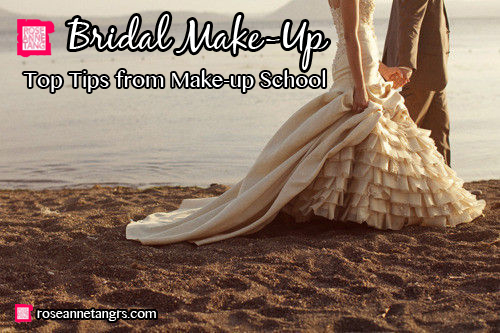 Although when it comes to our wedding we'd much prefer to be pampered, it's always good to know a few bridal make-up tips when it comes to your big day. Or, if you're an aspiring make-up artist, it's handy to keep these in mind. Here are some bridal make-up tips I learned about last week!
#1 Bridal Make-Up is Timeless and Long-Lasting 
If anything, bridal make-up should be timeless and long-lasting. Timeless in that it's a classic look that will look good even when your grandchildren are looking at your wedding albums. This obviously does not count for the unconventional wedding and if that is so, listen to your client on what look she would like to achieve and calmly advise her if it's something that's going to be very unflattering. Your make-up must also survive the ceremony, wedding dinner, registration and all that greeting so therefore there should be proper precautions to make sure it's long-lasting.
#2 Use a Primer & Water-Proof Mascara
On that note, use a primer. Primers work to create an even base for the make-up to be applied easier and also help the make-up bind to the face. It's like adding a "gluey" substance to your face so that the make-up will "stick" better. Most primers aren't gluey at all but should feel super smooth on the face after application and most are made with silicone. A primer will be great for a bride. Water-proof mascara is also a must to prevent any smudging and of course those kodak moments. I wouldn't be surprised at all if I cried during my own wedding one day.
#3 Concealer to Set Please
Always conceal. No one's face is perfect and you want to make sure the bride looks absolutely flawless. A tip is to mix a color corrector (green to hide redness, yellow to brighten) in with your concealer and apply it on the face. It multitasks to not only completely cover but to color correct too. You can also use illuminators to hide under-eye circles after concealing. Just remember, light diffusing products are the only "cream" products that can go over a powdered face.
#4 Natural & Neutral
The most common eye-shadow looks are matte, natural and neutral. This eye look is also paired with a pretty pink or a dusty rose for lips and blush. Go easy on lips and blush though, they should look natural as well. You also want to keep in mind to stick to a semi-matte finish. It's not completely greasy but has a nice glow that's the natural glow of your skin. You can also use a highlighter to achieve this as well.
#5 Lip Liner & Skip the Gloss
Everyone knows to do that perfect red-lip, you need a lip liner. But commonly, we don't use lip liners really to just line the lips. We often fill in the rest of the lips with the lip liner as well. You think it would defeat the purpose as we are applying a lipstick on anyways but it makes the lipstick last much longer. The best shade to go with is a natural one, probably one shade darker than the actual lip shade would suffice. Be careful of not going to nude or deviating too far from the client's original lip color. Skip the gloss, you don't want your veil to be caught on your lips when its time to kiss the groom!
Hope you liked these tips!
Love,
Roseanne