Hey Everyone,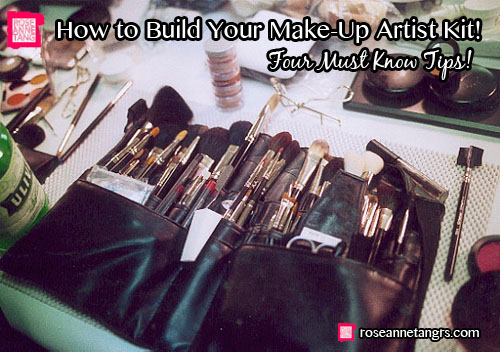 Everyone knows that one of the costs to being is make-up artist is how ridiculously expensive make-up can be. I find myself buying make-up shades that aren't for myself, cool blushes and lipsticks and crazy colours – plus the odd accessory like sponges, disposable mascara wands, Q-Tips and skincare for toning, cleansing and extra moisturising. In fact, building your make-up kit can be tough. But, here are a few tips from make-up school that may make it easier on your wallet!
1. Mix and Match
They say that if a foundation is in the same line and is composed of the same texture, you can mix shades to get your accurate one. That means probably buying just a light, medium and dark foundation is enough and for all the shades in between, you can mix them together to get the right one. I find this great for liquid foundations so you're carrying three in your kit instead of ten. Get multi-taskers as well like foundation sticks that can double up as concealers as well depending on how you apply it.
2. Power in Neutrals
I was flipping through Vogue the other day and I noticed that probably 90% of the looks are all neutral colors. Talking to the make-up artists who have been doing makeup for 20 years at school – they tell me that they barely get to use color if at all despite their avid wish to do so. Bridal looks also make up the bread and butter of a make-up artists salary but most bridal looks are now classic, timeless and of course neutral. Unless you're talking about a wonderful Indian or Arab wedding that may call for otherwise. That means, get the colors you want, but only what is necessary and build your neutral shades.
3. The "As you go" method
It's hard sitting in class every day and the make-up artist telling you what their must-have foundation is or must-have make-up brush is without wanting to get it! It's as if you have to fork out a load of mooh-lah in an instant to get your kit all up and running. But, I've realised that I'm going to get what is necessary first and then build as I go. So, if I know I have a model tomorrow who wants ridiculous glitter and pigments, I'll get that, but not now.
4. Don't forget the High Street when you start
A word for drugstore products here in the UK is the term "High Street" – you're looking at brands like Sleek, Barry M, Max Factor, L'Oreal or Maybelline. These cosmetics actually own some of the major big ones. In fact, the high street brand Bourjois is said to OWN Chanel cosmetics. I've tried and reviewed hundreds of products – from high end like Chanel, YSL, NARS, MAC etc, you name it and lots of drugstore products and each brand is like a music album – you really like some songs and the others not so much. Especially when you first start out, using eye-shadows from Sleek (which is AMAZING) instead of NARS or Chanel is alright. When you start building an income, you can then fork out more for the stuff you want! Right now, I'm thinking of getting more high-end foundations, concealers, primers and powders but not minding great quality colors for eye-shadows, liners, and primers.
What's on my wish list? I need a range of foundations suitable for all skin types that I can mix and match and produce shades with. Including powders and concealers. I've been using the MAC studio fix fluid at school and I love how flawless it looks in photographs, but I don't know how it will fare in hot and humid Singapore. So if you have any suggestions let me know!
Hope you found this useful! Have a great weekend!
♡ YouTube Channel | Facebook Page| Online Store | Hellocotton | Bloglovin' | Twitter | Instagram
Show some lovin' and like my upcoming Online Store's Facebook Page at http://www.facebook.com/roseanne.sg
Love,
Roseanne