Hey Everyone!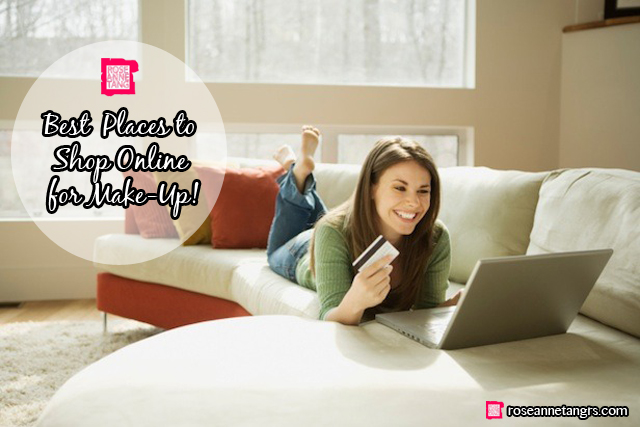 Shopping online for make-up can be a lot easier than you think and there are actually many online stores that sell make-up and beauty products with international shipping. I used to shop online for make-up tons when I was in Uni – it was the perfect way to de-stress and the cheaper prices online compared to counter prices didn't help either. I think that  when it comes shopping for make-up online, you don't have to worry about whether it 'fits' – the main concern is whether the product is ship-able (perfumes and some liquids like nail polishes are sometimes not allowed to be shipped internationally by the seller) AND even if the product is authentic or genuine. With so many things being copied these days, make-up is really no exception. There's fake M.A.C, Bobbi Brown and other well known brands everywhere on the net and you really do have to be careful because you don't know what these fake products might have inside them. You are putting these products on your face after all! That's why I tend to avoid buying make-up on Ebay because you really never know what you might get. Instead, these are my current 3 favourite online stores to shop for make-up online that provide international shipping so it doesn't matter where you live!
1. Mizspa.com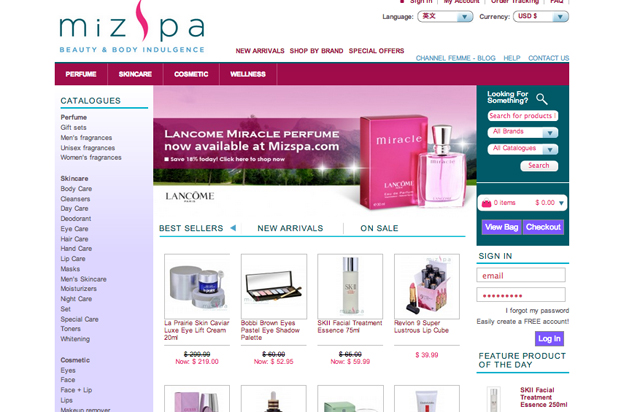 Mizspa.com is based in Hong Kong and provides authentic and genuine luxury brand beauty products at affordable prices. They also have FREE international shipping and hand wrap all their products in Mizspa gift wrap and bow which makes it great to send to family and friends too. They have an extensive range of products available for purchase including big name perfumes to cosmetics to travel make-up sets that are exclusive to the airport or duty free sometimes. I've bought from Mizspa on several occasions and I love how fast they deliver and how efficient they are. My products always come wrapped beautifully and are absolutely 100% genuine and real. There are so many great promotions and discounts on the website so they're totally worth checking out – www.mizspa.com
Website: www.mizspa.com
International Shipping: Free! You can view more here.
2. Allcosmeticswholesale.com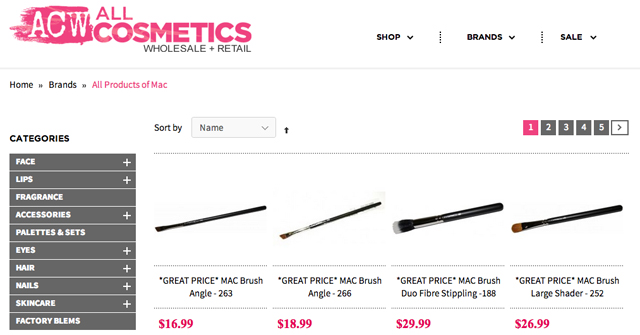 My goodness, I used to buy so much from here. You can view some of my haul videos I did in Uni right here and here. Seriously, this is such a good online store for ridiculously discounted and "last season" make-up (M.A.C 188 brush for USD$29.99, NARS concealer USD$18.99). Sometimes you wonder what happens when a collection at M.A.C sells out right? I'm like "where does it all go?". Well, a lot of them go to designated stores located in factory outlets, but I think Allcosmeticswholesale tapped right into all of it. They have really changed their website over the years and now they look alot more swanky. I used to spend hours on this site adding everything I wanted to my shopping cart only to decide that I really don't need any of it but the experience of doing this was de-stressful anyway. Yep, Uni days. That would have happened at least once a week. Anyways, they have US brands like Lorac, EOS, Wet N Wild, Lime Crime, Sigma, Too Faced that aren't commonly found all the time too. They do have a sale section that may have products that are unboxed but are ridiculously discounted – if you don't mind.
Website: www.allcosmeticswholesale.com
International Shipping: Allcosmeticswholesale shipping rates based on weight. Add your items in check-out and it will calculate it for you. No fragrances or nail enamels can be shipped. View more here.
3. Beautybay.com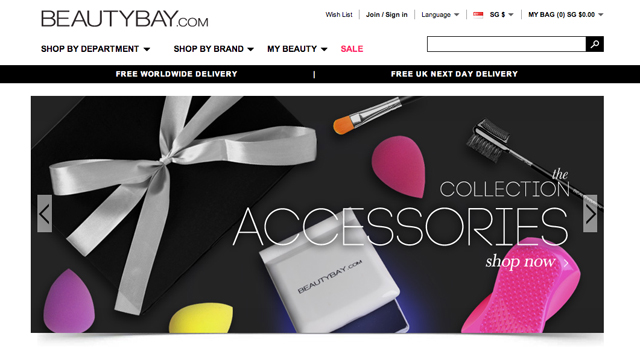 Beautybay for me is like going to Sephora. If I need something for slightly cheaper than I can get here at Sephora, I can see if I can get it on Beautybay first. The discount isn't really that big though and sometimes it can be pricier as I believe BeautyBay is based in the U.K. However, I really love the layout and look and feel of the website and if you're overseas like in Australia and can't get your hands readily on Urban Decay – they have it here and they also have brands ranging from Bare Minerals to Eliis Faas and some brands we can't get readily in Singapore like Cargo. It's something worthwhile to checkout but shipping does take quite long so you have to be patient.
Website: www.beautybay.com
International Shipping: Free but registered with tracking is around $20. You can view more here.
So there we have it! I hope you have a great time shopping!
Love, Roseanne