Hey Everyone!

Finally, it is time to review my Cetaphil buddies! I've used them both to the last drop so I thought I would do a review of both the much talked about Cetaphil Gentle Skin Cleanser and the UVA/UVB Defense Sunscreen.
1. Cetaphil Gentle Skin Cleanser 
Unlike most cleansers on the market, Cetaphil is a much trusted global brand that is both fragrance and soap free making them awesome for people with sensitive skin. Because it's approved dermatologists, it's helped many people, even my friends with acne and my relatives with a few skin conditions.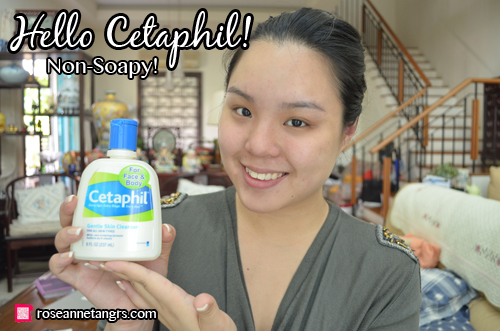 Let's first start with the famous Cetaphil Gentle Skin Cleanser. This cleanser claims to be fantastic for senstive skin, is recommended by dermatologists, softens while cleanses and is able to even remove light make-up. It also won't clog pores, is pH balanced (did you know there's a optimum pH for great skin?) and is also fragrance free.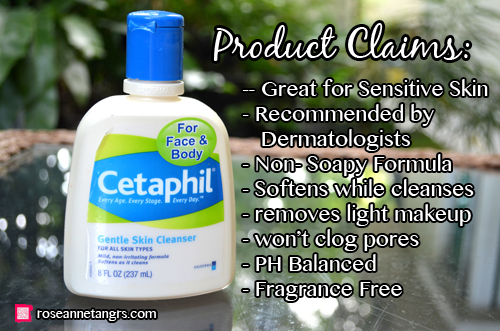 When you pour out the Cetaphil cleanser onto your palm, the first thing you'll notice is the texture of the liquid. It's probably unlike anything you've tried before because it's just like a liquid silk gel. It's also a bit cloudy and milky and when applied on your skin, leaves a smooth trail that you can easily rinse off with water. It's an interesting texture at best. However, it's not thick or creamy either. Simply pour it out into your palm and apply on your face in circular motions just like any cleanser. A cool thing to note is that you don't have to use water with Cetaphil. You can either apply it and wipe with a cloth or you can rinse with water. It's your pick. On skin, it looks clear.
Then rinse! I know the first time I tried Cetaphil, I didn't know whether it would work for me because of the texture and I'm used to buffing my skin with exfoliators. You know that "I gotta scrub to feel clean" feeling? Surprisingly though, after the rinse despite the texture, it feels really clean and my safe feels super soft. Therefore, cleanses as it softens? Check.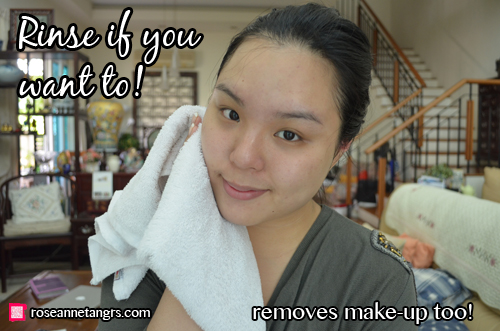 Overall, the Cetaphil Gentle Skin Cleanser for sure get's my approval. I really noticed in terms of a more long term basis that my skin really cleared up and became less irritated and red. It looks calmer thanks to this cleanser and I also use it to remove my make-up as well and it does a great job for foundation and face products but as with all things, may need a little work with removing eye makeup. Overall, I give it a thumbs up!
2. Cetaphil UVA/UVB Defense Sunscreen
The next to be in the spotlight is the Cetaphil UVA/UVB Defense sunscreen. I'm sure we all are looking for the perfect sunscreen. It's sort of a step that's become forgotten and taken for granted. Some sunscreens appear way too white on the skin, and some just too oily. But I'm happy to say that the UVA/UVB defense is actually a pretty good pick. I mean, it has to be since I finished mine.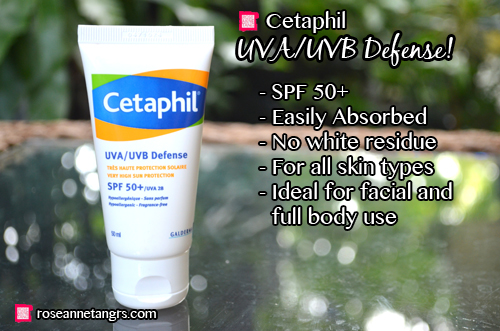 This milky cream is SPF 50+ with UVA 28, claims to be easily absorbed into the skin, leaves no white residue and is good for all skin types. One thing to remember is also how versatile Cetaphil products are. They can be used for both the body and the face!
Let's put it on shall we. I know it's something we don't like doing but sunscreen should actually be applied quite liberally and before your moistriser. Check out my Sunscreen Guide for all you need to know about this often forgotten skincare product.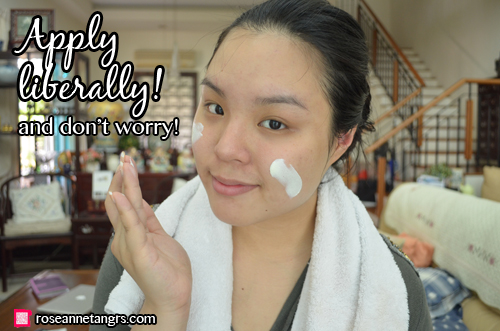 Although the sunscreen appears white when applied, it takes a while for the white residue to disappear and it really does go to a nice glowy once blended in. To be honest, you shouldn't put your makeup right after you apply your sunscreen. This is because you should wait a while for the sunscreen to be fully absorbed into the skin. After blending and waiting a few minutes, it's like you never put anything extra on making it great for make-up. Possibly the only thing I would change is that it takes a while to blend in and achieve that non-white residue finish. If you're not careful, you will give it a pre-mature judgement but if you blend it throughly you'll see the results!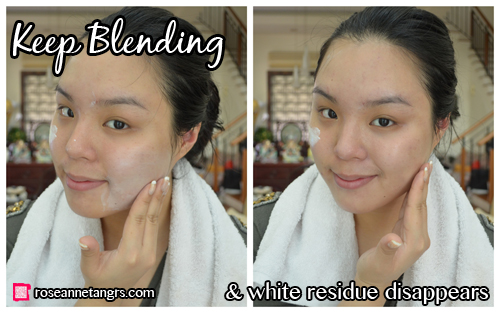 Overall, I really do like this sunscreen and I also like how it's great for the body and not just the face. I'm glad it's a multi-tasker as we are often left having separate products for both costing us even more. I'm really quite impressed with Cetaphil and have enjoyed using them to the last drop. But enough of what I think, in fact, here's what you've said from my last Cetaphil blog post in the comments!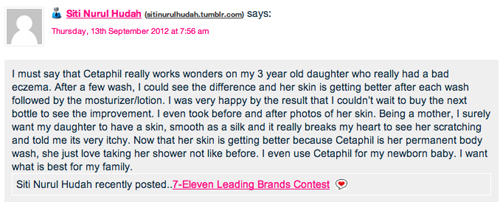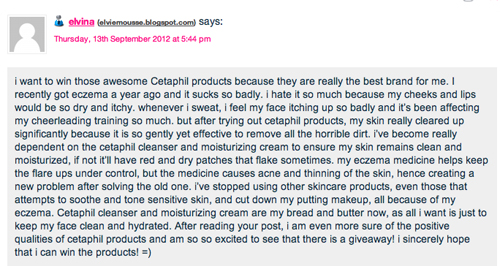 For more, you can click here to check out more of your entries on my last post and a few awesome testimonials! I didn't even expect for you all to give your testimonial as it was a giveaway and haul but it ended up that so many people said that Cetaphil really worked for them!
So if you have sensitive skin, or any skin actually, pick up Cetaphil for sure and I hope you like it as much as we do! Plus, check out their Facebook page for more updates! https://www.facebook.com/CetaphilSG
Love,
Roseanne