Hey Everyone!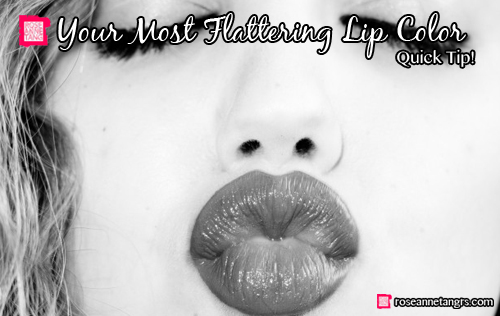 It's silly, but it's true. Sometimes with all the lip colours out there, we just don't know which one to whip on. Do we go pale like Kim Kardashian or pink like Nicki Minaj?
Well, here's the answer. Simply go 1 or 2 shades darker than your natural lip color to find your most flattering, natural shade. Simply smack your lips together tightly and see the color your lips produce when you let go. That, my love, would be your go to daily lip color. If you want your lipstick to last longer, grab a lip liner and fill in your lips first before applying your lipstick.
Of course you might argue that you're in love with your nude lips or vintage red lips but it's really I guess up to you whether you want to take the theory. If you're experimental with lip colours, just make sure your undertone is right. Warm undertones vs. cool undertones must be taken into consideration with lipsticks being cool or warm.
In my opinion, going too nude, especially if you have dark to medium skin, isn't flattering, but we all have our own opinions don't we? Nonetheless, the "theory" says that fair skins look best in fair apricot shades, light pinks or corals. Medium skin tones look best in lips that are slightly darker like berries, muaves, roses. Dark skin tones look best in plums, wines, vivid pinks (if you're experimental) and brick reds.
♡ YouTube Channel | Facebook Page| Online Store | Hellocotton | Bloglovin' | Twitter | Instagram
Show some lovin' and like my upcoming Online Store's Facebook Page at http://www.facebook.com/roseanne.sg
Hope this was useful!
Love,
Roseanne