Hey Everyone!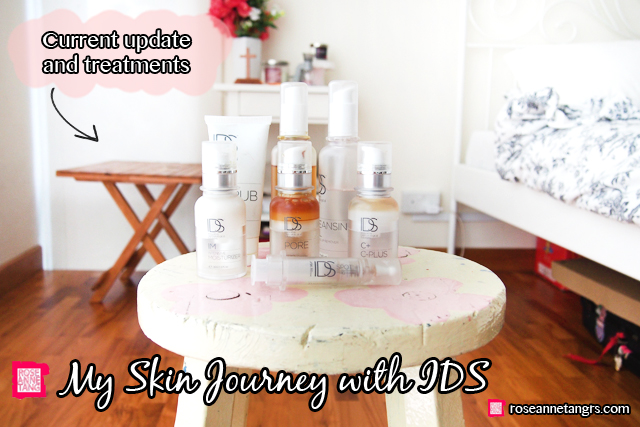 Today, I just wanted to give you a quick update about my journey with IDS clinic – it's been a good four months already! IDS is a skin clinic that I have been regularly visiting to keep my acne issues under control and I have been really loving their professional service. You can read more about it here in my last post when I first visited. They have a very comprehensive range of products and for the first few months, they really helped to lessen the amount of acne I had. Trust me, it really was quite bad. Not only did I have small bumps, I had large cystic acne as well. It's been a real journey and right now, it's gotten a lot better thanks to the products. However, to be totally honest, my skin isn't perfect just yet. My current favourite products from the range is the IDS Cleansing Gel (best make-up remover ever, if you have great skin you need to buy this anyway), IDS Scrub (very fine scrub that helps to take away dead skin cells and blackheads) as well as the IDS spot (which is a tinted acne treatment). I love the IDS C+ and Pore as well as they've really been effective in lessening my crazy skin. I want to update you on my detailed and full journey after my acne is fully recovered, but what I really want to talk about today is the amazing treatment I had yesterday at IDS.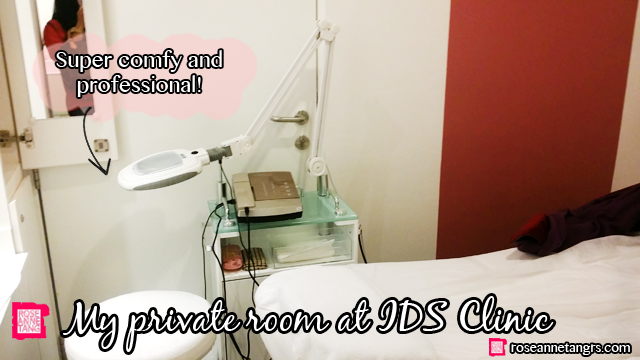 IDS provides full on professional treatments and procedures for your skin issues. What I noticed from other places I have gone to that made them different was that they were using the most updated skin technologies and machinery from around the world.  I had a combination of two treatments – the HydraFacial Therapeutic Treatment and the Theraclear treatment – both of which I have never done before. I thought it would be best to share and document this occasion!
HydraFacial MD Treatment at IDS Clinic
The HydroFacial uses IDS multi-minerals solutions and high powered mini jets of water to do microdermabrasion. Unlike the conventional diamond and crystal dermabrasion, the HydraFacial is very soothing for the face when the cold jets of water brush against the skin which removes dead skin cells. The multi minerals will helps to deep cleanse and the jets help these minerals penetrate into the skin.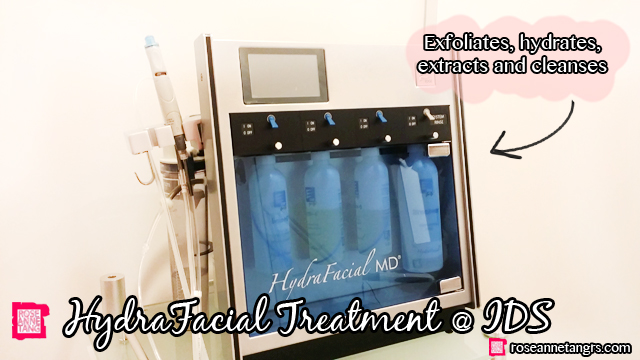 Now I've never done this treatment before so I was pretty excited. Basically, they take that wand you see attatched to the machine and draw it across your skin in a streaking motion. There's also a vacuum that sucks up any impurities and dead skin as the jet moves along. It didn't hurt and I felt uber cleaned up after. If you'd like to see it in action, you can do so here:
TheraClear Treatment at IDS Clinic
Another new treatment that I've never tried before but I am so impressed with is the TheraClear Acne Therapy Treatment. I've always been a fan of light therapy – ever since I did my first IPL and my acne scars faded away. TheraClear takes it a step further and uses vacuum action too. It is a light based treatment that sucks your skin up so that it is closer to the tip so that it can flash it better with the light for enhanced results. The light will kill off the Propionibacterium acnes (P. acnes) which is the main cause of acne and pimples.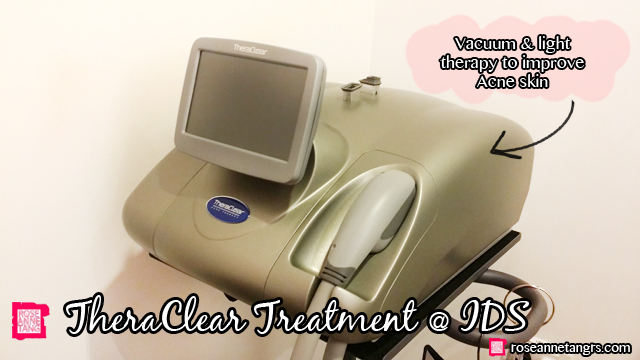 To be honest, it was really a "unique" feeling. Basically the therapist will push the skin into the wand which will close down on that wad of skin and then flash a intensely bright light into it. Kind of like a puppy when they play bite you. The vacuum motion also performs a mini extraction and the light kills the bacteria. Just the sound of it makes me want to do it all over again. You can feel a little bit of tension and the light is extremely bright so please remember to close your eyes when you do this treatment. You can see the light anyway. You can view Theraclear in action right here:
Ultrasound & Iontophorosis at IDS Clinic
Then last but not least I really enjoyed the Ultrasound & Iontophorosis treatment where they help penetrate vitamins into your skin. Basically, I have to hold that metal rod you see poking out of the machine and the therapist sweeps this buzzing ion wand over your face after brushing it with the vitamin solution. It helps the vitamins really penetrate the skin. I was quite intimidated at first because it's a light spiky sensation, but thankfully nothing painful.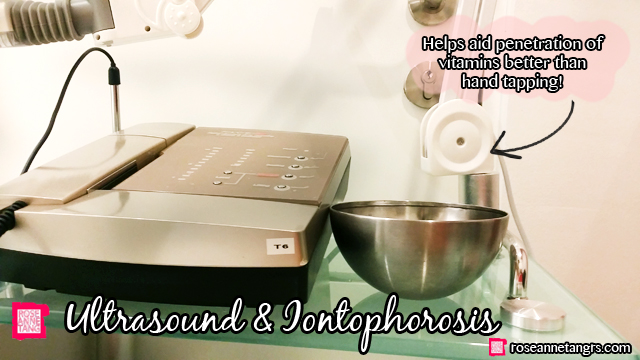 I also did a cooling anti acne mask that soothes the skin and locks in all the nutrients for the face after these treatments. I am absolutely impressed by my treatment at IDS and felt I had to share it with you all. They are really very professional and it was a very comfortable procedure despite trying 3 whole new treatments.  I absolutely recommend you pay a visit soon and it was only $250 for the 60 mins. I reckon that's really quite affordable.
Overall, IDS is working for me. It just takes more time to get me back to perfect. I'm also using other skincare products in my routine just because I am a beauty blogger and I like to try and experiment new things (probably explains my skin condition lol). I really hope you liked this post and stay tuned for more!
Love,
Roseanne