Hey Everyone!

I can't believe it's that time of year again! Bring out the christmas cookies, the tree from the attic and those dusty decorations. It's time for the holidays! Who doesn't love a good gift but even better getting the right gift for your loved one . Here are not only some gift giving solutions but a wish list of my own (not to say anyone is getting me anything :p) but who doesn't love imagining what to get? Plus, I thought it would be fun to show you why and what I'm currently eyeing!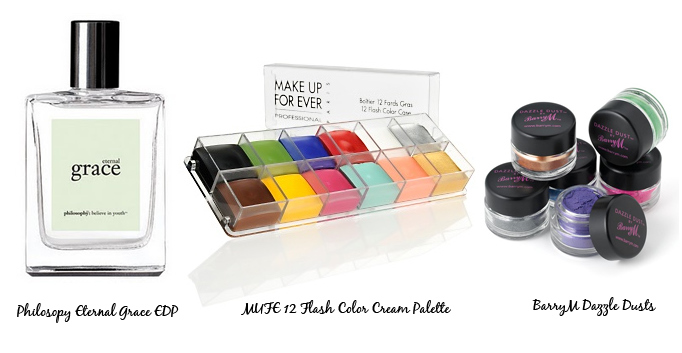 It was love at first sniff with the Philosophy Eternal Grace EDP. It reminded me of my first perfume I ever had which was from Zara. I don't remember the name because it was that long ago, but it smells fresh, beautiful, light and flirty. It doesn't have a floral smell but certainly not overwhelming. It also takes a while until the scent evaporates a little before smelling really good. I love it.
Make-Up school makes you want to buy everything. We have a guest make-up artist every day and they love telling us their favourite products. One that seems to be always popping up is this Make-Up Forever 12 Flash Color Cream Palette. It consists of 12 creams and apparently you can create any look with it by just mixing the creams together to get all the secondary colors you need. It would be great to add for the make-up kit as you always need multi-purpose products. Of course, who can forget the BarryM Dazzle Dusts. Pure pigment, but more affordable than getting it at MAC. I tried them at the drugstore and they are so pigmented (of course). You can do so many things with pigments like adding and mixing them  together into to clear nailpolish, mascara or lip gloss to achieve any shade.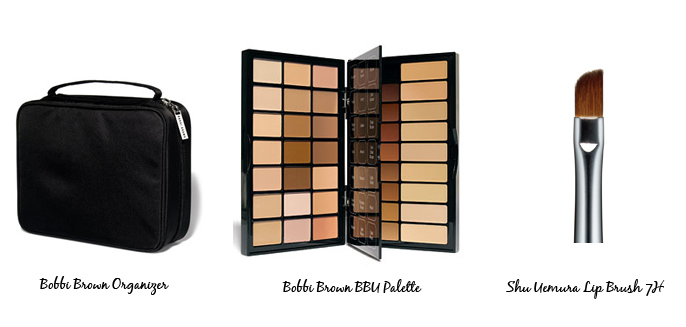 One of my classmates brings the Bobbi Brown Organizer to school everyday and I'm always envious of how great for travel it is. Not only does it have a compartment for your brushes, it has mesh separate pockets in between, and everything zips up into a wonderful and compact bag. Brilliant for travelling. I'm always used to stuffing my brushes and make-up into different zip lock bags. It's amazing how palettes can really save so much space in your make-up kit and with so many colors a make-up artist should provide for, you need compact palettes. One of the make-up artists who teaches at our school carries around the Bobbi Brown BBU Face palette. It retails for 185 pounds on the Bobbi Brown website and contains 11 shades of Corrector for extra dark circles, 14 shades of Creamy Concealer for average undereye darkness and and 20 shades of Foundation Stick. It's a make-up artists dream (not to mention mine too). It's so pricey though.
One of the hardest things to do for me is getting an accurate bold lip color on. It can be really hard. The liner has to be exact, you got to create the straight magazine looking lips and if you don't have the right brush, it's hard. I recently bought a Chanel lipstick for my sister and when we were at the store, the make-up artist used a slanted lip brush to apply her lipstick. It looked like you could do any lip with that brush but unfortunately the one he used wasn't for sale. So I tried to look for dupes and the Shu Uemura lip brush in 7H is a good match. Not only is there a curved end for your cupids bow, you can make straight lines with the straight edge too.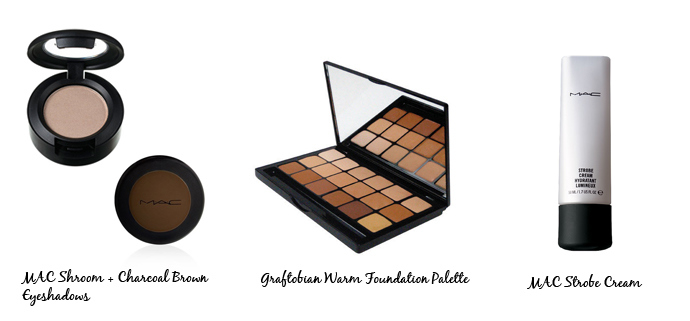 Probably the most used eyeshadows at school are the M.A.C Shroom and M.A.C Charcoal Brown eyeshadows. They're perfect for day looks. Shroom goes over the lid and charcoal brown goes in the outer corner. In fact, charcoal brown doubles up as a brow powder too. It's like the universal perfect shade for basically all eye brows. Of course I'm currently on the look out for handy foundation palettes as well and I heard the Graftobian Warm Foundation Palettes are amazing. Because they're cream, they can also double up as concealers. I like the number of shades that they have and it would be so handy to have in your kit. Last but not least, almost all photo shoots love that dewy look every now and then and when I tried the M.A.C Strobe Cream for it, I fell in love. It's like a beautiful sheen on the face when you apply it as a primer before your foundation and it totally transforms the face to have such a pretty dewy glow. If you're modelling jewellery, it comes in handy as well to just apply on the hands or arms for a beautiful sheen too.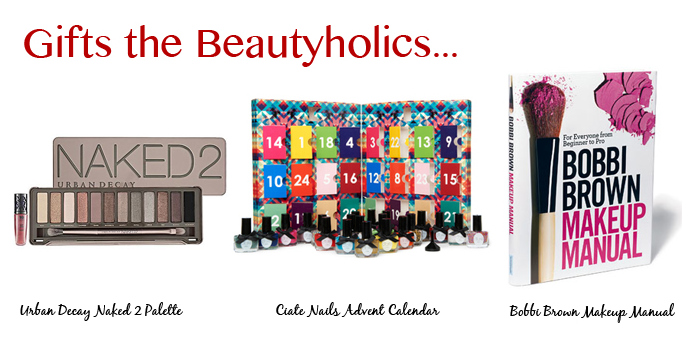 But of course, enough of me, what about your gift ideas? I have to say that if your friend is a beginner at make-up, she will fall in love with the Urban Decay Naked 2 Palette! I use this all the time (as you know in my tutorials) and it has fantastic shades and eye-shadows that she can use for daily wear. She can transform her day looks into night looks with the matte black too! I saw the Ciate Nails Advent Calendar online and I thought it was the COOLEST thing ever since I'm such a fan of advent calendars. I remember my Kindergarten teacher picking one of the class to open one date of the calendar and receive the surprise inside everyday of December until Christmas! Now Ciate (famous for the Caviar Nail Trend) has created the Ciate Nails Advent Calendar! How awesome right? Not only does each date until Christmas contain a nail polish, there are some nail polishes that are exclusive to the calendar itself. It would be such a great gift!
If your friend or family loves a good read, they'll love the Bobbi Brown Make-Up Manual. I love this book, I loved it so much, my sister has one now. I love how it's not like any other make-up book. This one really takes you into consideration, beautifully done, great models and teaches you so well. I love the all the pictures and the information and tips are invaluable. It doesn't push Bobbi Brown products at all which I really like too.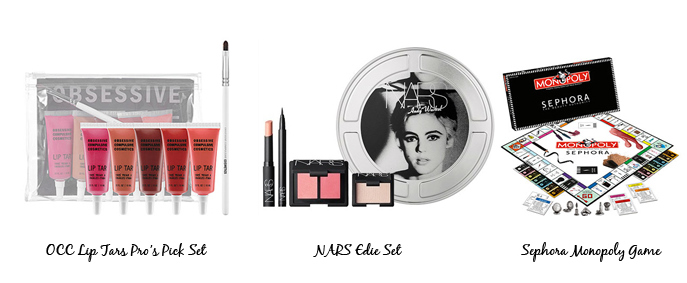 The OCC lip tars are for your more party-ready loved ones. The OCC lip tars are great for ridiculously pigmented lips, stay on the whole night and are just beautiful one of a kind lip products. This OCC Lip Tars Pro Pick set is a great pick so that your friend can try a variety of shades. Any make-up artist would love it too!
I first saw the NARS Edie set here in the UK as NARS has launched an Andy Warhol collection and I love how versatile this set can be for day looks. Your friend would love this – first of all, great duo blush choice – Deep Throat (my favourite) and Amour, Edie Eyeshadow which doubles up as a highlight, eyeliner and neautral lip. What's not to love? And, if your loved one is a fan of Monopoly like I am and a beauty holic, they'll LOVE the Sephora Monopoly Game. How cool is this? I was so excited to see this at Sephora even though it's not a new product because you're basically mixing my favourite game with my favourite activity. Um, why yes I'd like to be the lipstick. And no, I wouldn't mind going to jail for bad hair days at all.
So there we have it, my current holiday wish list and a few ideas to get for your loved ones! Get them soon, most of the online shops have Cyber Monday and Black Friday specials still going. I would get my Christmas gifts now if anything :)
Have fun shopping!
♡ YouTube Channel | Facebook Page| Online Store | Hellocotton | Bloglovin' | Twitter | Instagram
Show some lovin' and like my upcoming Online Store's Facebook Page at http://www.facebook.com/roseanne.sg
Love,
Roseanne