Hey Everyone!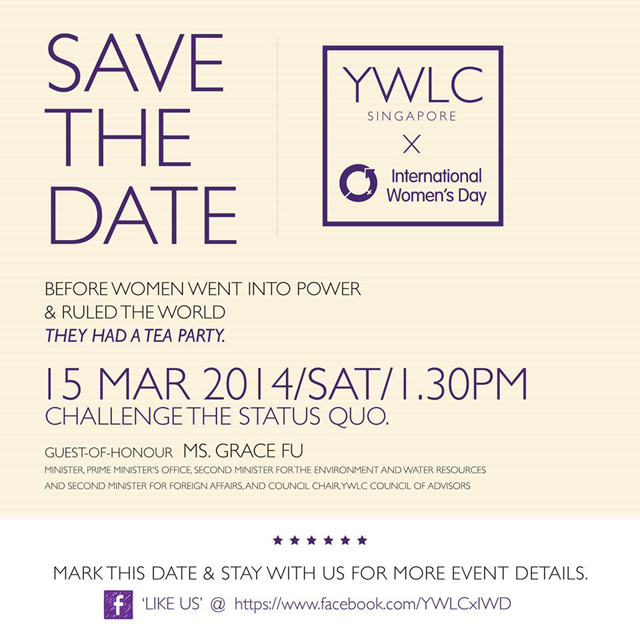 It's International Women's Day on March 15 this year and I have an exciting event to announce if you're interested in celebrating this special occasion with empowering and inspiring women! If you don't know about Young Women Leadership Connection (YWLC), it's an engagement platform here in Singapore that is so special because it serves as a mentorship, enrichment, networking and community engagement platform for young women leaders at the university-to-work stage of their lives. This is something I really feel passionate about and I find it amazing that there's an event for this now! By the way before I get started, YWLC is also having a Story Sharing Contest – where you can win Love Bonito Vouchers! Here's more info: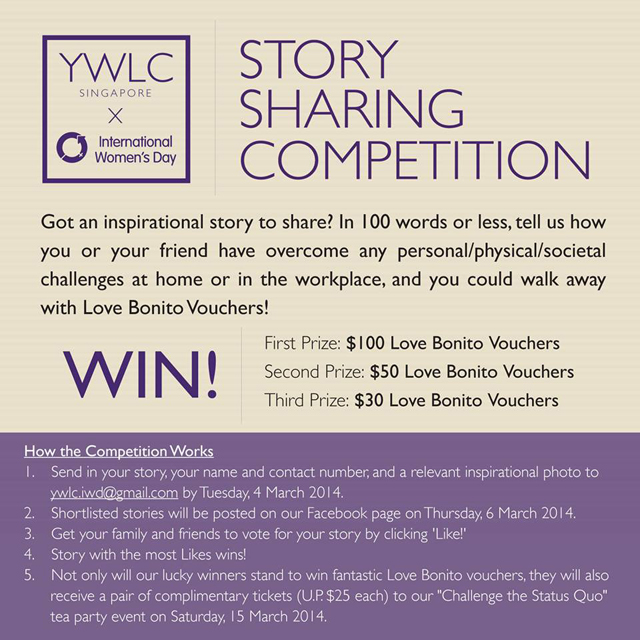 Moving on, in line with the 2014 International Women's Day (IWD) theme 'Inspiring Change', YWLC International Women's Day 2014 will discuss the concept, avenues and experience of challenging the status quo and inspiring change by Singapore's most accomplished women leaders.
The event will feature speeches and a panel discussion by 4 – 5 speakers on 4 sub-topics in line with the broader theme of "Challenging the Status Quo": 
1.     Challenging gender or career norms (Forensics/ Arts/ Nature)
2.     Choosing the road less travelled
3.     Overcoming physical/ personal/ societal family challenges  
I think these are all amazing topics to discuss as women and I can't wait personally to hear about the number two and three! If you're interested, here's a little nifty graphic for you explaining more about what's happening on International Women's Day! The event will be happening from 1:30PM to 5:30PM on Saturday, March 15 at Hood Bar & Cafe at Bugis+ and will be $25 to register! . You can register for the event by emailing ywlc.iwd@gmail.com or registering online here.

I'm looking forward to seeing you there!
Love,
Roseanne