Hey Everyone!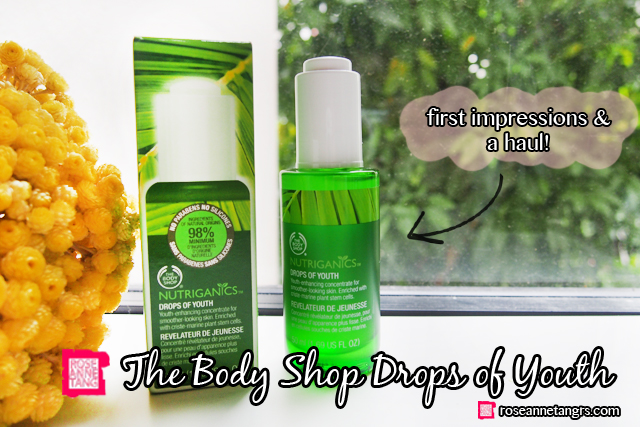 Guess what I just got! It's The Body Shop Nutriganics Drops of Youth! I've seen this everywhere recently and I've been wanting to review it and try it just to see what all the hype is about. So when The Body Shop sent one over, I was more than happy to put it to the test. I thought I might first do a haul post of this product simply because it's quite special and then I will do an in-depth review of it in a later post when I've come up with a verdict! By the way, there's also an amazing GIVEAWAY that you can read about at the end of this post where you can win a $80 goodie bag including a 30ml bottle of Drops of Youth and an exclusive invitation to join me at an event at Amore and Yellow Cup Coffee! There will be five winners but more talk about that later!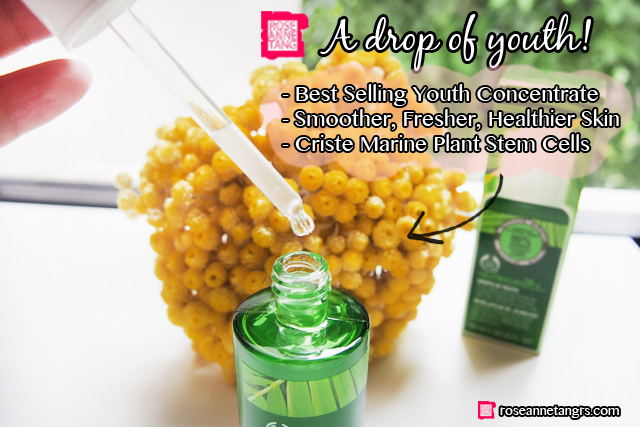 The Body Shop Drops of Youth Concentrate is a youth-enhancing concentrate that helps your skin become smoother, fresher and healthier. The concentrate is enriched with Criste-Marine plant stem cells that help to enhance surface skin renewal which is the skin's natural process of replacing the uppermost dead skin cells with new ones beneath. Your skin will also supposedly become firmer. Amazingly enough, an independent study discovered that 84% of women agreed that their skin looked healthier and more radiant because of Drops of Youth in just five days! To be honest, it's hard to come across a skincare product that can promise you such results in so little time!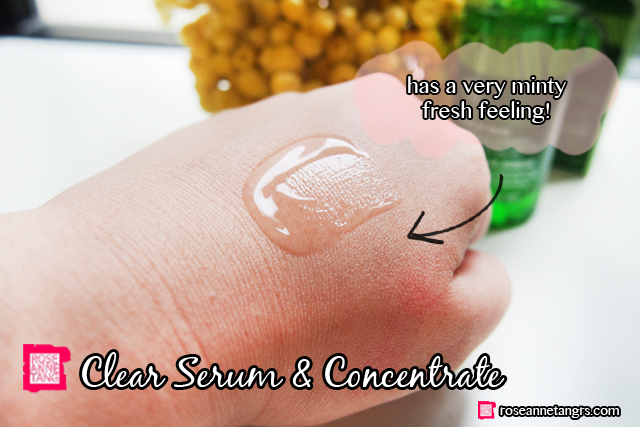 To apply the product, use the eye-dropper to drop a few onto your fingers and then work it into your skin. You'll see that the product comes out as a watery gel and when I put it on for the first time, it felt really minty and fresh! It works into the skin really easily and you can't feel it after it gets absorbed. Probably the most amazing thing is that 98% of the ingredients used in Drops of Youth are of natural origin with high levels of organic ingredients meeting the strict certification standards. The concentrate is enriched with Criste-Marine plant stem cells which is known to thrive in really harsh and dry conditions and it sustains itself by absorbing nutrients from the air! Fair Trade and Organic Babassu Oil is also added!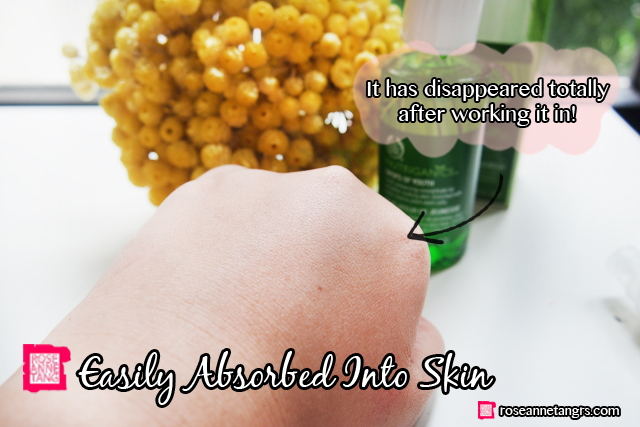 I love how the product just disappears into the skin allowing you to add whatever else you need like moisturiser. I really don't like heavy feeling concentrates and serums that leave a sticky after feel but so far so good, Drops of Youth! I'm really excited to try it and see if it does make a difference in five days! Currently, my skincare routine involves a cleanser and facial treatment essence. On responsible days, I'm also applying my favourite moisturiser but I haven't yet found a good concentrate to call home so I hope this is the one! During these days, I'm looking to see for sure smoother and healthier feeling skin and I can't wait to tell you all about it if it works out!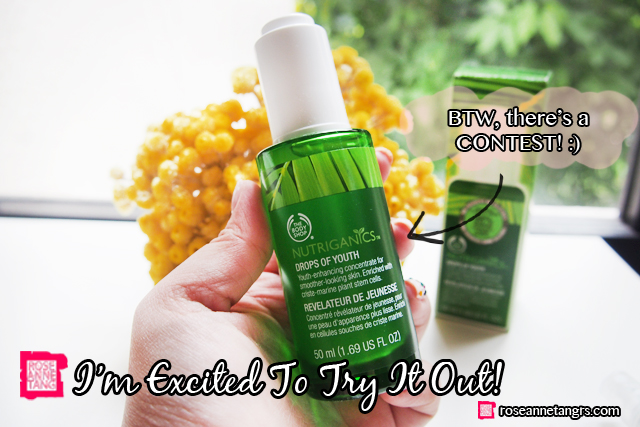 Now onto the exciting Body Shop Giveaway! To win an $80 The Body Shop goodie bag inclusive of a 30ml bottle of Drops of Youth (worth $59.90), comment below on this post/my Instagram account, @roseannetangrs with the answer to this question below "What makes you feel or look youthful?"! Winners will be picked on the 15th of January! Please also remember to leave your contact details!
In addition, you'll also win an exclusive invitation to join ME for you AND your friend at an event at Amore Fitness and Yellow Cup Coffee! We will be doing a Kickboxing and Stretchfit class at Amore Fitness and we will also be having light snacks and coffee after at Yellow Cup Coffee! I'll be so excited to meet some of you!
There will be FIVE winners! Feel free to comment below with what makes you youthful and good luck!!
Love,
Roseanne