Hey Everyone!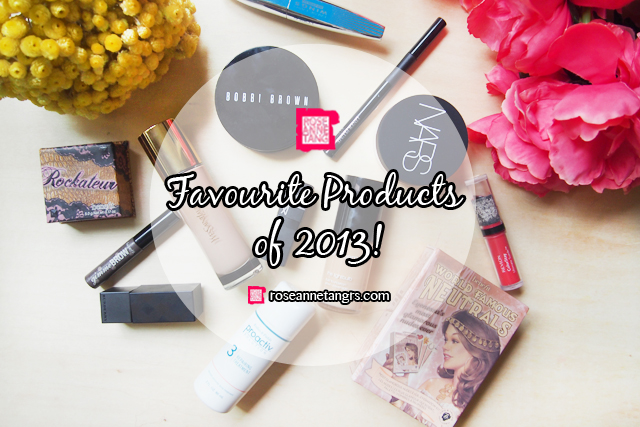 I have to say that 2013 was a great year for make-up and skincare for me. I tried and received so many products and I even got to be a judge for a huge magazine here for their beauty awards. But I'll be telling you more about that later! So, today I thought I might show you what I think were the best products I used in 2013 and what you should definitely add to your list the next time you're out shopping!P.S – If you see that the name of the product has a link, click on it to see a full review post I did on it earlier if you want to find out more about it!
1. Foundation & CC Cream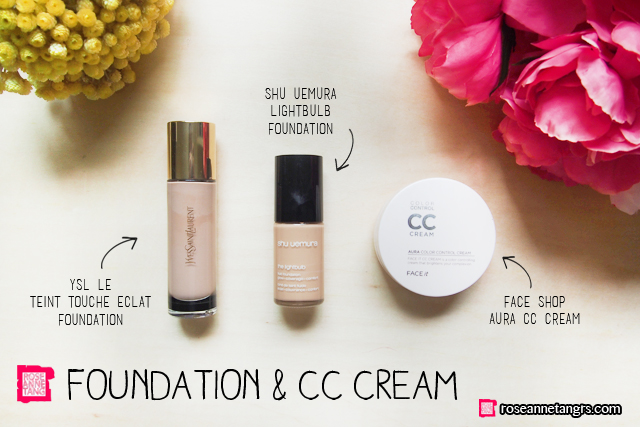 In 2013, the best liquid foundations I tried were the YSL Le Teint Touche Eclat and the Shu Uemura Lightbulb foundation. They both have great consistencies and sit very well on the skin with the YSL foundation having the ability to really stay on your skin for longer. Both give you a luminous and beautiful finish that I love. I also love and have worn the most – the Face Shop Aura CC Cream. This is my favourite out of the entire BB and CC cream category. It is the holy grail of CC cream products and goes on and looks like a dream. They are all must-haves but if you are a one foundation gal, get the Aura CC Cream and you won't regret it.
2. Pressed and Loose Powder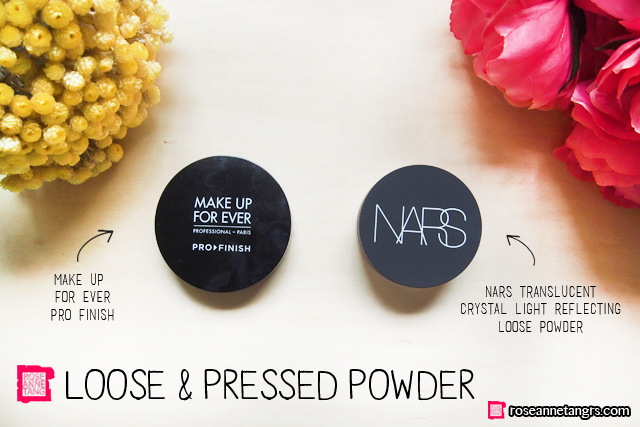 My favourite pressed powder is the Make Up For Ever Pro Finish Powder! I love how flawless it makes you look and it sets make-up really well and keeps it from fading throughout the day. It has great coverage and a fine consistency and doesn't make you look ashy or gray. If you want a more loose powder, I have finished my NARS Translucent Crystal Light Reflecting Loose powder. It really is an amazing loose powder that is completely invisible even under flash photography and absorbs make-up to set it very nicely.
3. Eyeshadow Palette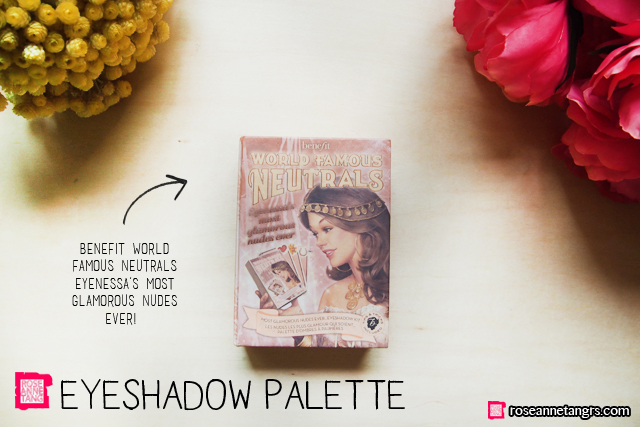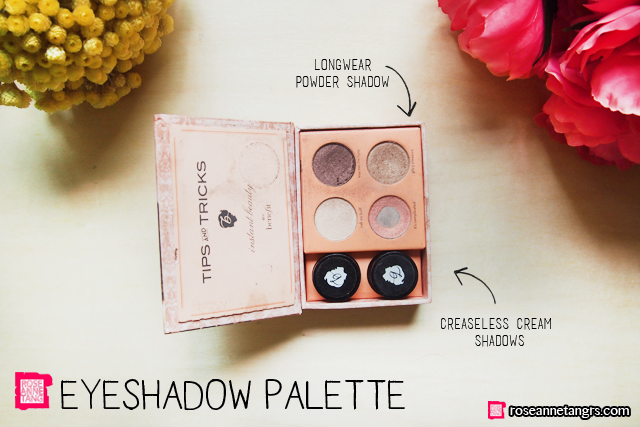 My all time favourite eyeshadow palette is the Benefit World Famous Neutrals (Most Glamorous Nudes Ever) palette. I have been reaching for this time and time again – basically everyday – and I love the perfect mix of neutrals it provides to give you a most flattering neutral eyeshadow look. It's great for work, day or any occasion. I usually put Two Cents Cream Shadow on my eye first followed by It's Complicated and Gilty Pleasure. Then, I add Kiss Me I'm Tipsy in my outer corner and crease. It's stunning and so idiot-proof. As you can see, I've already hit pan!
4. Mascara & Eyeliner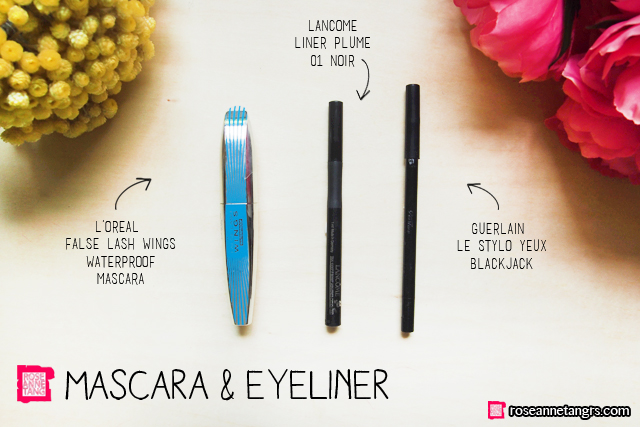 My favourite mascara of 2013 is something that I've recently reviewed – the L'Oreal Butterfly False Lash Wings Mascara. I've never seen anything like it. I look like I have lash extensions when I have it on and it curls it amazingly well. You seriously need to try this if you haven't! As for eyeliners – Lancome Liner Plume 01 Noir isn't just my 2013 favourite, it's my all time favourite liquid liner in a pen form. It's amazing because it is so pigmented and precise but still allows you to draw your looks from a pen. As for pencil, I've been filling in my tightline and waterline with the Guerlain Le Stylo Yeux which is rich, pigmented and stays on forever.
5. Eyebrow Powder/Gel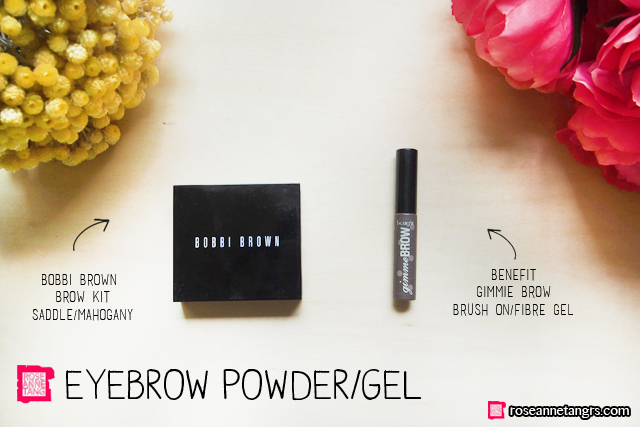 Great news! I've recently got my eyebrows done with eyebrow embroidery. I'll tell you more about it in another post. Before that, I took my brows to another level with these favourites. The first is the Bobbi Brow Kit which features two brow powders that are the perfect shade of brown for your brows. It goes on like a dream. If I'm running short of time, I love the Benefit Gimmie Brow Brush On Fibre Gel that I just need to sweep over my brows to get them defined. I also keep this in my purse whenever I need a touch-up!
6. Blush & Bronzer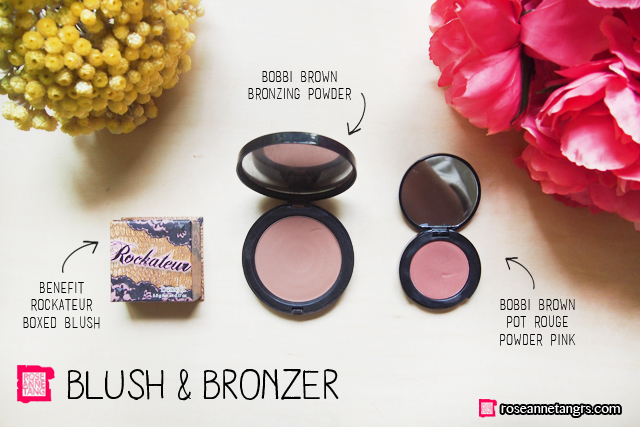 My favourite powder blush was the Benefit Rockateur Boxed Powder/Blush and I love it because it's like a really pretty rose gold shade that fits warmer skin tones like mine extremely well. It's a beautiful shade of pink. I also love the Bobbi Brown Pot Rouge in Powder Pink that is so easy to apply. It's a creme blush that I can pop on my cheeks using my fingers and it's great to carry with you on the go for touch ups. Hoola by Benefit is amazing but for the majority of this year, I was using the Bobbi Brown Bronzing Powder to contour my cheeks and I must say, it did very well indeed.
7. Lipsticks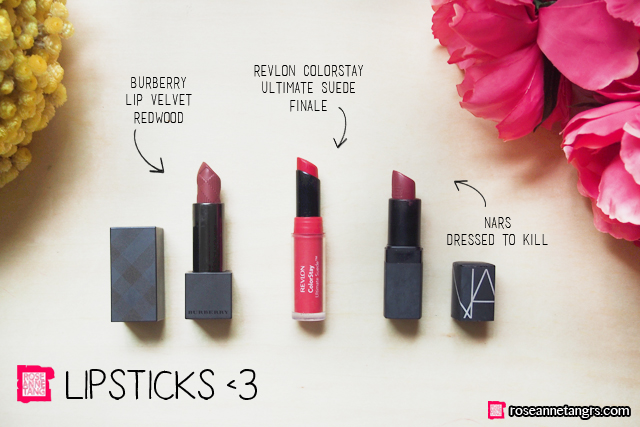 I have three favourite lipsticks for 2013. The first is something that I talked about recently – the Burberry Lip Velvet in Redwood. I love how this lipstick is so rich, smooth and pigmented without feeling overly creamy. It's amazing. For a lot of this year, I was also sporting red lips and that was taken care of the Revlon ColorStay Ultimate Suede Lipstick in Finale. If you need a long lasting lipstick, just get this one and you're set. Once it dries on your lips, you can kiss cheeks, wipe your mouth and drink water out of a glass and not be embarrassed. My last favourite lipstick of 2013 is the NARS Dressed to Kill that I sported at the start of this year. I love the sheer formula of NARS lipsticks- it feels like I'm not wearing anything at all but I thought this muave wine mix was also really pretty as well.
8. Cleansers & Make-up Removers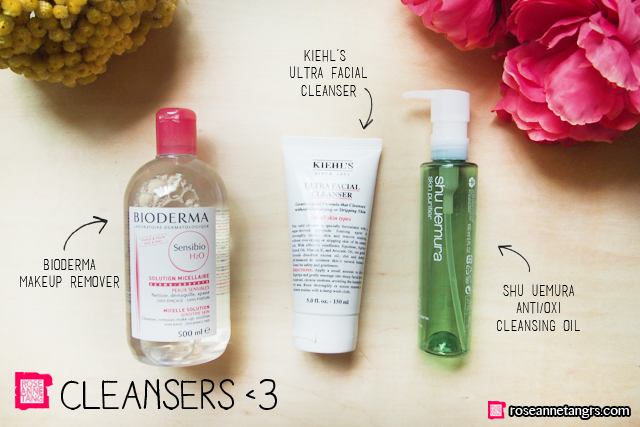 Now onto skincare! Another all time favourite I discovered in 2013 was this – the Bioderma make-up remover. The pink one is for sensitive skin and this removes make-up so well without the need to wash, rinse or feel an oily residue. It's like magic water that instantly removes make-up so well. My current cleanser is the Kiehl's Ultra Facial Cleanser. It's a gel formula that feels a bit thicker than Cetaphil but it has been helping my skin recover from hormonal breakouts quite well without irritating it. I always feel really nice and clean with it. 2013 was also a time where I discovered how useful cleansing oils were and that's because of this which happens to be my first cleansing oil – the Shu Uemura Anti/Oxi. This is an amazing cleansing oil but if you feel intimidated, make sure you read my article on cleansing oil to clear your fears.
9. Sunscreen, Treatments & Serums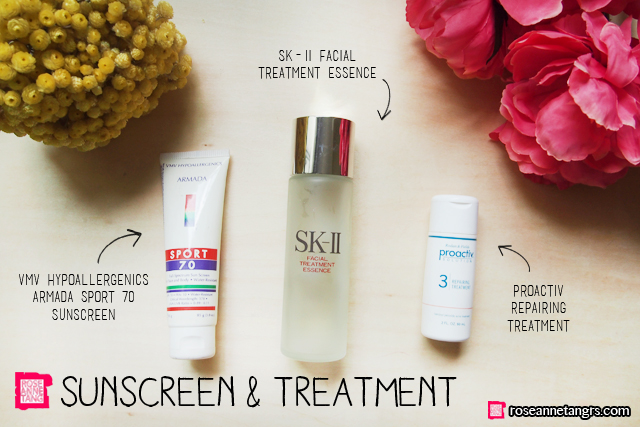 My all time favourite sunscreen that I will be talking about soon is the VMV Hypoallergenics Armada Sport 70. It's a high spf but it feels just like a gel and absorbs into the skin really fast and looks basically invisible. I love it so much and it doesn't leave that slick feeling that other sunscreens can have. Of course the SK-II Facial Treatment Essence makes a come-back. I love this so much and I just filmed a YT video on it so expect a more comprehensive review soon. My skin doesn't glow if it doesn't have it's daily dose of SK-II Facial Treatment Essence. My last will probably always be a favourite of mine – it's the Proactive Repairing Lotion which is in charge of clearing all my zits and hormonal breakouts I have from time to time. It's the only thing that works for me. I talk more about it in an old video I did here.
10. Moisturisers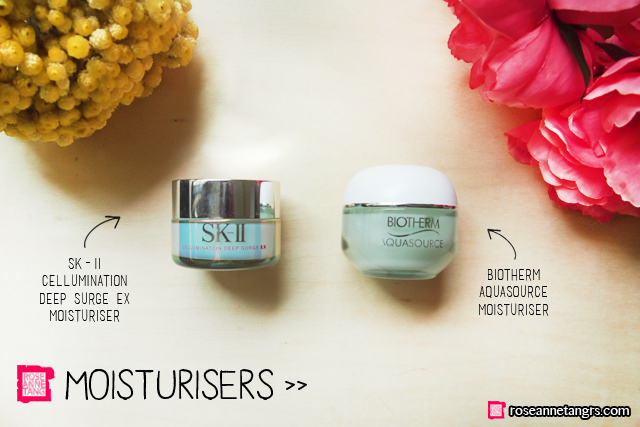 If you have oily or combination skin like I do, you'll for sure want to get these moisturisers that do very well for us. I need a more gel based moisturiser that isn't too thick so I love the SK-II Cellumination Deep Surge EX and the Biotherm Aquasource for this. The Biotherm Aquasource is more my go-to daily one and it is so fresh and light that you'll want to use it any time of the day under anything. The SK-II Cellumination Deep Surge EX is a richer version so it's good for colder months overseas!
I hope you liked my favourites! I'm totally looking to see what I can get my paws on in 2014. What are your current make-up or beauty must haves?
Love,
Roseanne