Hey Everyone!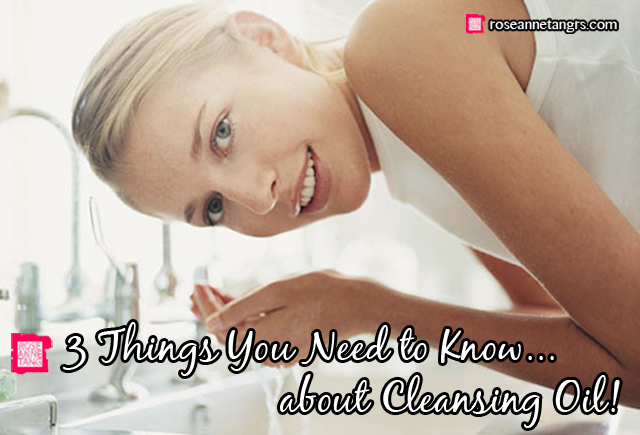 When I first heard of cleansing oil – I thought it was the most ridiculous thing ever. I get oily fast and blotting sheets are like my best friends, so the idea of putting even more oil on my face was way out of the question. I always thought it would clog my pores even more and lead to a crazy amount of breakouts. Lately though, actually make that a few months now, I've been using a cleansing oil to take off my make-up before cleansing again with my normal cleanser and I have found it to be one of the best inventions ever. It is definitely something not to be intimidated by and I see now that it can help your skin in the long run.
#1 Cleansing oil saves time!
Removing your make-up throughly at the end of the day is so important to keep breakouts to a minimum. For me especially since I wear make-up often. You really need to take ALL of it off and sometimes it can be hard to tell whether you have a bit left. I also get so lazy to take multiple cotton pads with a make-up remover and go over and over again with the stuff until my cotton pad is clear. That takes FOREVER. But seriously after using cleansing oil – taking off my make-up is instant. I just take a little bit of the oil onto my fingers and palm and close my eyes and massage the oil all over my face including my eye sockets to remove my eye-makeup. Then, I turn on the tap and rinse everything off. How do I know it works? I take a cotton pad with make-up remover and it comes off clean and when I wipe my face with a towel, there's not even a trace of foundation. Cleansing Oil for sure removes all traces of make-up in like two seconds which is perfect after a long day.
#2 Cleansing Oil Emulsifies & Rinses Off Easily
To be honest, I was afraid of cleansing oil at the start because I didn't know one fact about it and that's the fact that it rinses off like a normal make-up remover – or any face wash for that matter. That's how easy it comes off. How does cleansing oil just rinse off so easily? Well, cleansing oil isn't your regular cooking oil or olive oil. If you buy a cleansing oil, you're actually buying an oil that EMULSIFIES. When the cleansing oil emulsifies with water, it turns into a milky liquid that traps dirt, make-up and oil and rinses off really easily leaving your skin exactly the way it was before when you applied the make-up. Good cleansing oils will emulsify quickly and leave no oily residues. Invest in good cleansing oils and they will help you in the long run. That's why you must apply the cleansing oil before any water is on your face which will trigger the emulsification process. When it's time to take off your make-up, apply the cleansing oil straight on to your face with make-up and it will do it's magic. Because it rinses off, cleansing oil doesn't clog pores. If anything, it's the 600 other factors that can clog your pores like pollution and make-up.
#3 Cleansing Oil works because Oil removes Oil 
Have you ever forgotten to pack your make-up remover on a trip before and your mum just hands you some baby oil to remove your eye-liner? Ever see oil and water together in make-up removers? Well that's because oil removes oil and most make-up products have some form of that in them to create their consistencies. Using a baby oil or olive oil removes your make-up so easily but you're often left with a greasy residue that you can't remove because those two aren't able to emulsify with water like cleansing oils can. However, the concept still remains with cleansing oils. With cleansing oil, everything comes off – your seriously hard to remove eyeliner, mascara, lipstick, foundation or powder. You name it. Cleansing oils remove your make-up on the surface as you massage your face and loosens dead skin too and when it's time, it emulsifies into a milky liquid when you want to rinse it off with water. That's why everything comes off.
Overall, I love cleansing oil. I probably told a few people that I didn't like it before because well, I never thought to try it to be honest. Now I know that they are actually amazing beauty inventions. I haven't experienced any product related breakouts from using cleansing oil but do make sure that yours is non-comedogenic as with all products. Cleansing oil is suitable for people  with oily skin as there's no oily residue that's left and it actually takes away excess sebum so it's suitable for all skin conditions. For me I know that at the start, they just seemed like scary little bottles of oil but now I can't imagine not having them so I just wanted to let you know the above!
Hope you found this helpful ;)
Roseanne