Hey Everyone!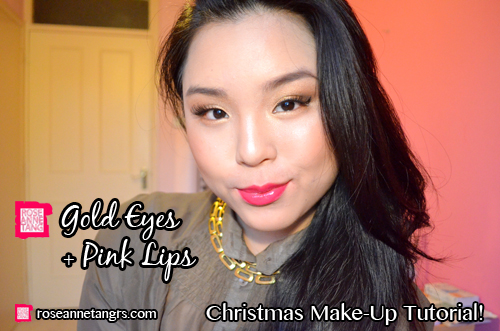 I know, I can't believe it too, Christmas is just around the corner.  So to celebrate, here's a make-up look which is a fresh take on the classic gold eyes and red lips everyone seems to wear during Christmas. Instead, I've switched it up a bit, skipped the liner and added a bold and magazine glossy pink lip. In fact, if you have black hair, hot pink lips are one of the most flattering lip colors you can wear! Better yet, it's a collaboration with the lovely Sunnydahye!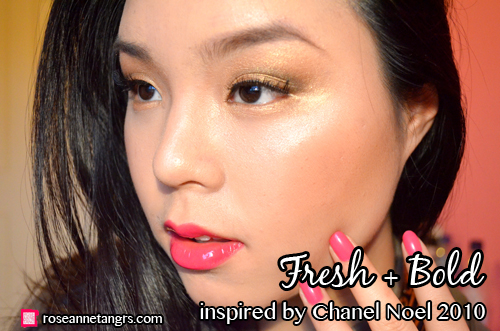 This look is also inspired by  the Chanel Noel 2010 collection. I'm always obsessed with Chanel make-up looks on their advertisements and you've probably figured that out about me since I do so many tutorials on them.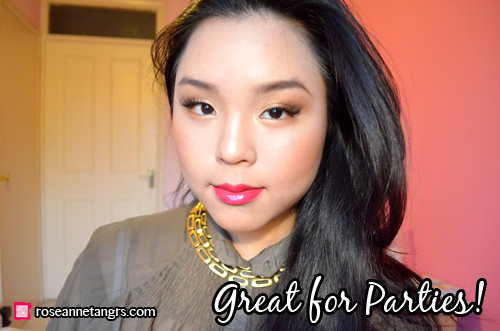 Achieving this look is super simple. Apply a gold eye-shadow like Urban Decay's Half Baked the eyes, and then apply a medium shimmery brown in the outer corner shading into the crease from the NARS Cordura Duo. With the darker brown from the Cordura duo, apply a crease but remember to blend it out and then with Barry M Dazzle Dust in copper, apply that to the middle of the eye to give dimension. Skip the liner and go with mascara and false lashes and then line your waterline and a bit more with the gold eye-shadow.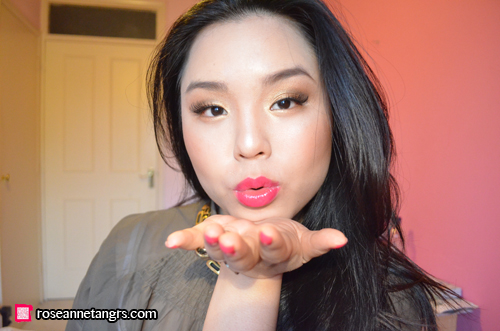 For the lips, start with a hot pink lip pencil like the BarryM Lip pencils in Dark Pink by first outlining the lips with the pencil and then filling in your lips with the lip pencil. Then, apply a hot pink lipstick in the same shade. I applied my trusty Chanel Rogue Allure in Super. This lip pencil and lipstick combo will help your lipstick to stay on longer. With clear gloss and a lip brush, apply a clear lip gloss over your lips for that magazine glossy finish you see in advertisements. For blush, use a dusty rose and remember to contour well with your bronzer. Apply highlight to your nose bridge and cheek bones for a bit of dazzle.
If you're still confused, watch the video tutorial right here:
And…
I  hope you have a great Christmas and Happy Holidays to all of you! I'll be on a plane on Christmas eve and will be in Singapore on the 24th! I'm so excited to see my boyfriend and family. I haven't seen my boyfriend for a good five months but I'm still going to be quite sad leaving this beautiful place. I'll miss the mince pies (I've eaten my fill actually), amazing buildings and traditions, weather (I love cold weather) and of course my sister and learning make-up. It's so scary going into the real world now. I'll need to start from scratch in building my name as a trained and professional make-up artist and I'm launching the store, roseanne.sg, very soon! Lots to do when I arrive, but looking forward to it. Sometimes I think I'm crazy doing all this stuff but I often just ignore that feeling and go on with what I have to do, hehe. I think as Richard Branson put it, "screw it, let's do it". Have a great holiday!!
♡ YouTube Channel | Facebook Page| Online Store | Hellocotton | Bloglovin' | Twitter | Instagram
Show some lovin' and like my upcoming Online Store's Facebook Page at http://www.facebook.com/roseanne.sg
Love,
Roseanne