Hey Everyone!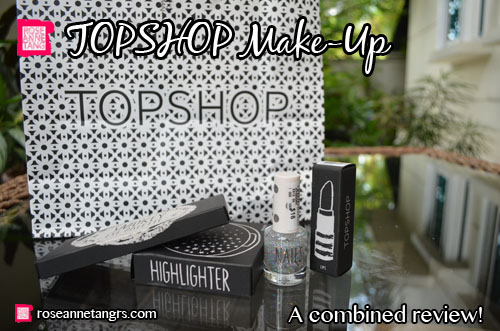 We all know that Topshop makeup has been around for a while now. The definetly different packaging of white chalk on black paper, squiggly sketches of make-up products has always caught my attention but I never really dove in for the kill until now.  I'm like a stubborn cat when I'm shopping. When I want to go shopping, I really go shopping. When I want to try something out, I want to try it all. And if I'm not in the mood, my parents have even begged me to buy something. Anyway, enough of being silly, here's my take, opinion, review, whatever floats your boat of the majority of the make-up products.  Let's get started.
1. Topshop Make-up Eyeshadows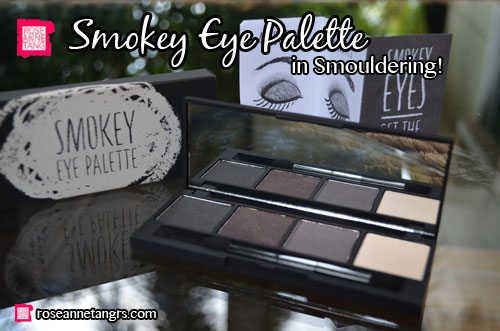 I picked out the Smokey Eye Palette in Smouldering – it's 4 dark and semi shimmery colors – but they come out more matte than shimmery. I tend to like eye-shadow palettes much better because I have a ton of eye-shadow and I shouldn't add any more full-size babies to my collection. Cute enough, the set comes with a little mini tutorial brochure telling you how to apply these shadows. Apply the gray all over the lid, the dark maroon in your outer corner and then use the black to line your lids. The white shade can be used to highlight your brow then remember to blend everything together.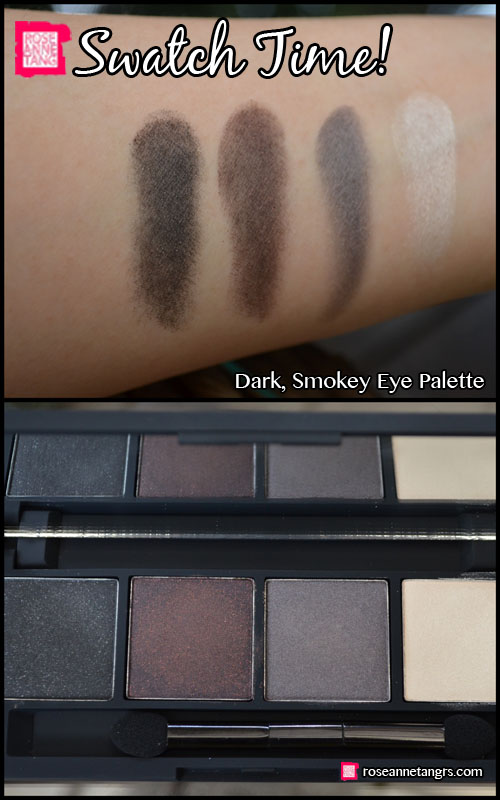 In terms of pigmentation, the color payoff is great when swatched which is no suprise really. The only "problem" I had with them was the blendability or "softness" of the shadow. Even if you're talking about dry eye-shadow if you know eye-shadow well enough, you would know what I mean by "soft". Soft eye-shadows pack on great color at the first pat on your lids and blend very well and effortlessly on your lids. The reason why I love and always use the Urban Decay Naked 2 palette is because it does just that. So does the Wet N' Wild palette. Love those babies. So although pigmentation is good, they aren't soft enough. But if you're not a picky eater, you probably wouldn't know the difference.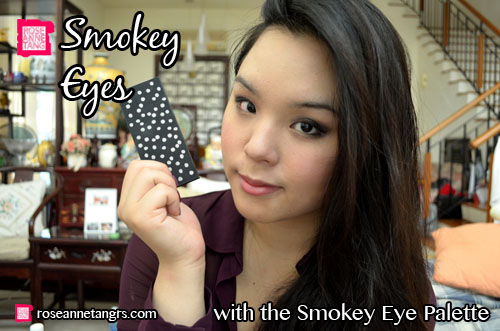 2. Topshop Make-up Lipsticks 
Call me a little nuts, but this lipstick is my first bright red lipstick. I have two OCC liptars that are bright red but they don't count because they're lip paints. So this is my first red lipstick and it makes me want to do a Snow White tutorial. Hazard is a beautiful color. It doesn't look as dark as it does on the stick, and actually comes out a stunning bright red, one that matches my skin tone perfectly. It's the one Geisha's wear and one that Snow White would be proud of. It's beautiful.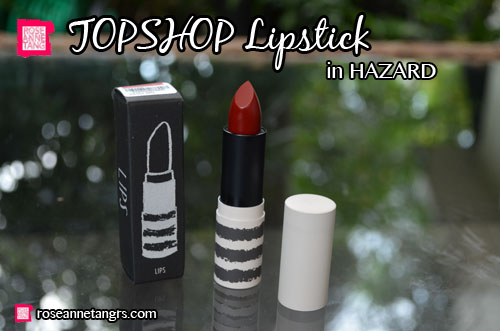 But what is a lipstick if it's no good. I actually really liked the texture and smoothness of the lipstick. This baby applies very well and pigmented, smoothly and although it gives great coverage, it also feels very light on the lips which I love. It has a semi-matte look that still gives leeway for looking like you've come straight out of a poster. I give this lipstick for sure a thumbs up! I can't say much about lasting power just yet but I am impressed with the smoothness, lightness and coverage of it.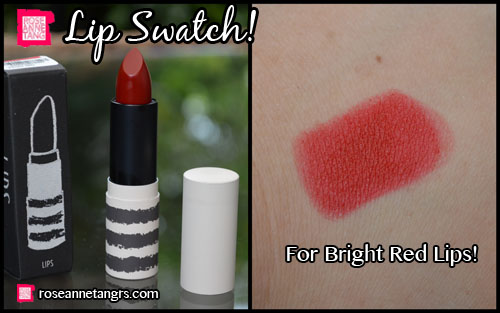 Red lips can be tricky. You need one that matches your skintone. If you get the right lipstick for your skintone, it's becomes a red bright beam of red goodness as you can see. I love the color. I don't know if I'll be wearing it out anytime soon but we will see.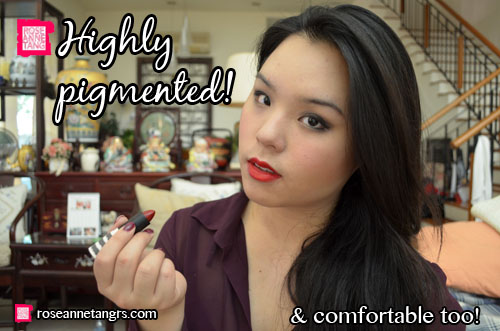 And of course since I don't wear red lips often, I had to have a little fun. If you like red lip looks, I have done a Dita Von Teese make-up tutorial that you might wanna check out! It's using the OCC lip tars though.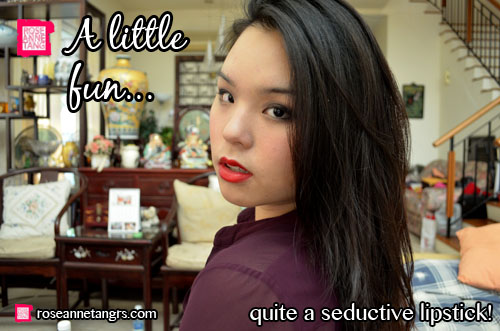 3. Topshop Make-up Highlighters
I love highlighters, I think they make a great difference in making your nose a little slimmer and your cheeks seem a little higher. I'm always on the hunt for the next best highlighter. When I first saw the Topshop sunbeam highlighter, it reminded me a lot of the NARS albatross highlighter and although that isn't obviously gold, it has gold shimmer. After swatching it at the store, it appeared highly pigmented so I was like eh, why not?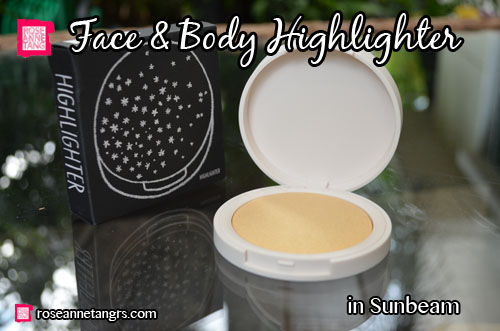 I don't know about this one to be honest. It looks a little yellow for my liking and isn't as "natural" looking as I'd like. I don't really want to look like I just came out of an Egyptian history book nor want to be Cleopatra's best friend. It does have a nice shimmer, but it could use some neutral tones to balance it out. I'll still have to figure out a new way of using this. I do love the texture and pigmentation of this highlighter and I may even use it as an eye-shadow.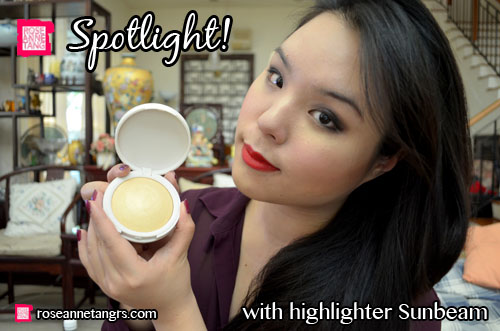 4. Topshop Make-up Nail Polish
The last baby I got was the Topshop nail polish in Ice Crush.This was the first thing I grabbed off the shelf. I have seen too many awesome instagram pictures of your glittery nail art that when I look down at my plain jane mono-chrome toes, my tail (if I have one – don't worry I don't) goes down. When my friend showed me her Nubar  white/silver glitter accent nail amongst her other teal blue fingers, I immediately put that glitter nail polish on my wish list. But seeing this, I thought it would make a great dupe. The nails you see there took about 3-4 coats but it is glitter so you can't expect much. It went on smooth with no problems!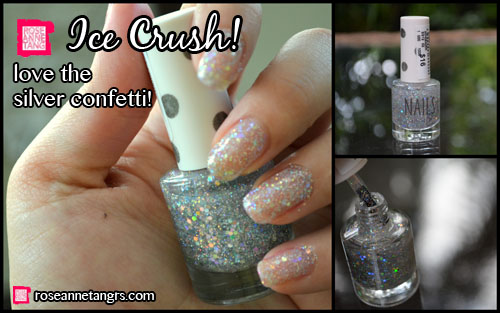 I hope you liked my "comprehensive" review and although pretty long, I hope it helped!
Love,
Roseanne