Hey Everyone,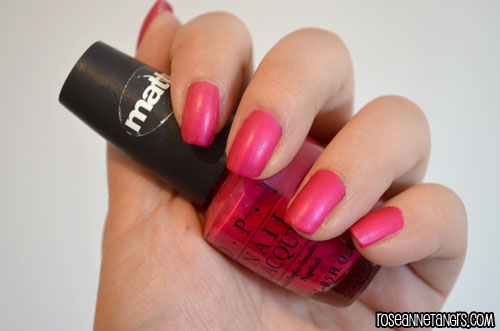 I think you can pretty much guess that hot pink and I go together like peanut butter and jelly. It's my favorite color (no really?). It's a color that's so befitting of my personality – pretty loud, girly and strong. I love it. I'm always on the hunt for a great hot pink, and it's the one color I always ask for when I'm getting my nails done at the salon. It's pretty much an expression of me.
I bought this baby – O.P.I La Paz-Itively Hot – quite a while ago and it has been such a favourite that I had to share. Matte nails is a pretty old trend, it's probably been stepped on all over by shatter nails and even nail wraps. But I have to say out of all the unique trends out there, this is probably the most "wearable", at least for me. The best one? Is this one. This hot pink dries matte but it has a bit of depth to it because of the slight and subtle shimmer that gives your nails a matte glow which is so fun. I have You Don't Know Jacques as well but because it doesn't have the wild flair, it's a kind of a boring shade especially because it dries matte. I love matte nail polishes (not that I only like them, I really like shiny cream as well) because they dry super fast and they are super pigmented in general.  I still would use two coats of this but I like it because it has a bit of a satin finish. One of best!
 What's your favourite nail polish?
Love,
Roseanne