Hey Everyone!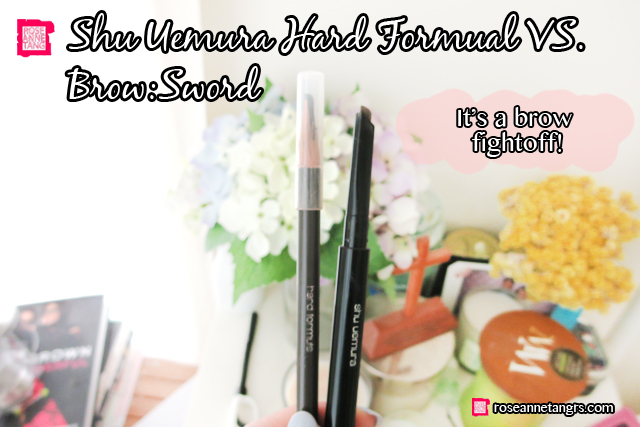 I have been absolutely in love with two brow products lately – the Shu Uemura Hard Formula and Brow:sword. Both offer the chance at amazing brows but both shouldn't be mistaken as the same. In fact, Hard Formula has been around for ages and Brow:sword is only a recent release. Let's see how they stack up!
The Package:
Straight up, the Shu Uemura Brow:sword is the most versatile and easy to use. It is an automatic pencil that does not have to be sharpened and it comes with a spoolee on one end. Unlike other brow pencils, the tip of the pencil is a slanted line making it easy to draw the individual hairs of the brow. The pencil also comes with an inbuilt sharpener that you can take out to make the end pointier and the product is totally refillable too.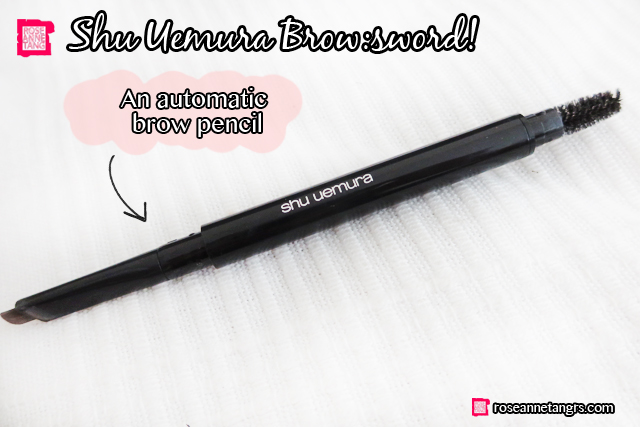 Hard Formula is a very different pencil. Known as one of Shu Uemura's most iconic products, it is a wood pencil that cannot be refilled and must be manually sharpened by a Shu staff. That means when you finish, you have to go to a Shu counter to get it sharpened because there is a specific shape that they follow. Using this,  I really feel like I'm taken back to the traditional times. Unlike other brow pencils, it has a long slanted tip that is rounded. You have to hold the brow pencil like a flute and slowly stroke upwards, following the growth of your hair. I find this one of the most natural brow products I have ever laid hands on. I love using this on my clients because the turn out of the brows is great.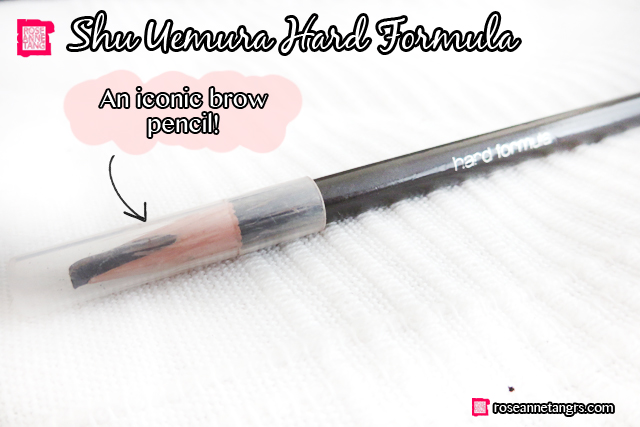 On the Brows:
So let's compare them. Personally I feel that Brow:sword has a more wet formula and it's quicker to use. You can see comparing the two brows below that the line is bolder and the look of individual hairs is less than hard formula. That's because the slightly more wet formula (that really isn't very wet at all, just more than hard formula) is a bit more waxy so it holds the hairs together. Hard Formula however doesn't do this and is much less waxy/wet so you really get the individual hairs. I feel like you get a more natural brow look with Hard Formula but I feel that Brow:sword is better for beginners because it's quicker and faster and less precise. It also comes with more convenience – refillable, sharpener included and spoolee in built as well. Here's an interesting fact –  both don't work as swatches by the way (The first time I met these pencils, I swatched them on my wrist and they didn't swatch! They only show pigment when there's hair to cling on to).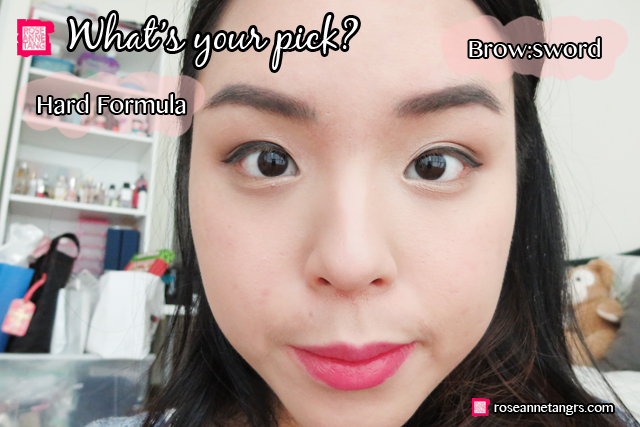 My Favourite
For me, my favourite has to be Hard Formula. It's difficult to find something so natural – brow pencils can be pretty repetitive these days. I don't mind having a Shu staff sharpen it for me too and it's also very affordable in the $30 dolla range. I really really love Hard Formula. I want to buy more of them so I can use them for my make-up classes too. I love the natural effect it gives my brows and my clients and it's easy to be very precise with it too. I think it just has to get some getting used to because the way you apply it is with a kind of slant. I use it in my Get Ready with Me Video below! Check it out!
Hope you like this review!
Love,
Roseanne