Hey Everyone!
Hello 2015! I just realised that this will be my first blog post of 2015. Woot! Today I thought I would try and do the classic smokey eyes and nude lips look. All celebs are sporting it on the red carpet and it's just one of those never out of fashion styles. Personally, I never wear nude lips out. I always think I look half dead so this was for sure something that made me a little uncomfortable. You're also probably used to seeing me in bright reds and fuchsias so I thought this would be a great change (not to mention experimental progress for me!). My chosen weapon of choice is Brigitte cosmetics.
*These were not sponsored or given to me, I bought a few of their make-up products from the new Tokyu Hands stores across the island. After dinner, my friend and I visited the one at 313 and brought me to see Brigitte. I haven't tried many Japanese make-up brands before so I thought I'd pick some up and do a blog post on it, so here it is! As such, these are my 100% honest opinions about it. I have also never tried Brigitte cosmetics prior to this! Let's get started!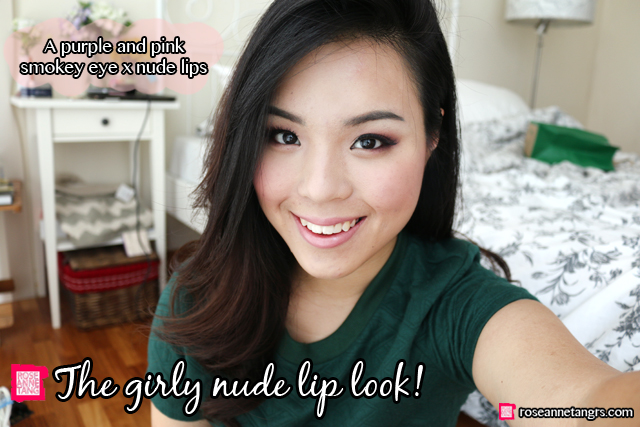 I took out the palette and did my classic smokey eye with the Brigitte Romantic Prologue palette in PU-1. The shadows were impressive actually and the look created is a gorgeous sultry pink and purple smokey eye. The shadows were also not chalky and easily blendable which made doing the smokey eyes a little easier. I like also how the glitter bit wasn't overly chunky monkey. Here's how to do the smokey eye! Please also excuse my lack of eyebrow grooming. Life gets really busy and sometimes I kind of *cough* forget. Ok, no excuses Roseanne.

Next up – nude lips! Gosh, this was certainly the hardest part for me (actually just slightly uncomfortable) since I am very much used to bolder lip colors. I picked up the Brigitte Blooming Rouge in CR-1 Camellia lipstick which in the tube looks like a natural pink lipstick. However, it turned out a lot lighter than what I saw in the package and slightly leaning on the cooler side which I found interesting. Other than the shades, I really liked the texture of the lipstick. It's smooth and hydrating and if I picked up a shade I'd wear more often, I would for sure be wearing it out more.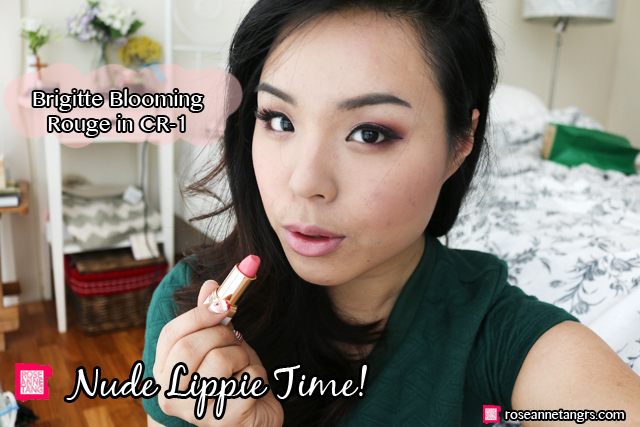 I hope you liked this look! What do you think? Nude lips or bold lips for me? I still like my bold lips but I like how it gives off a very dreamy and doll like look! :) Overall, Brigitte impressed me. It's not just about the gorgeous cute jap exterior, the products are fun and easy to use as well. I also tried the eyeliner which makes one of the thinnest lines yet and it's also super black and pretty easy to use considering the width of the line it draws.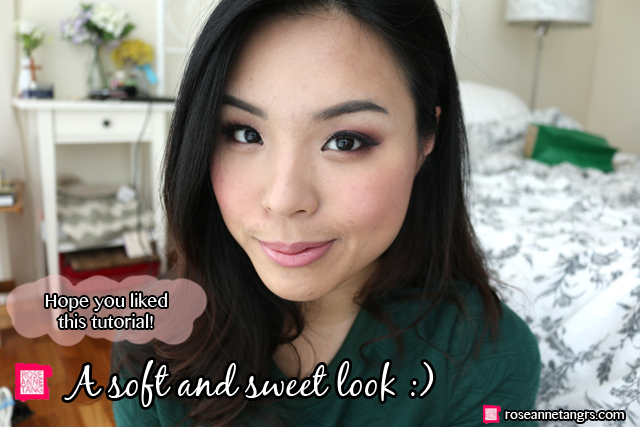 Overall, 2015 will be a year that I want to be braver more confident in. That means trying out new things, travelling more and not being afraid to ask or speak out. I have like this fear of asking people for things. I hate doing it and with my business, I can't do everything myself and for sure need help so I want to finally be braver this year and not be afraid to ask. I'll also be travelling! I seriously have a travelling bug and in fact, in the coming months – I'll be going to Hong Kong & Guangzhou, Tokyo, London and Bali! I'm so excited and I'm going to be super hardworking and doing travel vlogs for each place I visit. Make sure you stay tuned to my YouTube Channel for them. I added a new travel with me playlist to my Youtube Channel for all the places I've been in. I can't wait to show you the world!
Most of all, the biggest thing in my heart for 2015 is Bloom by Roseanne, my make-up school. I launched it in November and I want to thank you so much for all your support so far. It has been an amazing journey teaching and I cannot wait for God to light the way this year. I think there's nothing more I want than for Bloom to grow and succeed. Seriously, every time I pass by a shop front for rent or for sale, I litterally look in the windows and just imagine what it would be like to one day have my own place for it. I even see the decor, to where I'd put my signage to like where the reception would be. LOL. I can't imagine how happy I'd be when I finally reach that stage, but for now we build! If you've helped me in some way for it – even down to just follow Bloom on instagram (@bloombyroseanne) – I just wanted to really thank you. Oh, I also can't express my appreciation very well haha, like love in general. Ok, this is getting deep. Basically, you have no idea how much your support means to me with this dream to teach and if I could express it (which I am bad at), I'd show you appreciation from my whole heart. God, I pray Bloom grows. It might not be overnight success and it might take a lot of time and energy but boy I really hope there's new opportunities for this and for people to just be transformed!
I also want to pay a lot more attention to my career as a make-up artist – whether it be for bridal, events, ads etc which I've been doing all this while. I want to take these two things with me for the rest of my life. To be honest, I don't just want to be a beauty blogger the rest of my life even though it's very fun and I enjoy doing it but I don't want fame. It's not something I want which I know sounds weird since I am what I am but I realise that what I want the most is to accomplish and build and have strong buildings of success whether it's that business or this business. I don't want people to just be like, she's famous because she's cute or she's famous because she's hot. I want to be known for she's famous because she does great work and she's built her businesses from scratch (if fame ever has to be in the picture). I want to accomplish more with my life. I want to build houses, buildings and empires and in 2015, I commence. I want to be known most for my work and if my work gets famous, then I'll be happy. Does that make sense? This sounds ridiculously ambitious but I've had this running in my blood since I was little. It's a weird yearning. Haha, I'm not quitting by the way, it's just I think in life we have to set our priorities that's all. I'm still going to blog and youtube :)
Overall, 2015 – I'm not going to sit back and watch you happen, I'm going to make it happen. I want to drive harder, progress further and I can't wait to see what I'll be like at the end of this year. For you, I wish amazing things.
Hope you liked this post!
Love,
Roseanne