Hey Everyone!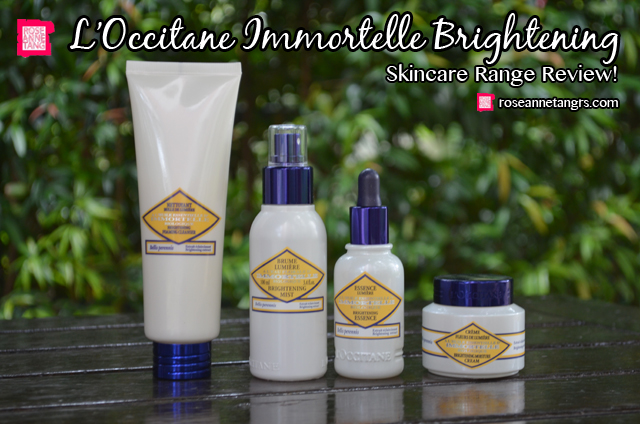 I've been getting a lot of compliments on my skin lately (thank you) and I've pretty much fallen in love with the L'Occitane Immortelle range. It has really added a beautiful glow to my complexion so I thought it was only necessary to share it with you all.
The idea behind Immortelle is it's special main ingredient – a flower from Corsica, France named Immortelle. Even when the flower dies, it still remains as vivid as when it was alive. Over ten years ago, L'Occitane revealed and patented the anti-ageing, microcirculation, collagen production and protection against free radical powers of this flower and it has been praised by women ever since. Story over, I think it is absolutely amazing still that it looks alive (but is actually pretty much gone). Makes for nice interior decoration too. The other main ingredient is Bellis Perennis which limits, reduces and inhibits melanin synthesis (pigmentation).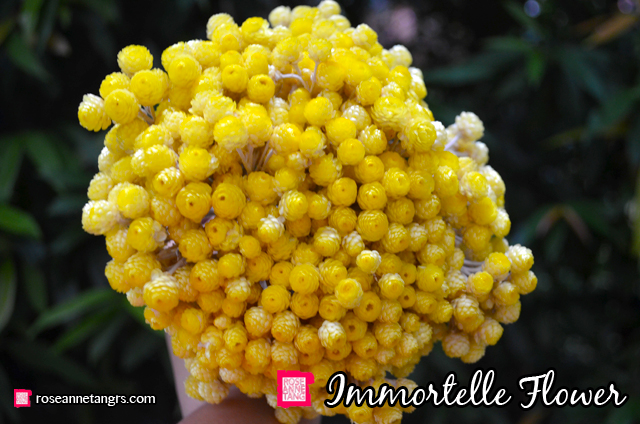 Let's get started and walk you through what I do every morning and night. I first start off with a cleanser, the L'Occitane Brightening Foaming Cleanser. This baby is newly added to the Immortelle range and aims to be a soap free cleanser (amazing) that takes care of the skin without drying it out. It also is able to remove impurities and make-up and reveal for a clear complexion.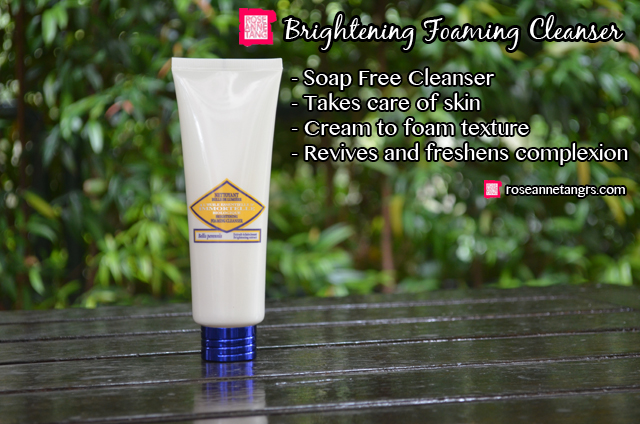 The cleanser actually is very fluid when it comes out of the tube. Lets say it "flows" out of the tube so be careful. Other than that, when it touches water, it transforms into the most luxurious foam in the whole wide world. It's soft, creamy, rich and perfect. On the skin, it lathers well and the smell is amazing. Smells floral and fresh and sort of feels therapeutic. After the rinse, the skin feels incredibly soft and clean.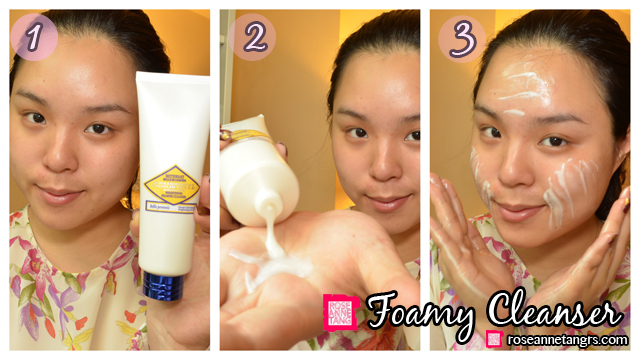 Next up is the L'Occitane Immortelle Brightening Mist. This is your toner and is an alcohol – free mist that refreshes, softens and brightens the complexion. It can also be used to set your make-up with a quick spray over.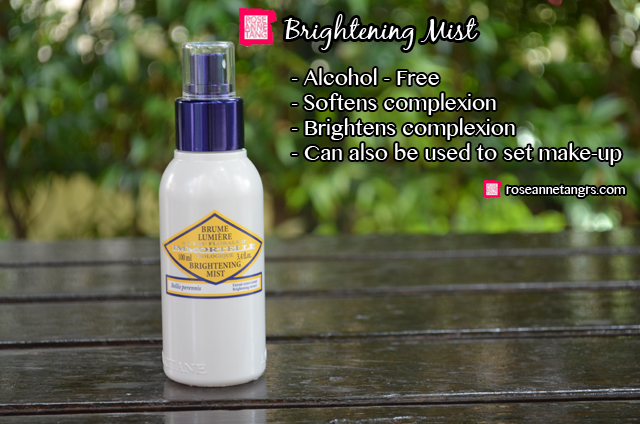 I seriously think all toners should be in a little spray bottle. Spritzing this stuff is really fun and I find it makes a good pick me up during the day. I usually pat with a tissue dry and it feels really refreshing although the scent is a little stronger than the cleanser. Other than that, it's great.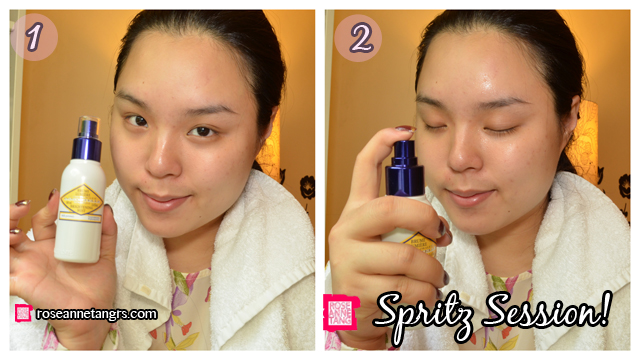 The L'Occitane Brightening Essence is the serum of the range. It is concentrated with the two ingredients of Immortelle and Bellis Perennis so that pigmentation can't stand a chance. It is also an instant smoother and brightener. The serum isn't overly sticky or heavy and blends into the skin well making it great for both day and night.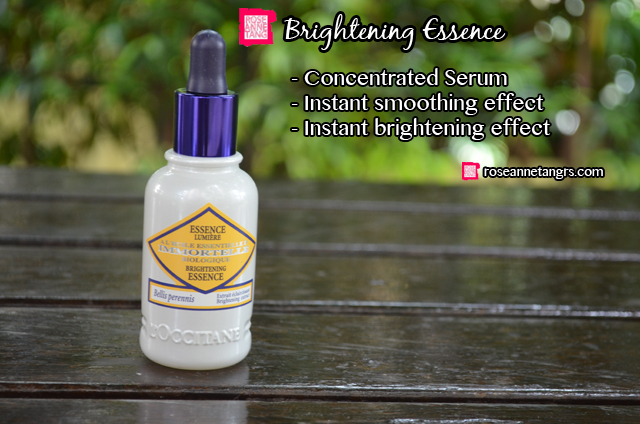 As with most serums, you have to squeeze it into a glass eyedropper which comes with the cap. The texture is a sort of syrup but it feels quite water based on the skin. I couldn't disagree that it automatically makes me look brighter and smoother. Don't you agree?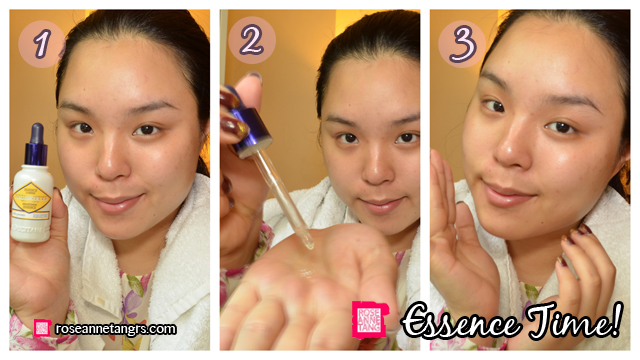 Probably my most loved product is the L'Occitane Brightening Moisture Cream. It is a gel-cream texture that not only hydrates the skin but also aims to correct wrinkles, even out the skin tone and brighten the complexion.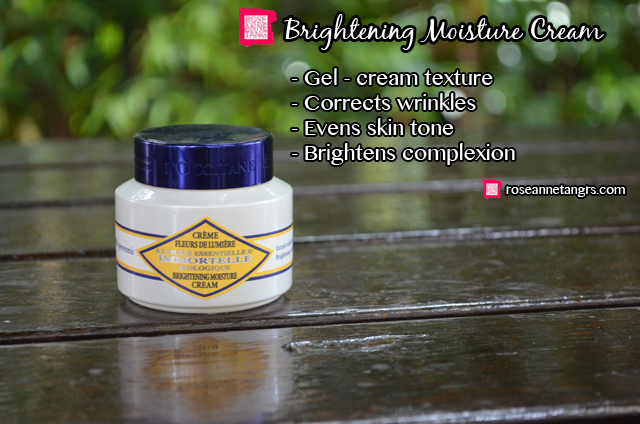 I love the texture of this moisture cream. If you are on the hunt for a new moisturiser, look no further. The moisturiser really soothes and calms the skin when you apply it and pores actually disappear This makes it a great moisturiser to apply make-up on top of as it kind of acts as a primer almost. Yet, not only is it great for the day, it's fine for night as well.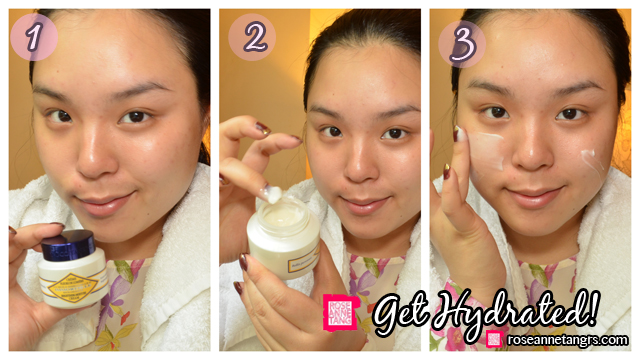 So there you have it. An update on my skincare. No, that's not oil, it's a natural shine baby!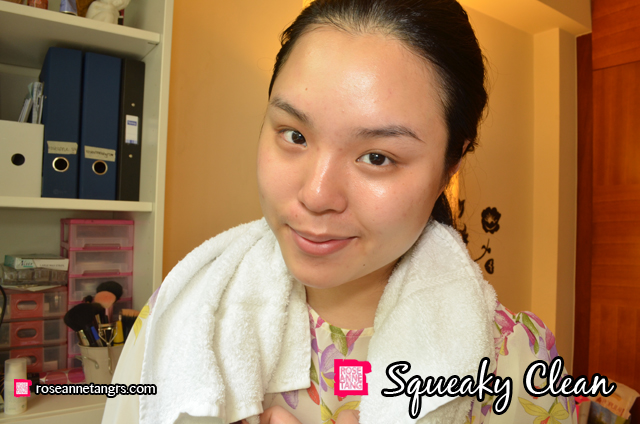 Hope you liked my review! L'Occitane Singapore has also chosen me to be part of their new facebook app. Check out the L'Occitane facebook page for more information (trust me it's kind of fun) or their website at www.loccitane.com.sg.
And if you're aching to get a set of your own, you can always swing by at any L'Occitane Outlet listed below:
1. B2-33 ION Orchard, Phone: 65099068
2. B2-106 Marina Bay Sands, Phone: 6688 7005
3. B1-33A Ngee Ann City, Phone: 6737 7800
4. B1-24 Paragon, Phone 6836 5338
5. 01-65 Plaza Singapura, Phone: 6338 0378
6. 01-40 Raffles City, Phone: 6338 7028
7. Interior Dept, B1, Takashimaya Dept Store, Phone: 6737 6312
8. 01-10 VivoCity, Phone: 6270 8636
Much Love, Roseanne