Hey Everyone,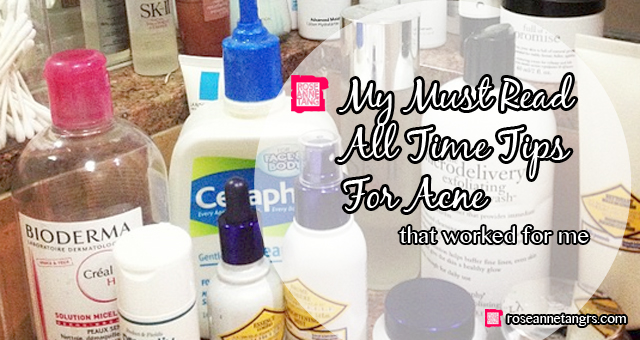 I know it doesn't look like it but I've actually been battling acne for a long time. My skin has attitude and breaks out in different periods of time for what seems like no absolute reason. It can have periods of peace and then have periods of war and you can see the war coming with small tiny bumps spread across my face. Thankfully, it has prepared me for battle so here I am sharing some tips to help keep your skin clearer including what works for me and what doesn't.
1. Spot Treatment – Proactiv Repairing Lotion
My all time favourite acne treatment that doesn't leave me scars is the Proactiv Repairing Lotion. It works because it contains benzoyl peroxide that eliminates the bacteria on your skin that causes acne. I used the Proactiv range before and just like any skincare range, it works for a while and then doesn't.  However, I've stuck to the repairing lotion for a long time and its the one thing that has helped clear acne without leaving scars, smaller overnight and even stops growing acne from coming out. What a miracle worker. I'm probably on my 4th bottle.
2. The Cleanse Twice Rule & Remove Makeup Properly!
Guess what, many of us don't remove our make-up properly! It's sad but true and it was true for me. I thought cleansing my skin with a cleanser looked like it removed all my makeup but it actually isn't sufficient. Take everything off and make sure its off. I use Bioderma, my all time favourite sensitive skin makeup remover with a non oily forumla. It removes all traces of make-up and has helped my skin improve because I use it with a cotton pad until I see no more traces of make-up. Then, I start off with cleanse number 1 which is Cetaphil because it has a gentle, non-soap formula. I then take my bath and when I'm about to sleep, I cleanse again with my "treatment" cleanser – whether it be brightening, whitening or whatever. That way I cleanse fully. It really helps to make your skin a whole ton better.
3.  Finding a Skincare Routine that works for you
A lot of the brands out there claim that you NEED a serum, need a toner, need this and that in your skincare routine. Most of the time, some of the products aren't suitable for your skin and it's just a marketing gimmic. You seriously need to find a skincare routine that works for you. That means if you have to skip toner because it breaks you out, just skip it. If you think you shouldn't use all the products from a brand range, and mix it up a bit, do it! Find the routine that works for you and it will be the best for you. To clear off my whole load of acne I had across my cheeks, I basically fired it all with the Proactiv Reparing lotion, like loads of it. Of course that's not recommended by anyones dermatologist but even though it was red and irritated  it eliminated my acne in about 2 weeks. Record breaking time.
4. You're a Work in Progress
Treating acne requires a patient soul. Acne never goes down in a day or two days even. Treat it everyday and be careful with it and it will go down. Sometimes it can be due to your hormones and your diet as well. So eat more vegetables and drink more water to help with that. Hormones – can't do much I guess. Be patient!
5. Exfoliation & Going Oil-Free
Within your skincare routine, you can help with the process as well like exfoliating less. This really aggravates the acne. You should go oil free with all your products as well and when treating your acne, reduce moisturiser to specific times. When applying your acne medication, do not apply it over your moisturizer. Think about it, you're trying to dry out the pimple with your medication and then you're trying to hydrate it at the same time. Don't confuse it. Apply moisturizer around the zits if you need to or after your medication session is over. If you have "treatment" and "moisturiser/repair" sessions like wake up 9am to 11 am treat acne, 2 pm to 3pm moisturise because that way they don't mix.
Please also remember to clean your mouth after you eat!
Here are my all time favourite acne skincare products that work:
– Proactiv Repairing Lotion (Can be found at Watsons)
– Cetaphil Gentle Skin Cleanser
– Cellilux Glacial Clay mask
– Bioderma for Sensitive Skin (can be found at http://elizabeauty.com/get-your-very-own-bioderma for cheaper)
Hope you liked this article :)
Roseanne