Hey Everyone!
There are a few ways that I make sure that I keep on top of makeup trends! Other than watching what people are doing on the street, I also make sure I observe what make-up is being put on the runways and done for celebrities at big award ceremonies like the Golden Globes 2014 that recently happened. Here are my top favourite looks from the Golden Globes and what I think is trending.
1. Pop of Color Lips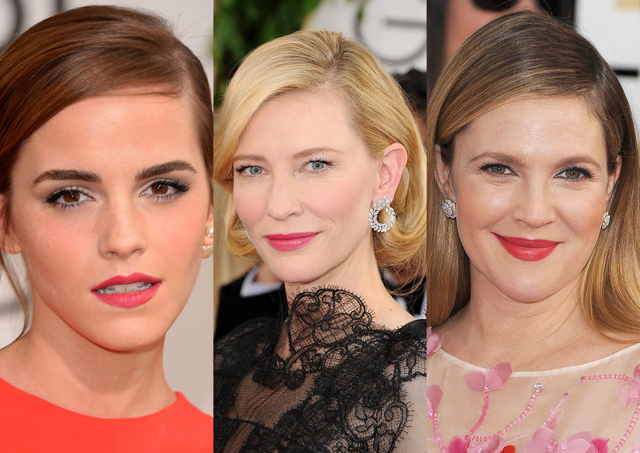 Thankfully, this is probably my favourite trend of all. A pop of color on the lips whether it be pink or orange or even a burst of red is what I like best. I mean, it's the Golden Globes so any color that really brings out your skintone and ties your entire look to be red carpet is really something I look forward to seeing. I think Emma Watson did this beautifully with a floral hot pink and nude eyes. She looks so sophisticated because pink and orange have been best friends ever since the ombre lip trend started. I also really love how Cate Blanchett's hot pink lip just gives life to her elegant black lace dress and pairs nicely with her pink blush. Drew Barrymore sports a warmer toned lipstick with a slight orange undertone making her look even younger and fresher.
2. Flawless Skin & Nude Lips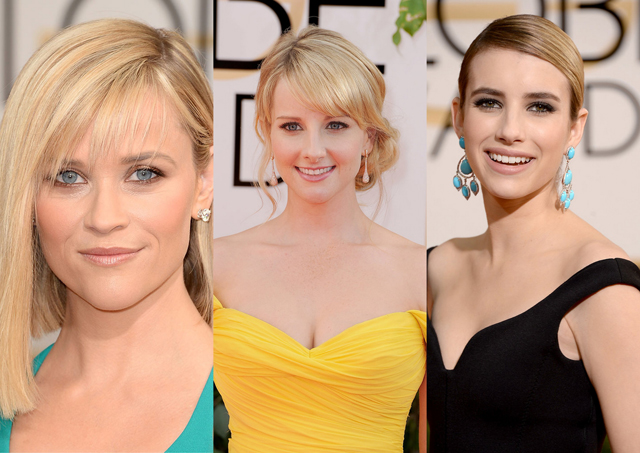 Probably the most common beauty trend for the Golden Globes 2014 was flawless skin and nude lips. They were probably on 80% of the celebrities I scanned through while researching. Although I think the natural look is great, I wanted to see something more impactful I think because it is red carpet. The nude lips however really do enhance the natural beauty of each gal nicely and I really thought that it was all about using make-up as a slight enhancement. Maybe they wanted their dresses to be the centre of attention? Other than that, I really do think it was an elegant choice for most. Emma Roberts for the Golden Globes 2014 was probably the epitome of this trend. Look at her flawless skin with that needed subtle glow and her natural smokey eyes paired beautifully with that nude lip. It's for sure one of my favourites.
3. The Subtle Smokey Eye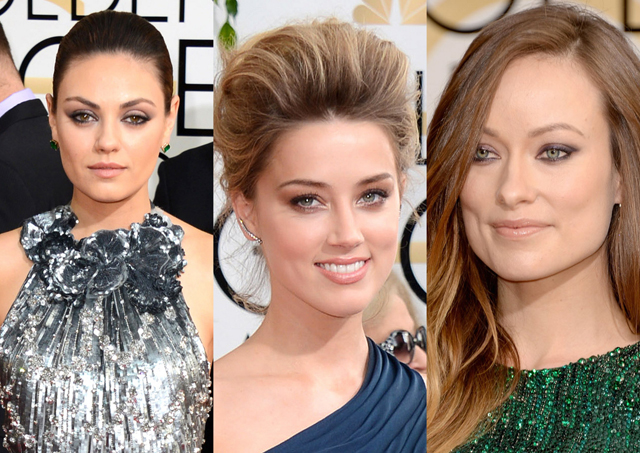 A subtle smokey eye is not over the top, totally dark and vava voom. It still shows a natural color but rather serves to enhance the eye. It's in the in between of a normal smokey dark eye and one that is natural. Mila Kunis, Amber Heard and Olivia Wilde wore this trend best and it looks absolutely beautiful on them. It's slightly smokey eye that is mysterious and alluring and the way every smokey eye should be done. They're not distracting and still able to pull off a natural lip.
4. Hair Up Please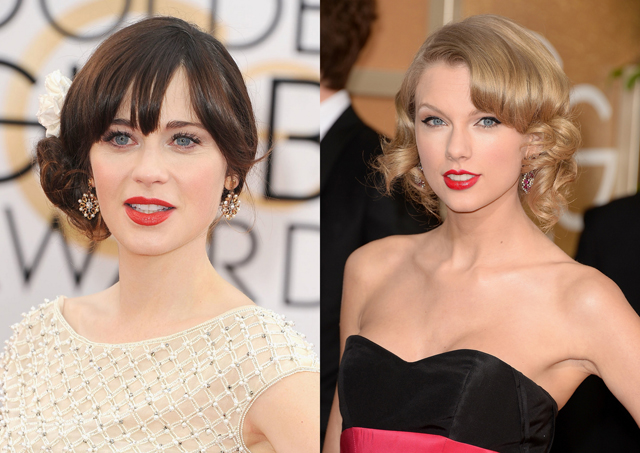 As for hair, about 70% of the celebrities I looked at wanted their hair up and were donning shorter styles. Zoey Deschanel wore a more spanish flirty take with a flower in her hair while Taylor Swift went for the Hollywood rolls. I don't blame them though. Shorter hairstyles for red carpet events look more polished and done up. It also helps them show off their earrings and decolletage.
5. Honorable Mentions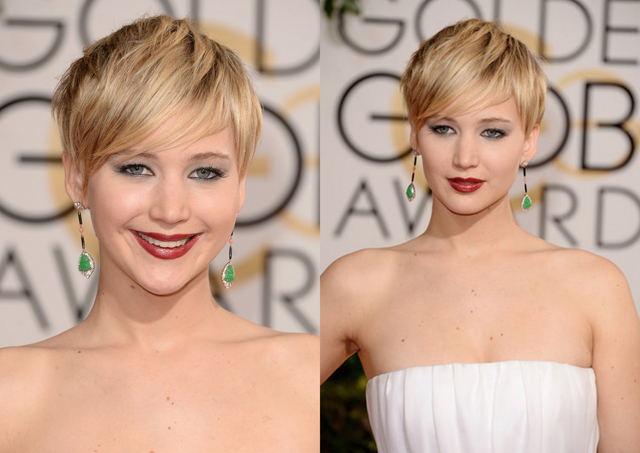 The fifth isn't really a trend but I guess you're wondering what I think of the star of the show's make-up – Jennifer Lawrence. I love Jennifer Lawrence and her performance for the Hunger Games. I love how she's so real, funny and honest. She looks stunning and so beautiful but to be honest, I'm not sure if her make-up really stole the show. Yes, it was very different from the rest being a gray smokey eye and a wine red lip and it did help her stand out from the crowd but I reckon it didn't match. She does now sport an edgy pixie cut and perhaps the make-up artist wanted to give her look attitude but her dress was white and puffy and it didn't match her make-up at all. She has such beautiful gray blue eyes but the gray eye-shadow did nothing to help bring those out. A bronze, orange or brown would have worked better to bring out blue eyes. The shadow was gray and then the lips were wine and dark and were ageing rather than refreshing. I would have loved to see Jennifer Lawrence in something that could have helped match her dress more and we all know how beautiful she is! That's just my opinion though. She still looks great even after all that.
Hope you enjoyed this post! What's your favourite Golden Globe beauty trend?
P.S: I reserve no right to these images. I simply took them off Google!
Love,
Roseanne