Hey Everyone!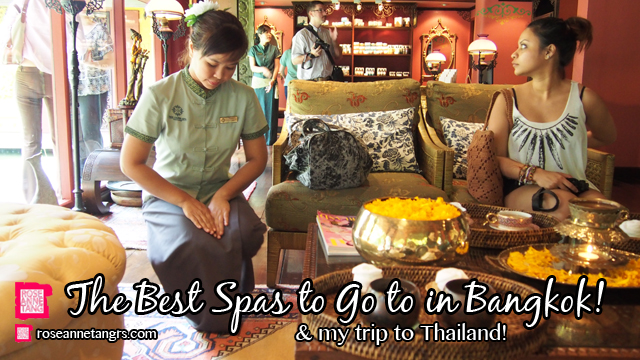 Wow, where do I even begin with this trip. When I was 18 doing YouTube videos with an awful camera stacked on a bunch of books, I had no idea that one day someone was going to fly me to Bangkok on an all expense paid trip to try out the country's best spas. But, God proved me wrong.THANK YOU GOD for this amazing opportunity to go to Bangkok. I mean, seriously, me? Wow. Just wow. A few weeks before the trip, the Thai Embassy called me up to ask if I'd like to be flown to Bangkok for their Find your Fabulous Media Trip to try out the best centres offering beauty treatments in Thailand. Um, yeah I do! I packed up my bags and got on my Thai Airways flight in the wee hours of the early mornin' to make my way there! Here's my review of all the places I went to to give you ideas for your next trip to Bangkok!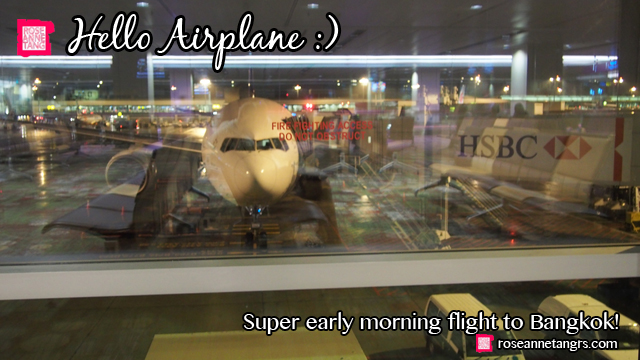 Truth be told, Bangkok is no stranger to me. I've been there a couple of times when my Dad had to do business there and I'm familiar with the delicious food, crazy shopping,  friendly people and the busy life of the Thais. My last trip was last year during Christmas and it's always a hot vacation spot with a lot of tourists from all over the world including Singapore. It's only an hour and a half away by plane.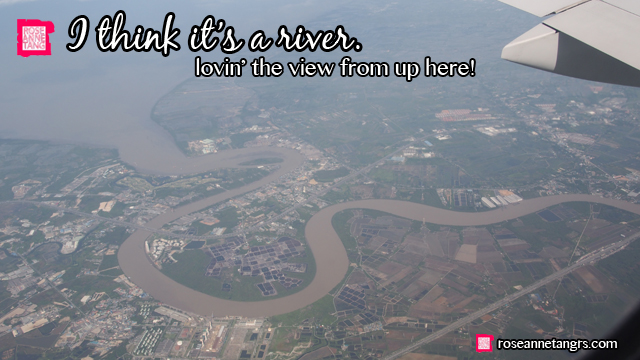 After landing, it was off to the hotel. We stayed at the Sofitel So Bangkok, a luxury resort hotel. I mean, seriously I was expecting just a regular motel or something. This was beyond and above what I even thought was possible. This hotel is so beautiful. There's only currently two Sofitel So hotels in the world. The first is in Mauritius and now in Bangkok and they are currently creating another in my home, Singapore, which is going to be designed by Karl Lagerfeld!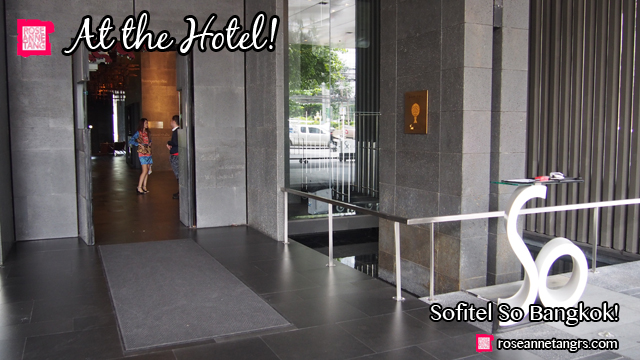 I got to meet a bunch of super lovely people on the trip too! That's Julia who is a beauty editor at Her World Malaysia and Wilbur from Aroimakmak.com! It was just Wilbur and I representing Singapore! We are currently getting briefed!
But I know you wanna find out more about the hotel. Each Sofitel So has a signature designer who is a very famous designer. The Sofitel So Bangkok is designed by none other than Monsieur Christian Lacroix. I don't even need to explain who he is do I? He designed the major elements of the Hotel including the Club Signature where we got to check-in and have breakfast! He also designed everyone's uniforms. Well yes, if you work here, you do get to wear thousand dollar dresses every day to work!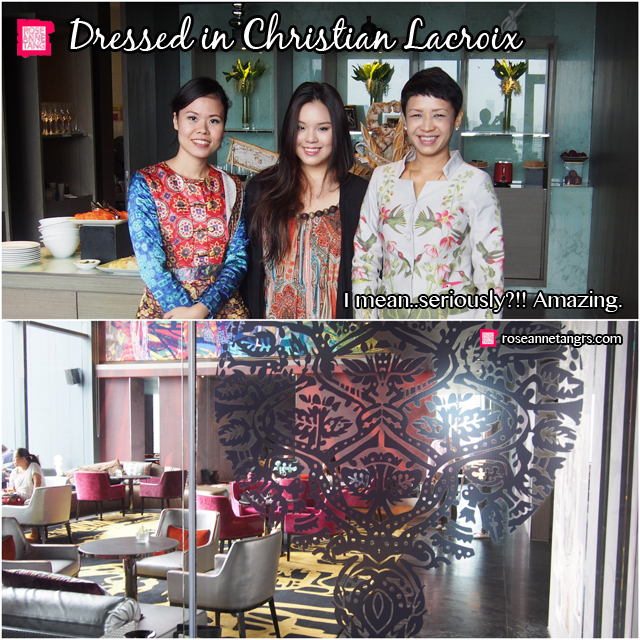 The hotel was immaculate. They even created the view so that it would look JUST like Central Park in New York! So this is what it feels like to live in one of those million dollar city lofts overlooking central park! The park here in Bangkok is actually called Lumpini Park. In fact, the hotel offers themed accommodation meaning that there are different rooms with different themes, kind of like a larger scale boutique hotel. The themes of these rooms draw from the park to create unity and are Water, Earth, Wood, Metal and Fire.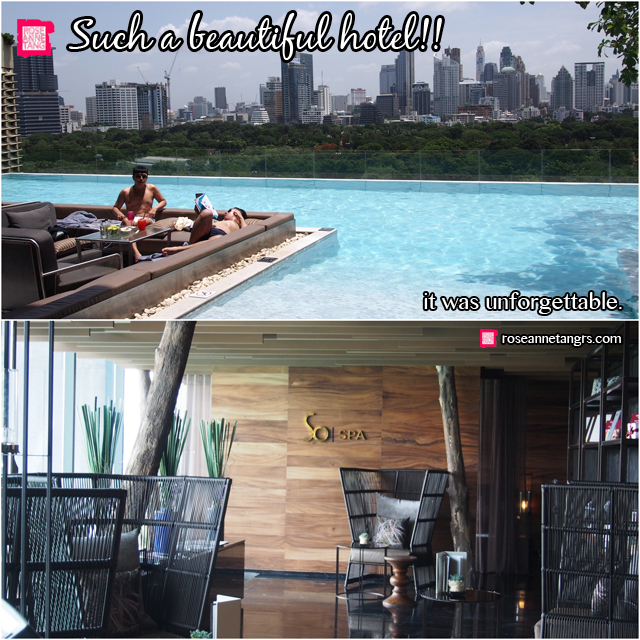 I happened to stay at the Water room, designed by Pongthem Sagulku of August Design. Ladies, when the host opened my room door for me, I was speechless. I mean imagine dark hallways and having no idea what your room is going to look like and opening the door only to see this amazing piece of art. It was so white. I've never ever stepped into a room so white before. It's like how the movies portray Heaven (we all know it's going to be above and beyond though hehe). But seriously, I was really just humbled and in awe most of the time. After looking cool and and like yeah I do this all the time to the hotel staff, the moment he closed the door, I just kinda slowly sat in the very far corner of the room next to the door and just stared.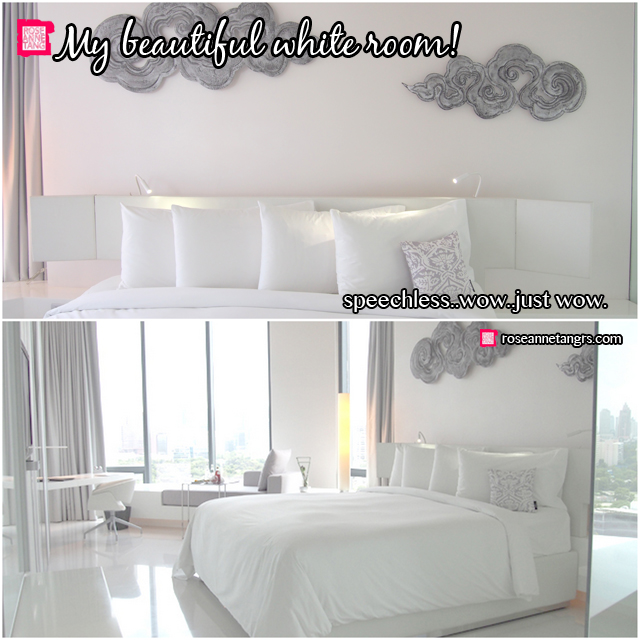 After a delicious lunch, we took a mini van to our first spa treatment at The Oasis Spa! The Oasis Spa in Bangkok is an Urban Bohemian day spa. There are 11 state of the art private treatment rooms and I was so excited to get what everyone wants to get when they're in Thailand – a Thai Massage!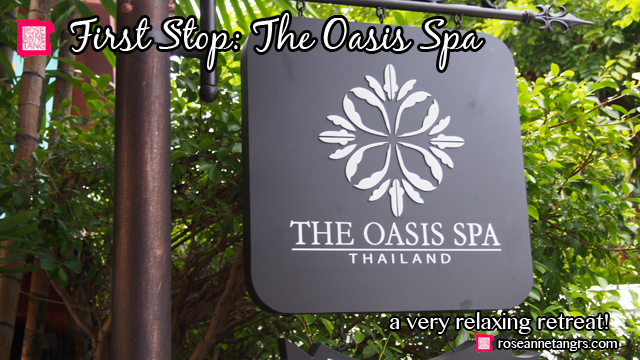 The spa was beautiful and so were the people. We were greeted with warm spicy ginger tea and warm towels in a beautiful Thai and Middle Eastern inspired ambience. Of course, the scent of aromatherapy oils lingered around and calming music complimented the whole place.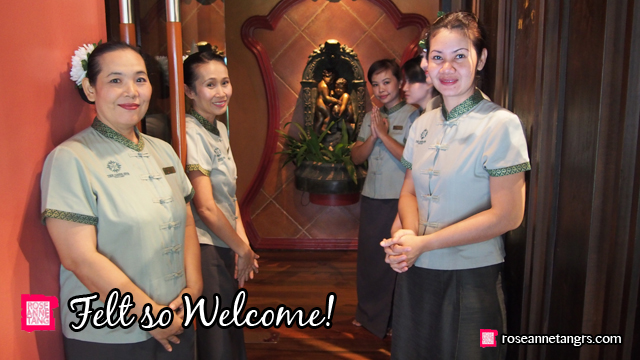 This is my wonderful masseuse. We got to pick out of two massages offered – the King of Oasis and the Queen of Oasis. The King was meant for more massage buffs and the more experienced comprising of harder movements and even a hot compress. Because I get really ticklish, I chose the Queen of Oasis. It was a lot more gentle and it was the first time I fell asleep during a massage! Everyone was like "I'm going to fall asleep" and being ticklish, i thought I wouldn't be able to. But, I did. Achievement unlocked – that, or they really just know what they're doing.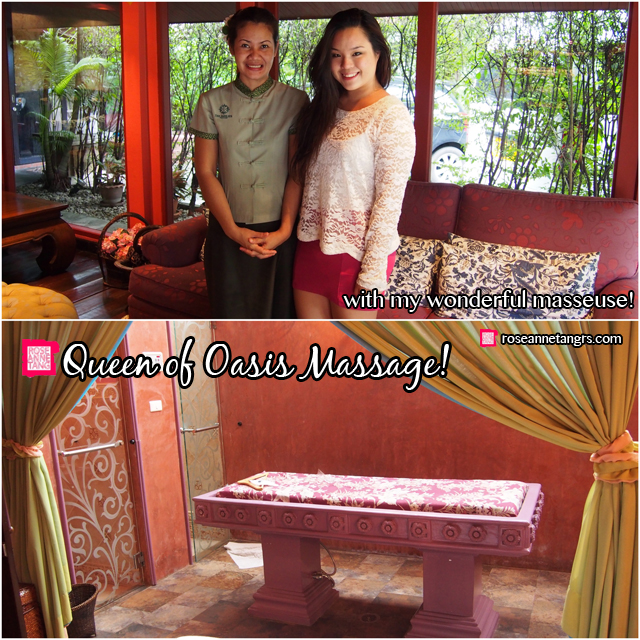 The massage also came with a hot stone massage that I've never tried before. They heated up hot stones and massaged me with it. I found the whole experience at Oasis spa super relaxing and fun. It was really professional yet still balancing on making sure you're comfortable too! I love the setting. The reds and purples feel and look very calming.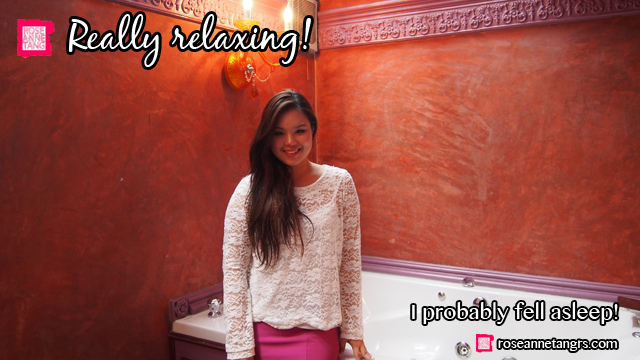 After you know all that work getting massaged (phewf), we headed to the Blue Elephant Restaurant for dinner! I've never been to the restaurant but it is one of Bangkok's top places to dine for tourists. They also have a cooking school for companies and parties where you can learn how to cook Thai food too! The setting was very posh western and it looked beautiful.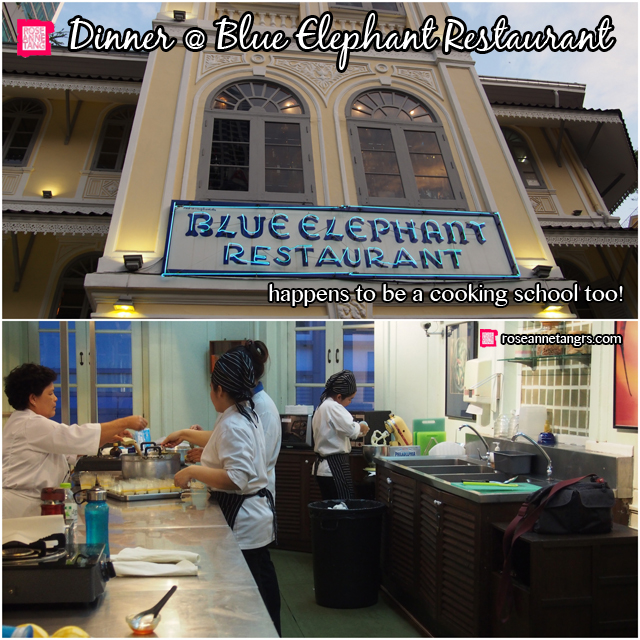 I couldn't believe it when I saw this. I mean, wow. I felt like I was dining at the President's house when I thought we'd be grabbing a bite to eat at the local food court or something. Thai food courts are yum though – it seems like wherever you go in Thailand, they always have some good food waiting for you. We had an assortment of authentic Thai dishes which we shared with rice just like back home and it was yum.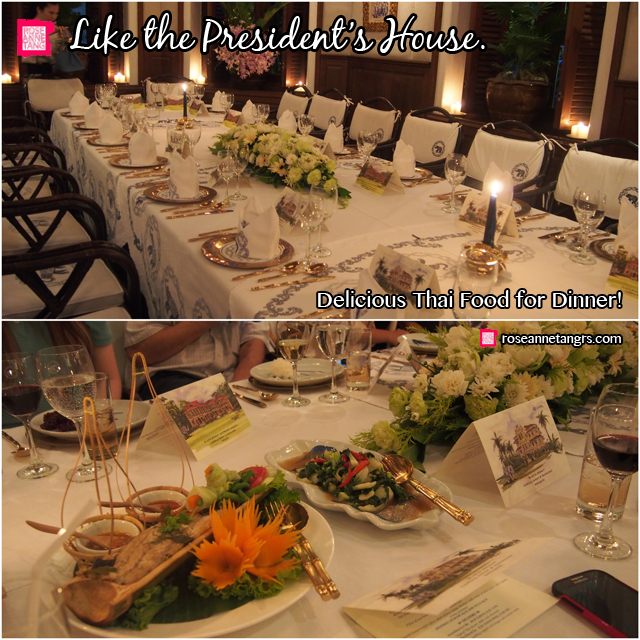 The next morning, we visited the Holistic Medical Centre after breakfast. I think out of all the places I went to, this was the most informative and I learned heaps. We basically visited to get our health screening done – something I kind of miss out when I'm back home. It's important though to keep our health in check – not just how we look with our make-up girls!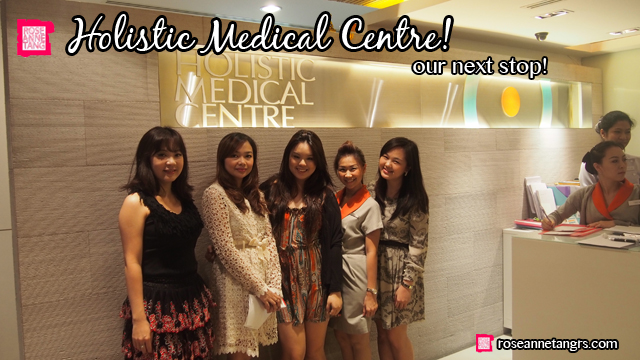 The Holistic Medical Centre in Bangkok philosophy is to not only provide a centre for wellness, but one that really focuses on the restoration of health to create a stronger and healthier immune system. Unlike other health centres, they have resident doctors there to advise you after the health screening and what treatments to consider after. It's like a mini clinic but it's technology is probably like a hospital.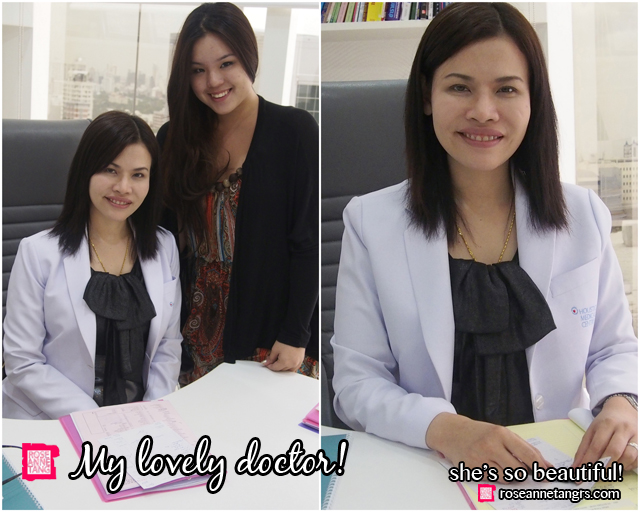 I've never done any of the health screenings that I did at the Medical Centre! It was all a new experience for me. The first is called the MRIT or Molecular Resonance Imaging Technology. It's a non-invasive method of a medical check-up that provides clinical results without exposing the body to radiation. It assesses the patient's health conditions with high sensitivity and accuracy. Basically, it scanned all my organs one by one and could pin point where exactly or the part of the organ that may be doing really well or not doing so well at all. It was kind of like watching yourself being checked by a robot and the results flashing at you on the screen. To be honest, I wasn't hoping for much but I turned out pretty alright!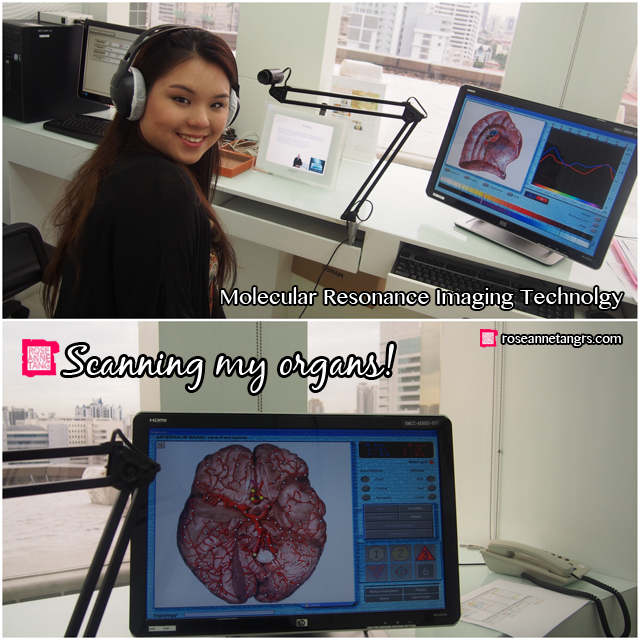 The next is the LBA or Live Blood Analysis. They took a tiny drop of my blood to analyse the patterns of blood components and my blood composition. using a dark field microscope. Thank God I'm alright. My cells are round and healthy. The little white dots is the fat I consumed from breakfast. Haha, really puts things into perspective that whatever you eat really shows even under the microscope. That was probably my croissant.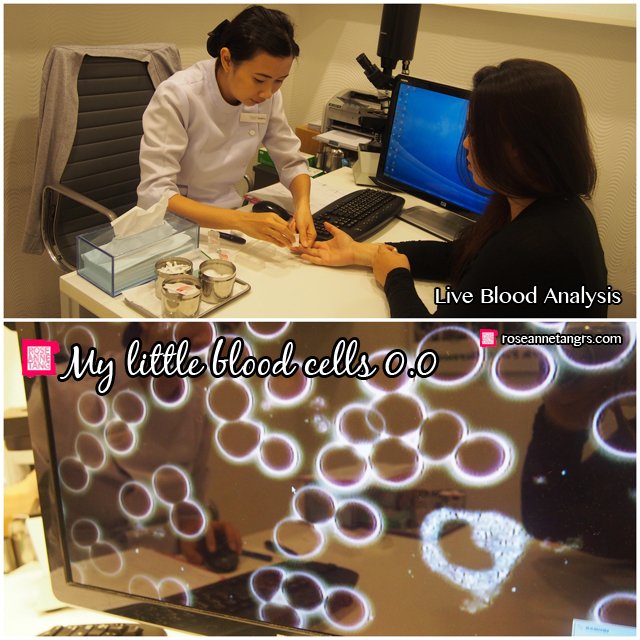 Another pulse test also revealed that I'm way through the roof on my mental stress levels. However, I'm okay because my capacity to take stress is also pretty high. I also got to take an ALCAT test which tests my food intolerance. I know now that I shouldn't eat anymore chickpeas, figs, kiwis, lemon, malt, mustard, oats, onions, sage and sardines. Although I don't show huge allergic reactions to those foods, I may have a bit of intolerance which my body gets over eventually. I probably will never give up onions. They make everything yum. Not alone though. I am very impressed by the attention and professionalism of the Holistic Medical Centre. It was an amazing experience.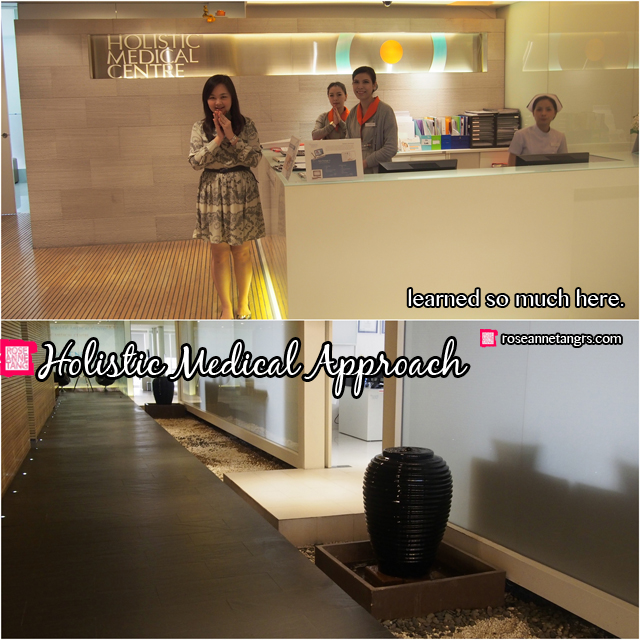 Of course, despite getting my health screened, it's lunch time! We had lunch at the Blue Spice Restaurant at the Grande Centre Point hotel. It was a delicious Asian and International buffet.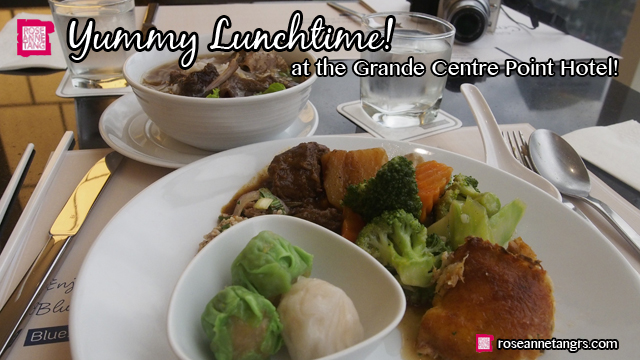 After filling our bellies, it was onwards to the Apex Spa! The Apex Spa in Bangkok. Could this trip get any better? Sleep, eat, spa, eat, sleep. OH yeah. This is the life. The Apex Spa is a world class aesthetic and skin rejuvenation centre and there are many branches in Bangkok.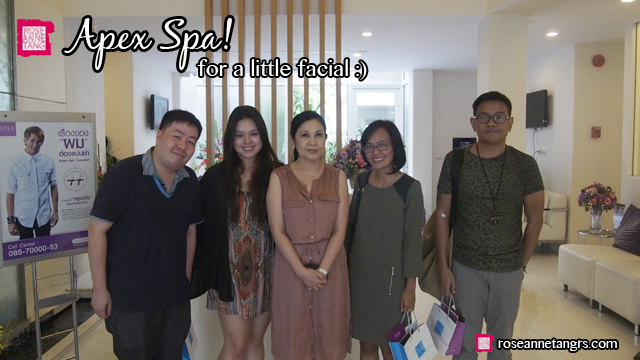 We got to try out a facial of our choice and because I had quite a lot of acne scars, the lady got me the Acne I-Clear treatment using laser. I've had one IPL treatment on my face before and I knew how much it was going to hurt but I also knew that it works and you can see results soon after probably 3 -4 days. I was excited to see if this could do the trick!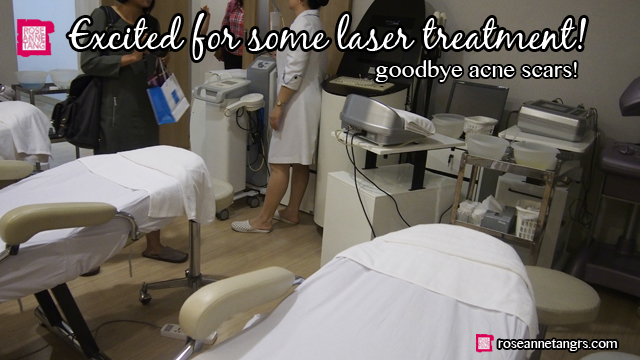 After the treatment, they gave me a soothing clay and peel mask. I found Apex to have the best facial experience if you want something that's going to work and not just rest and relaxation if you know what I mean! I enjoyed my laser session throughly and my acne scars have faded a bit!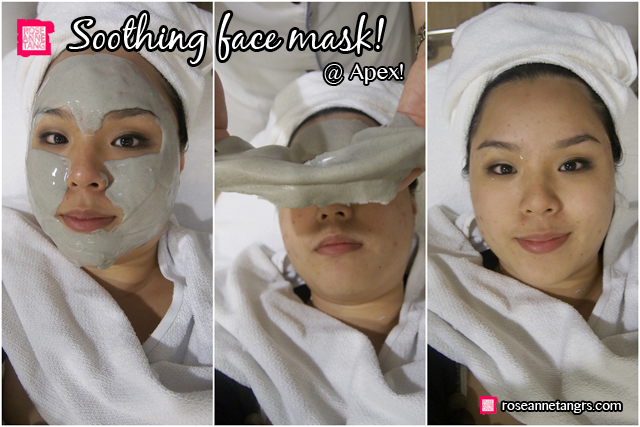 I just wanted to thank Thai Rent a Car for driving us all around Bangkok – even being stuck for 3 hours in traffic. Their seats were super comfortable!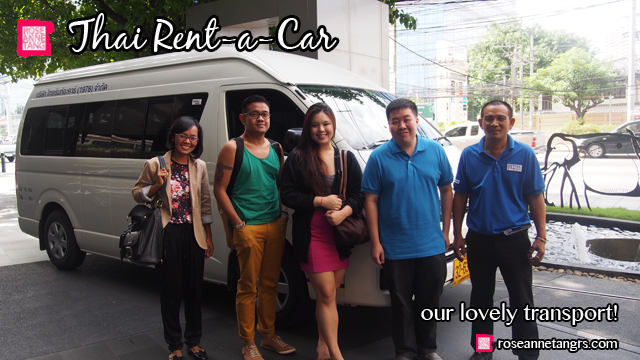 Right before our flight, we went to the Divana Virtue Spa. This was my favourite spa/resort escape. You'll see exactly why. The Divana spa is really a luxurious escape. It really is one of the best spas I've been to. Everything about it was beautiful. They took a classic and contemporary colonial house that's been untouched and transformed it just a little into a virtue spa. It's so warm, cosy and friendly atmosphere that reminds me of what a spa could be in the Hamptons or something!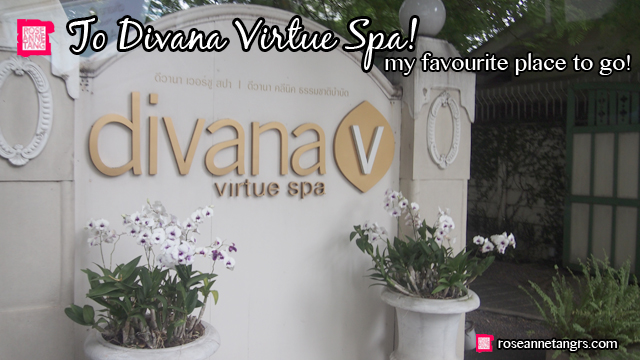 I love the fountain and the cosy and homey surroundings. It was a nice and unique change from the more traditional thai atmospheres.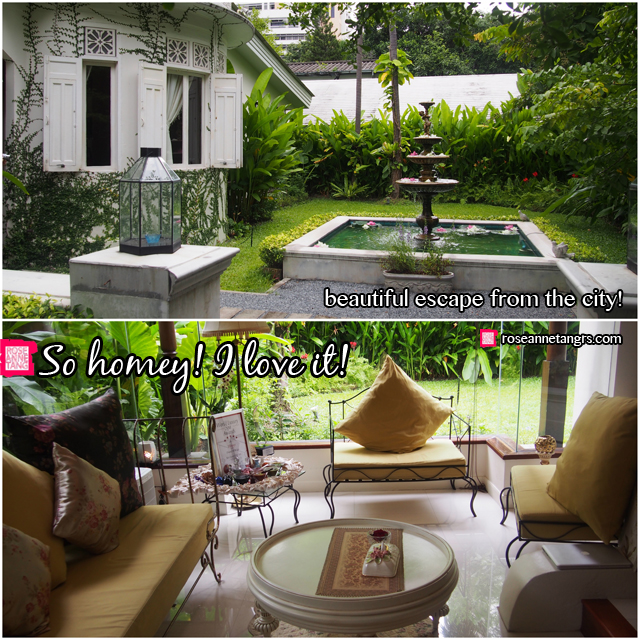 In this very room, I had the Rose Quartz Hot Stone Massage! We were a little short for time because of my flight in a couple of hours but we still managed to squeeze in the whole massage. It was the best I've had yet.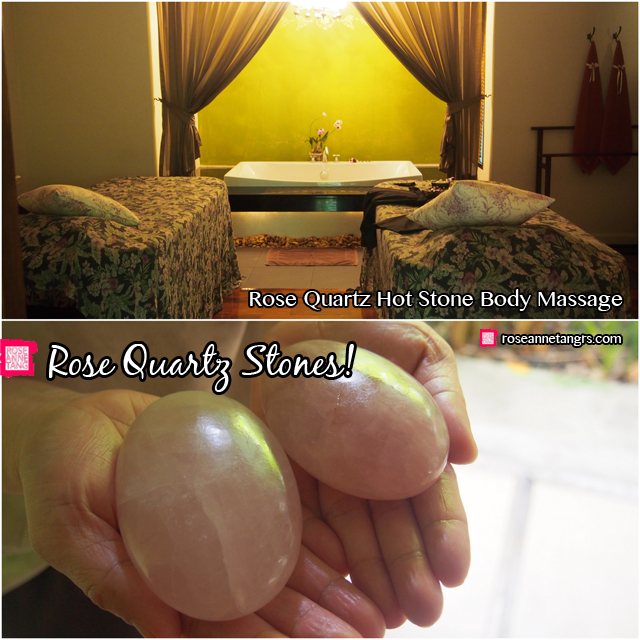 Then, I skipped to the Divana Clinic. Not only is Divana a spa, they've recently opened the clinic to do treatments and more medical facials as well. I had the Intensive Boost Facial Treatment and it was for sure an enjoyable experience!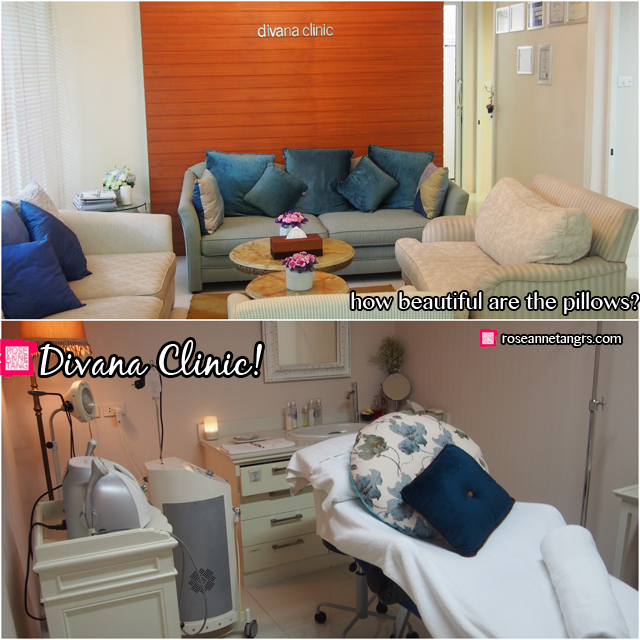 On goes the face mask!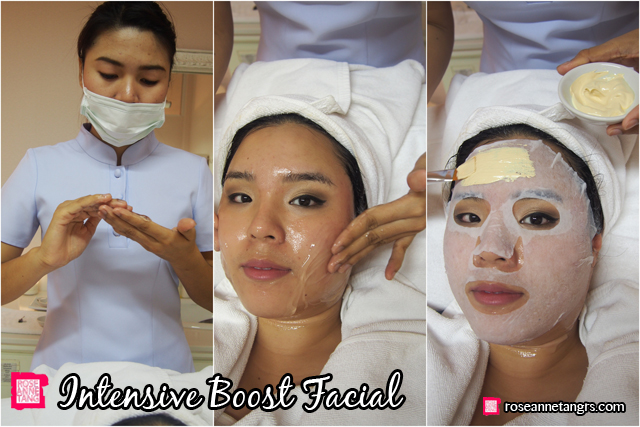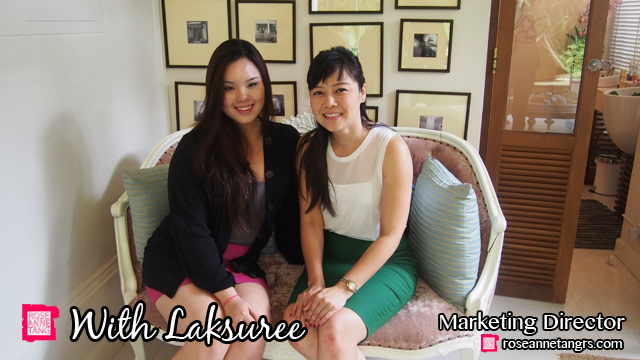 I had such an amazing time in Bangkok. Overall, I thought Apex were good with more "medical facials" and Divana won my heart for the most relaxing massage. Even though I'd have to make it super big to stay at Sofitel So again, that white room was something I will never forget! Thank you so much Thai Embassy for the invitation and I had an amazing time! Thank you God once again for going above and beyond!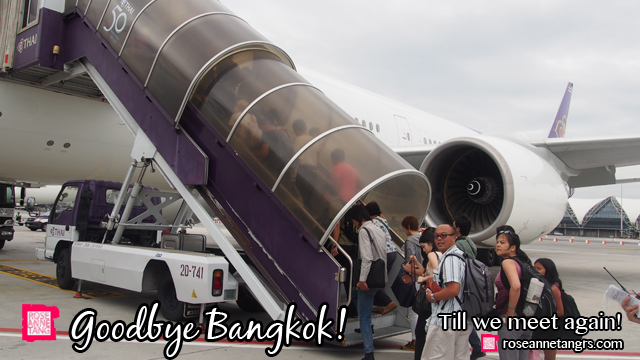 Hope you liked this post! Happy National Day Weekend! Stay tuned to my online store http://www.roseanne.sg! We're launching a collection soon ;)
Love,
Roseanne