Hey Everyone!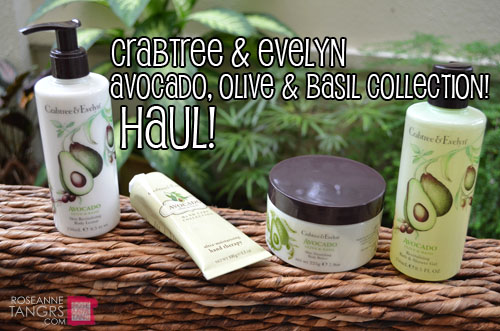 My friends say that halving an avocado and scooping it with a silver spoon into thy mouth is one of the best feelings for them in the world. It's in our sandwiches, even in our sushi, and now it's being bottled by Crabtree & Evelyn. But honestly,  it's no surprise. Avocados happen to be one of the most nutrient rich foods in the world – packed with caretonoids (the stuff that helps your eyes) and rich in omega three fatty acids that not only make you smarter but can also make your skin glow with natural and healing properties. I say the perfect solution to brains and beauty? Just maybe.
Crabtree & Evelyn contacted me to see if I'd like to try their new Avocado, Olive & Basil collection. With that combination, I couldn't help but say yes. Here's a haul!The collection boasts revitalizing botanicals from the Mediterranean and with avocado, olive and basil, you can be pretty much sure that it will help soothe and moisturize like no other combination can. Olive oil has been used for centuries for it's antioxidant rich properties to heal and ensure that skin is soft and supple. Let's get moisturized!
1. Crabtree & Evelyn Avocado, Olive & Basil Skin Revitalising  Body Lotion (SGD$35)
The collection's revitalising body lotion is formulated with shea butter and avocado to provide you a really nice smooth experience. It conditions dry skin, uses basil extract to soothe and avocado butter to moisturise.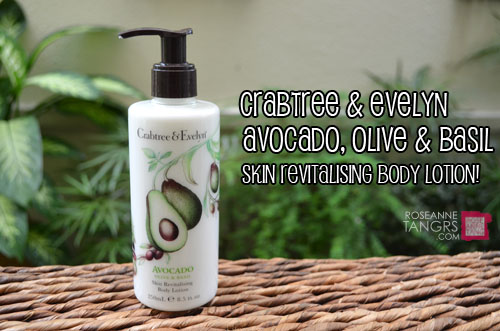 Body Lotions tend to be much lighter than body butters. It's a great after shower product that you can use everyday. I tend to whip this on at night after my shower and it leaves just the most beautiful smell. The whole collection smells really fresh.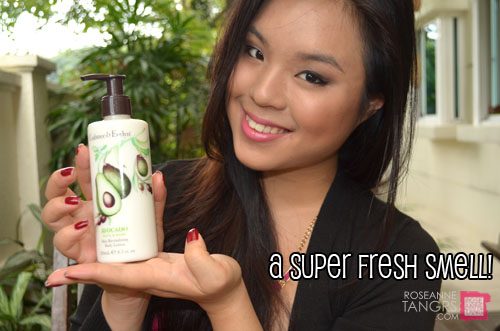 To use it, simply squirt some of the product into the palm of your hand and slather away!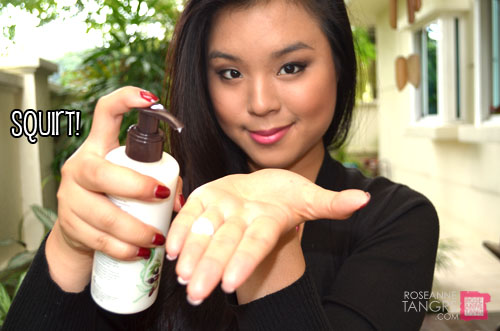 As you can see, the texture of the product is quite light. It's a creamy consistency that doesn't feel heavy when applied. A very smooth talker overall!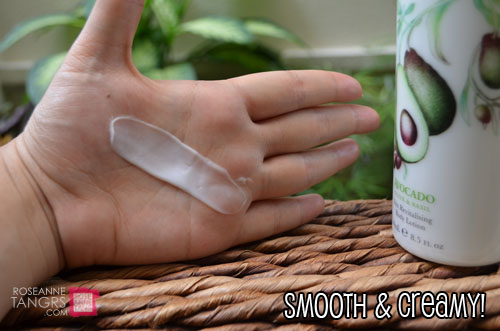 2. Crabtree & Evelyn Avocado, Olive & Basil Skin Nourishing Body Butter (SGD$60)
The body butter from this collection features a very luxurious and deep conditioning product that again uses avocado and shea butter as well as beeswax, yes you read that right, beeswax to rejuvenate and produce exceptionally soft skin.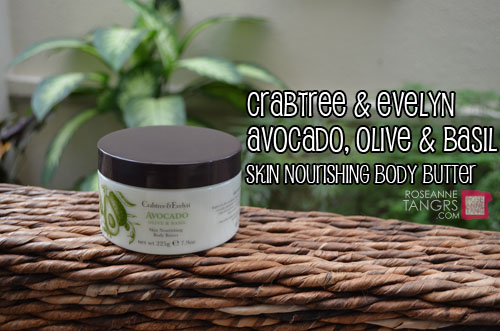 The product comes in a cute tub. Simply use your fingers to take some of the product out and slather away! I tend to use body butters during the dry winters in Australia because my legs tend to be super dry hidden under layers. For that purpose, I usually use body butters to solve the problem. Lotions are more like everyday after shower products. Body butters are much more heavy duty.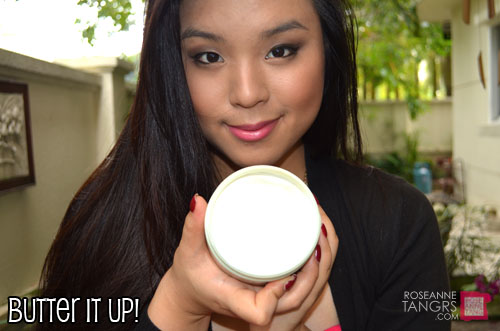 Look how thick and stiff that butter is! It kind of reminds me of Dairy Queen Blizzards and how they have to hold it over their head before they give it to you.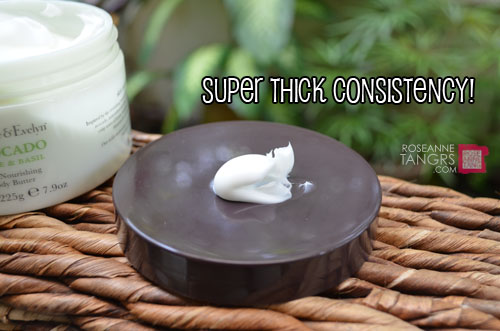 When spread out, the product has a nice whipped consistency. It's not sticky and doesn't dry gross either!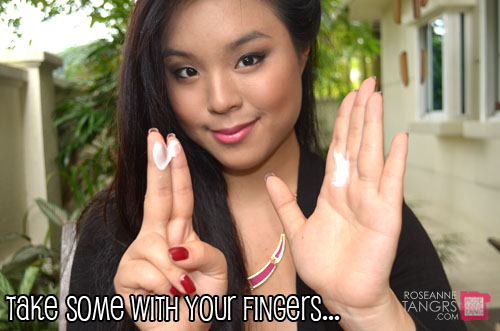 4. Crabtree & Evelyn Avocado, Olive & Basil Ultra Moisturizing Hand Therapy (SGD$33)
If there is one product I really like from Crabtree & Evelyn, it has to be their Hand Therapy products. If you want those "smooth, princess, I don't do work at all" kind of hands, wear this product on a regular basis and you might be one step closer to sporting a tiara. This is such a luxurious cream, quite a different texture to your lotions or body butters, and is something I think that is unique to Crabtree & Eveyln .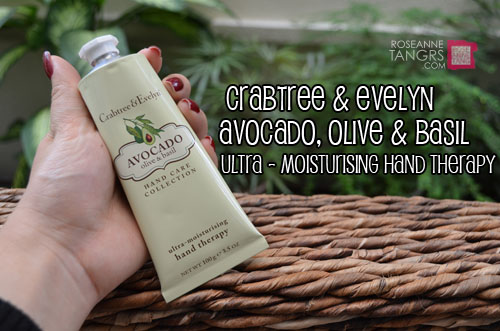 The Avocado, Basil and Olive hand therapy has ultra moisturizing ingredients and is formulated with a blend of vitamins like C,E , and tocotreinol which is rich in antioxidants. It doesn't only heal the skin on your hands, it's good for your nail beds and cuticles as well. It is just an amazing product and I highly recommend trying it!
You can see just how thick and luxurious it is coming out of the metal tube!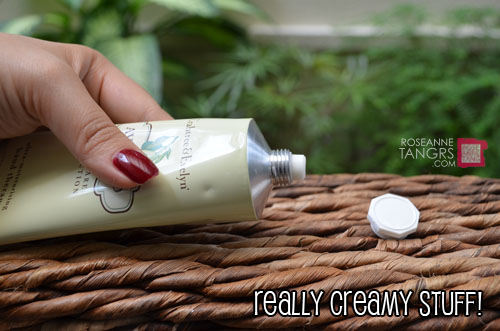 Just take some and smooth and blend on hands!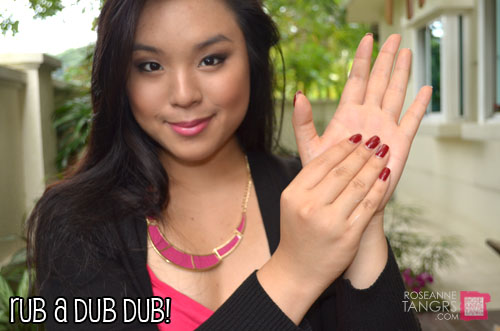 5. Crabtree & Evelyn Avocado, Olive & Basil Revitalizing Bath & Shower Gel (SGD$30)
This has to be my favorite product from this collection and if there is anything that you should try, it is this. The shower gel, although a much underestimated product sitting in your shower, is formulated with avocado extract, rejuvenating olive fruit extract and soothing basil extract for skin.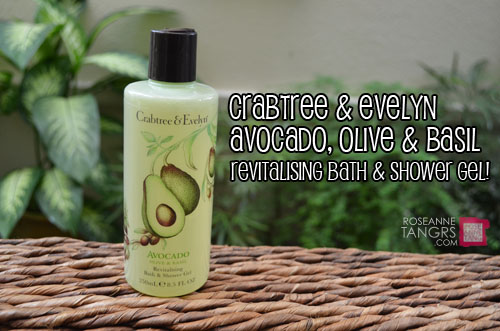 Now, I know you're probably thinking. Roseanne, how on earth is your favourite product from this collection, the shower gel. Well, this shower gel feels different, it feels like you're washing up with liquid honey olive oil. Seriously. You really feel the difference. It's the smoothest run ever. Plus, the fresh smell permeates your whole shower almost like aromatherapy. I love it.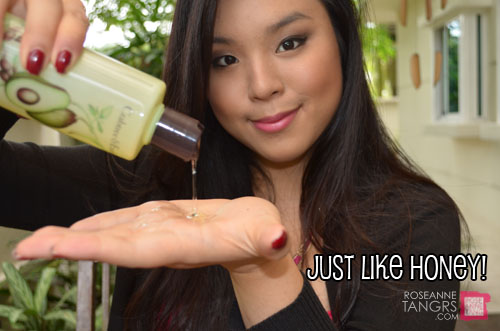 So there we have it! A little preview of the new collection in stores now at Crabtree & Eveyln. Hope you enjoyed this post and let me know if you get anything. My favourites would be the shower gel and hand therapy!
Much Love,
Roseanne