Hi Roseanne's readers!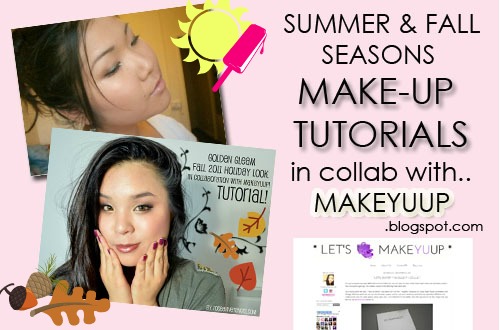 While many of you in the Southern hemisphere are about to enjoy the rays and the beaches, us up north are preparing to wrap ourselves in wool in as many forms as possible! I do miss the summer, so Roseanne's let me invade her space to bring you a summer look – very nostalgic ;)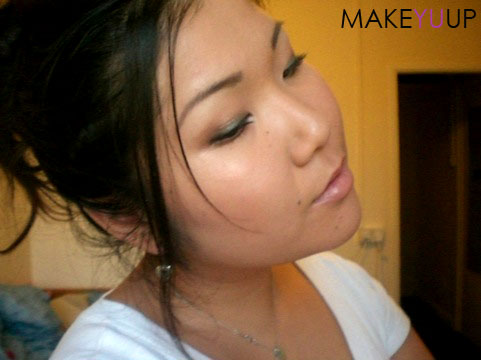 I don't really want to call this a cliche "bronze goddess" look – but it is! I put a lot of emphasis on the eyes and cheeks, while still maintaining a wearable look (trust me, I'm off to the hospital in a bit with this on! :P)
The Base: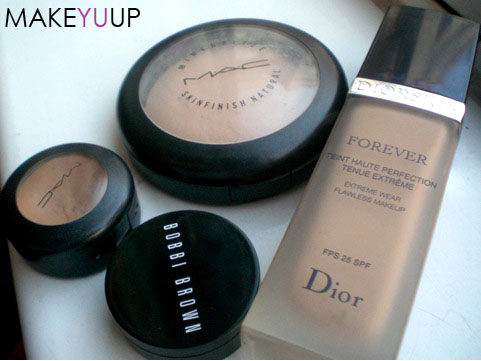 For this look, the base has to be glowy and natural but flawless at the same time. So I chose Dior Diorskin Forever Extreme Wear Flawless Make Up in 030, for a medium coverage but a natural matte finish. I concealed my dark circles with the Bobbi Brown Corrector in Peach, and covered my redness and acne scars with MAC Studio Finish Concealer in NC35. To set it all, I used my MAC Mineralized Skinfinish Natural in Medium Plus to keep that natural finish!
The Eyes: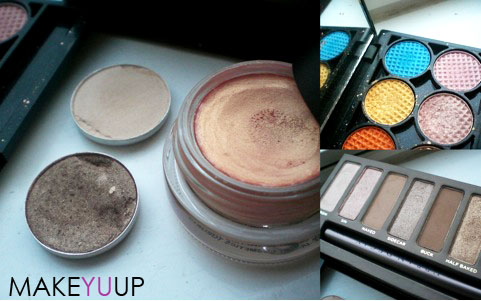 The first half of the fun with this look is definitely the eyes! After evening out my eyelids (I used MAC Soft Ochre Paint Pot), I used MAC Rubenesque Paint Pot to add a subtle golden sheen all over the lid. And then I used the electric blue from the Sleek Sunset Palette (sorry I know you guys don't have Sleek, but I honestly have no other colour like it!) on the bottom half of my eyelid. I then blended the edges out with MAC Woodwinked Eyeshadow, and also added a translucent wash of it over the blue to tone it down.
Afterwards, I used Half Baked from Urban Decay around the rim of Woodwinked to brighten it up. I also used Smog from Urban Decay in the outer corner just to deepen the socket a bit. I took the same colour and smudged it under the eyes too. Just to make sure this all doesn't close up your eyes, I put a bit of Virgin from the Naked Palette in the inner corners of my eye.
And all that's left to do is to add a brow highlight (I used MAC Brule Eyeshadow) and line your top lid with a black kohl pencil (MAC Powerpoint Pencil in Engraved) and put lashings of mascara that will separate and vava-voom your lashes – like Covergirl's Lash Blast Volume :)
It should look something like this!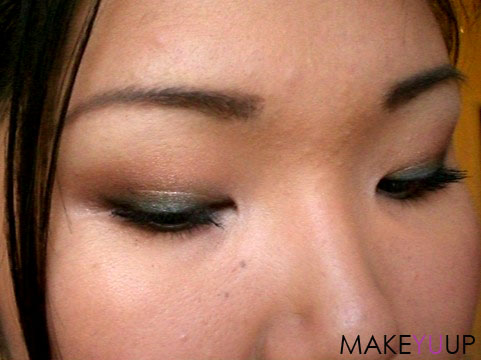 The Cheeks & Lips: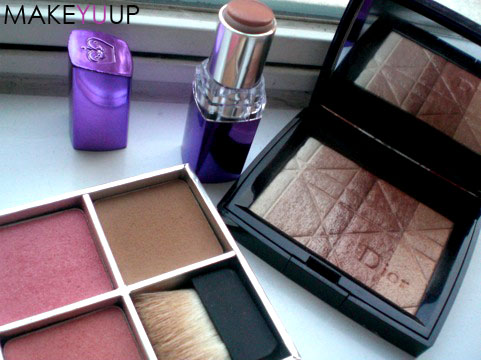 If you already read my blog, you'd know that cheeks are one weakness of mine – I LOVE blushers! But for this look, we're gonna pass on the blusher and add some bronzer and highlighter instead. I chose Benefit's Hoola Bronzer to contour my cheekbones, temples and jawline (make sure to make it quite harsh – we are all bronze goddesses here! :P), and mixed all the colours of Dior's Shimmer Powder in Amber Diamond on my cheeks – there literally is nothing better on the market for a subtle bronze glow ;)
With all this kerfuffle going on, it's best to go nude on the lips. My favourite nude is Rimmel London's Moisture Renew lipstick in Nude Delight :)
After all that you should end up with something like this!: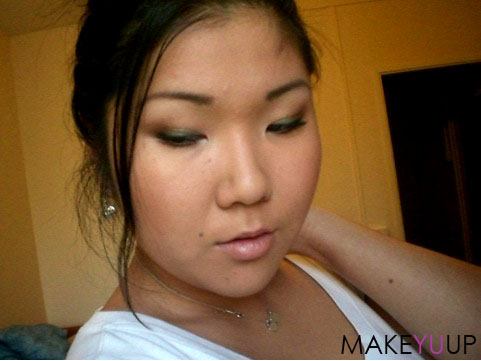 Hope you liked it, and have a great summer! ;)
<3yu
I'm Yu and I write my blog,

Let's MakeYuUp

– a beauty blog full of random make-up related rambles, favourites and what have you, with of course the occasional

reviews

,

hauls

and FOTDs thrown in for good measure :) A lot of my content is about how make-up relates to a life of a 21 year old girl – which I'm sure everyone can relate to in one form or another ;) I'd love to hear from you guys, so drop me a line on my

Twitter

for a chat! :)
Visit Yu's Make-up Blog at: http://www.makeyuup.blogspot.com!
Hope you liked this blog collaboration and Yu's wonderful look! To see my Golden Gleam Fall make-up tutorial on Yu's blog, click here:
http://makeyuup.blogspot.com/2011/11/blog-visitor-roseannetangrs.html