May 26, 2015
Quick Favourite: The Body Shop Vitamin C Glow Boosting Moisturiser!
Posted by in
Uncategorized
Hey Everyone!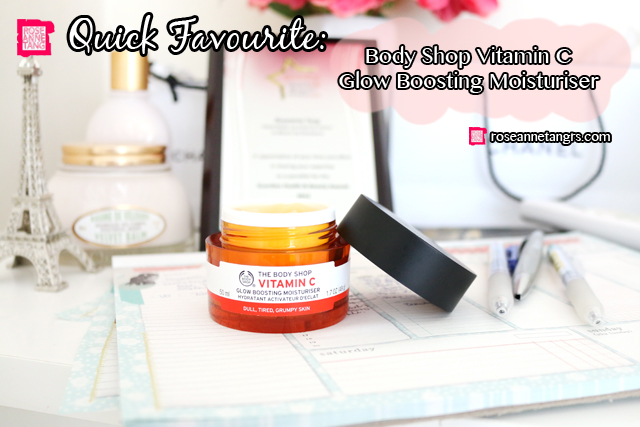 Ever so often I find a great moisturiser worth sharing and this is definitely one. It's The Body Shop Vitamin C Glow Boosting moisturiser that is The Body Shop's latest launch. Although at first I did dismiss this as any other hype tooting skincare product when The Body Shop sent it over for me to try it, but after using it for a couple days now, I'm actually really liking it. This moisturiser has a very water-based gel texture that melts into the skin evenly and feels very refreshing. It is not sticky and feels cool to touch. I love putting it on in the morning because it instantly wakens you. I love the smell as well – reminiscent of an orange popsicle although I have to admit when I tried it at the store, I wasn't a big fan. When applied on the face though, I really do feel the scent is much more pleasant and invigorating. Does it work to boost the radiance of my skin? To be honest, I do see myself getting more radiant but as I have mentioned on my video, I am on accutane and that might just be doing the trick. My skin does feel supple though so perhaps it does do something in that department. Overall, I do feel that this is a solid purchase for anyone with oily skin and looking for a water-based gel textured moisturiser that is an absolute pleasure to apply in the morning.
Love,
Roseanne
You can follow any responses to this entry through the RSS 2.0 You can leave a response, or trackback.