Hey Everyone!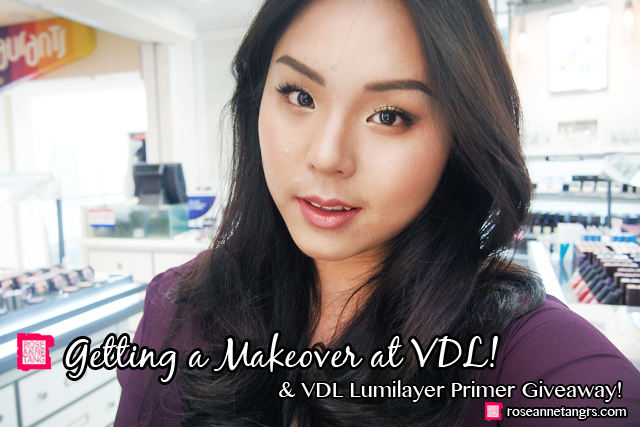 If you haven't heard, VDL Cosmetics is a trendy and fashion forward international cosmetic brand that is now making waves here in Singapore. The brand was founded in 2012 by The Colour Lab of LG Household & Healthcare in Korea and is known to provide an extensive range of innovative beauty products from make-up to body care at everyday prices! It's great that it's finally arrived here in Singapore! VDL invited me to do a makeover with them at their store in Bugis Junction and to get more familiar with their products! I thought I might share with you my amazing makeover experience and do a little giveaway of their global best selling item at the end of this post!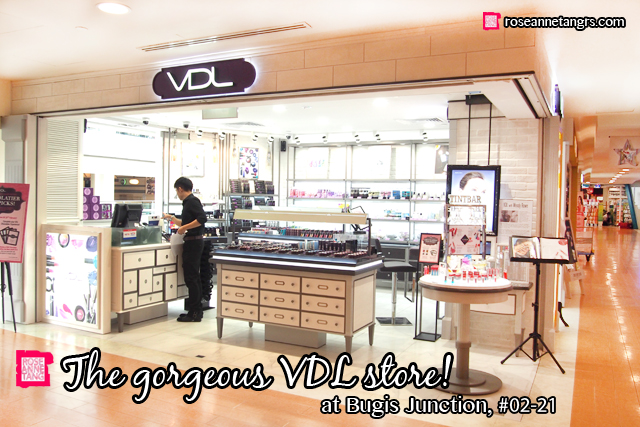 VDL is dedicated to the woman who actively seeks out and realises their dreams and desires. In fact, VDL actually stands for Violet, Dream, and Luminous and all VDL makeup base products contain their unique Lumilayer technology which is a revolutionary formula that gives natural glow and radiance from within. This technology also allows products to be layered and mixed without getting dull!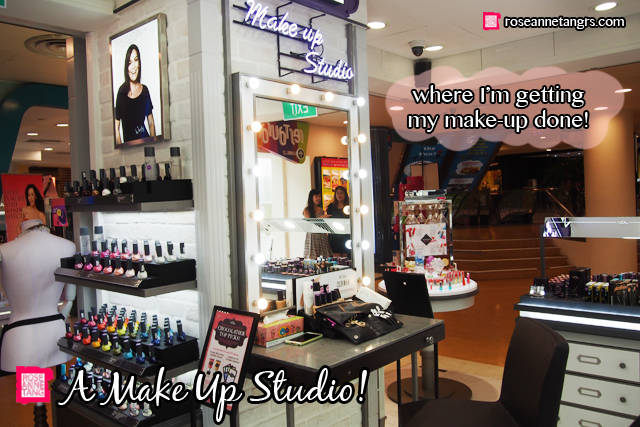 Wendy Rowe who is an internationally renowned makeup artist and is actually one of the TOP 5 makeup artists selected by Allure USA Magazine backs up VDL and helps shape the world of VDL cosmetics with her beauty secrets and knowledge of makeup. She is captivated by the Asian beauty scene and the Asian face that she has worked with backstage at fashion shows in London, Paris, Milan and New York. She brings her vast knowledge and experience to the VDL cosmetics brand. You can learn more about her in this video!
VDL has a huge product line. They have everything when it comes to beauty – from your lipglosses, to lipsticks, to foundations, skincare products, body products, brushes, eyelashes and more. What I like about them is that they provide you with more than just basic make-up. They're constantly innovating and seeing how they can improve their products whether it's through the shape, color or texture. For example, their new blossom collection features the NEW Lip Cubes that are square shaped lipsticks! They are square so you essentially don't need a lip liner and it's easier to draw around the cupids bow. Look out for the Blossom Collection when it comes out on the 24th of Feb! I also love their Lip Tint Bar Triple Shot which features three layers of different coloured tints that makes it so easy for you to create Korean gradient lips a lot of people have been sporting lately.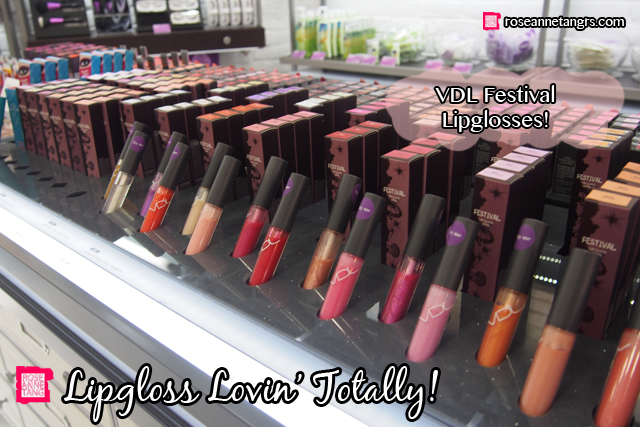 Besides being innovative and always in trend, there's an extensive color line to each range as well. I mean look at then number of eyeshadows here! VDL is known for their mineral baked eyeshadows that offer intense pigmentation. They also come with two shades that are complimentary to each other.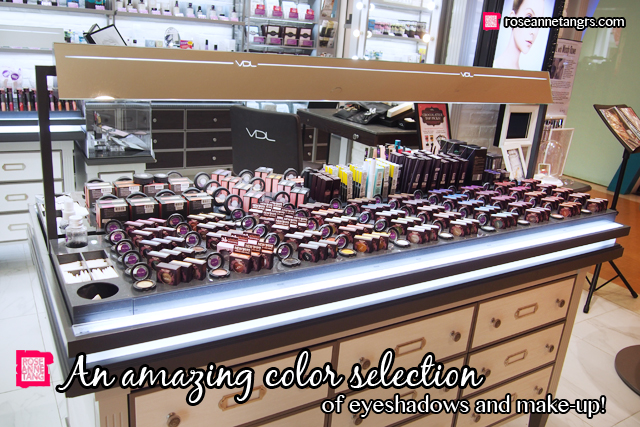 What's a best seller at VDL and a must-have item? It ought to be their VDL Lumilayer Primer and Satin Veil Primers. These primers help to really create that flawless base and the Satin Veil Primer is voted 2014 Best Beauty Buys Winner from Singapore Women's Weekly Magazine! I couldn't wait to try them during the make-over! The store is really beautifully laid out and the layout is really convenient to shop in.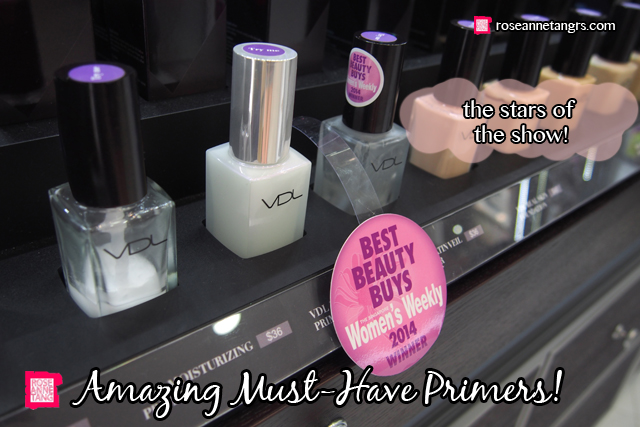 Speaking of the make-over, let's get started! I actually normally don't like getting my make-up done and always prefer to do it myself so I really didn't know what to expect! With the vast ranges at VDL, I thought that the make-up artist would be surely amazingly talented.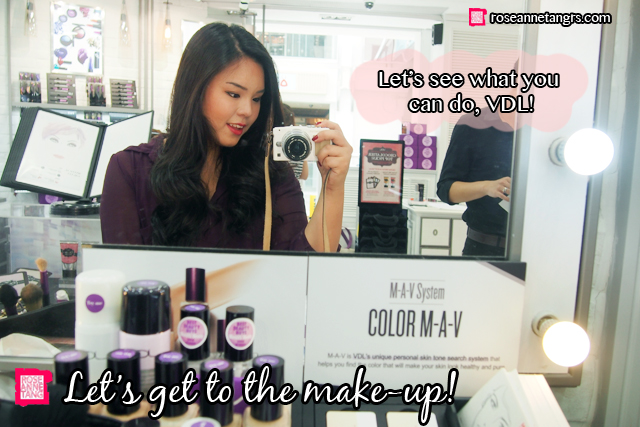 I was right! Alvin, the make-up artist at VDL, really did work his magic! He first took off all my make-up and proceeded to shape my eyebrows. I have to raise my hand guiltily and say that I don't always find time to pluck them so I was really grateful that Alvin did a really nice and clean job. It was then time for the skincare! Alvin first used the Fresh Tour Finish Toner that has Hawaiian Deep Sea Water that moisturises with enriched minerals and then he applied the Botanicals Hydro Relief Softener that contains Milk Thistle to help detoxify the skin. Then to enhance absorption, the VDL Beauty Oil Essence was applied right after VDL Beauty Treatment Essence to further prep the skin. Alvin then used the Botanicals Enriched Repair Eye Cream around my eye area and advised that I could also use this for dry areas around the mouth. To help me attain more radiant skin, the last step involved the Botanicals Hydro Relief Cream which is a whitening-functional moisturiser that uses 7 different types of herbs to help lessen melanin production and give us a gorgeous and fairer complexion. My skin felt refreshed after using their skincare products!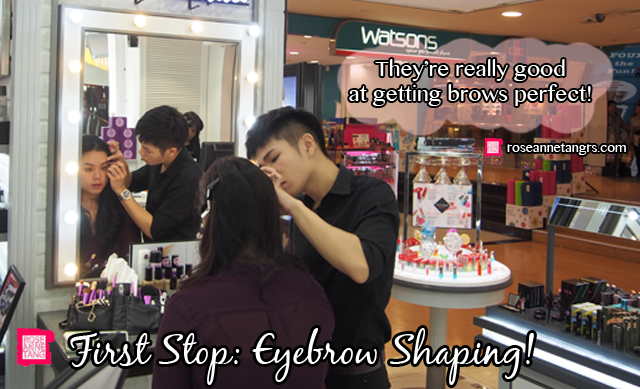 Of course the star of the show is the next step which involves preparing and priming the skin before foundation! Alvin first used the VDL Lumilayer Primer on my skin. The VDL Lumilayer Primer is extremely special and unique because it is unlike any other luminous primer. The difference lies in its color. Instead of just being white like other glowing primers, the Lumilayer combines blue, red and green light pigments to reflect light and create a 3D glow.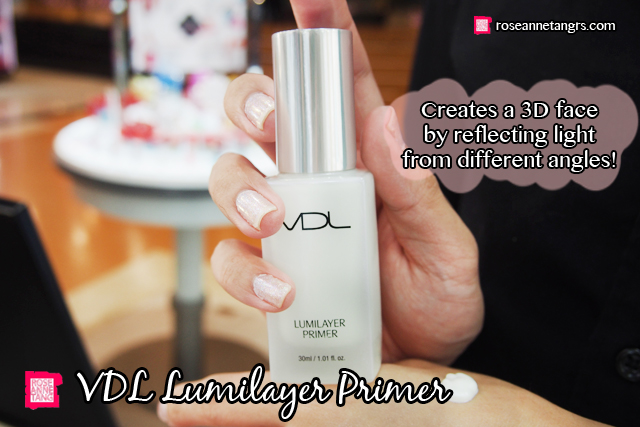 The Violet Lightflects Pigment in the VDL Lumilayer Primer evens out skin tone and creates a 3D face line by interacting with light and reflecting them at different angles of the face! Cool right? VDL actually studied the wavelength of violet light and applied it to this primer and this blending of light technology allows for multi layering of products without compromising on glow! It really is an amazing product! To be honest, this has to be one of the best luminous primers I have tried. The glow is amazing and it looks like I'm being lit with spotlights without looking unnatural. It's really a must-try!
Next, Alvin applied another primer – the VDL Satin Veil Primer which also happens to be really popular too. Whereas the Lumilayer Primer brightened my skin and made it glow, the Satin Veil Primer helped to soften my skin and smooth away fine lines and enlarged pores to create a nice and even surface for the foundation to glide smoothly. My skin was really soft after using it.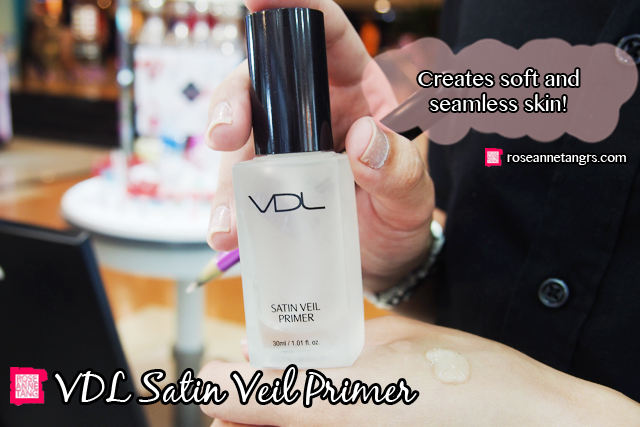 You can see the effects on my forehead with the primers blending out. After primer application, Alvin then applied the VDL Perfecting Last Foundation which has a semi matte finish. He mixed this with one drop of Beauty Treatment Oil that contains antioxidants to make the foundation blend better and stay longer without oxidation. The effect was a subtle glow. To conceal my blemishes, Alvin then used the VDL Master Skin Concealer and to set the concealer. To set the foundation, Alvin used the VDL Locking Pressed Powder which has almost no coverage and no cakey effect but sets the make-up well. I found that their base products had great coverage and were able to cover my flaws well. They also had no cakey effect and still had the ability to look quite natural.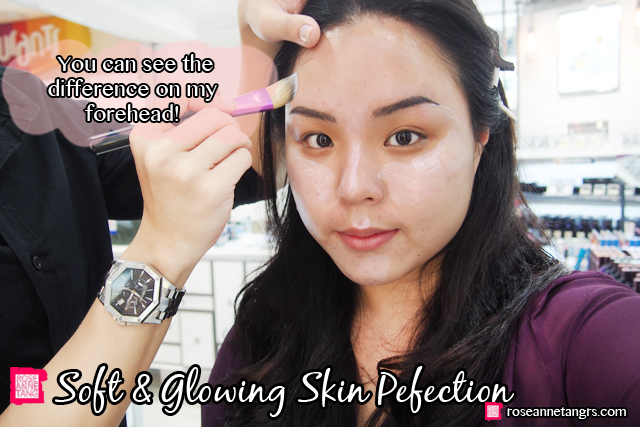 I just love how Alvin did my eyebrows! He first used the VDL Expert Brow Contour Kit to shape and fill in my eyebrows and then used the VDL Festival Browcara to comb through the brows. The VDL Festival Browcara contains pigment that helps to also fill in the brows. Alvin from VDL really carefully made sure they were equal and the effect is amazing. I've been really trying to perfect my eyebrows lately and I should really learn from him!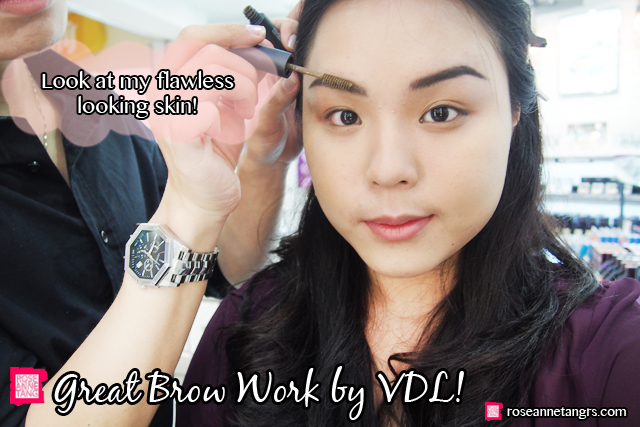 Now it's finally onto the eyes. Alvin first used a lilac shade eye primer. It's lilac to help correct and neutralize uneven skin tone around the eye area. Then, Alvin grabbed the VDL Festival Mineral Eyes (Love Mark) in Airport for my eyeshadow. He put a pretty gold all over my lids and created dimension with the darker brown. It's not something I would wear everyday but I ended up really loving the combination!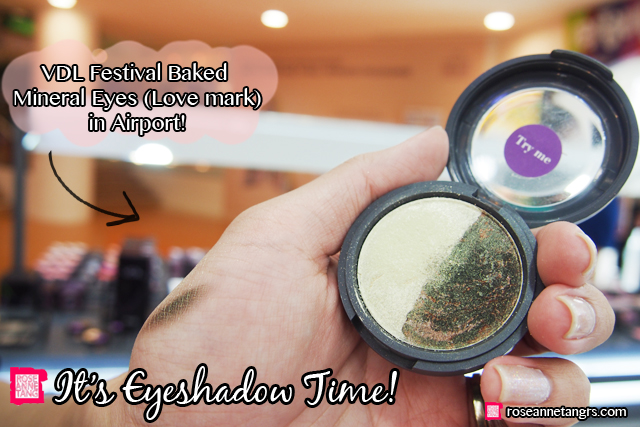 I found the eyeshadows really blended in well and were very pigmented indeed! All this time, Alvin was using the VDL brushes and they were really soft. There was a lot of blending involved with the shadows so I'm sure that the brush made the work a lot easier!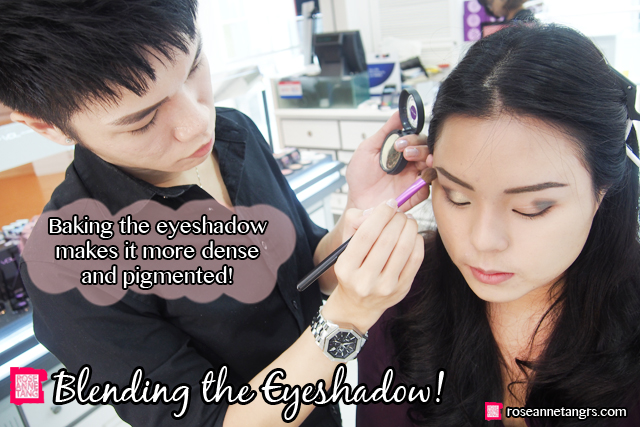 Alvin then carefully drew my eyeliner with the VDL Eye Bomb Tip Liner, then applied my lashes with the VDL Eyebomb Mascara. He then applied VDL False Lashes Lash Party to really open up the eyes! Here's me with just the eyeshadows! I really like the gradient effect!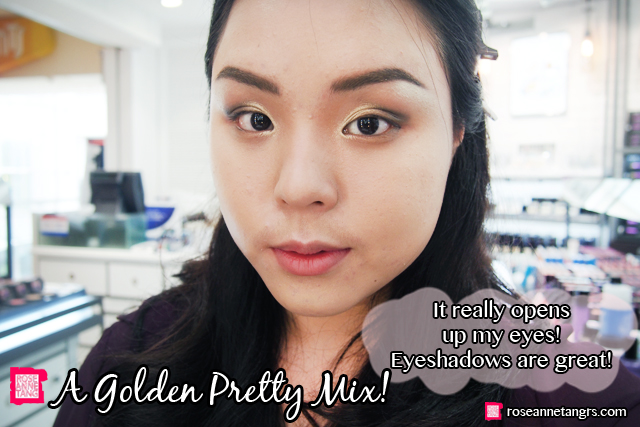 Alvin applied two blushes on me – the first being the VDL Festival Mineral Blusher Soft Touch that comes with a blush and highlighter and VDL Festival Mineral Blusher Fall in Love! Then, it was time for the lips! Alvin used a more natural lipstick, VDL Festival Love Mark Lipstick in Adrian! He then topped it off with a VDL Festival Lipgloss in Salmonade!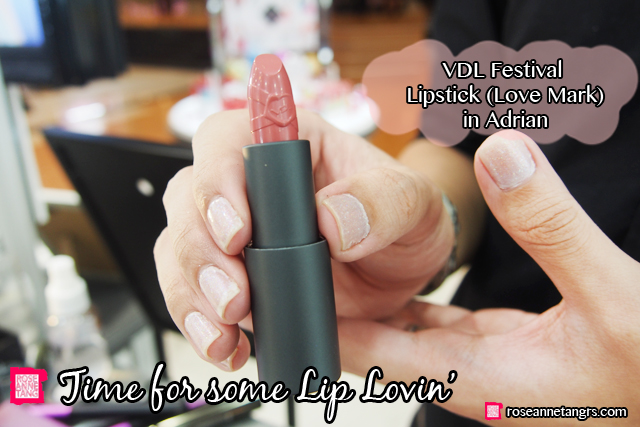 The lipsticks go on really smoothly and are richly pigmented. I love that they don't feel sticky at all! I for sure want to try out more lip colors in this formula.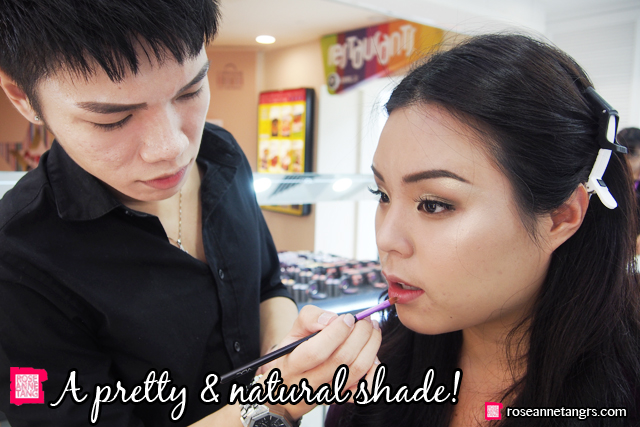 After Alvin was done, I was really happy with the make-up. I don't usually see myself with this color combination but I really think that it helps to brighten my eyes. I really loved it. Alvin's amazing contouring skills helped too! I love love love it and this just goes to show how amazing VDL makeup is that it could produce this look!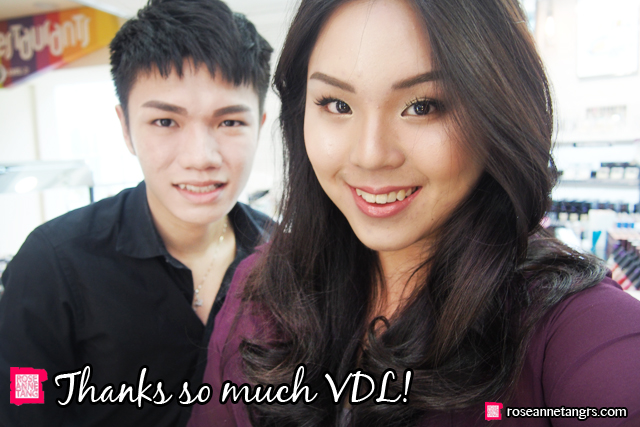 Thanks so much VDL and to top this post off, here's a VDL Giveaway! 
 5 readers get to receive a best selling VDL Lumilayer Primer worth $36 each
This contest is open to readers residing in Singapore
Collection of prize is only at the designated VDL outlet in Bugis (the same one I went to)
Question: Tell us why do you want to win VDL's signature product, Lumilayer Primer!
You must submit your answers by the 21st of Feb to enter!
Please include your email and name and be ready to provide your mobile number and NRIC if you win!
So, just tell us why you want to win the VDL Lumilayer Primer in the comments section below by 21st of Feb to enter! There will be five winners in total! Good luck and hope you liked this post! Do give VDL a visit, I really do honestly think they are the bomb and have great innovative products.
VDL Flagship Store – Suntec City Mall #02-338/339 Tel: 68373442| Jurong Point (JP2) #01-02 Tel: 67943561 | Bugis Junction #02-21 Tel: 6337 9362 | Bedok Mall #01-35 Tel: 6844 9311
Love,
Roseanne