September 26, 2013
Hey Everyone,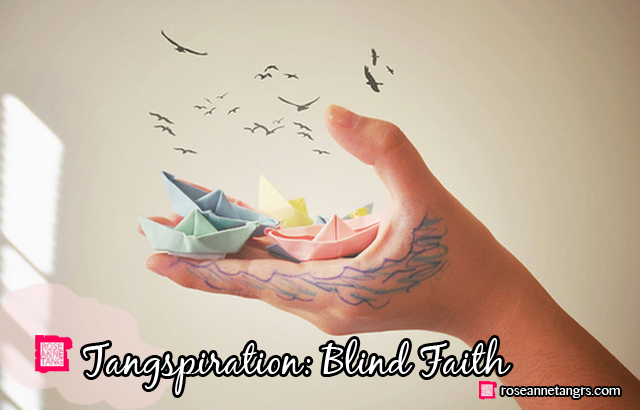 I think that one thing I've learnt not having a conventional 9 to 5 job is that sometimes – I gotta do what I do with my eyes closed. Not in the sense that I'm doing what I do fast and blindly, but more so about the fact that I just got to ignore certain things in my life that are pulling me down. To be honest with you, it's been a pretty tough battle but I'm finally taking the reigns. Before I tell you any more, I want to say I really love what I do. I think it's every entrepreneur's dilemma to really step out of the norm and push themselves to wander on unchartered roads. I think it's scary for all of us even though we really love what we do. I think you can love what you do a lot like I do, but let's just say that nobody's journey will ever be a piece of cake.
I remember back in college in my last year – when most of my friends were applying to big multinational companies, I was still figuring out whether I should devote my time to my blog, all the things that related to it and my makeup career. I might have made the jump look a lot easier since you guys saw me as a make-up personality, but honestly I'm just like you and I'm still kinda trying to figure out life. It was really hard – sometimes it feels like a constant battle between giving up everything, getting a normal job and being okay with who I am. My loving parents obviously wanted me to get a normal job because it means stability and assurance and for them – they can't see what I do as sustainable in the long run. Every time they sit me down and talk to me about it, I feel really sad and want to give up because at that moment, they make sense, I believe them. I mean c'mon – in the world of money and things which we live in – I'd need really an external source of strength to believe that I'm going to have funding to live a comfortable life by not working for anybody else. I know it's hard for them too because they want to make sure everything is going to be okay. Since high school and thanks to my entrepreneurial blood, I used to create all these fundraising businesess for charity and while I was hawking bubble tea and popcorn, my parents just wanted me to sit down and study. I've closed one eye to them for a long time and even though they might think I do, I still really care about what they think. I just don't choose to show it sometimes.
A lot of people ask me what I do now. To be honest, a lot of things. I'm a little tired when they don't believe me, ask me how much I make or they give me the confused face. I'm a little confused myself but in my heart, the whole of my heart, I know that I'm not driving this boat. I'm only 22 and to be honest, I'm just fresh off the boat in adult world. The way I do life is a little different. I feel totally at peace with saying that I feel like I'm on this speed boat with my life and God is just driving. For the longest time, I prayed to ask God where I'm going. I felt like I was doing so much and working so hard to fit every single opportunity he's planned for me that I didn't know what all this was for. I've slipped, I've slid and applied to a bunch of jobs telling myself, what in the world am I doing. But to be honest – all these magazines, all these opportunities, all these people I meet, the fact that you're reading this – sometimes you have to remind yourself that it's okay. Sometimes you gotta take a leap of faith. I mean He created the freakin' universe, he's got it. He can handle it. You can trust Him. I took a leap of faith and to be honest, I've counted all the opportunities that I could have missed if I took a 9 to 5 straight after college and I've already lost count. When He's told you this is what you're supposed to be doing, He'll make sure you're taken care of I reckon. God is my boss.
And at times it becomes just hope watered down to I don't know if I can do this. I remember walking back from the MRT to my house and I was in the midst of applying to a bunch of jobs. I wanted to quit, I wanted out, I just wanted a normal life, a normal job, fly somewhere and just disappear. It was easier. I love makeup and I love what I do but there are downsides to every thing. I mean I don't have to worry about what people think of me all the time and I don't have to worry about a fluctuating salary. And then God talked to me. I know it sounds crazy. He told me "you know you're going to quit all these jobs anyway, why are you doing this. Trust and believe in me. All of these applications are nothing. Stay with me and I will show you" and then I told him "Ok, God if this really you and not a voice inside my head, please show me a sign," "Ok, what sign," "show me..a girl with pigtails". I was a the junction and usually take the other road back home and God told me to take the another path and I never take it at night because its deserted. But I just took it anyway. I even told myself – as if I'll see anyone with pigtails at this hour. And people passed, some with ponytails, most with long hair. I told God, do you even know what pigtails look like? He said he does. And then true enough, this little girl with pigtails who is not supposed to be awake at that hour shows up. Wow. I told God. Thank you for the sign and I told him but I hope you understand how I feel about all this. There are so many things to pay for. God said he understood. By that time, I went home and went upstairs. I was taking off my make-up when God says – "What if I told you an investor was coming. He is going to give you everything you've ever wanted for your brand. Build you up big, events, fairs, everything. Those brushes you've always wanted to make, those books?" I said "that would be really good God, but how will I pay him back?" and God said, "you won't have to because that investor is me".
Amazing and awesome God. So I guess here I am. This post is titled blind faith because sometimes it seems that that's what I 'm doing. I'm believing not in what I see around me but what God really wants me to do here. Trust what you do. Trust in the Lord with all your heart and lean not on your own understanding in all your ways acknowledge him and he will direct your paths – Prov 3:5-6. Do not conform to the pattern of this world, but be transformed by the renewing of your mind. Then you will be able to test and approve what God's will is – his good, pleasing and perfect will – Romans 12:2. Jesus replied, "you do not realise now what I am doing but later you will understand" – John 13:7. I'm still on a journey just like you. Go get your dream, girl.
Love,
Roseanne
You can follow any responses to this entry through the RSS 2.0 You can leave a response, or trackback.