Hey Everyone!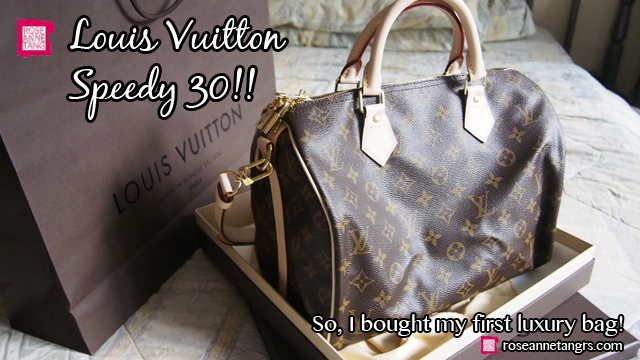 Yesterday marked a really special occasion – I bought my first luxury bag. I know, I still can't believe it. I earned every single dollar that went into it and I feel really proud that I was able to do that. All the late nights working, working on the weekends and even working while I was at University  – doing makeup, running the store and running this blog has been an interesting experience. I love how my job is really varied, but it can get really hectic sometimes with things due from three angles. Ladies and any guy who reads this blog, I introduce to you my new Louis Vuitton Speedy 30 in Monogram print! It's specifically momentous because I've been wanting, waiting and looking at the speedy 30 ever since high school and I really can't believe that it's finally sitting on my bed. I earned it. It's like, wow…I did that.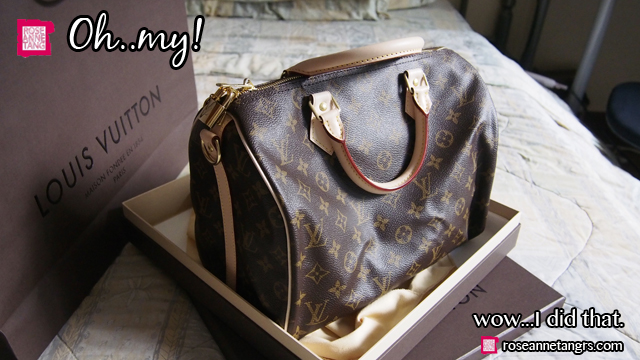 To be honest with you, I'm really the kind of person who would save up more than spend so I'm even surprised at myself. I've been wanting a bag though for a while. I guess it's not because I want to show-off, but it's really just so that I look presentable in front of my clients. I think I've succeeded in life to this level where I can and really should start to invest in my appearance a little more. It's time I have a bag that's like a "pet" to me. This one is to me. I can't imagine just dumping it anywhere and the fact that I know where I earned every dollar that went into it makes it really special to me. For a woman, it really feels like "achievement unlocked"!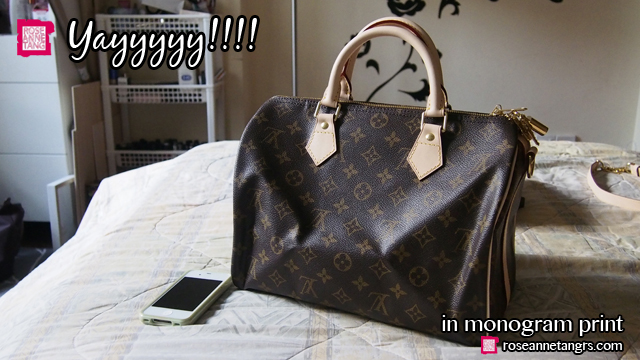 So today, I thought I might do a little tour/review of the Louis Vuitton Speedy 30! I got the monogram instead of the Damier Ebene or Damier Azure because it's like so classic to get the monogram. I initially looked at other luxury pieces to get (even though I was sold, but I had to do my research) but none were as classic as the Speedy 30. Like, I don't ever have to worry about it going out of style. A lot of people say that everyone has an LV these days, but I don't think so. After spending a day at Orchard, few had the Speedy 30, if any at all! That doesn't really matter to me though. I got the bag that I've wanted for a long time!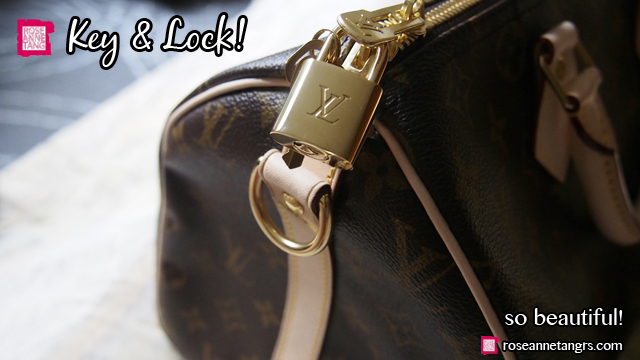 It also comes with a Louis Vuitton lock and key that keeps things safe. It's more of a bag charm for me. I'm not going to use it as a real lock and key. If anything, someone will probably steal the whole bag lol. To be honest with you, I felt really intimidated to go into the store. The super clean look, sales assistants eyeing you and barely anyone in the store made me kind of nervous but I was really blessed to have a really nice woman help me out with this purchase. I got my Louis Vuitton Speedy 30 at the Louis Vuitton store at Ngee Ann City.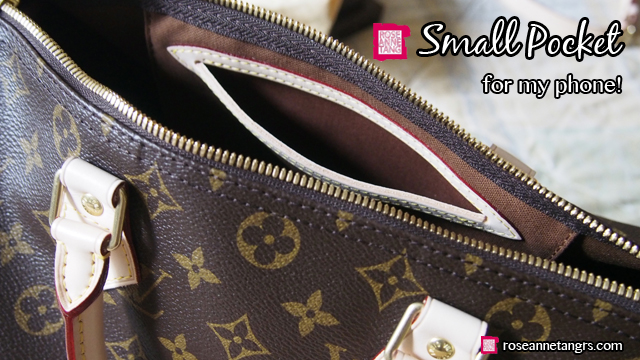 The Speedy 30 is a rounded box shape. It has no bag shaper floor thing at the bottom but it does have a little tiny pocket (kind of like your Longchamp Le Pliage) where you can put smaller things like a coin purse or your phone. It's really useful because I tend to dump a lot of things in my bag. Everyone knows that the way you hold it is with the what I call "pathetic hand" method which is just in the hook of your arm. After a lot of research, people were saying that it gets heavy sometimes and you'll want to put it down or sometimes you want to use your hands. I really think this is the most classy way to hold this bag and the most "tai tai" way and I would hold it this way by default if my hands aren't too tired of course.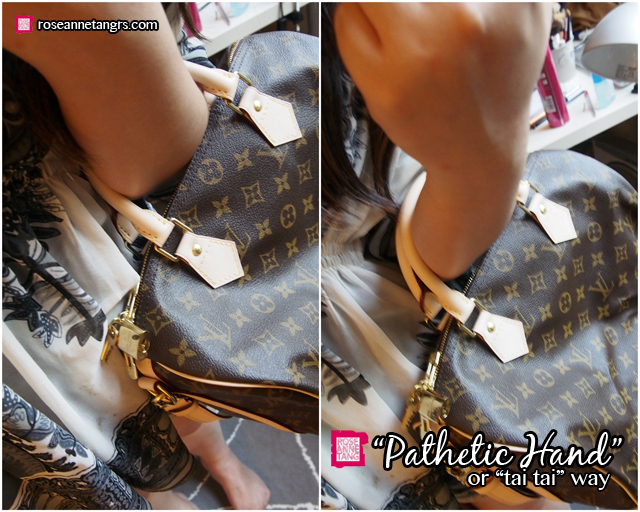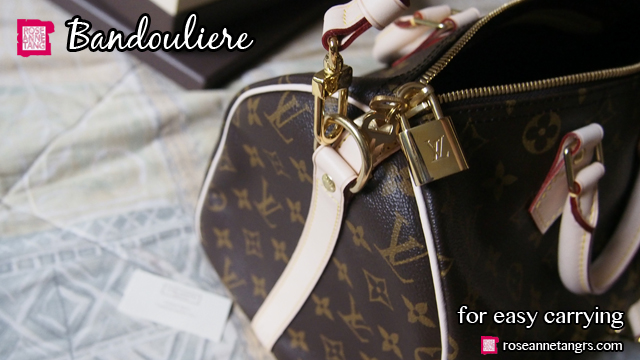 Knowing me though, my hands do get tired and I like to be lazy so I bought the Speedy 30 with a bandouliere. This is the new generation of Speedies. Before this, they only hand the Speedy 30 without the bandouliere (or extra strap) but now they've brought in a new version at a higher price because of I guess the extra material involved. I went ahead and got a Speedy with the bandolier because long term wise – I knew I would probably need it. Saying that, the difference is the extra strap running down the side of the bag that leads to a clip so that you can clip the extra strap and use it as a crossbody or shoulder bag!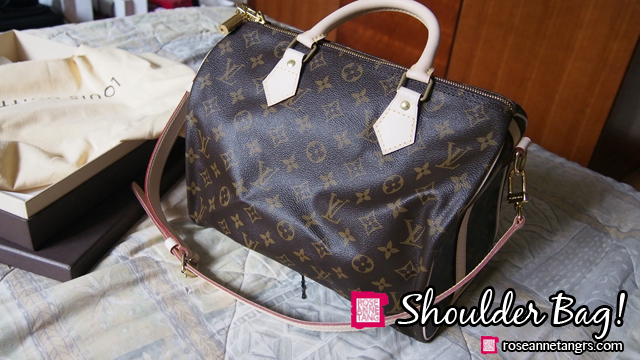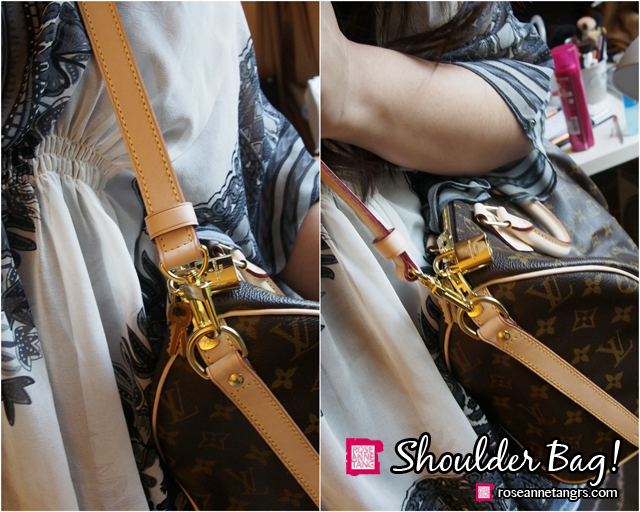 And then, the bag also comes with a strap extension that you fix on and buckle up to make it long enough for a cross body or a sling bag. I love the versatility!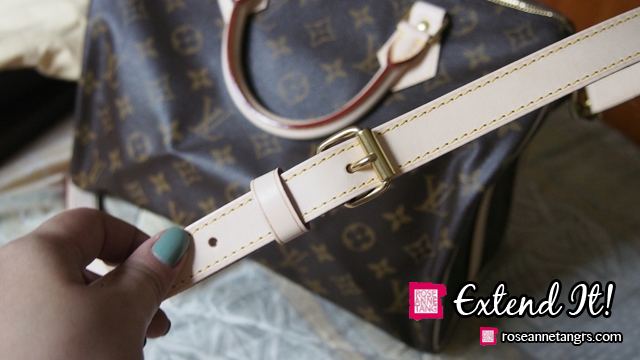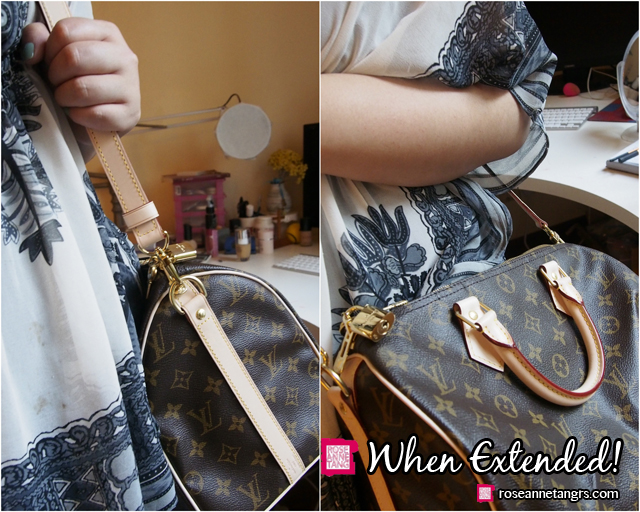 You can just feel the lux leather and quality of the bag and I really love it!! I now put it in the dustbag and store it in the cupboard when I'm not using it. I can't wait to take it for a spin soon! I'm currently working tons this week though with make-up and hair jobs but have a few meetings next week with clients so I'll be happy to take this out and about. I think for girls, it's not really about being materialistic, it's just a tribute to yourself. You've worked hard for it and if it makes you happy, get it!
What's the bag you've been eye-ing on right now?
Love,
Roseanne