Hey Everyone,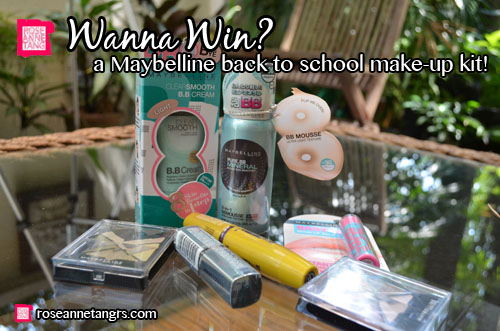 It's that time of year again. It's that time to whip out the folders, pens and put our thinking caps on for back to school. Although the morning bus won't be driving by my house anytime soon (or ever), I thought I might do a great make-up look you can do for back to school! I asked you all on my facebook page (http://www.facebook.com/roseannetangrs) what make-up look you wanted me to do next and most of you raised your hands to a picture day and school look. I also have FOUR Maybelline Back To School Goodie Bags full of great make-up products (shown above) so at the end of this post, find out how you can win your very own!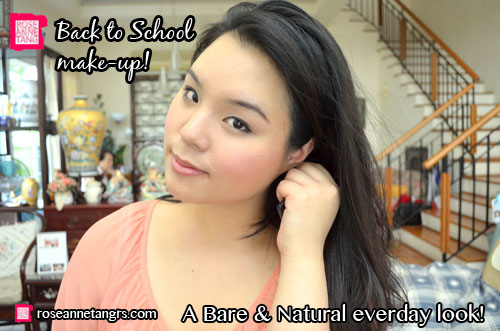 When I was in school, I barely wore make-up until high school. Maybe just a bit of lip gloss and eye-liner and a dusting of powder. Nothing too theatrical, or made-up. And I think that's what we want when it comes to an everyday look for school. Natural, but still able to enhance our features. That's why I'm using the Maybelline BB Instant Skin Smoother Foaming BB Cream for my face. I find that these new foaming foundations are actually rockin' when it comes to that natural skin look above all other things I've tried. Then, I applied a powder (the Rachel K CC Mineral Pressed Powder) on my oily spots, contoured with the NYC Smooth Skin Bronzer in Sunny and applied a bright matte blush like the M.A.C Pink Swoon!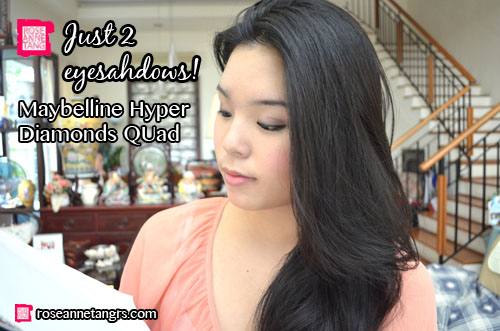 For eyes, I made it even more idiot-proof. All you really need for eye-shadow (especially if you're starting out) is two eyeshadows. One lighter as your base shade and one darker. I used the Maybelline Hyper Diamonds Quad to do this and applied a shimmery peach as my base and a sandy shimmery brown to my outer corners. I then finished off with my all time favourite liner – the Covergirl Liquid Line Blast and mascara – the Maybelline Magnum Volum Express! At school, I'm not a fan of lip glosses and lipsticks for this tutorial, go natural with a lip balm. I love the Maybelline Baby Lips, it is awesome!
Giveaway Directions —>
Now you're probably wondering, ok now how do I win all this stuff? Maybelline was kind enough to hand over these goodie bags to me and now I'm handing it over to you!
1. Go to my facebook page: http://www.facebook.com/roseannetangrs
2. Find this picture on my facebook page: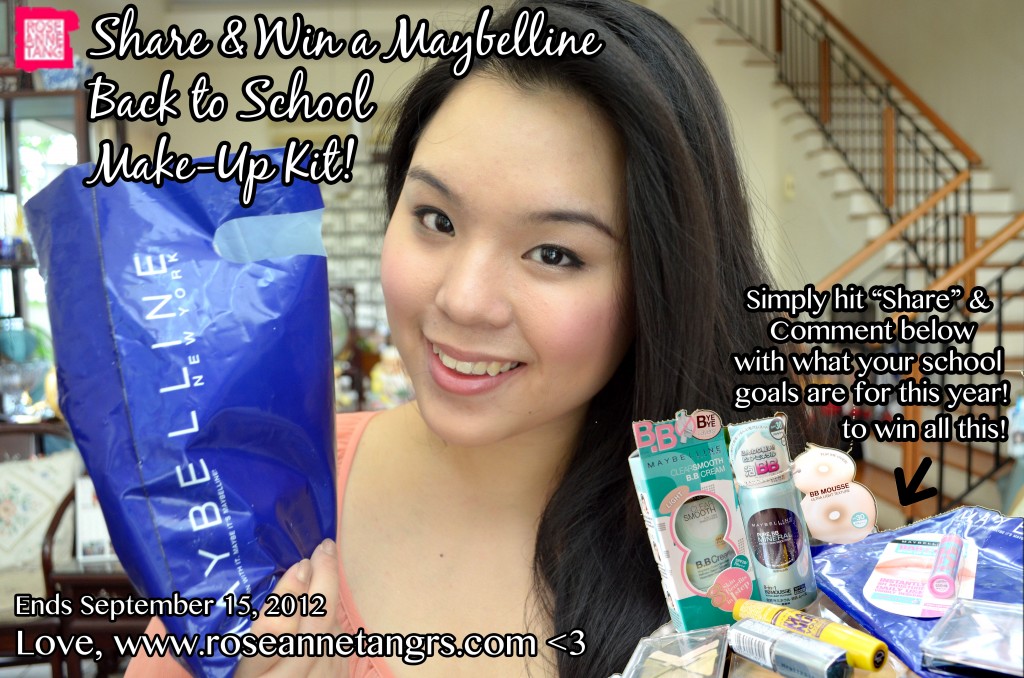 3. Share the picture and tell me what your school goals are for this year and your email address so that I can contact you! Is it to get good grades? Be more confident? I want to know! Get your entry in by September 15, 2012!
4. The winner will be picked when the giveaway ends and will be based on your effort that you put in the entry. I think it's only fair!
If you don't have facebook or don't want to use it, just simply comment in the comment section below of this blog post! I'll add it in when it comes time to pick a winner! There are four goodie bags to give away so I'm picking four winners. I wish you the best of luck this coming school year. You can do it if you work hard at it, always. That's one of the lessons I learnt at school.
Good Luck!
Roseanne