Hey Everyone!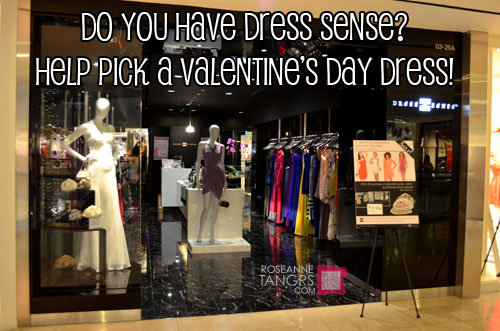 Valentine's Day is coming! That day comes with either two daily agendas. Number one, prancing around with your dream date or boyfriend of however long, or number two, moping around with a bowl of popcorn and the latest chic flick on TV. But, what if we eradicated that stereotype and regardless of date or no date, valentine or no valentine, we had a ball looking good anyway. I say hats off to that idea. And if there's any expert in looking hot for this special day, Dress Sense at Raffles City is pretty much the place to be.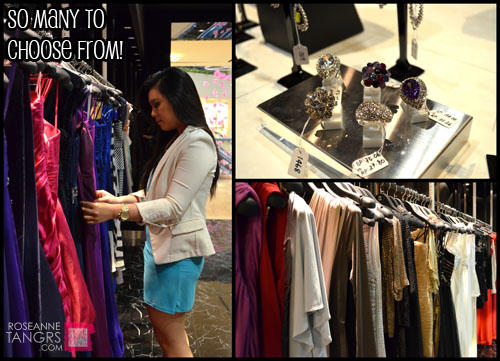 Dress Sense invited me to their store to pick out a few Valentines Day outfits and to have fun trying out their dresses and accessories. I thought this would be a fun way to give you some inspiration just in time for your hot date and who doesn't love feeling like Barbie once in a while. Plus, their whole concept is amazing.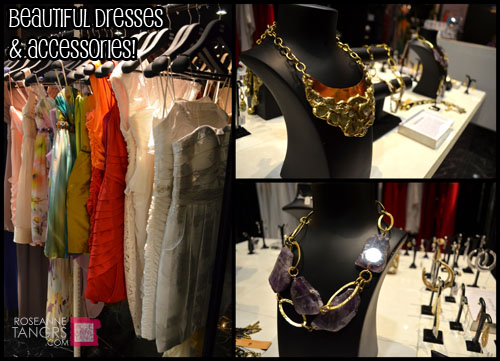 Do you remember those times you were stuck in a rut before prom wondering which dress to wear? If you bought a five to six hundred dollar dress, you probably would never wear it again because the imaginary facebook photo police would spot you and tell you off for wearing the same dress (as if they exist, but seriously, we all know they do). Thus, what Dress Sense does is they rent out beautiful gowns and accessories to you for your special occasion so you pay much less than if you were to buy it. You can also buy them later if you think they're too stunning to return which was a dilemma I faced a bit too much when I was there.  Nonetheless, their buy or rent concept is a winner, especially if you're looking for a one-night stunner that you see storing in the closet and never taking out again for another event. They offer a mix of gowns to cocktail dresses, jewelry and bags sure to turn heads at any party.
So let's get the party started and see what they have to offer. Psst, stay tuned for the giveaway at the end of this post to see what's in store.
Outfit Number 1: Pia Gladys Perey Celine Dress
The beautiful contours of the dress remind me of a sultan's hat. This dress accentuates your curves and is one of my favourites. Pair the purple with jade green and gold accessories and you've got a look to remember!
Fashion Tip: Find outfits that accentuate your figure. We're all different. Sometimes we may be a bit bigger near the bust line or the hips. Find a dress that compliments your figure, so if you're not too large at the hips, this will add that just the perfect amount of princess pouf.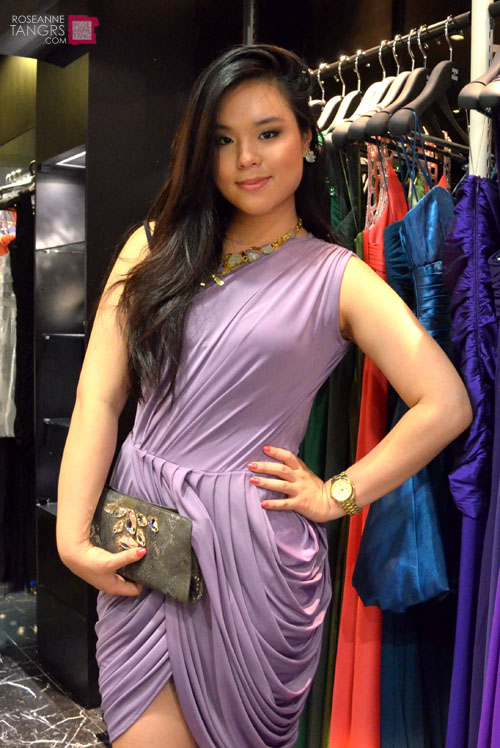 In this outfit, I'm wearing:
Pia Gladys Perey Celine Dress
Linya Disenyo Gold Leaf Links Necklace with Green Rutilated Quartz
Kendra Scott Carmella Stone Earrings
Inge Christopher Leather Clutch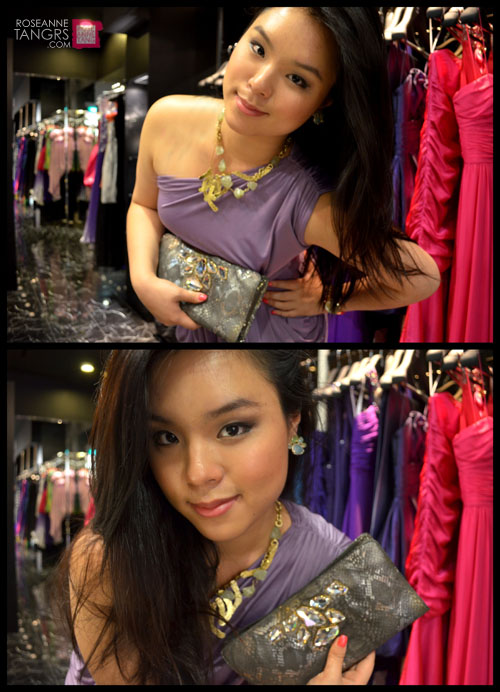 Outfit Number 2: Faviana One-Shoulder Gown with Bead Details
I love this long green gown and the jeweled accents make the piece applaud worthy. The gown drapes around your feet in a beautiful way and is great if your date is taking you somewhere extra fancy and you want to impress him.
Fashion Tip: Make sure you find a bag that isn't totally the same color as your outfit. It makes it even more beautiful if you find a complimentary color that matches your shoes. Here it's a gold and silver encrusted bag that goes with the dress and shoes.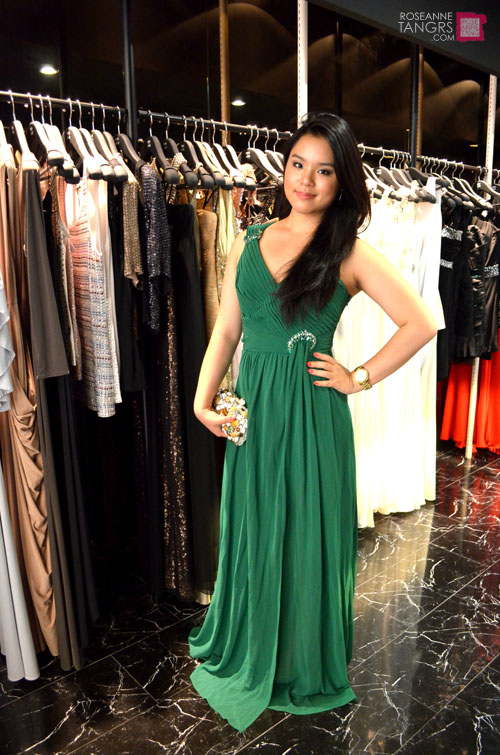 In this outfit, I'm wearing:
Faviana One-Shoulder Gown with Bead Details
Wanderlust + Co. Large Teardrop Peridot Earrings
Wanderlust + Co. Bianca Clutch
Outfit Number 3: Mignon Short One-Shoulder Jersey
I love this outfit, it's simply heavenly. The gathering of the white and silver fabric around your curves is beautiful with the stone-encrusted band from your shoulder to your bust line. It's even better with complimentary accessories to enhance the outfit even more.
Fashion Tip: Try your best not to clutter your outfit with accessories especially if you already have a dress with a busy top, you can be sure to skip the necklace and just go for the same kind of earrings instead.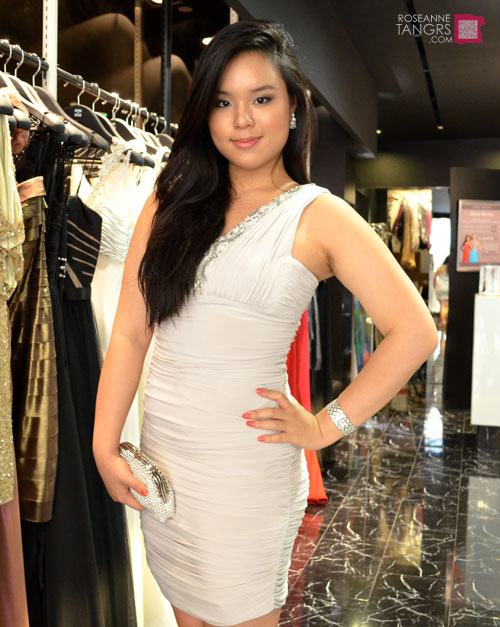 In this outfit, I'm wearing:
Mignon Short One-Shoulder Jersey
Wanderlust + Co. Crystal Cluster Earrings
Badgley & Mischka Crystal Bracelet Watch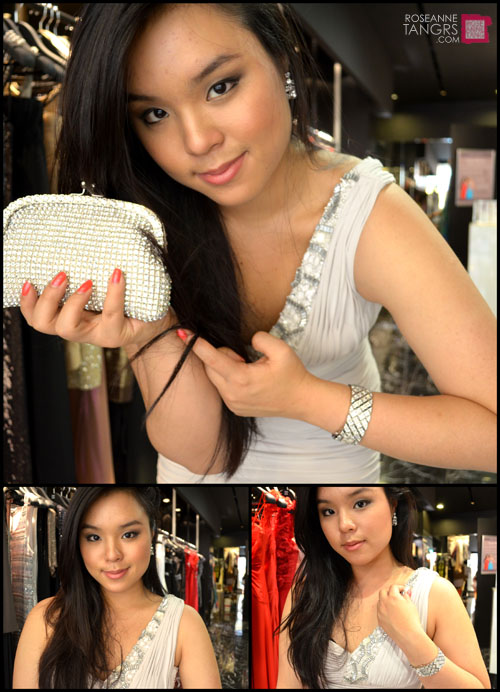 Outfit Number 4: Jovani One-Shoulder Floral Chiffon Gown
Another long dress, this beautiful violet gown reminds me of pageants. Dress Sense has a great range of short and long ball gowns that are sure to wow the crowd. I absolutely love the color, it's a unique blue violet and the dress fits the contours of your body very well.
Fashion Tip: It might not be super important to have your accessories totally matching your dress, but it may be important that your accessories match each other. Silver earrings, with a silver bracelet with a silver bag makes the look.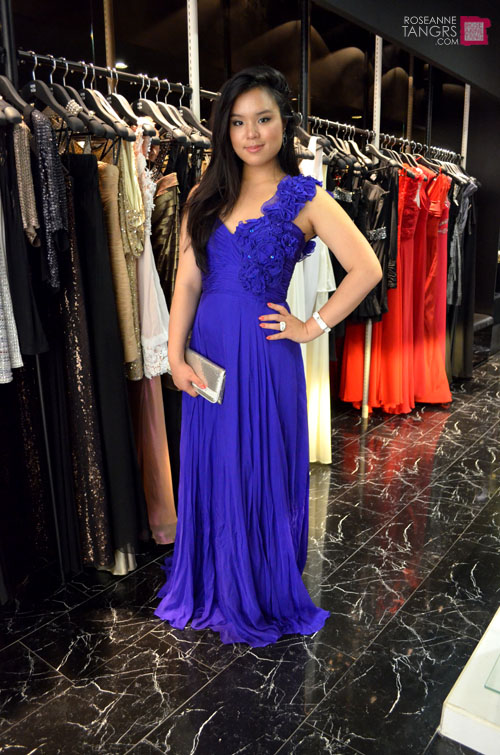 In this outfit, I'm wearing:
Jovani One-Shoulder Floral Chiffon Gown
Wanderlust + Co. Star Crystal Silver Bangle
Wanderlust + Co. Jumbo Chandelier Earrings
Wanderlust + Co. V-Knot Ring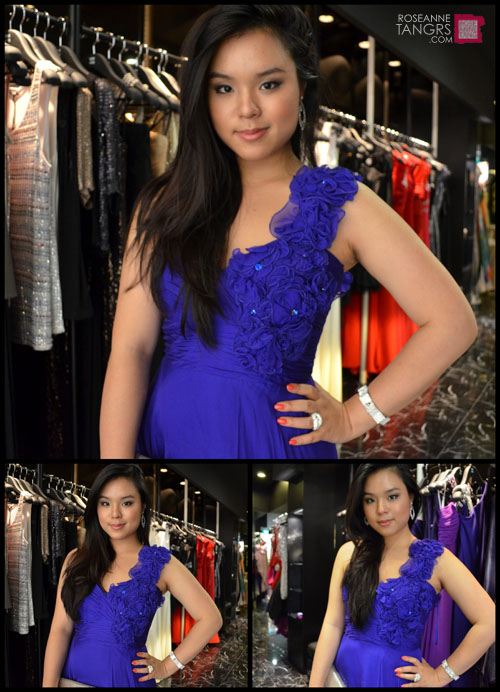 Outfit Number 5: Decode Black V-Neck Beaded Gown
Here's a simple gown that's half gown, half maxi dress. It's great for a fancy candle-lit dinner near the beach. Again, no need for major accessories near your front because there's quite a large design already there. Enhance the dress by picking accessories that match this design and not exactly the black of the dress.
Fashion Tip: Know your date's preference or the location you're going for (even if it's sometimes a secret and surprise). If you're going for an outdoor gala dinner at the Ritz Carlton, you might want to lean more to this outfit than something a little simpler. To pick the perfect dress, always know the context!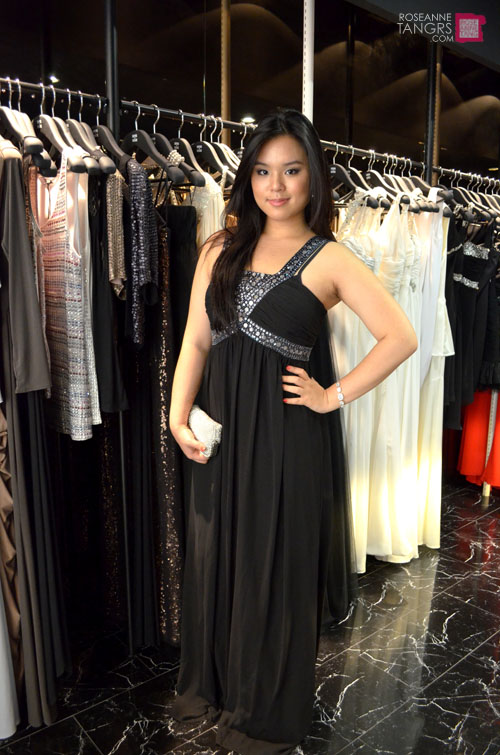 In this outfit, I'm wearing:
Decode Black V-Neck Beaded Gown
Wanderlust + Co. Butterfly Drop-Gem Onyx Earrings
Wanderlust + Co. Silver Rachel Clutch
Wanderlust + Co. Silver Multi-Jewel Bracelet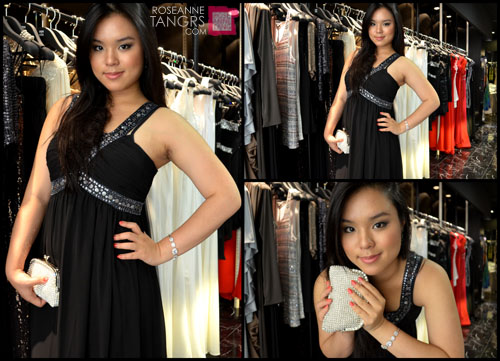 Outfit Number 6:  Faviana Short One-Shoulder with Sequin Belt & Strap Dress
This is a great and versatile outfit if you're out for dinner first and then drinks later because it's an outfit that will take you through the night! I love dark blue, it's one of my favourite colors and compliments the shimmering silver very well!
Fashion Tip: Prepare for wardrobe malfunctions by keeping fashion tape handy. You can find this special tape at any department store to keep your dress in place!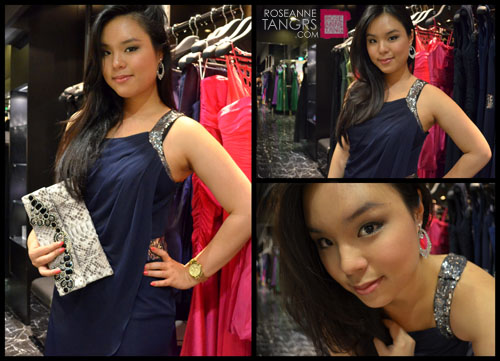 In this outfit, I'm wearing:
Faviana Short One-Shoulder with Sequin Belt & Strap Dress
Wanderlust + Co  Jumbo Chandelier Earrings
Cut It Out Amida Snakeskin Clutch
So there we have it! A few Valentines Day outfits and fashion tips that are sure to wow your date! Now of course, it's time for the giveaway!
GIVEAWAY! (NOW CLOSED)
In outfit number three, I wore a beautiful pair of earrings. They're like diamonds hanging like a bunch of grapes. Well, it's up for grabs!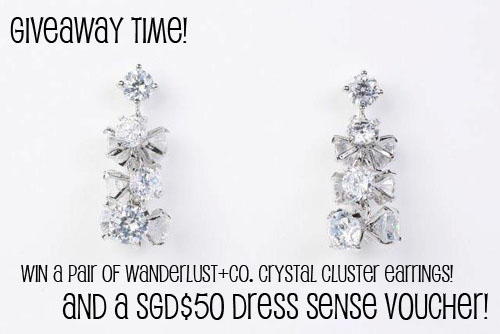 To win a pair of Wanderlust+Co. Crystal Cluster Earrings worth SGD$109, and a SGD$50 Dress Sense Voucher, all you have to do is comment on this post and tell me:
1. Your Full Name
2. Your Email Address
3. Your country of residence
4. Which outfit above you liked the best and why!
For example:
1. Roseanne Tang
2. roseannetangrs@gmail.com
3. Singapore
4. I loved outfit number 3 because I love the color white and the earrings are beautiful!
Good luck! This giveaway is only open for Singapore residents and ends on Feb. 10, 2012 and you must "Like" the Dress Sense Facebook Page to be eligible for the giveaway (which explains why we are asking for your full name) ! So hurry and enter!
Thank you to Dress Sense for having me come down to their store to try out all these wonderful outfits and for making this post possible! I had a great time! For more information, visit www.dress-sense.sg or for more information on how the whole concept works, check out http://www.dress-sense.sg/howitworks.php
Be sure to visit them at:
Raffles City Shopping Centre #03-29A
Have a beautiful Valentines Day!
Love,
Roseanne