Hey Everyone,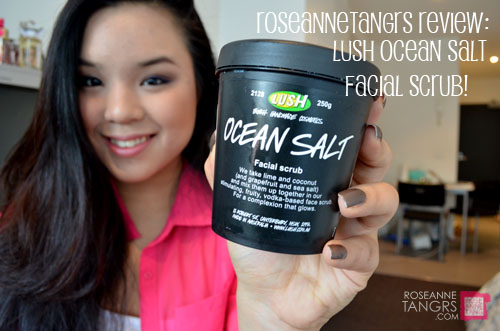 Like a cat and it's scratch post, my skin loves a good scrub. And that is probably the weirdest analogy you've heard all day. Apologies. I've wanted to try Ocean Salt for a while now. The chunks of sea salt and the smell of a mini margarita in a pot always appealed to me. I've even probably had to stop myself from eating it potentially. Enough words said though, I love it, and I use it often in my morning routine to give my skin a good clean. Here's a review of the LUSH Ocean Salt Facial Scrub!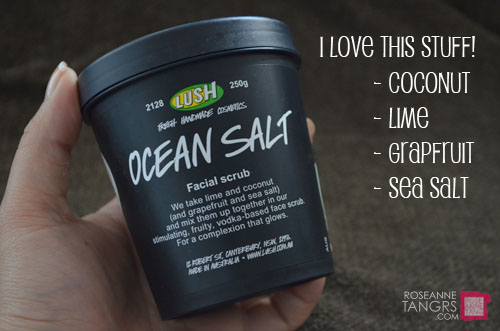 Housed in it's iconic black Lush tub, the Ocean Salt Facial Scrub boasts the following: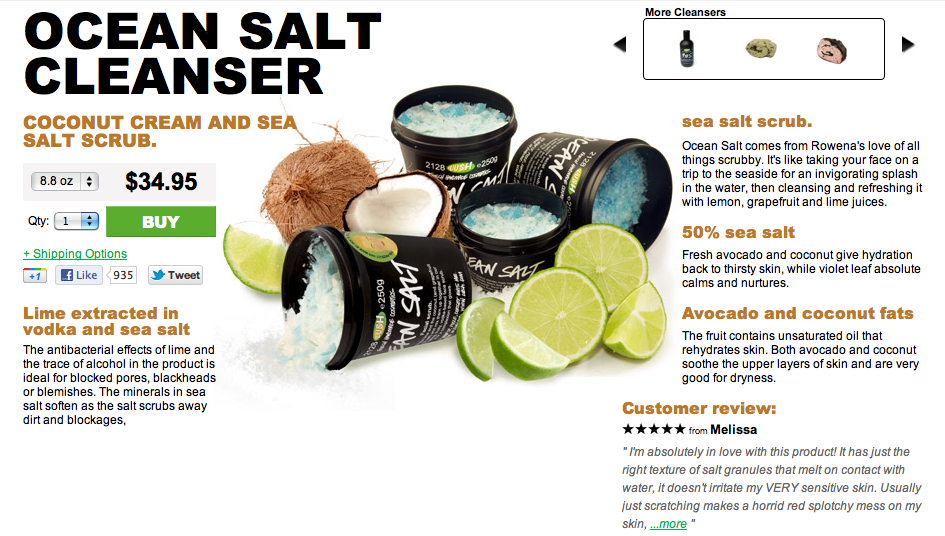 Basically, it's a lime, sea salt and coconut mixture that even has a trace alcohol for antibacterial effects. The minerals in the sea salt soften as the salt scrubs away dirt and blockages while the avocado and coconut fat soothes and hydrates the skin. So, even though salt is known for sucking out some moisture, it's counteracted by the coconut, avocado and violet leaf power combination. When you first get a tub and open it up, you'll see that first layer of chunky sea salt and all the avocado and lime mixture is in the layer below it. You must take a popsicle stick or use your own finger to mix everything up. It's seperated to perserve the form of the salt. So remember to mix it up!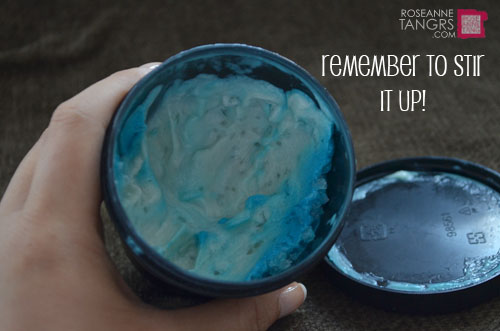 Once you get the salt later mixed in, you'll see that it's actually a very bright blue mixture. It's very pretty but mixed into the cream, it becomes a welcome sky blue. The whole thing smells like a yummy margarita and looks beautiful as well. Overall, it's a very visually appealing product.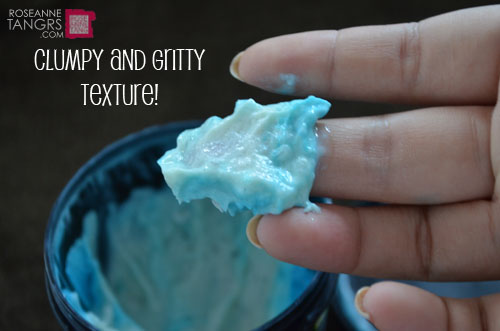 If you're not used to using scrubs, this might not be for you because the chunks are very large and the scrub in my opinion is quite coarse and rough. This is not a gentle exfoliation, it's pretty hardcore the first few times with the larger chunks. However, if you use it more, the smaller chunks of salt (like your regular table salt) is in the mixture below which makes for a medium exfoliation instead. In other words, it's very rough the first few times but as you get rid of the larger chunks, it mellows out into a medium exfoliation.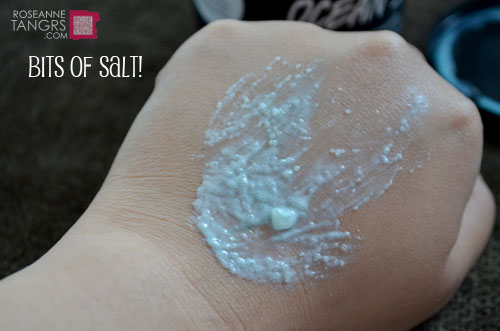 Enough talk, let's give my skin a scrub! Use your fingers to scoop some of the product and in circular motions apply to your face gently all over. Salt has many antibacterial properties – you know that saying salt and wounds – well it's good for ya and hopefully may take away any skin bacteria.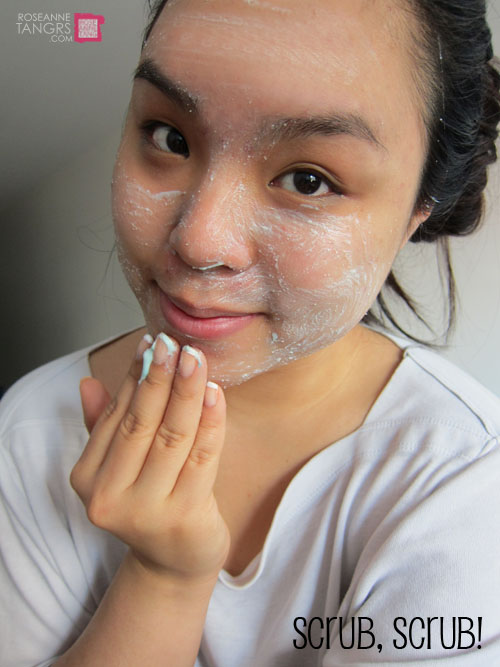 After the scrub, be sure to rinse off what you've done and ta-da! You are finished!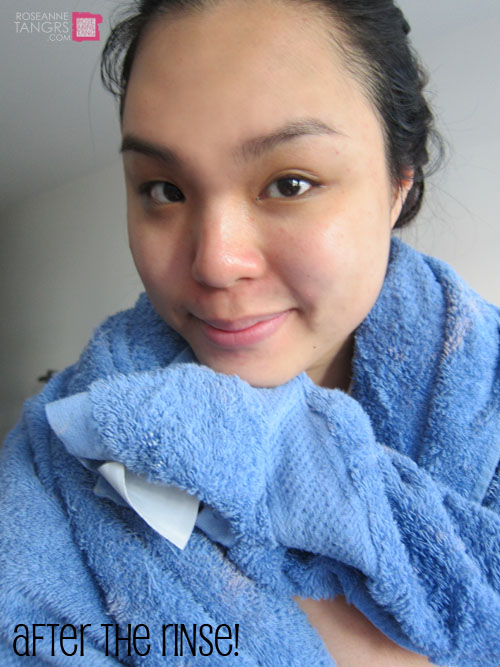 Overall, I really do like this product and I wouldn't suggest you use it daily the first few times but instead maybe twice a week. My skin feels much cleaner and smoother after I use this product and it can also be used all over the body. I prefer to use it as a facial scrub but it's really up to you. It's a great product and I tend to use a cleanser after it because for me I usually exfoliate and then I cleanse with my regular skin cleanser to make sure that the exfoliating parts are rid of.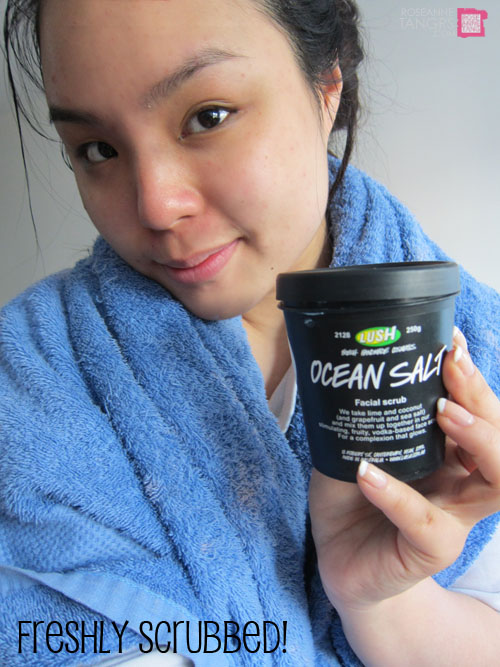 I hope you liked this review and if you have any questions, let me know in the comments section below!
Love,
Roseanne