Hey Everyone!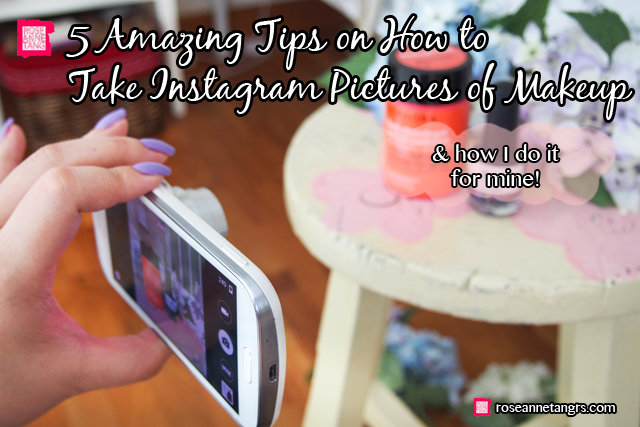 Today I thought I might share with you how I take my pictures of make-up for instagram! If you haven't followed me yet, you totally should @roseannetangrs :D Of course what you think are the best make-up pictures is totally subjective – but I do get a good amount of compliments and questions on how I take them which is why I thought I would do this post showing you how! I actually do put a lot of effort into my pictures even though it takes you two seconds for you to scroll through them and I have a series of tips and tricks on how I get my favourite make-up products camera ready.
1. Get a Great Camera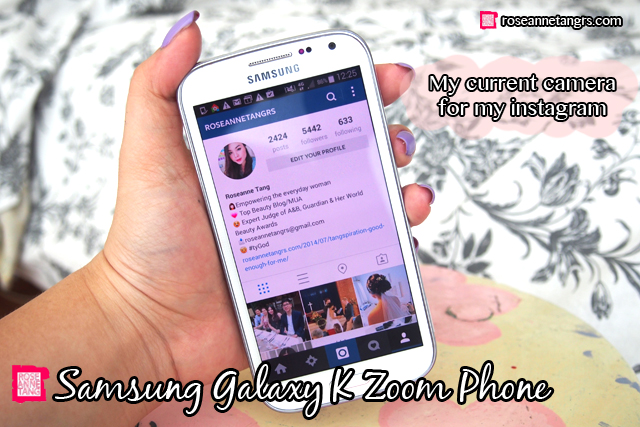 Investing in a good camera is really important. It really does make a huge difference to your entire Instagram profile. As you would probably know, I have been trigger-happy with my new camera-specialised smartphone – the Samsung GALAXY K zoom LTE. Before that, I was using the Olympus Pen EPL5, which I had to transfer photos to my phone via the Toshiba Flashair card. It is an amazing camera but seriously, the transfer and all was really an epic hassle. I am seriously and honestly very much in love with my GALAXY K zoom LTE because the pictures are unbelievable! Incredible quality and most of the time, I seriously cannot believe I took the pic with my phone! You have to check out my Instagram to see some of them already. Basically all of my current ones are by the Samsung GALAXY K zoom LTE and it even does amazingly well at night too. Whenever you launch the camera, a lens actually pops out of the phone allowing for great pictures and a 10x optical zoom.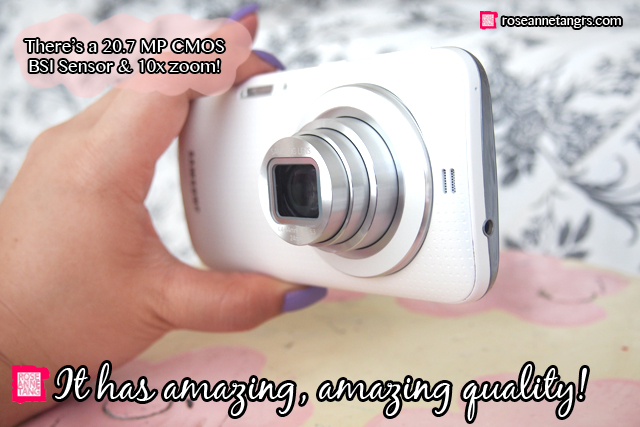 I've had plenty of questions regarding it lately so here are some specifics. First of all, it feels light & slim with a comfortable grip. It's about the size of the GALAXY S5 LTE so it's easy to hold. The phone uses AndroidTM 4.4 (Kit Kat). I am totally totally pro-android. The last phone I used was the Samsung GALAXY Note 3 With LTE, which I also love. It was just a bit large to hold so I prefer using my GALAXY K zoom LTE on a daily basis and now I don't have to carry an additional digital camera. The camera on this phone has also a 20.7MP BSI CMOS Sensor, Optical Image Stabiliser (OIS). In fact, no other phone in the market has these specs. The CMOS sensor is what you usually find in DSLRs. A 10X Optical Zoom (Pinch & Quick Zoom) is another feature and the phone actually has a expandable lens that offers amazing picture quality at even 10x! Not only that, it's an optical zoom too whereas most phones have a digital zoom. An added feature that you'd probably be interested in is the Selfie Alarm with Beauty Face – This is a new feature from Samsung guiding you to take selfies with the rear camera for better quality.
Other unique features of this camera-specialised smartphone is the AF/ AE Separation (Auto Focus/ Auto Exposure) – We all know auto focus, but this does auto exposure too even before pressing the shutter button which means you can say GOODBYE to back lit photos.Pro Suggest + Pro Suggest Market – When you click on the Pro Suggest  mode, the camera actually suggests a number of filters you can choose from to immediately enhance your picture and 28 Smart Modes – Just like filters, you can choose from many modes – from Night mode to Macro mode etc.
I am very much in love with this camera-specialised smartphone. I love it so much because I love taking pictures and now I don't have to carry an additional digital camera because the camera on this is just as good. I mean just look at my Instagram right now and you'll see. I can finally capture any moment in amazing quality with 10x zoom always at hand. I really really from the bottom of my heart highly recommend the Samsung GALAXY K zoom LTE if you are a picture person like I am. It comes in three colours – mine is shimmery WHITE but it is also available in charcoal BLACK and electric BLUE. You can find out more about it here. Thank you to Samsung Pte Ltd for sponsoring me this phone! 
2. Daylight is your best friend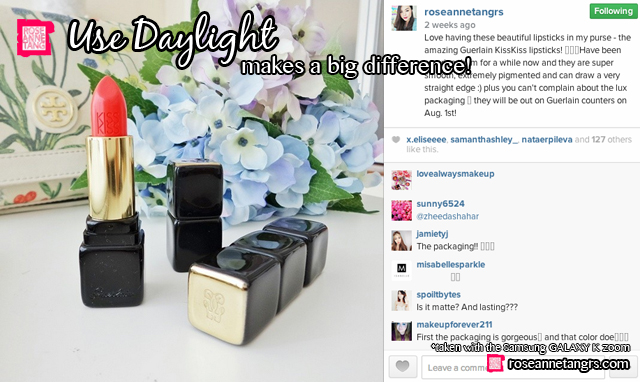 The best lighting is daylight! I always use daylight for my pictures. Thankfully, my room has floor to ceiling windows which makes daylight easily accessible. For you though, you could try and take your pictures next to a window or even outside. Some instagrammers do use artificial lighting but it's sometimes too harsh for me and I prefer softer pictures. It's totally up to you though. I light both my blog pictures and youtube videos with just natural lighting and it does wonders for me. I also brighten my pictures using the Snapseed app.
3. Angles always matter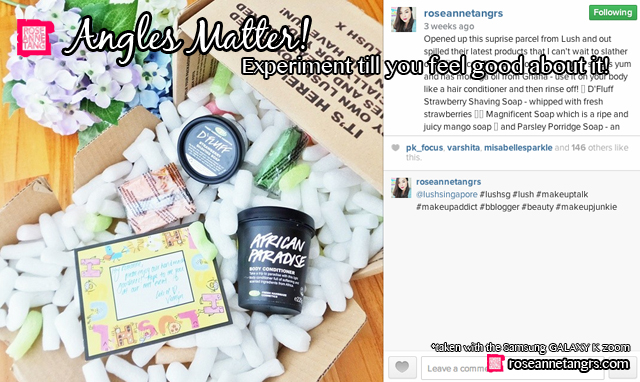 Angles are so important in pictures – whether they're from the side or from the top. The most flattering pictures (and probably the most common) use two types of angles – close up and a view from the top. The view from the top is actually called a flatlay. For me, I do both the organised flatlay and messy flatlay.
– Organised Flatlay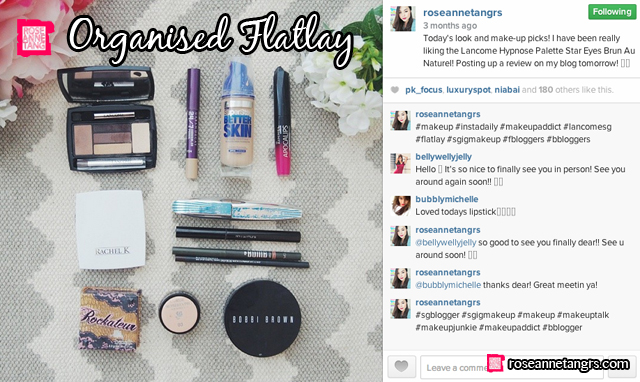 An organised flatlay is when you lay everything out neatly in rows or columns. It's quite hard to do because makeup tends to roll around really easily so if you stick some blue tac to the back of the product and stick it in place, it makes it a lot easier.
– The Messy Flatlay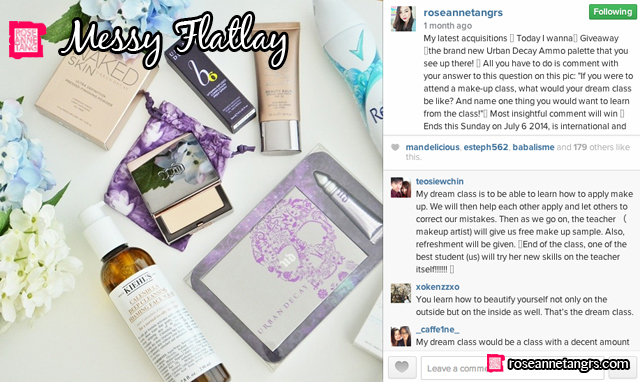 A messy flatlay isn't that messy. It's just not done in rows and columns so it's spread out in different ways. This is my favourite kind of flat lay because it looks more organic.
– Get Real Close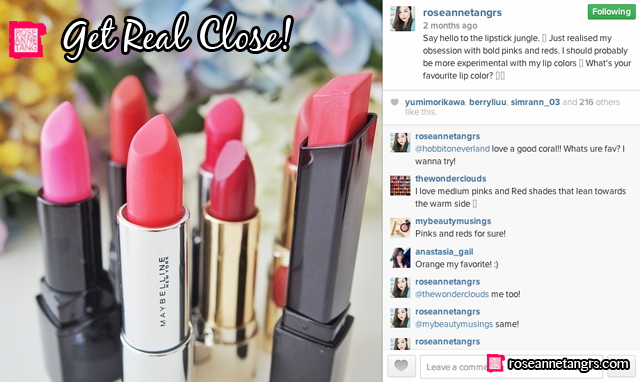 The last angle that is really pops is just straight up close-up! This is a close-up view of the products and people seem to generally love that. Hey, I do too.
4. Use Props & Arrange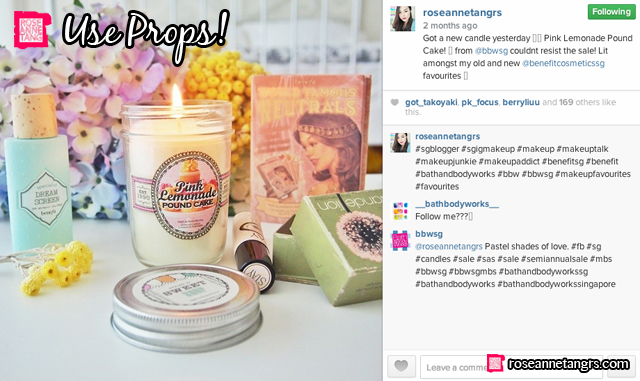 There's no shame to using props! I use a bunch of fake flowers, candles and even sometimes necklaces to be my props to the picture depending on the theme. Arranging them around the make-up makes for a gorgeous picture.
5. Focus Effect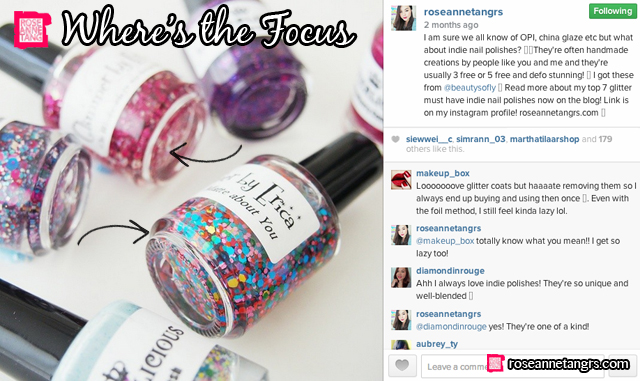 Last of all, where's your focus! This is otherwise known as the "bokeh/focus effect" where part of the picture is a bit blurry and one part is extremely clear. This is a cool effect that cameras can do for you and it gives the picture an artistic touch!
So there you have it – my instagram secrets in a nutshell! I hope that by seeing the behind the scenes, it doesn't spoil my pictures for you. As you should know, lots of effort go into making them. You should also seriously consider the Samsung GALAXY K zoom and check out my instagram if you haven't yet @roseannetangrs! I'll be happy to talk to you there!
Hope you liked this post,
Roseanne