Hey Everyone!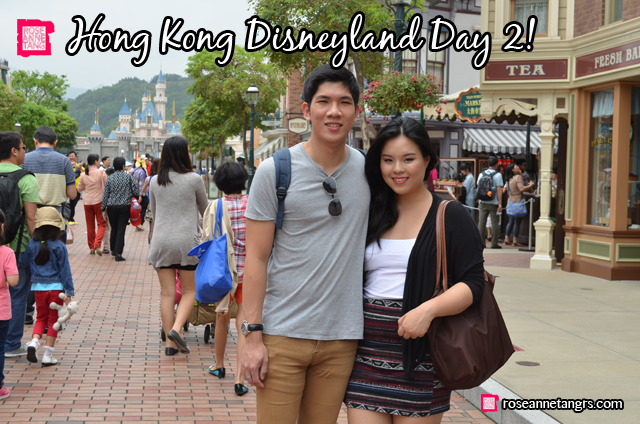 It's Day 2 of our Disneyland Adventure! We first started off with a charming breakfast at the Enchanted Garden. The Enchanted Garden is a restaurant at the Disneyland Hotel and the buffet breakfast every morning is special in that Mickey and his friends will visit your table so that you can take pictures with them! It's definitely a fun experience but make sure you know what timing session you are. They allow customers in by sessions according to the time each morning.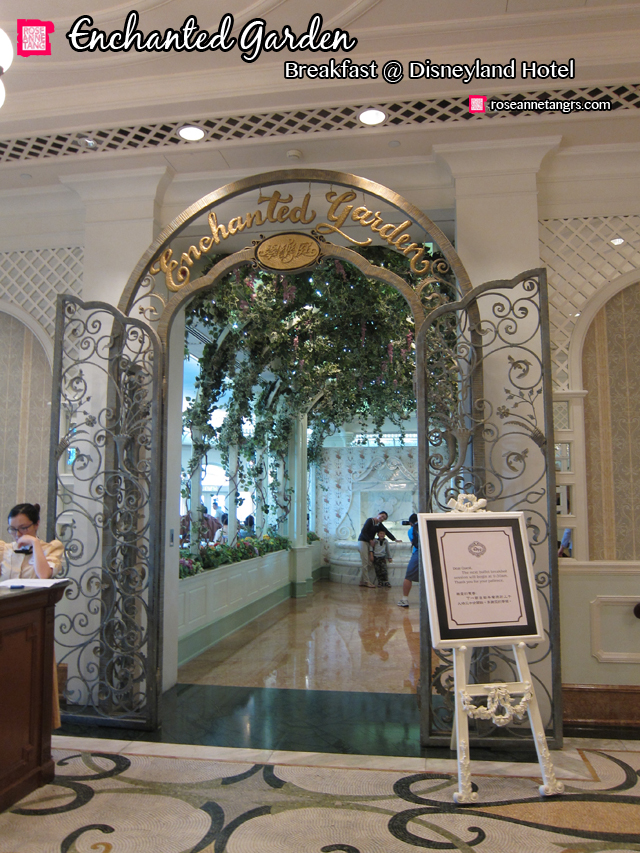 Isn't it such a pretty place? I was also actually impressed with the food as well. I wasn't expecting such a huge spread with so many different cuisines!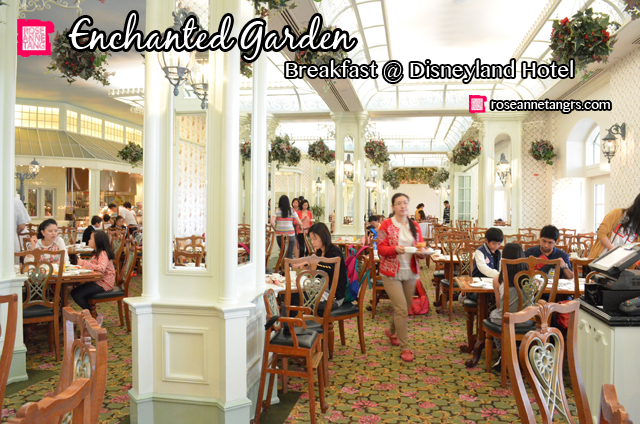 We've got our Western fare if you are a bacon and eggs person, Hong Kong cuisine like Dim Sum if you're longing to taste some local food and even a whole spread of breads and pastries. We filled up fast because there were so many things to eat! Good thing we're able to burn it off later when we walk the park ;).
But of course, your Enchanted Garden experience isn't complete until Mickey Mouse comes walking around sniffing at your food. Don't be bothered grabbing him while you grab your food for a picture. Mickey actually goes table by table.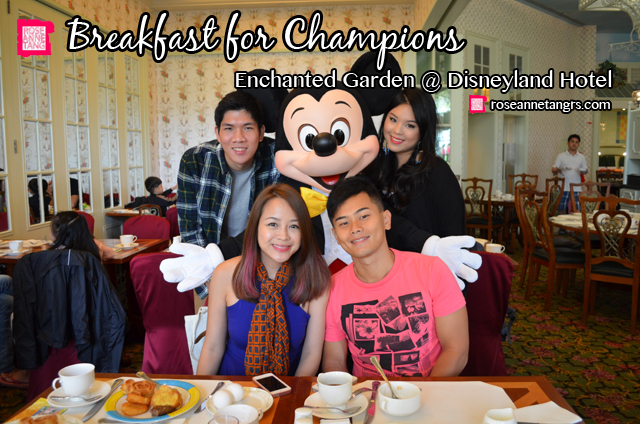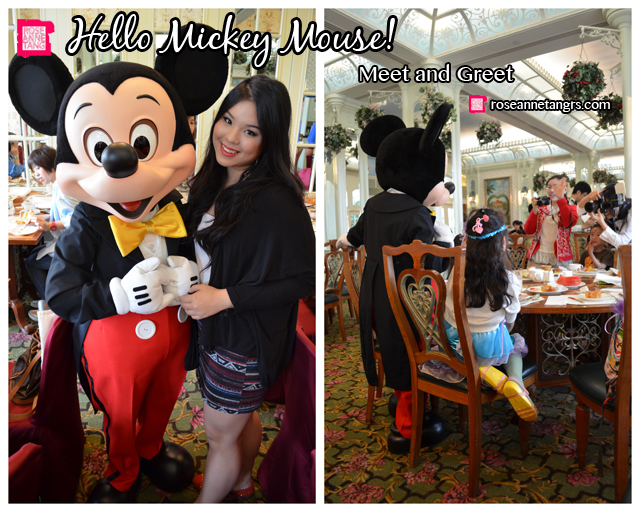 And if you can't get enough of Mickey when he goes to the next table, you can always munch on a Mickey shaped waffle! Aren't these so adorable? There's tons of different sauces you can try out as well. My friend, Yina, had a hidden Mickey in her pile of pancakes!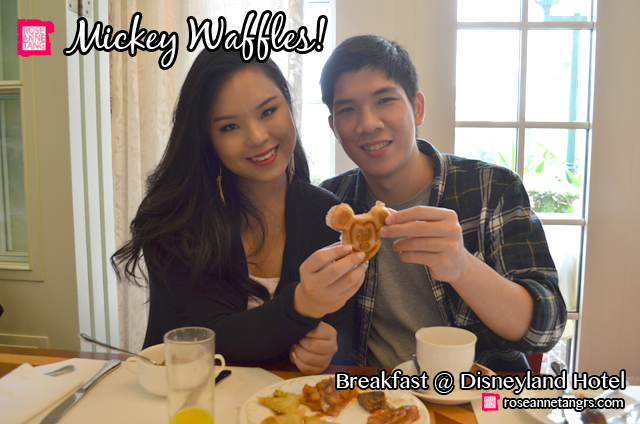 After such a filling breakfast, we scurried off to the park again. You'd think after one day of Disneyland, it'd be enough. But if feels like every time you go there, it's a new experience all over again. The weather was a bit better today with blue skies. I had been warned that April tends to be quite cool but rainy so we were thankful for the blue. Main Street U.S.A was our first stop!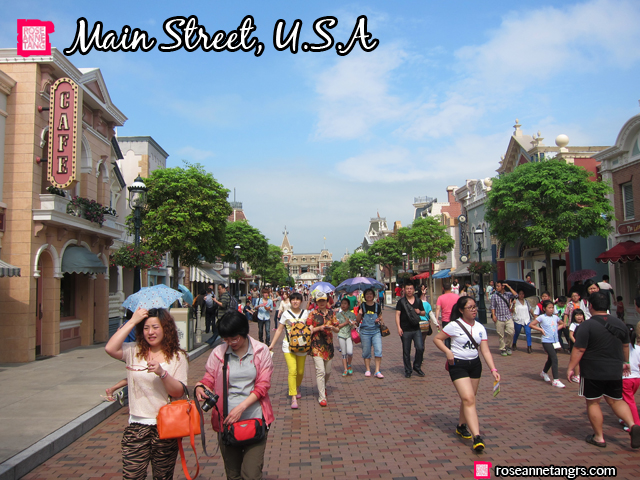 Main Street U.S.A is the first place you come into when you enter Disneyland and it leads up to the different lands, being Fantasyland, Adventureland and Tomorrowland. It's a whole row of shops and dining places that look like an American town from the yester-years. You can buy any Disney souvenir, toy, sweet or cookie and is the best at night. It's absolutely beautiful when the whole place lights up.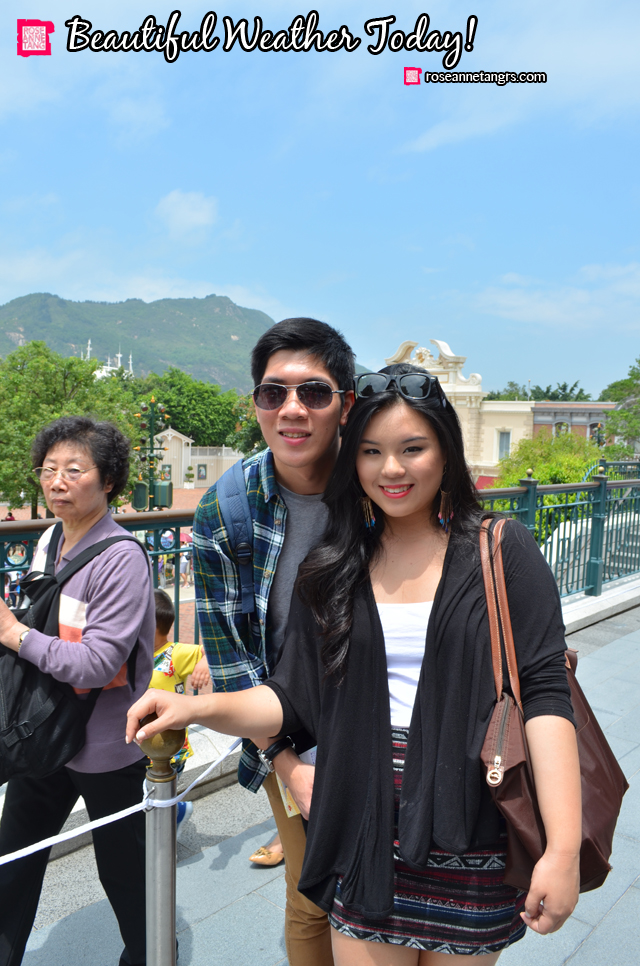 It's really like a trip back in time. Everyone is dressed in that era and it is a beautiful place to walk around and really enjoy yourselves before being immersed in the different lands.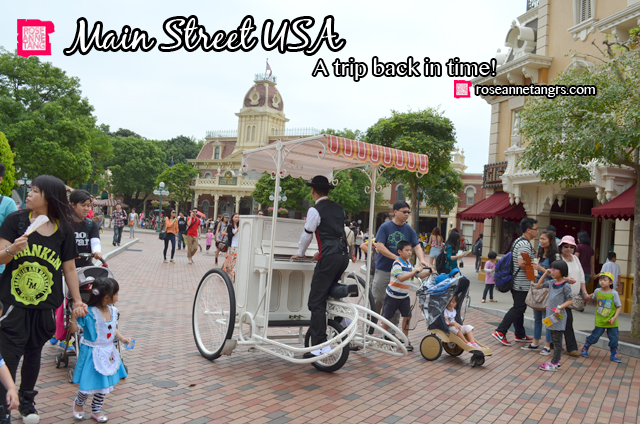 Did I mention you can even pose with the balloons. I look like I'm starring in a thing for Up! the movie. Some of the balloons available are actually really cute. There's this Princess one that has lights in the balloon that is absolutely stunning at night. I wanted to take one home but I have no where to put it. And bringing it on board of flight might be a little risky.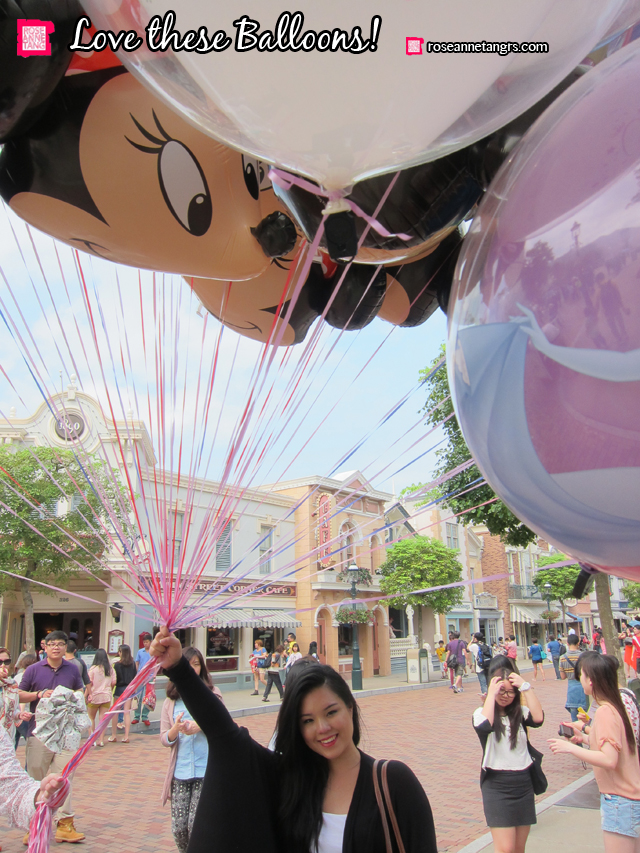 I love how there are so many dress up things from Disney that you can buy too. Almost all the little girls around the resort had a princess costume on. You can buy princess dresses. I guess it's the time to wear them since you are in Disneyland! How cute are these sunglasses?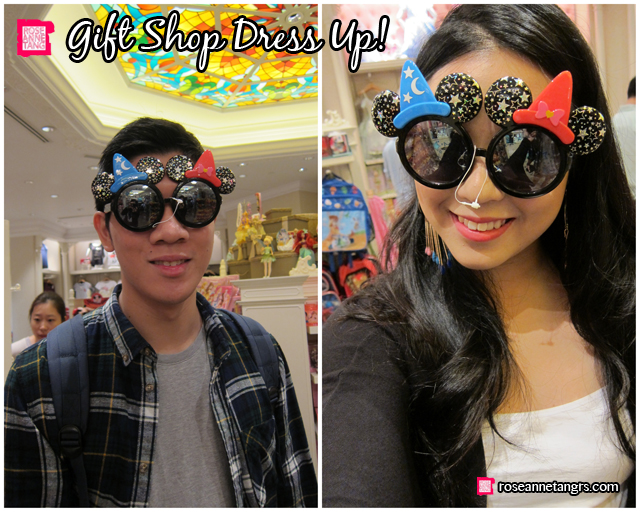 If you are hungry, there are tons of places to eat at Main Street as well and not to mention snacks. Even with such a full buffet breakfast, we were tempted by the waffles and ice cream. We had an incredible amount of food on this trip. I should really be working it off right now, haha.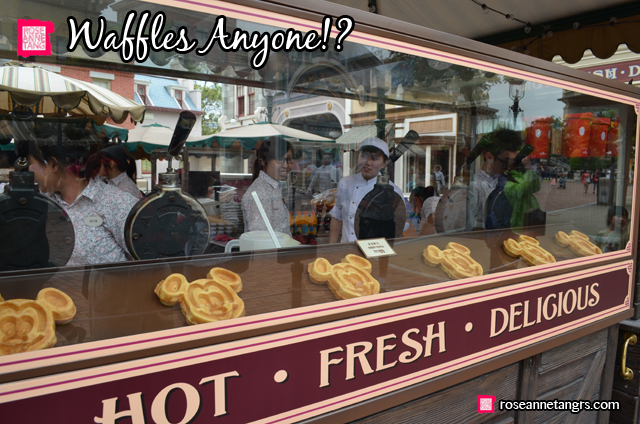 Since we had Mickey waffles at breakfast, we settled for ice cream! I got the Minnie Mouse ice cream that was strawberry and mango while Jacob got the chocolate covered vanilla ice cream. It was so yummy! Of course being me, I bit the ears off first! Oops.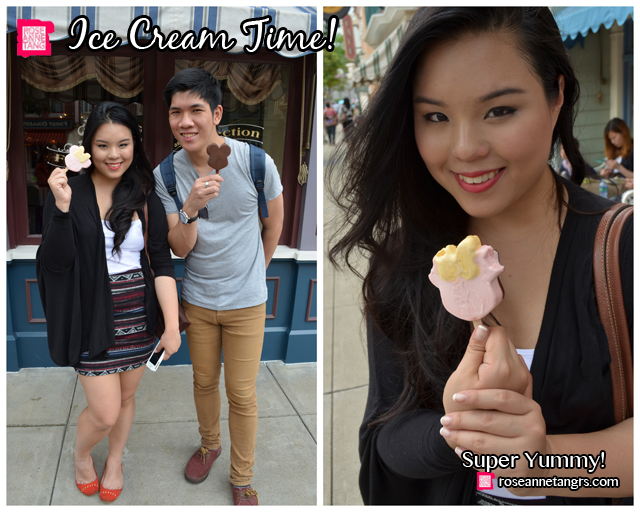 We thought we would try something new and detoured off to Tomorrowland! Tomorrowland is sort of the Sci-Fi area of the park. Buzz Lightyear, Stich and anything mechanical lives in Tomorrowland including the popular ride, Space Mountain!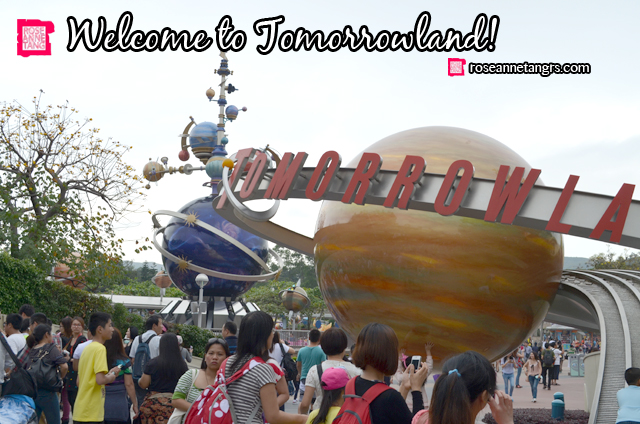 The Buzz Lightyear Astro Blasters ride is a huge ride in Hong Kong Disneyland! So much so that they have fast pass machines. Fast pass machines help with the queue system at Disneyland by allotting you to a time that you can come back and just immediately take the ride.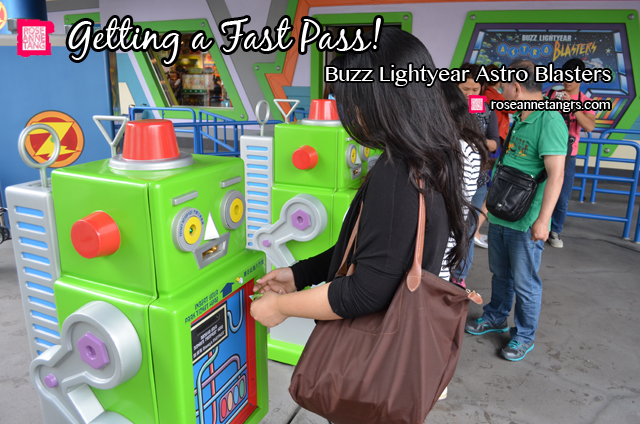 All you have to do is insert your ticket into the mouth of the robot and the robot will spit out a fast pass ticket that allows you to come back and take the ride immediately at the time stated on the ticket.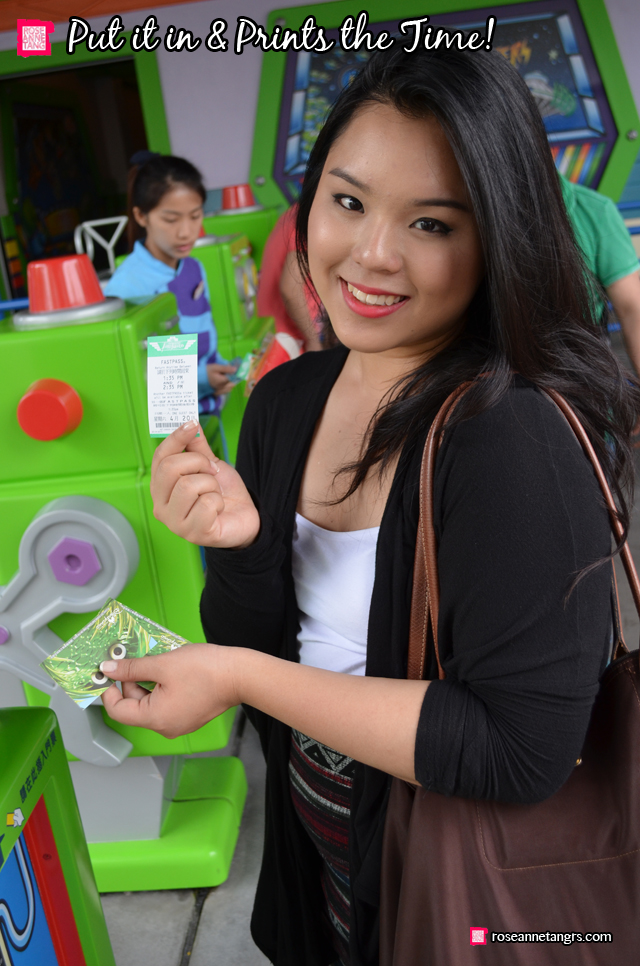 As you can see, we can walk around until 1:35 to 2:35 and take the ride immediately during this time period. When I was in L.A and Orlando for Disneyworld and Disneyland, these machines were extremely helpful. We didn't have to wait in line all day and could do other things. We even would collect fast past tickets all in one go so we didn't have to wait at all!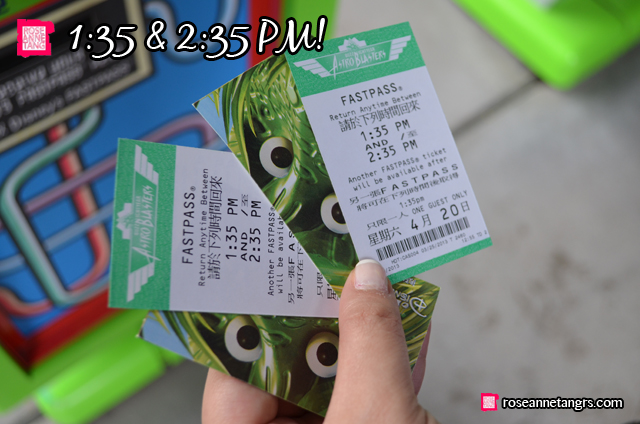 The Buzz Lightyear Astro Blasters ride is really fun. It's basically a ride and shooting game together. You're invited into this car with two guns and screens to keep score and you're supposed to blast the guns at different targets.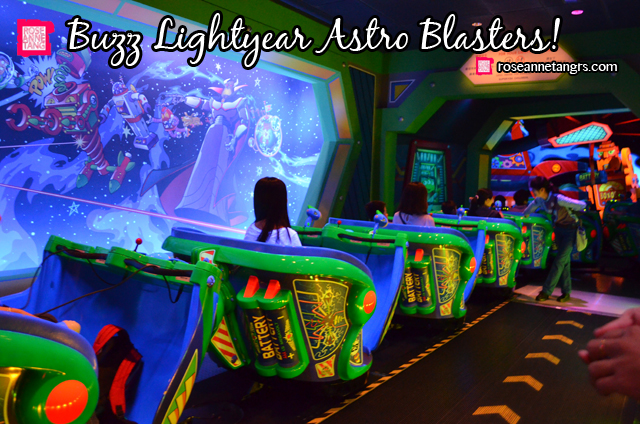 You then get points for each time you blast the target correctly. Harder to reach targets earn you more points. But seriously I was just shooting randomly and managed to score higher than Jacob! He wanted to take the ride all over again. I think it's just because he wanted to beat my score!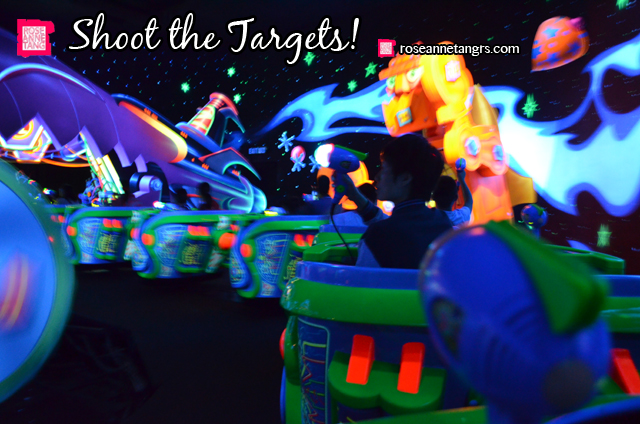 Eventually though we did take the ride again and yes, he scored higher than me this time.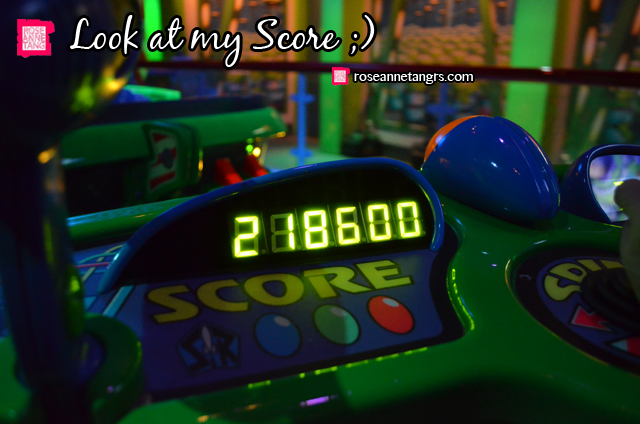 Another great ride is Autopia. Granted you get past the almost constant 45 minute waiting time, it's actually quite fun. It's just a driving game. You press the pedal to the metal and steer but don't worry if you get off track, there's a track so even  if you press the accelerator and don't touch the steering wheel, it's absolutely fine. Great for kids I guess!
Having not taken my practical lessons for driving, I was pretty horrible. I didn't expect it though since I've done go karts just fine! Maybe it's just like driving in real life. If it is, we are gonna need some life jackets. I felt bad for Jacob next to me but don't tell my future driving instructor.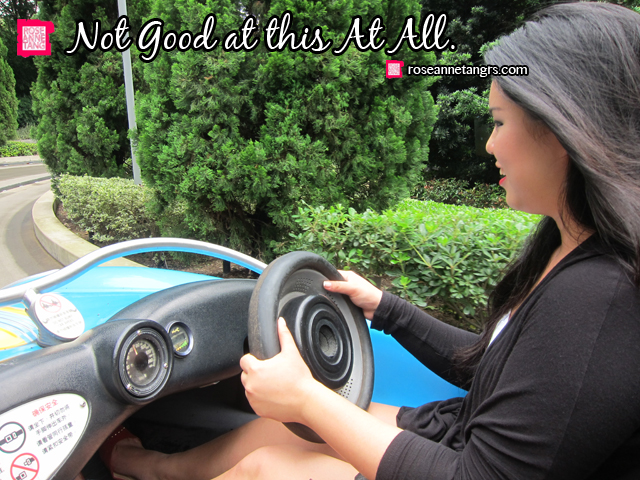 After Tomorrowland, we hopped back to Fantasyland! Fantasyland is where I think the Disney magic really originates from. The town is like a little cartoon medieval land with Cinderella's Castle in the background. Rides like Winnie the Pooh, Mad-hatter's Spinning Tea Cups, the Disneyland Carousel and Mickey's Philhar Magic are here.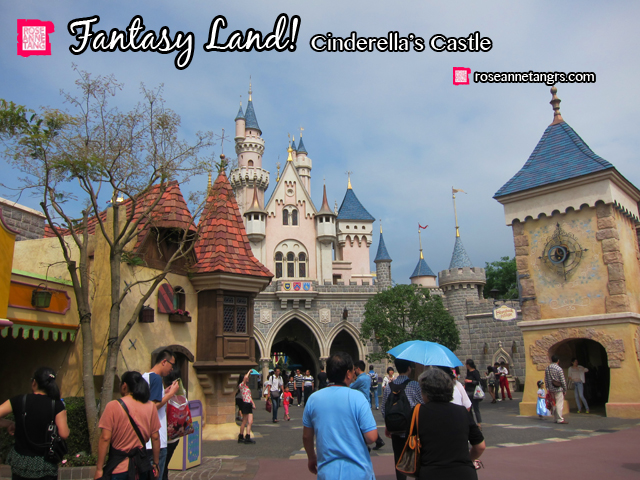 Mickey's Philhar Magic is another popular attraction. It's a 4D experience so you're talking not just seeing 3D but also "feeling" 3D.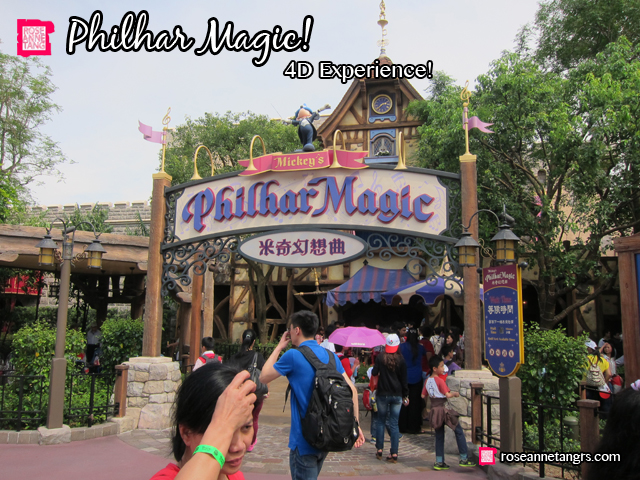 You'll need your 3D glasses for this one. It's really a great experience and you don't actually expect a lot of the things that are about to happen.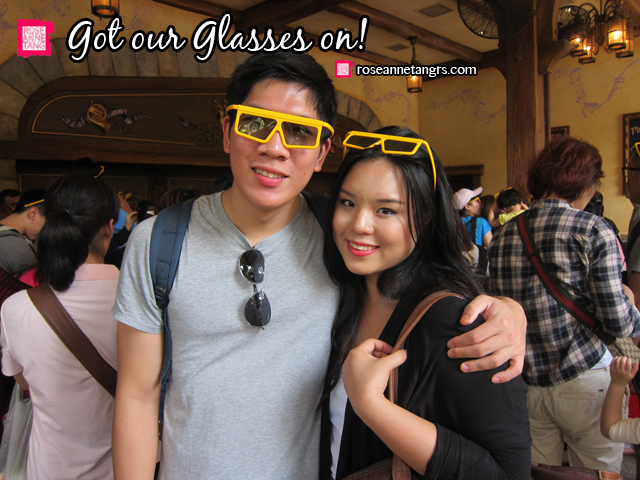 Just a few hints – you might just smell something delicious wafting in the air or feel a spritz of water on your face! But of course I'm leaving the rest of your discovery for your to do list.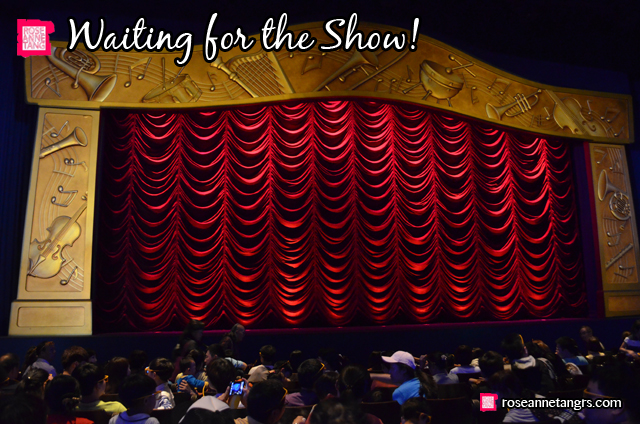 Then, of course it's lunch time! We had lunch at Corner Cafe which is a restaurant on Main Street. They offer American cuisine just like what Walt Disney would have had back home, but of course with a few Disney touches!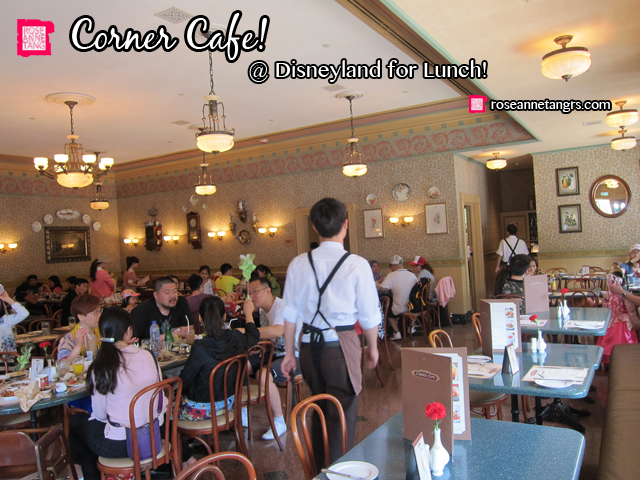 There are so many yummy things to eat. The High Tea set was really great that includes Mickey mouse shaped scones and designed macarons, little burgers and Tinkerbell strawberry tarts, as well as Mickey shaped fruit! We also dug into these delicious waffles again, but with a different spin. They had delicious cream in them that went very well with the maple and strawberry syrup that came with it!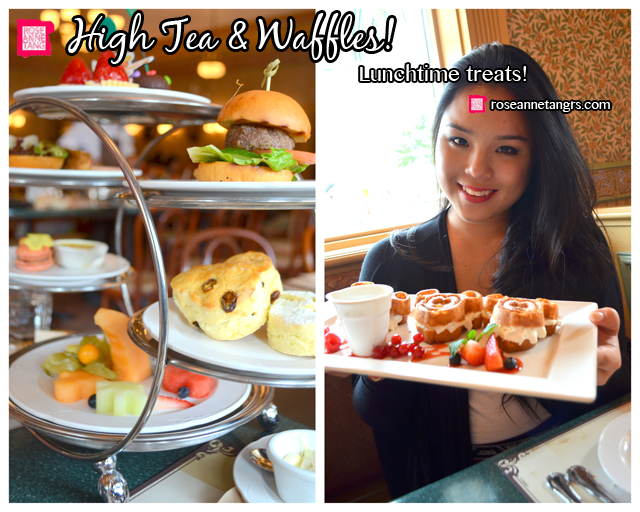 We had quite a lot of mains between the four of us as well! Including the Ribs, Vegetable Lasagne and my vacation staple – Cheeseburger and fries. I always have to have a Cheeseburger during a vacation. I don't know why. I really like burgers and fries. It's like a most delicious combination! The food at Corner Cafe is great. All tasted absolutely perfect! It was also nice because we had the view of the Flight of Fantasy Parade that I talked about in my last post when we were eating!
After our filling lunch, we decided to walk it off at Adventureland! Jacob is trying to fit the mood but I think he looks like a growling bear, hehe. Our first stop is Tarzan's House! Tarzan's House is not really a ride. It's more like a gallery and museum as you climb up and down his Treehouse! To get to his Treehouse though, you have to take a little platform boat across the river.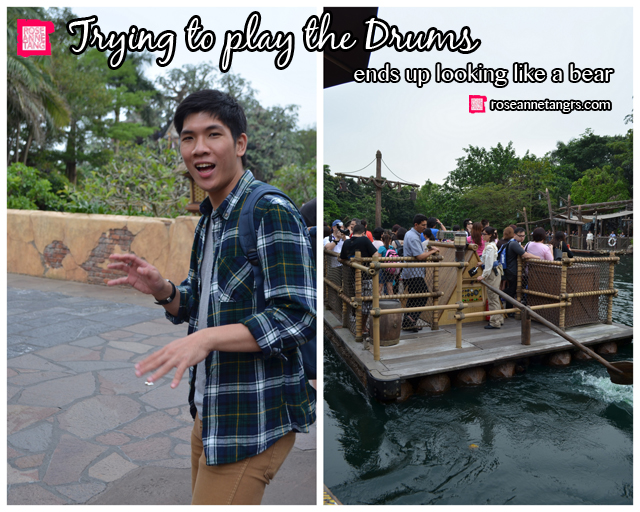 It was definetly a guided tour with a spin! As you walk through the house, you'll see bridges, stairs and also the story of Tarzan through little alcoves of the characters!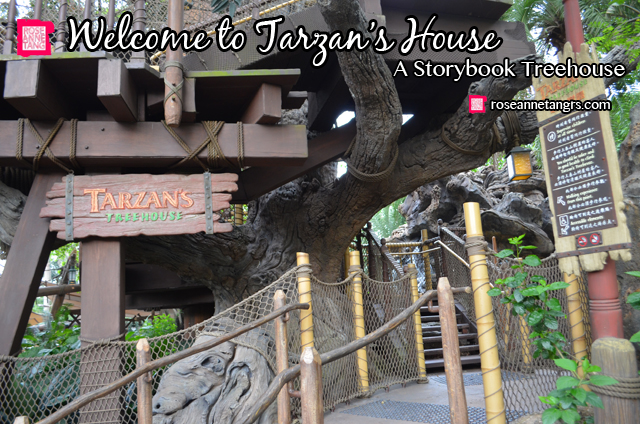 It's kind of like an obstacle course actually and was great because it was kind of like your own little discovery each time you walked a bridge or climbed the staircase.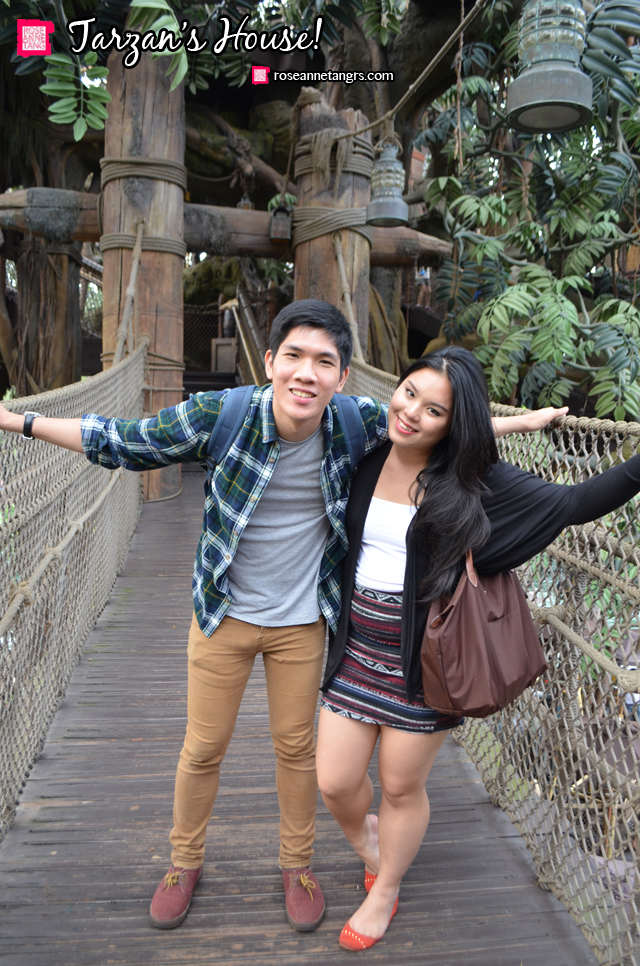 As you can see, there are little small huts, and you can read about the story of Tarzan. Everything is super realistic so it feels like the characters were actually living there.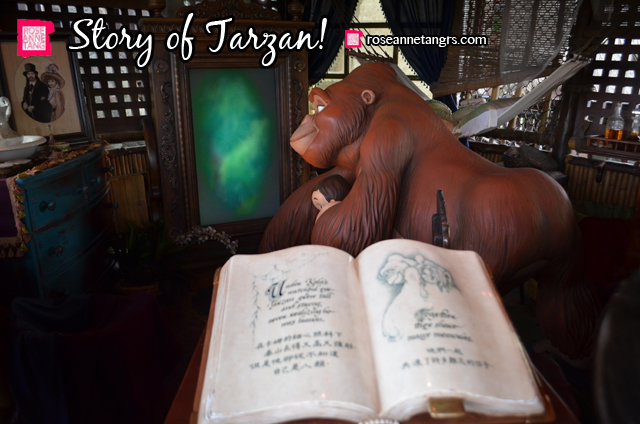 Jacob as you can see was very entertained by everything. At the bottom of the treehouse, there are interactive things you can push or pull. Mostly great for the Kids but not too bad for adults either!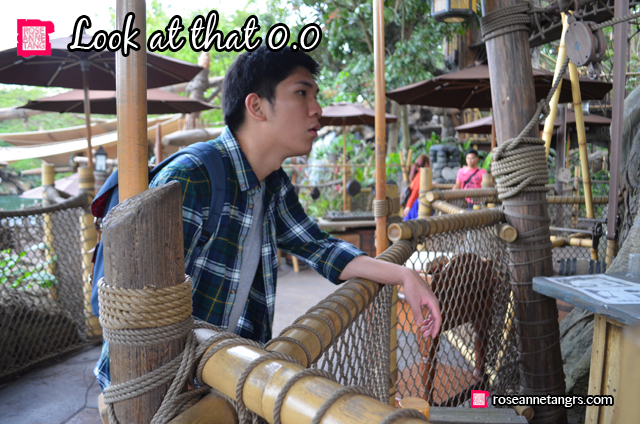 Did I mention that a popular snack at Hong Kong Disneyland is the Grilled squid? You usually see this at your local shop downstairs but Disneyland makes it fresh! They actually grill the squid in front of you and press it. The squid is yummy as well. Seasoned great and makes a great low-fat snack.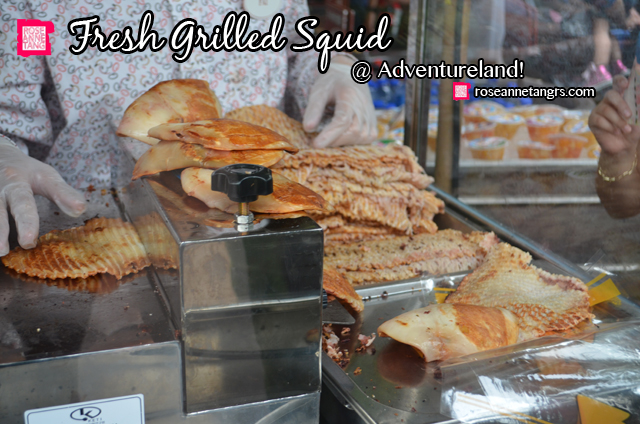 Of course what's a trip to Disneyland without visiting the It's A Small World Ride! They have this ride in all Disney parks I've been to and I guess it's a really special ride to Disney. I didn't expect them to create a whole new land for the ride though. I usually see it as a single ride but it looks so amazing, like a town by itself.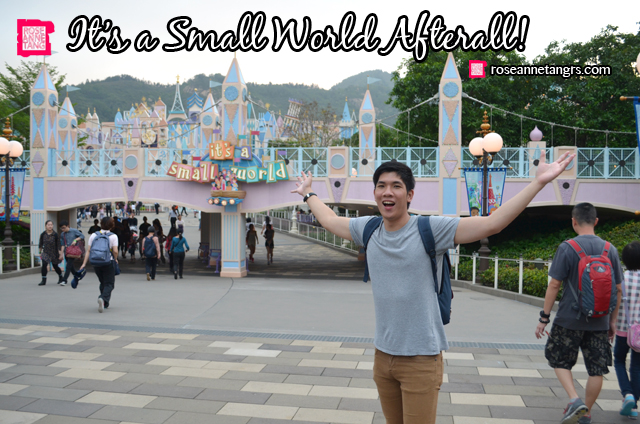 The ride is basically a gentle boat ride that takes you through different parts of the world because the ride is about racial harmony and having respect for everybody regardless of their race, gender or preferences. That's why it's called "It's a Small World" because the world is really small and somehow, we are all connected to each other.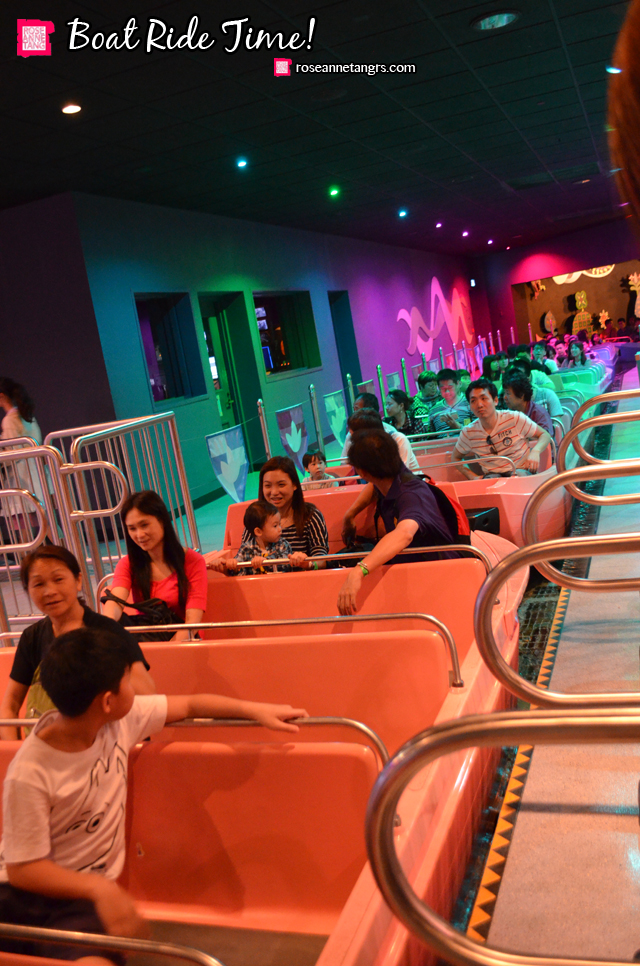 The ride was really colourful and the little dolls everywhere were singing in different languages or translations of the It's A Small World song. I think if you don't like dolls though, it's best to give this ride a miss!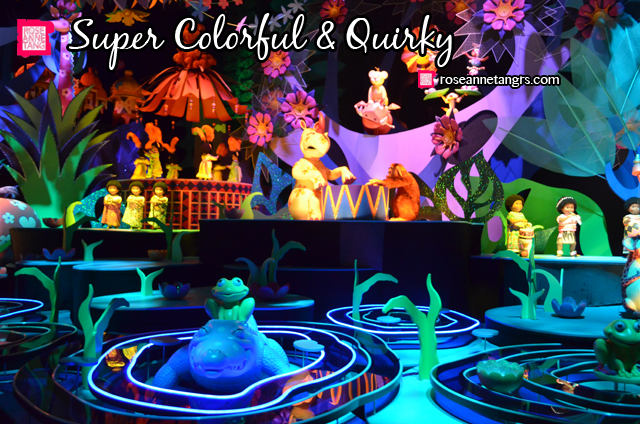 Everytime I go to a fair, I'm always game for some Cotton Candy! Look how much is on this stick! Because of the humidity though, you have to eat it fast, or it's going to melt right then and there!
For dinner, we went back to the Disneyland Hotel for Dinner at Walt's Cafe! It's a restaurant that pays tribute to the great Walt Disney who created this all. I'm so amazed and inspired by Walt Disney, the man. He was a classical story of rags to riches and it all started when he saw a mouse scurry in his hotel room. I mean, wow. Look at him now, his legacy still continues and not just a movie but in a billion dollar industry – movies, cartoons, theme parks, merchandise and even hotels and resorts – bringing Disney magic to everyone all over the world – even in Hong Kong!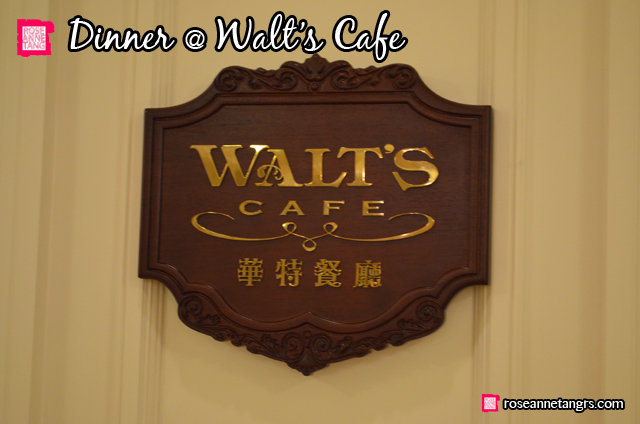 Walt's Cafe is more of a fine dining restaurant and housed in that classical european theme that resonates in the rest of the Disneyland Hotel. It's french and western cuisine but they offer also asian meals as well! Walt Disney's pictures are hung around the restaurant which I thought was really cool because it showed sketches of when he wanted to design the parks and letters he wrote to people when he first started out his cartoons. It's really inspiring!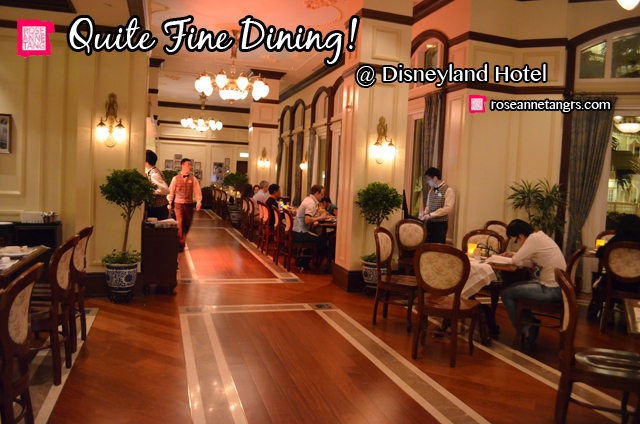 We first started out with one of my favourite but very rich soups, the French Onion. It's basically a brown onion soup with a covering of cheese over it. The cheese melts into the soup and it's absolutely delicious. The guys also managed to make their own salads at the salad bar! Although it was more of a pick and choose and the waiter mixes sort of thing.
I ordered the lamb chops. I've had lamb chops with a herb crust before and I fell in love with them. Jacob made me the same ones that were from a Gordon Ramsay recipe  The chops were tender and well seasoned. We also ordered a beef rump, butter chicken and cod fish which were also great meals too.
Overall, Day 2 was an amazing day at Disneyland! Look forward to Day 3, our last day and an exciting mention of a new land coming up!
Love,
Roseanne