Hey Everyone,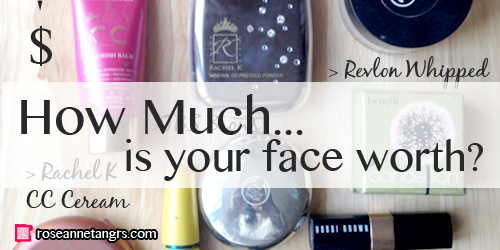 So there's this tag going around especially in the UK about how much our faces our worth. Well, we all know that the answer is "priceless", but basically what you do is add up the prices of all your daily makeup products. Man, I feel like I'm getting my weight checked. I'm probably looking at around a hundred buckaroos since I'm open to using a mix of drugstore and department store makeup. I'm horrible with my money. I'm not too much an avid fan of getting new clothes (I don't like trying them on at the store ..too lazy) but when it comes to make-up and food, it's like, where did it all go? Let's do some number crunchin' while I peek through my fingers.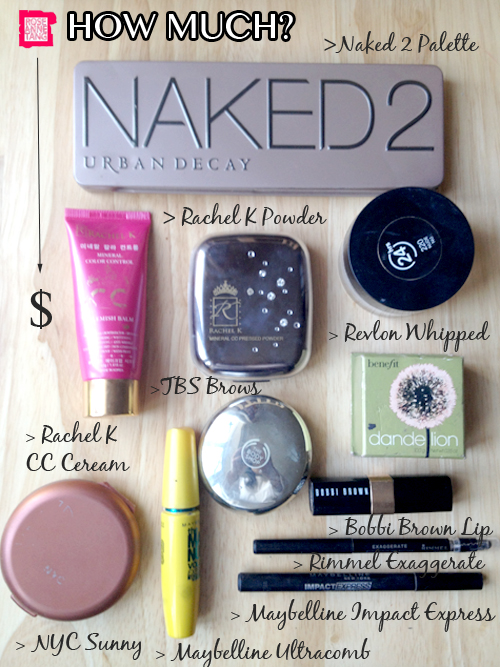 What's the Damage:
* These are rough estimates. I don't even remember exactly to the dollar how much they were worth, but this would be an honest bet. :)
Face
1. Rachel K CC Cream ~ $35
2. Rachel K Mineral Pressed Powder ~ $39
3. Revlon Colorstay Whipped Foundation ~ $29
4. NYC Sunny Bronzer ~$10
5. Benefit Dandelion Blush ~$51
Eyes
6. UDPP ~$32
7. UD Naked 2 Palette ~$72
8. Body Shop Brow & Liner Kit ~$30
9.  Maybelline Volum' Express Ultracomb ~$17
10. Rimmel Exaggerate Automatic Liner ~ $7.99
Lips

11. Bobbi Brown Lipstick in Sandwash Pink ~ $25
Total: $347.99
Oh man, can I hide in a hole? It's quite interesting to know that even the smallest things really stack up and I knew I was in for it when I  added the Benefit blush. It's even crazier when you take into account exchange rates and the different prices these products can have all over the globe. I would say it's worth it though, I love all the products I use daily. I guess to just pause, reflect and be like "whoa"! ;)
How much is your face worth?
♡ YouTube Channel | Facebook Page| Online Store | Hellocotton | Bloglovin' | Twitter | Instagram
Love,
Roseanne