Hey Everyone!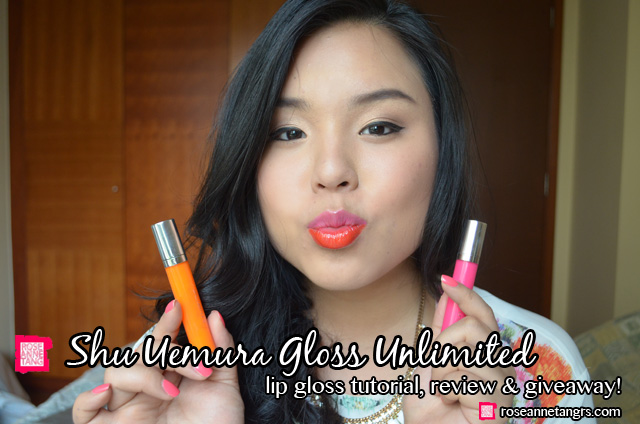 I'm sure us ladies are always on the hunt for that perfect lip gloss. One that isn't sticky, doesn't clump at the end of the day one that can make our lips that much juicer. Well ladies, I have your answer – it's the Shu Uemura Gloss Unlimited Lip glosses. I have been trying these out for a while and I have fallen in love with them. They aren't sticky, are really hydrating in fact and come in so many colors, you can probably have one for every outfit! In this post, I'll be doing a review, tutorial on trendy lip gloss looks as seen on Spring runways, showing you some of my personal favourites and ending with a giveaway of one of them!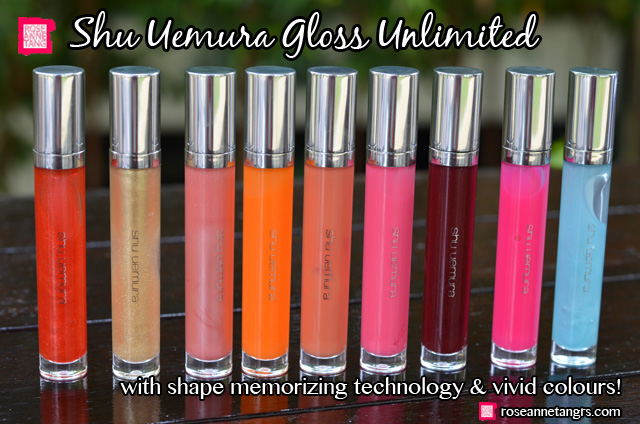 Shu Uemura has always been on the top of their game. They're probably top in innovation and technology in cosmetics and are known for their vivid colors and breaking boundaries. You've seen them at every department store or mall and you probably have their eye-lash curlers. I raise my hand. Even when I was in make-up school, Shu Uemura was all our teachers (who have been doing makeup for like 20 years) could talk about. They said that their amazing quality and brushes surpasses all other make-up brands.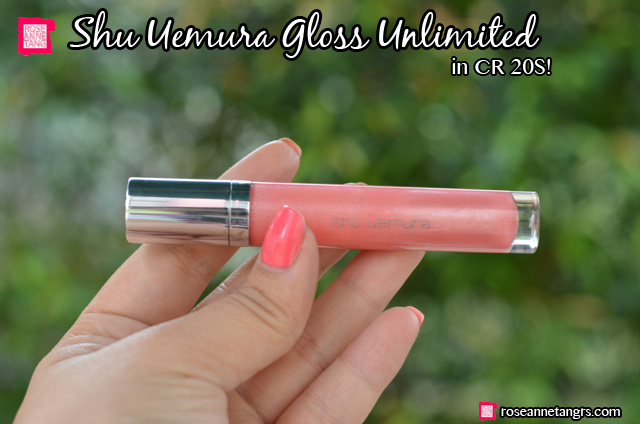 So here I am introducing you the new Shu Uemura Lip Gloss – the Shu Uemura Gloss Unlimited! Shu Uemura has integrated four key elements in these new lip glosses – being a shape memorising technology, artist modulator colors, a skin loving formula and a new applicator!
Previously, Shu Uemura included a rod shaped applicator in its lip glosses. Now, the applicator is a circular shaped donut that can catch just the right amount of lip gloss when you apply it. I love these applicators because they spread the gloss really well and they do trap lip gloss as well. The pointed top makes going into the corners of the mouth a lot easier too.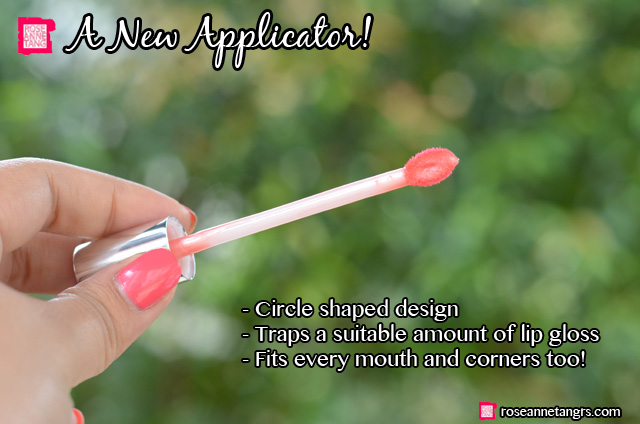 Another cool thing is the shape memorizing technology  When applied, the lip gloss forms a coat following the shape of your lips and even if you touch it, it doesn't shift or move. It's powered by a 3D elastic gel network that evelops the lips. When you disturb the surface of the gloss, with pressure or friction, it automatically repairs the smooth surface. It can reflect light well too!
These lip glosses are also super hydrating and really, they aren't sticky at all. The super smooth formula is caused by a moisture active complex and botanical oils that condition and soften your lips.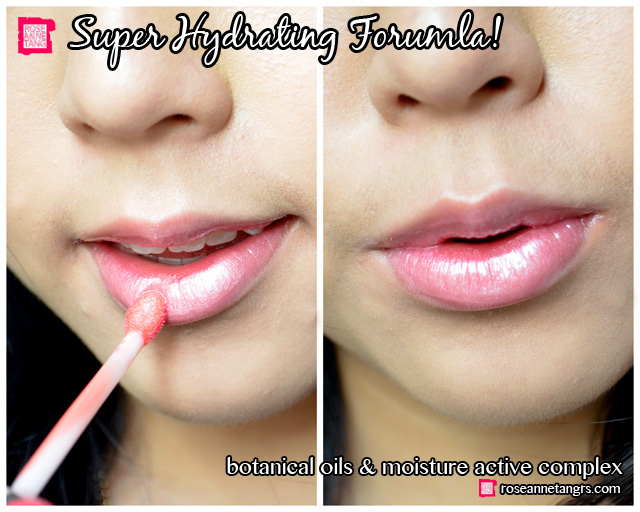 I've always seen Shu Uemura as a real make-up artist brand and it's so cool to see that they're encouraging people out there to be make-up artists on themselves with exploring new color boundaries. The lip gloss range also has 4 Artist Modulator colors that you can wear before or after your lip glosses to change the look and texture of them. It's sort of like on-the-spot customisation! You can mix and match these modulator colors to create new colorful shades or to make it suit your skin tone better.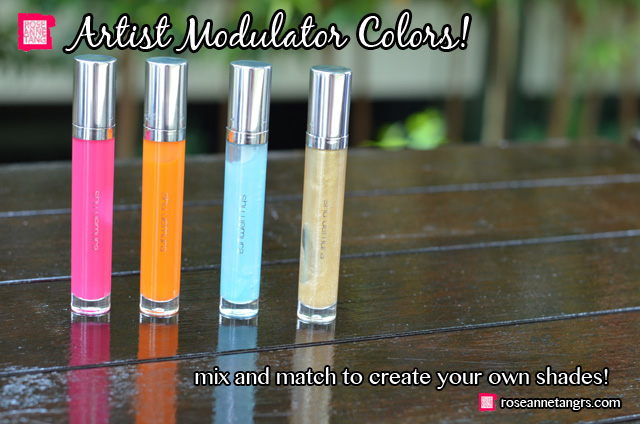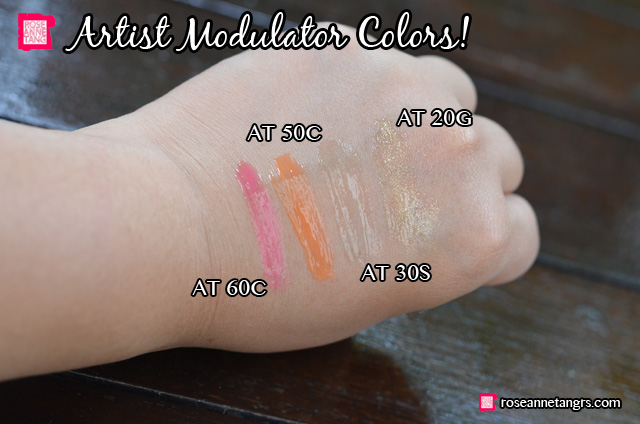 Now it's tutorial time! Today I'm going to show you how to do the trendy two-toned lip that's been making an appearance everywhere including on the runway and in magazines. It's a really easy look to do and something that's really in right now.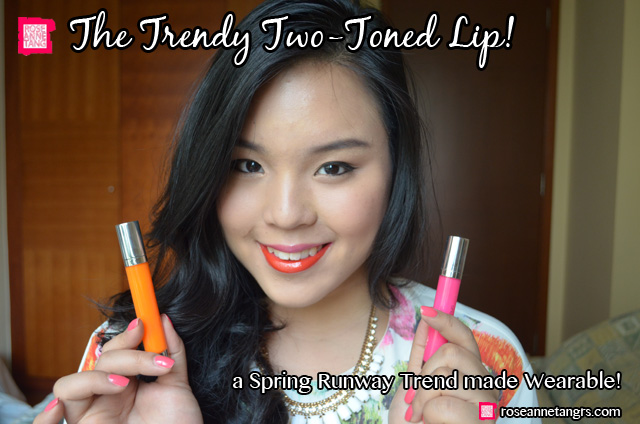 Simply use a pink lipstick on your upper lip. Choose a vivid color or a sheer color depending on whether you're more of a bold lip or natural lip gal. Then apply an orange lipstick to your bottom lip. Of course you don't need to stick to these colours! Find colors that are complimentary to each other and those work too.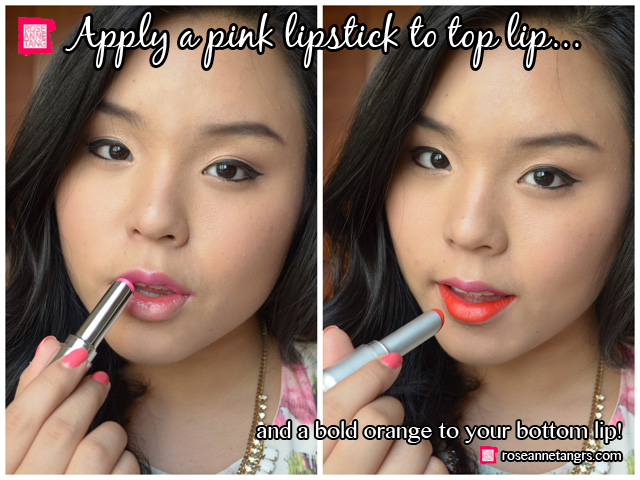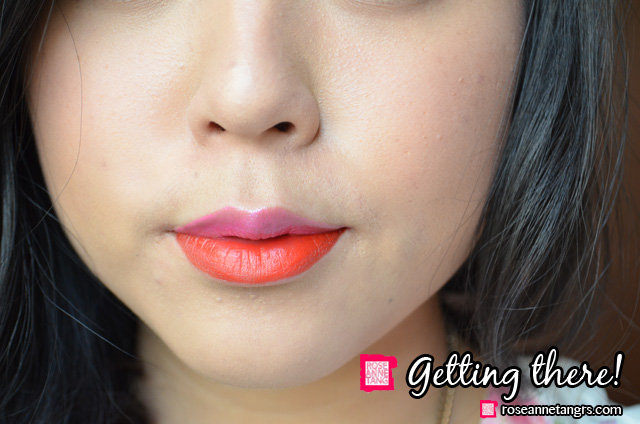 Then, apply your lipgloss! I'm using Shu Uemura Gloss Unlimited in AT 60C and applying it to my top lip. It really brings the lip out automatically. Then, I'm using AT 50C on my bottom lip. Make sure you're careful and if you need to, you can always use a bit of make-up remover and a q-tip to hide any mistakes.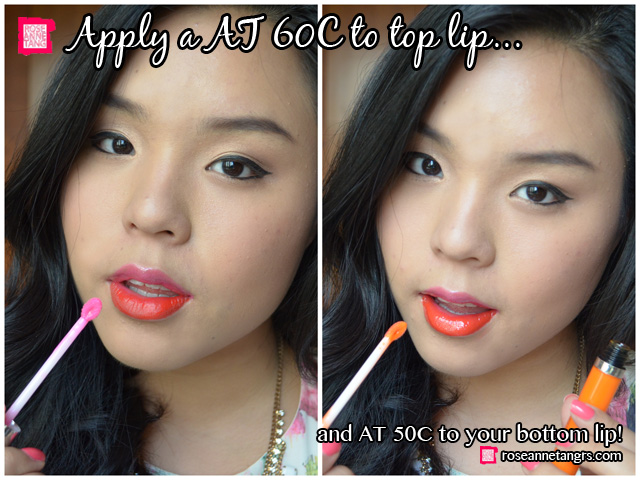 And you're finished!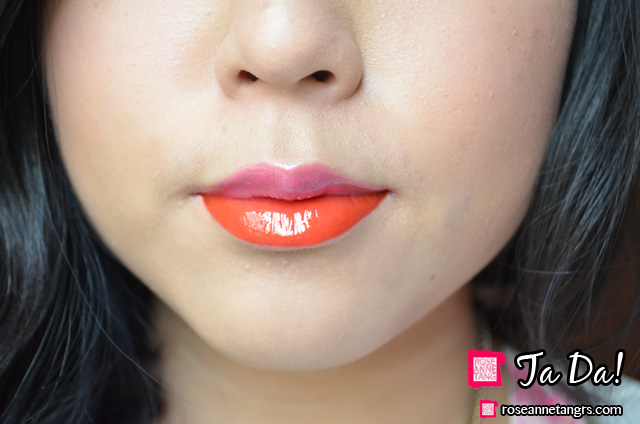 The next look I thought about was how to make lips really have a pout with lipgloss. As a make-up artist, you learn that you don't always have to stick to the rules and apply lip gloss all over your lips only. You can actually add a lighter lip gloss to the middle of your lips to make them pop and have a pout!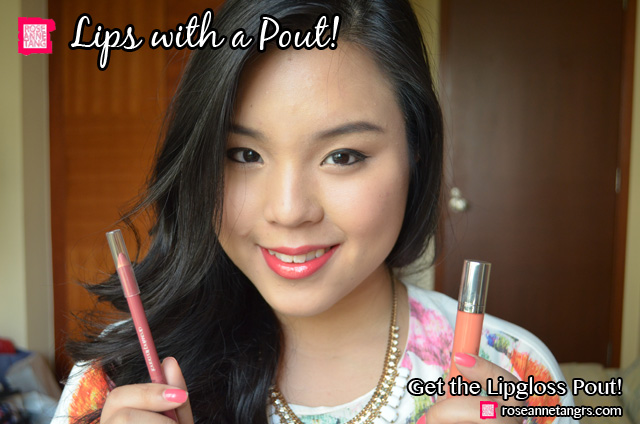 I'm using a wine beige lip pencil first and applying that all over my lips. This will help form a nice layer for the lipstick to cling on to and hide any skin tone imperfections. Then, apply a raspberry red lipstick and finish off with a pale orange lipgloss like the Shu Uemura Gloss Unlimited in OR10C! Using the applicator, just lightly dab the middle of your lips until you get that desired pout!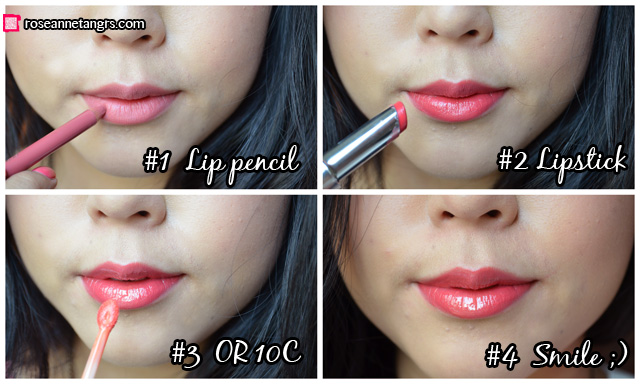 The last look is probably what is on everyone's mind this season, being Spring. It's that pretty nude lip! It's great for even a smokey eye or keeping it natural with pretty pink cheeks to match.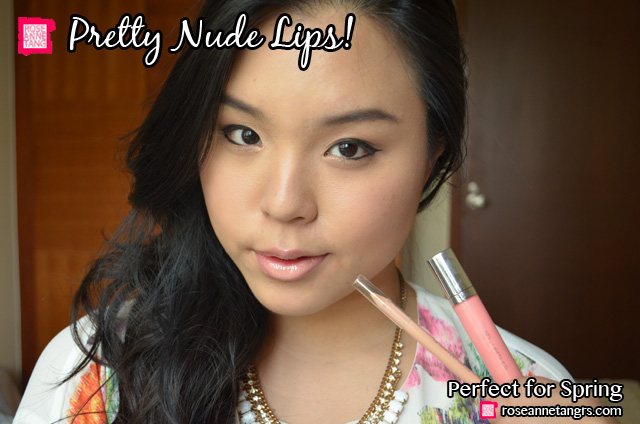 Instead of using a lipstick which can be too nude and harsh, I'm using a nude lip pencil to do the trick. I love using this pencil because I can layer it on until I get the desired nude lip. All I have to do is put streaks on my lips and use my finger to blend it out. You'll see that you'll have a much more natural nude lip and it helps the nude lips show up on darker skin tones too. Then, I apply Shu Uemura Gloss Unlimited PK 60s which is a really pretty fairytale pink with a bit of silver shimmer and that completes your nude lip look!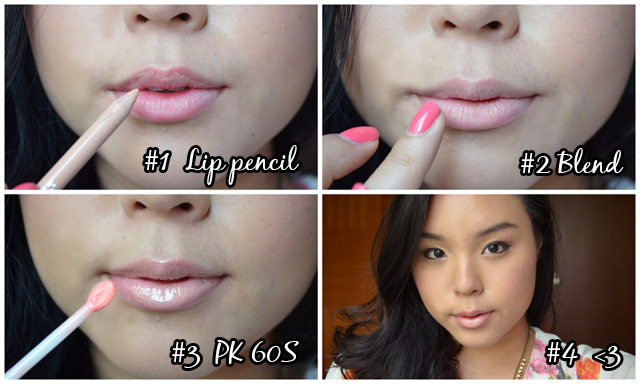 My personal favourites that I've been loving lately are the CR 20S, WN 20S, PK 30S and RD 10G. The CR 20S is a beautiful coral and pink shade with a subtle silver reflex. It's an amazing everyday color that goes well with all make-up looks!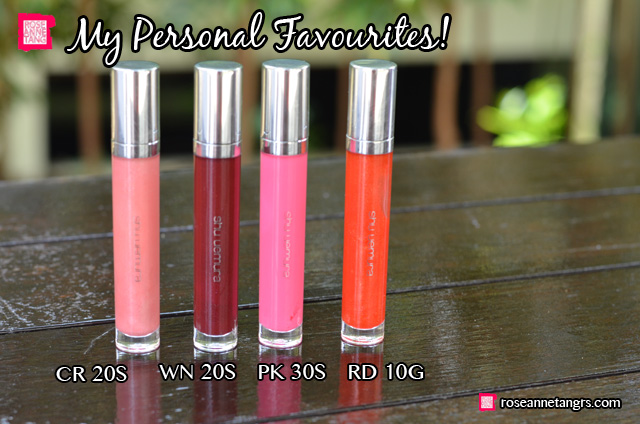 I love the WN 20S because it's such a unique color for a lip gloss – that dark burgundy that's really in right now as a color. You can go lighter or go all out and use this even without a lipstick and the pigmentation is totally Shu Uemura!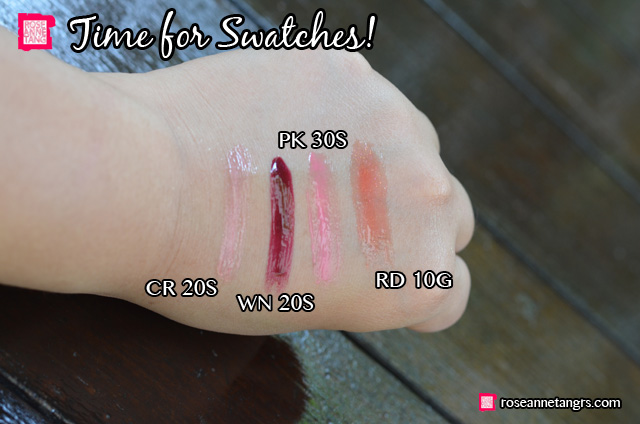 The PK 30S is a creamy pink that reminds me of barbie. It's really pretty and has a multi tone reflex that really makes your lips shine. I feel like it does a really good job plumping the lips too! RD  10G may look really vibrant and bold in the tube but straight on the lips (like these swatches with JUST glosses on and no lipstick ) you can see it really enhances the lips and is quite wearable. It's a gold and red orange combination that's super pretty.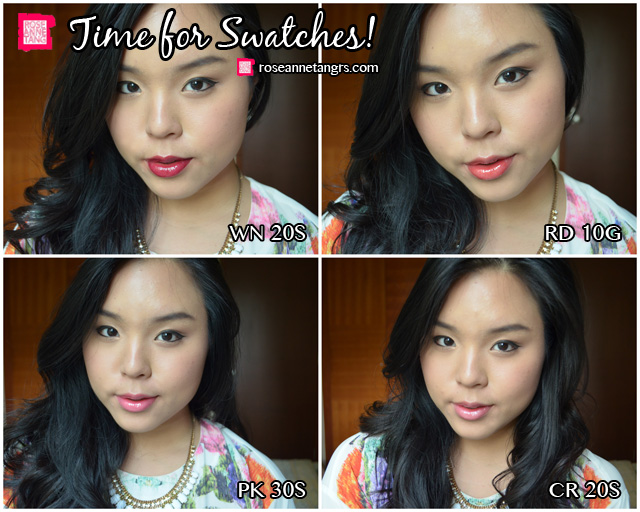 Shu Uemura Gloss Unlimited Giveaway: 
And what's all of this, when you need to try it for yourself! I'm giving away a Shu Uemura Gloss Unlmited in CR20S! I thought it was the most wearable for everyday so it's here for you to take! All you have to do is comment on this post with what your perfect lip gloss would be like by May 18, 2013. The giveaway is international! Good Luck!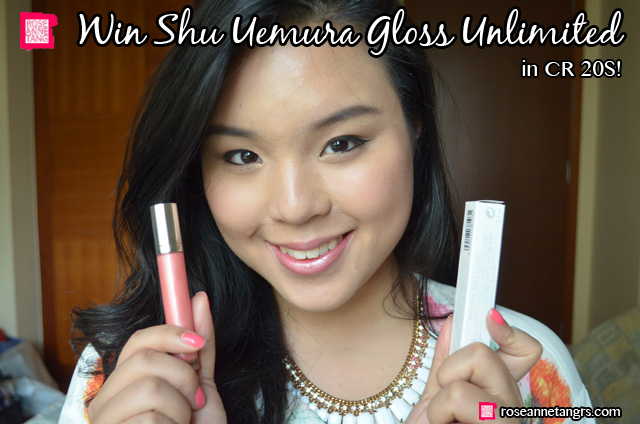 I just wanted to let you all know too that there's an event too where you can find out even more about the lip glosses! It's called "Pucker Up with Shu" and you get to be one of the first to try out the new and exciting shades! It's a night of colourful exuberance and you get to pucker up with Shu Uemura! It's at 7PM on May 10th at Shu Uemura Tangs Orchard!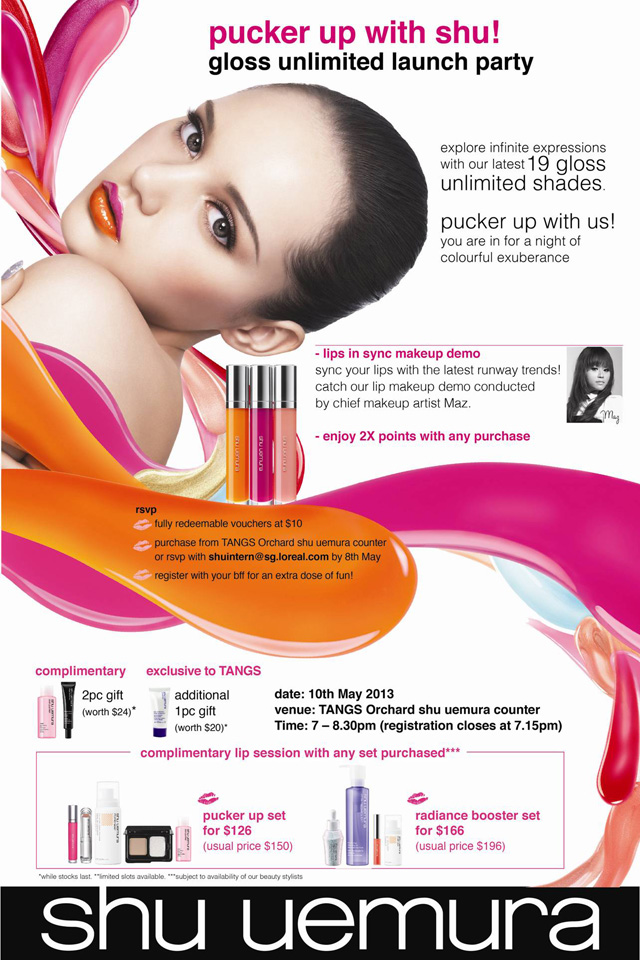 Check out my video to see the glosses live ;)
Hope you liked this post! The best part? These lip glosses are only SGD$33 each! Definitely collectable. Let me know if you have any questions below or visit Shu Uemura's Facebook Page or Shu Uemura website for more information!
Love,
Roseanne