Hey Everyone!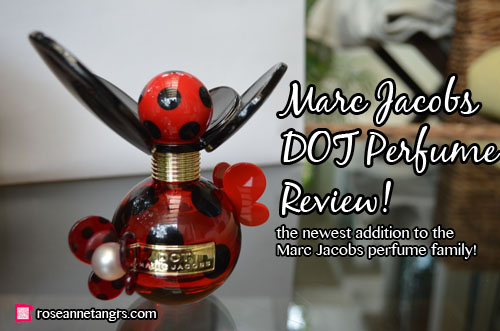 I've always kept my eye on Marc Jacobs perfumes. First there was Daisy, which has always been a hallmark fragrance for me. It's funny how certain smells can remind us of certain moments in our life and Daisy reminds me so much of first year Uni that I will never wear it again. I know it's a bold statement to say but it's certainly special. Then, came Lola which I thought was a bit too mysterious and musky for me and when I saw DOT on the counters, I became throughly excited.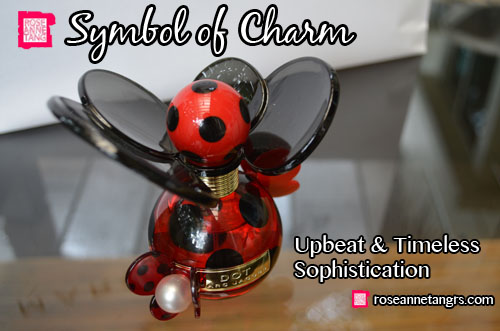 Dot is a little different. It is heavier and sweeter than Daisy but lighter than Lola. It represents the in-between and is a much fruitier than floral scent. It is sweeter with top notes of red berries, dragonfruit and honey suckle, heart notes of jasmine, coconut water and orange blossom and base notes of vanilla, driftwood and musk. It is thus a fruity, sweet and musky fragrance. I like it. I can't say I love it because it smells familiar and not to my memory completely unique and unheard of. I think to me, Daisy was  really a unique and classic fragrance. Along with Chloe. But this one reminds me of those Victoria Secret or Bath and Body Works bath sprays you spritz on after a shower with hints of Sweet Pea. It really does smell nice but perhaps so can anything. Smell is a matter of personal preference anyway so you might as well give it a whiff the next time you're near one. It also gives a refreshing "after-smell".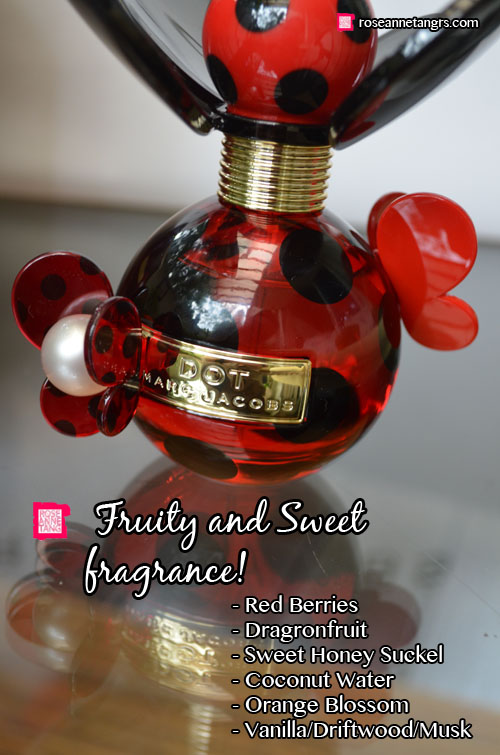 The perfume bottle is certainly more memorable. Marc Jacobs chose the classic DOT pattern because it is inspired by his love of Polka Dots, and is a favourite theme that has appeared and re-appeared across his collections. The Dot represents a joyous spirit, is an iconic symbol of charm and is stylish and upbeat. Thus, the perfume is supposed to capture an upbeat spirit that is modern and elegant. To go with this pattern, the bottle was designed by Sayuri Shoji in collaboration with Marc Jacobs to create a cheerful combination of round shapes in a polka dot pattern. Oversized butterflies  hover over red-tinted glass and a dotted pearl at the center of the bottle adds polished detail.
Overall, a nice fragrance and something you should check out the next time you're at the store especially for sweet and fruity fragrance lovers.
If you're into perfumes, you might want to check out these links:
– How to Choose the Perfect Perfume for You
– All You Need to Know about Perfume & Definitions
Love,
Roseanne