Hey Everyone!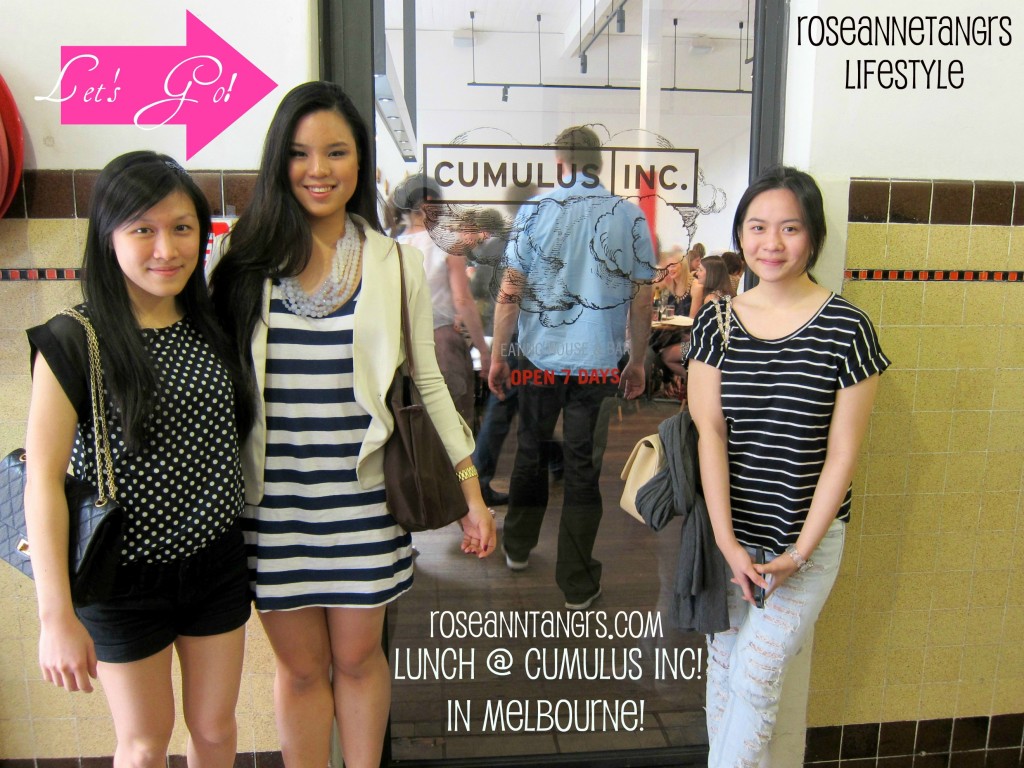 Every now and then, I like to inject a little bit of me into the blog. I have to admit that reading about beauty 24/7 may be a passion of mine but I do have a life outside make-up that I enjoy sharing as well. Food is probably my next favourite thing. Back home, I'm always on Food Network and I've been watching Jamie Oliver and Nigella Lawson cook up a storm since my early teens. I am an absolute fan of Anthony Bourdain as well.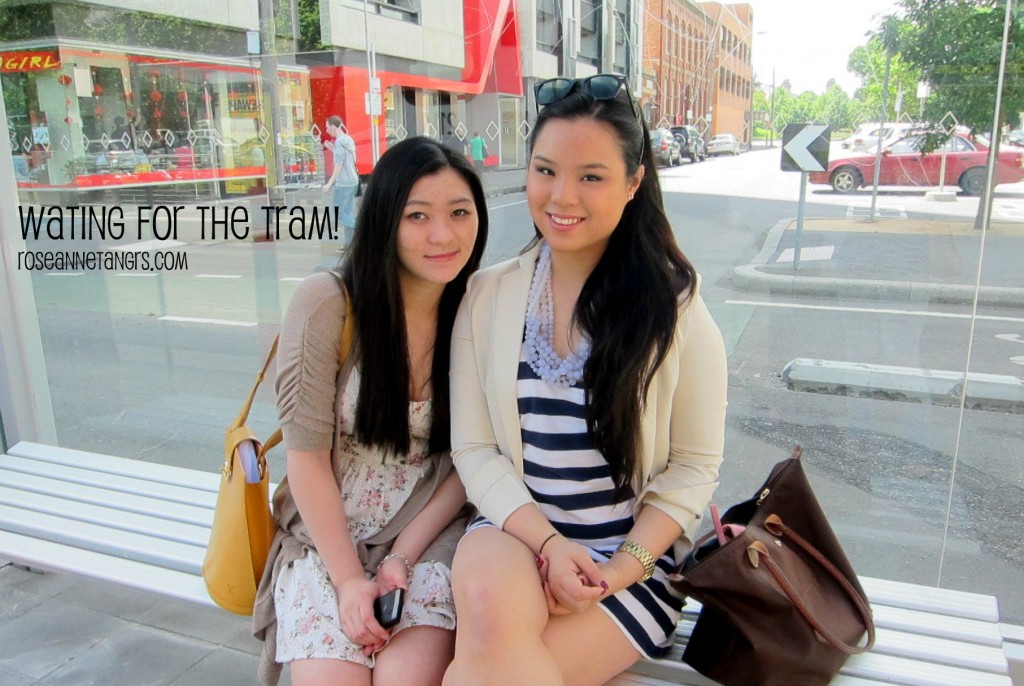 A few days ago, my friends and I hopped over to Cumulus Inc for lunch. We initially wanted to have brunch, but unfortunately we didn't make the 11:30 am deadline. What's the occasion? I probably won't see these girls for another 3 months because of the upcoming winter holiday – I do have exams at the moment but for me, people come first so no matter how busy I am, I will always make time for my friends. So let's go on a trip and have lunch with me!
Cumulus Inc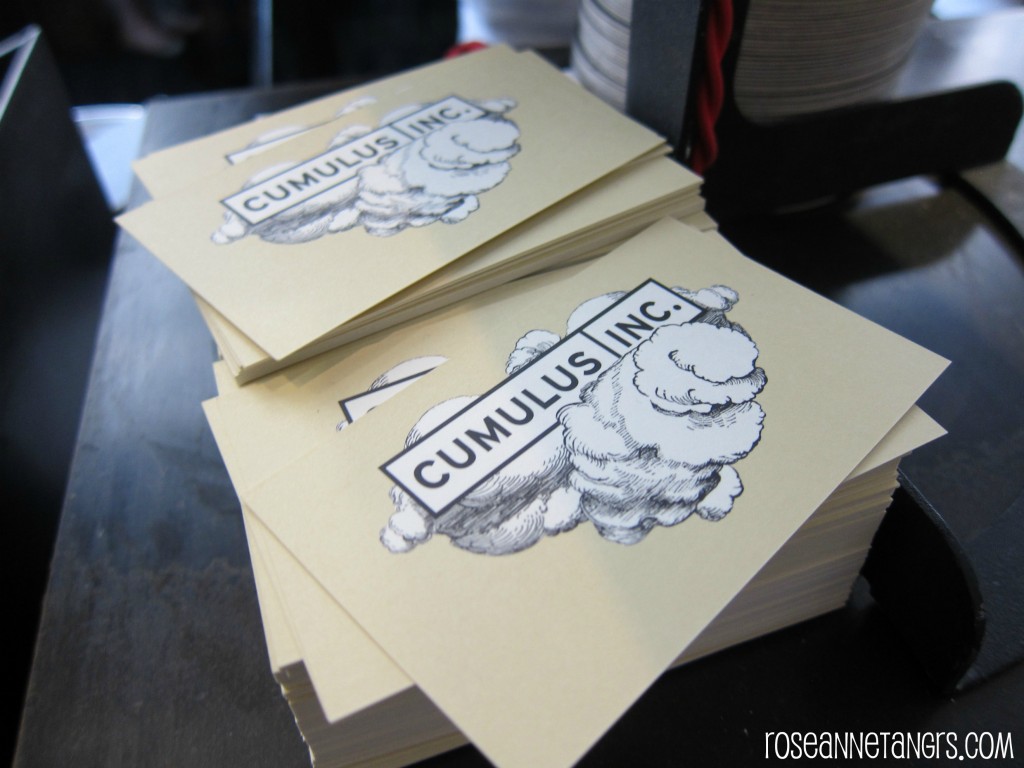 Cumulus Inc is a popular eatery that is located in the art and pop precinct of Melbourne, being Flinders Lane. Surrounded by the arts scene, this hip and happening spot is a destination for anyone looking for not only a really decent meal but a taste bud experience as well. You're talking really fresh, simple, organic food made from the heart. Lunch and dinner is meant to be shared at Cumulus so just like ordering food at chinese restaurants, you would order a few dishes to share.  Melbourne is pretty much known for great food, pretty healthy, simple and a really pronounced coffee culture. I sometimes say that Melbourne is a lot like Europe and Sydney would be a lot more like New York. This place is pretty pricey so it's a place I go to for special occasions. I'm usually not very fussy about food and you'd probably see me munching on sushi rolls and subway salads on regular days.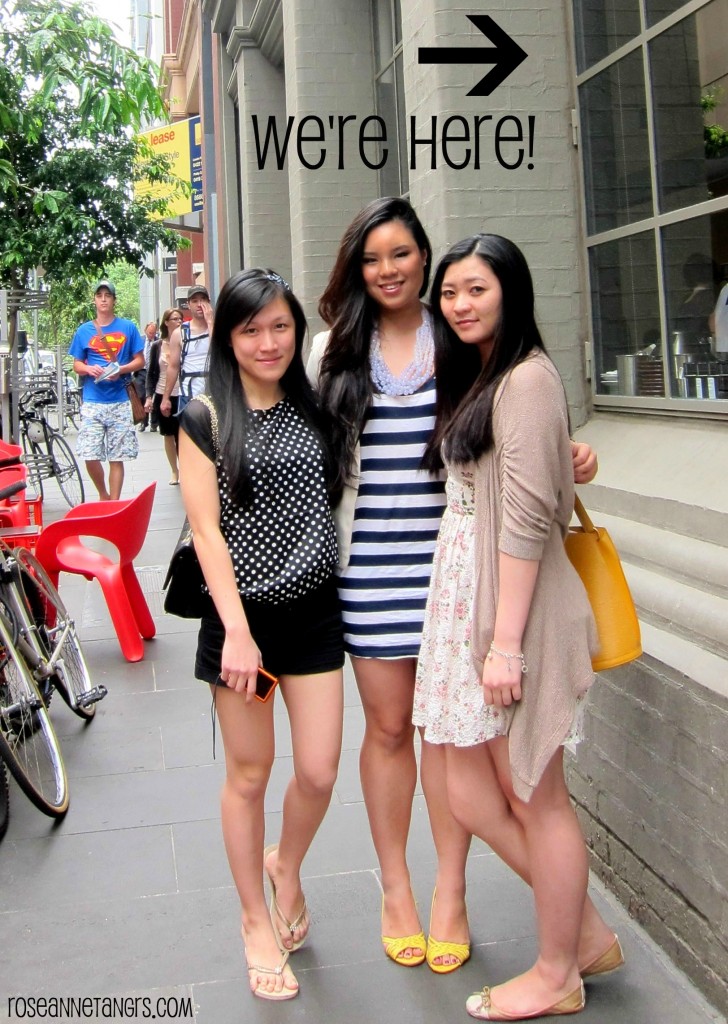 Even the building that Cumulus Inc resides in  is pretty cool. It's a turn of the century lot and as you can see that the interior of Cumulus actually reflects the food that they serve. Pretty ecletic I would say and it includes a bar, a bar next to the kitchen and small tables. This place gets really packed on the weekends for lunch and dinner so be prepared to go a little early to avoid what I call restaurant rush hour. They'll usually ask you to wait at the bar until a table is free even if you're not keen for a drink. They only take reservations for 7 to 14 guests. Luckily, our 12 PM on a Friday afternoon was a pretty good time to visit.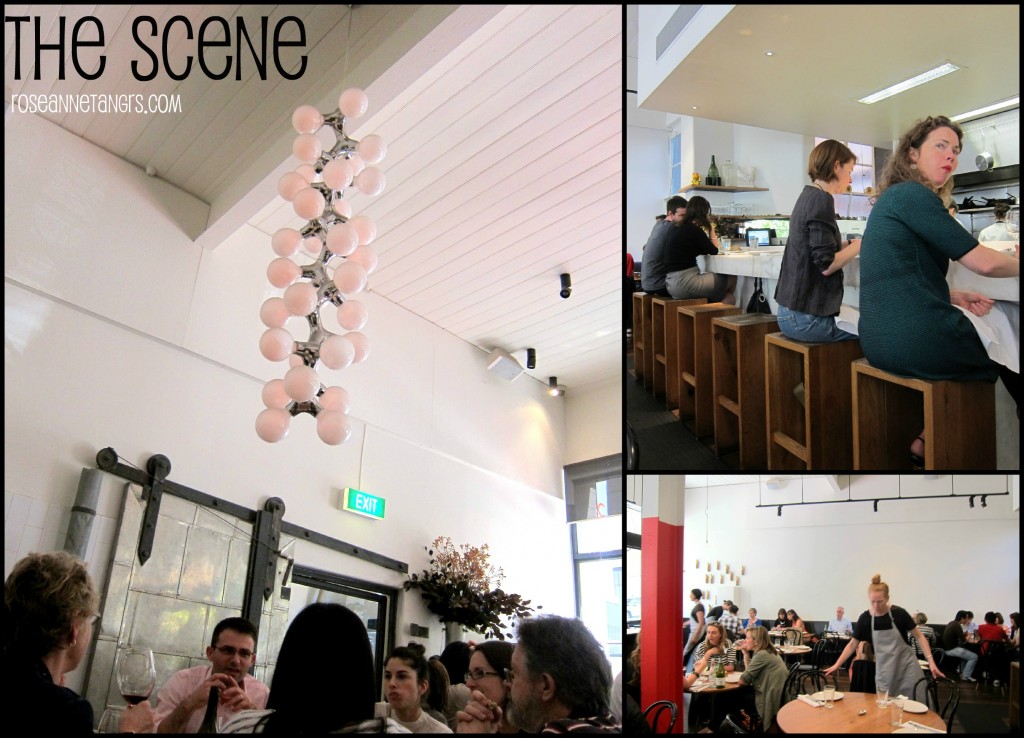 Oops, I forgot to introduce you! I'm with my friends that I met way back when – Kristin and Yi Feng – who introduced me to Ivy here as well – all from Malaysia. It's kind of like fate since I met these beautiful girls when I was 15 and now we happened to be all in the same place five years later in Melbourne! You've probably spotted them in this post at Dandenong and I absolutely love spending time with them especially on nights out on the town.
with Yi Feng and Kristin!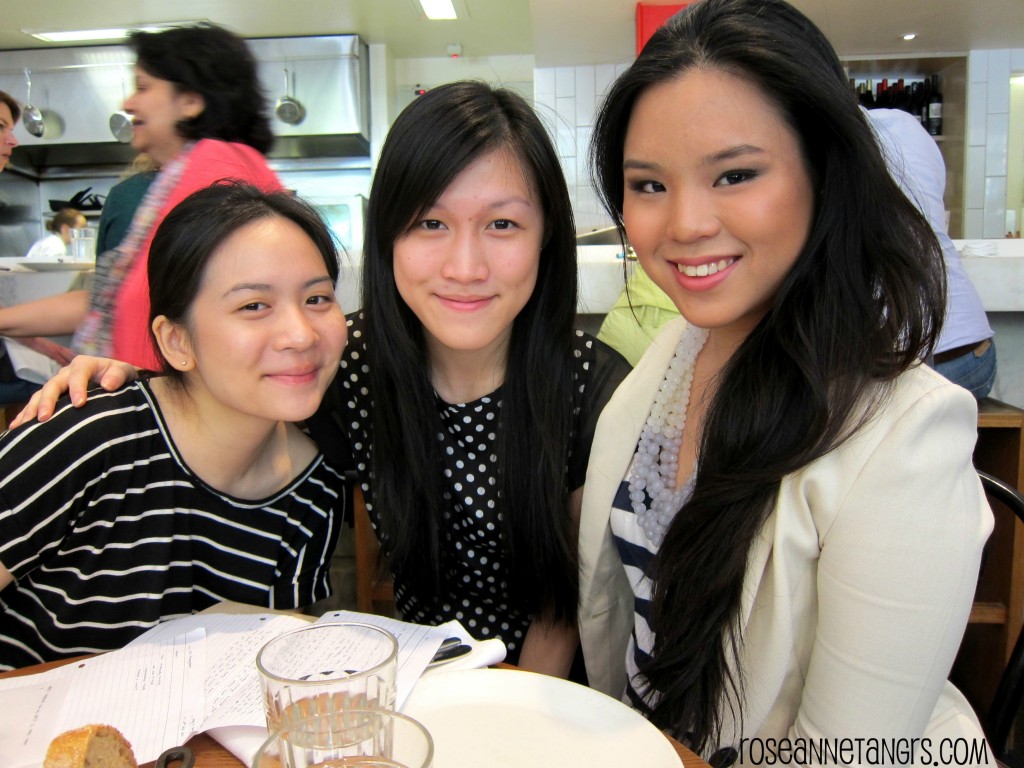 with Yi Feng and Ivy!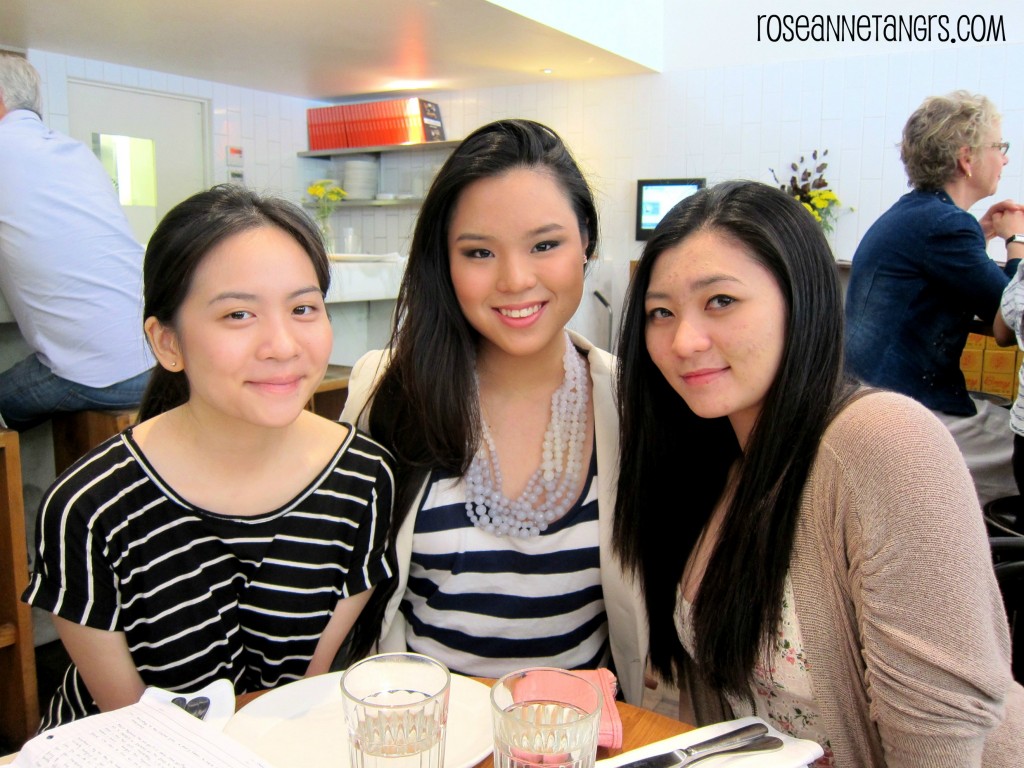 But seriously, this place is about food right, so let's order some!
1. Bread & Butter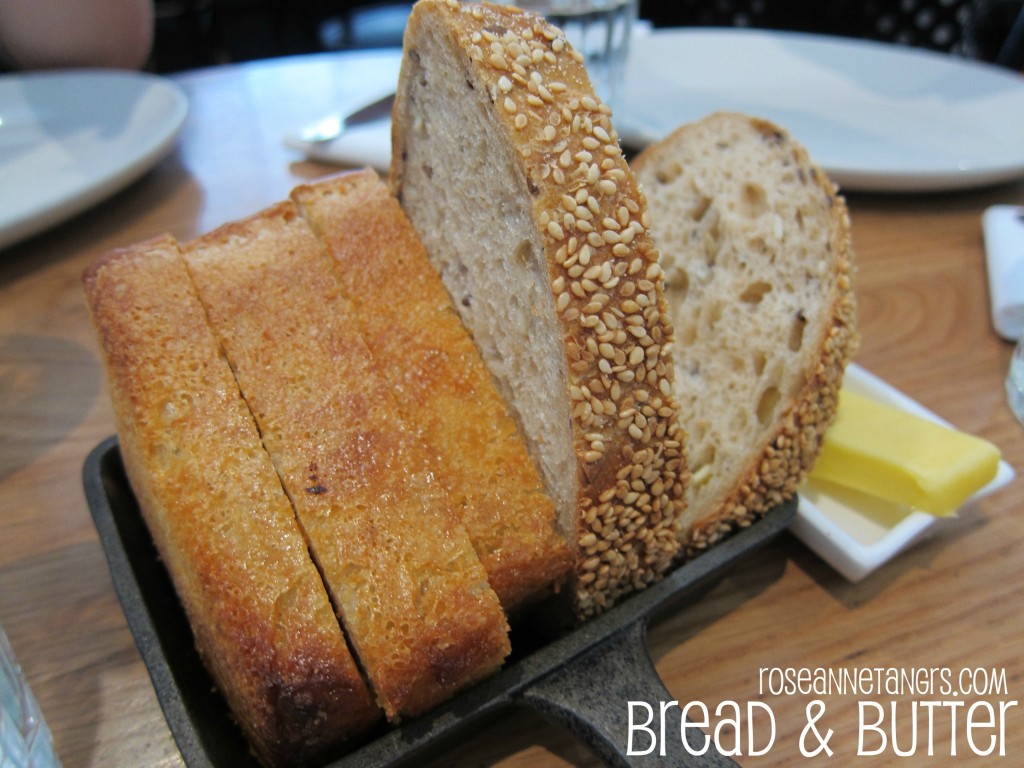 I don't usually make comments about the "waiting" food but this is amazing. I don't know what this bread is called but spread some butter on these babies and sprinkle fresh salt and you are set to wait a little longer. I love how the bread comes in a skillet and it just sets the mood for the rest of the meal.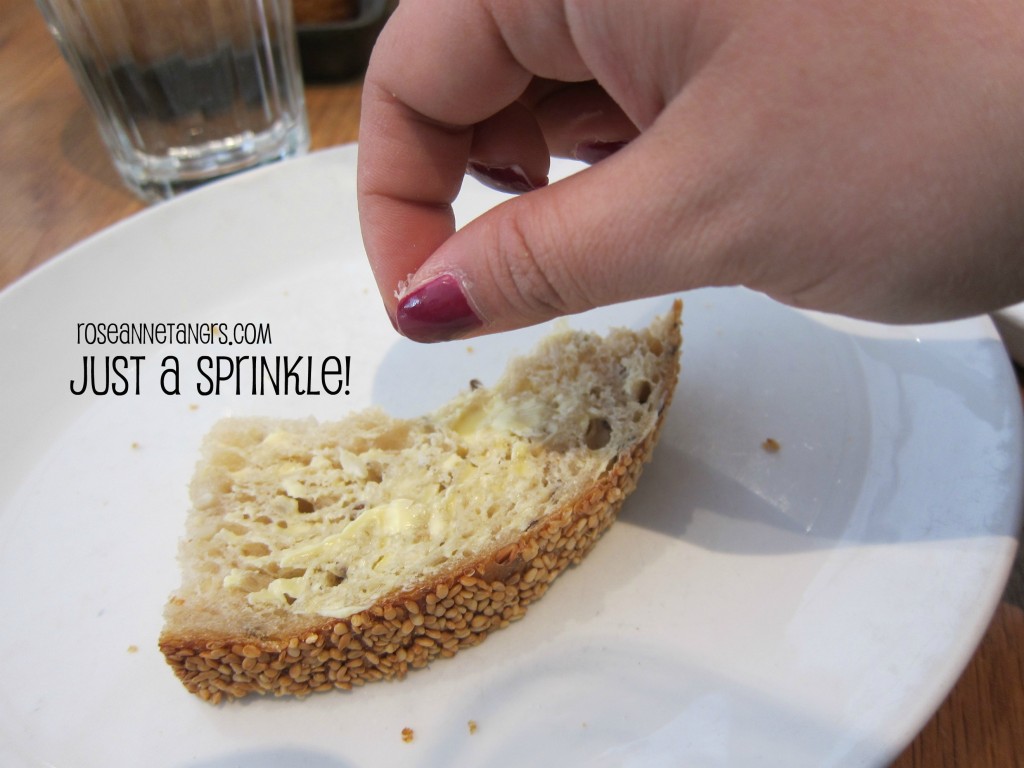 2. Fois Gras Parfait with Toasted Brioche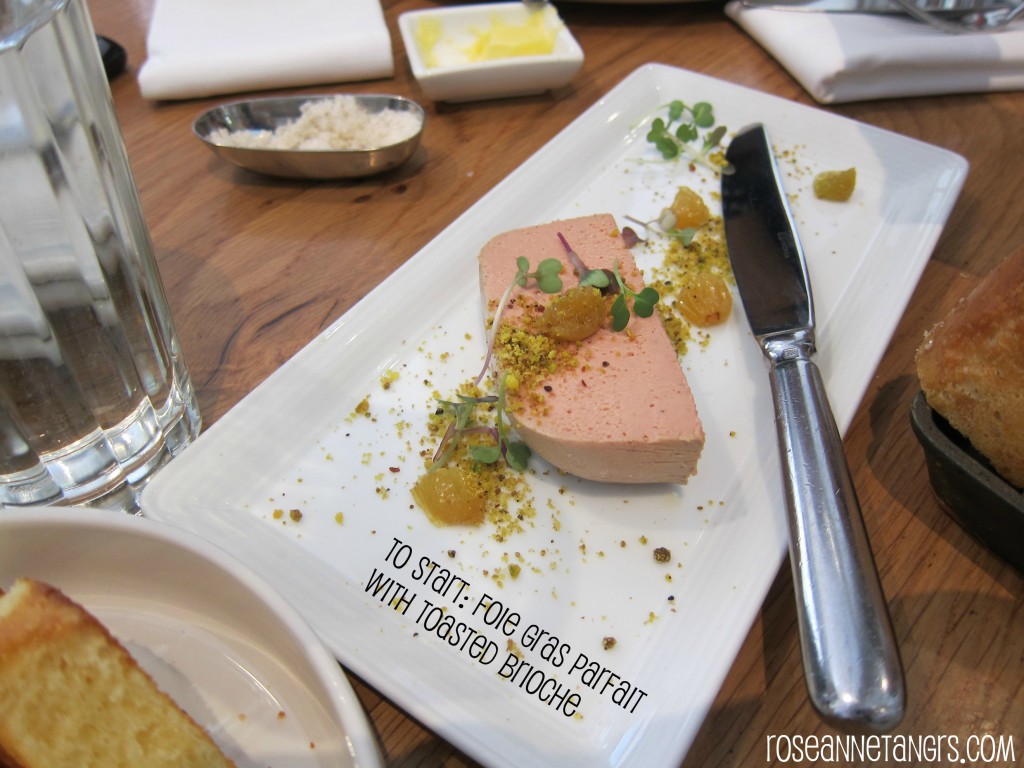 I love Fois Gras and for all you non-french speaking lovelies, Fois Gras (pronounced fwoa -gra) is french for duck or goose liver which has been specially fattened. It's not that good for you obviously because of the fat content, but this is Fois Gras Parfait which is basically a more creamified version of fois gras. This is so good. The fois gras parfait complements the toasted brioche beautifully because the parfait melts in your mouth, very subtle iron content but has a very light and frothy salt meld between a slightly crispy and soft and sweet bread. The flavours are made more intense with the delicious yellow sultanas and bits of watercress. It's just amazing.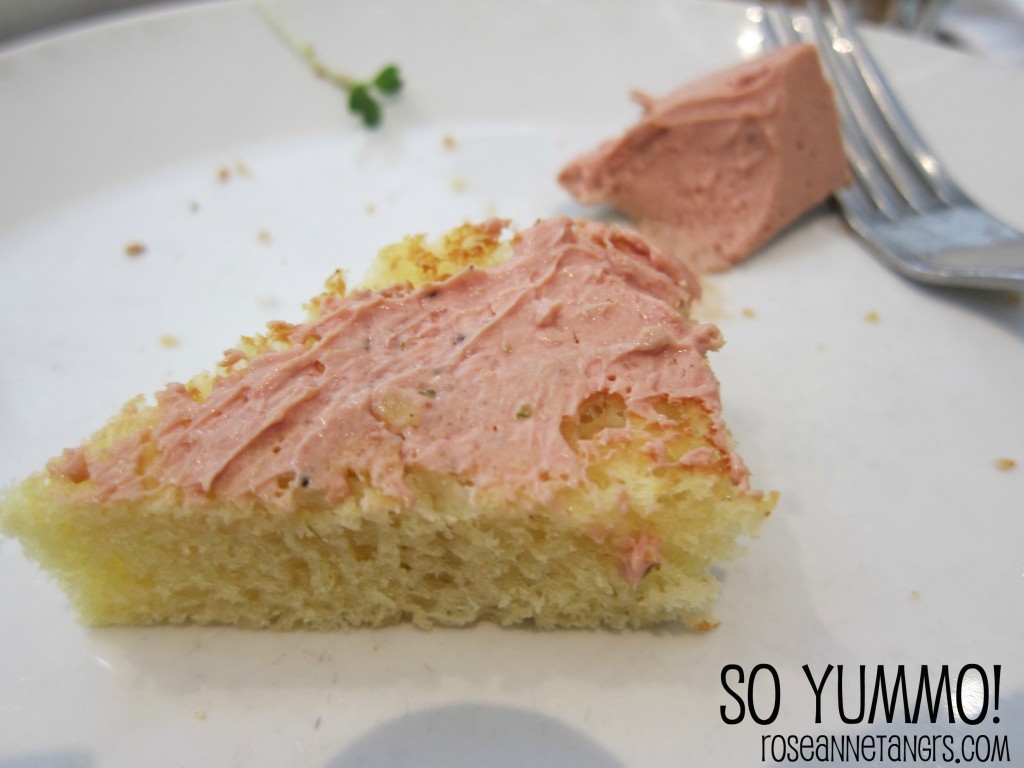 3. Spiced Cauliflower and Goats Curd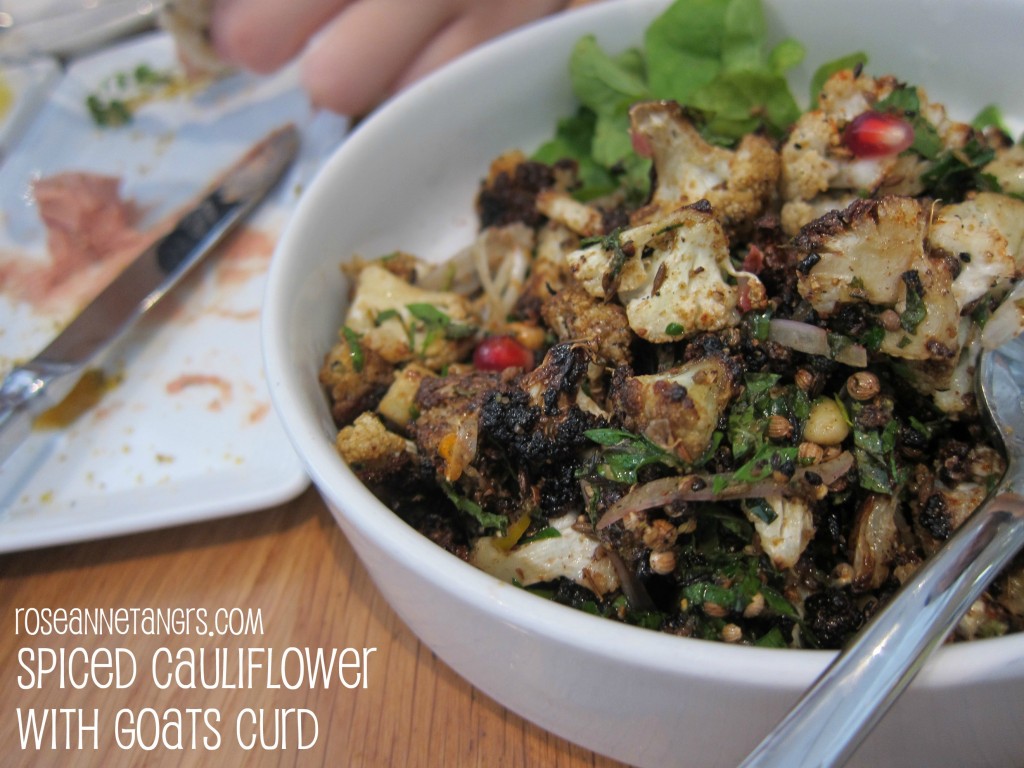 When this dish arrived at the table we were all a bit surprised because it looks as if someone turned on the heat a little too high. The cauliflower has been pan fried with whole spices and seeds so it has that charcoaled appearance but don't fret, it has a great and intense flavor that plays well with the yoghurt infused goats curd. It sort of has a Mediterranean slash North Indian taste to it which I love because I'm such a fan of those cuisines. Overall, a crispy cauliflower experience that has my fingers only fluttering.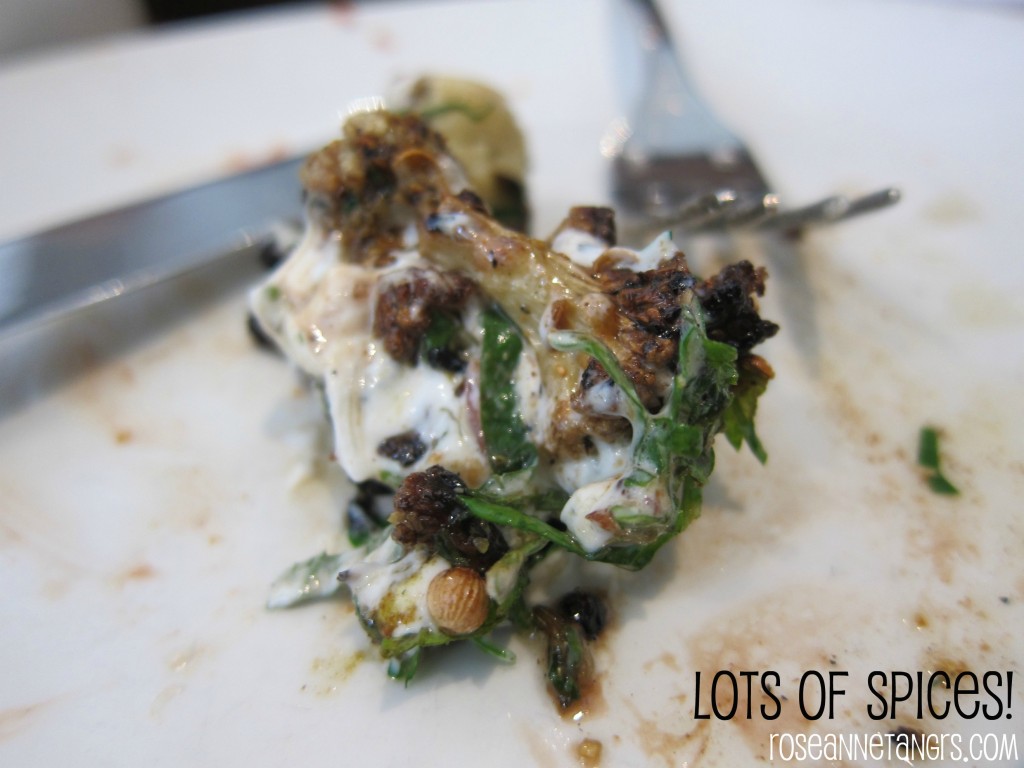 4. Fried Soft Shell Crab with School Prawns, shredded cabbage, Honey and Chardonnay Vinegar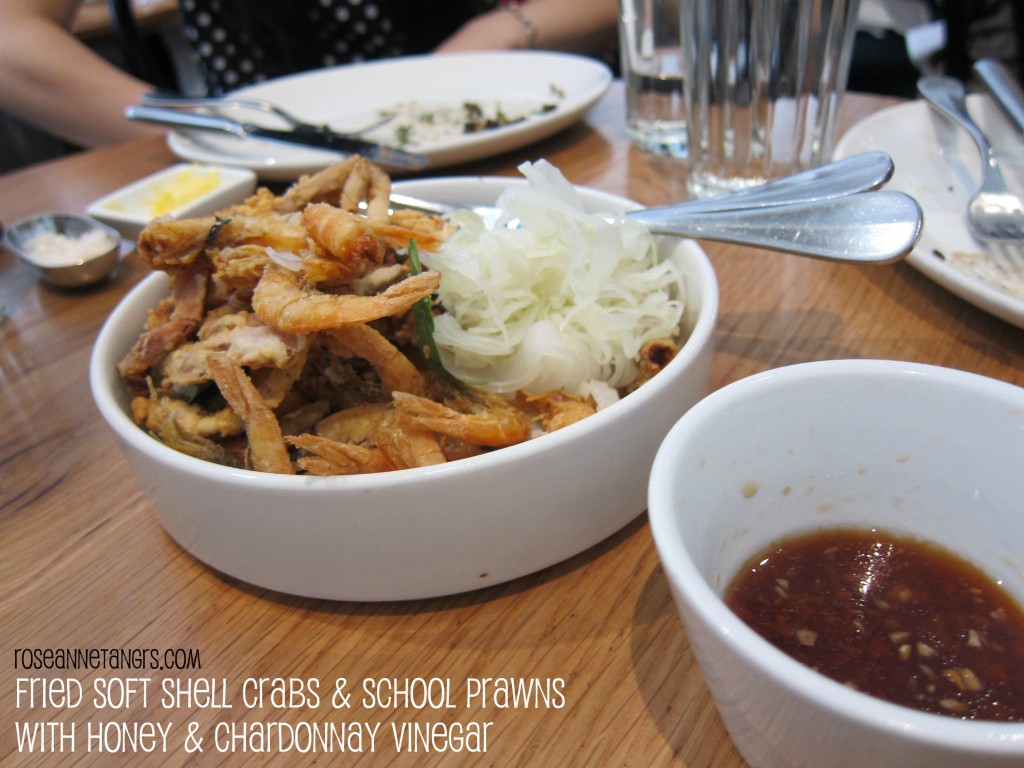 I'm not much of a fan of fried food actually. I only really like it when I can't see or really taste the oil that it's been fried in but I don't mind the occasional crispiness. The fried soft shell crab and school prawns are made delicious only when dipped in that absolutely amazing honey and chardonnay vinegar. Oh my goodness, it's a perfect tangy and slightly exotic flavour that just goes wonderfully with the crispiness of the soft shell crab or school prawn, whatever you fancy. It's great. I can see myself tucking into this before a game. It would be a great appetiser because it keeps your taste-buds on its toes.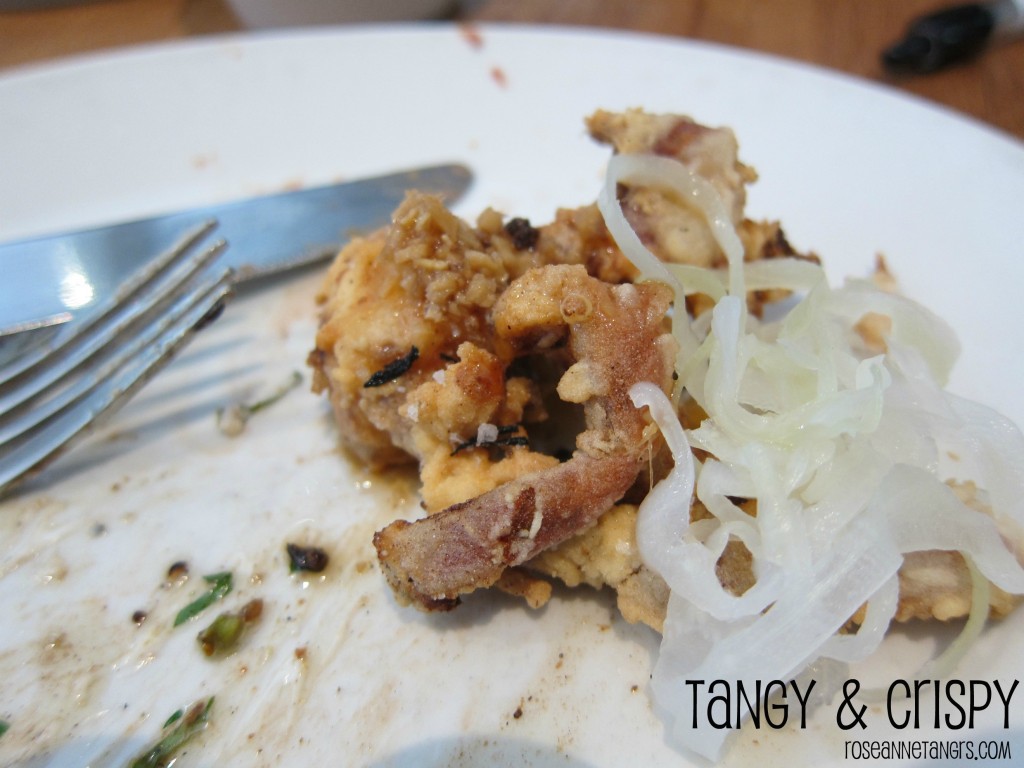 5. Grilled Yabbies, Aoili and Lemon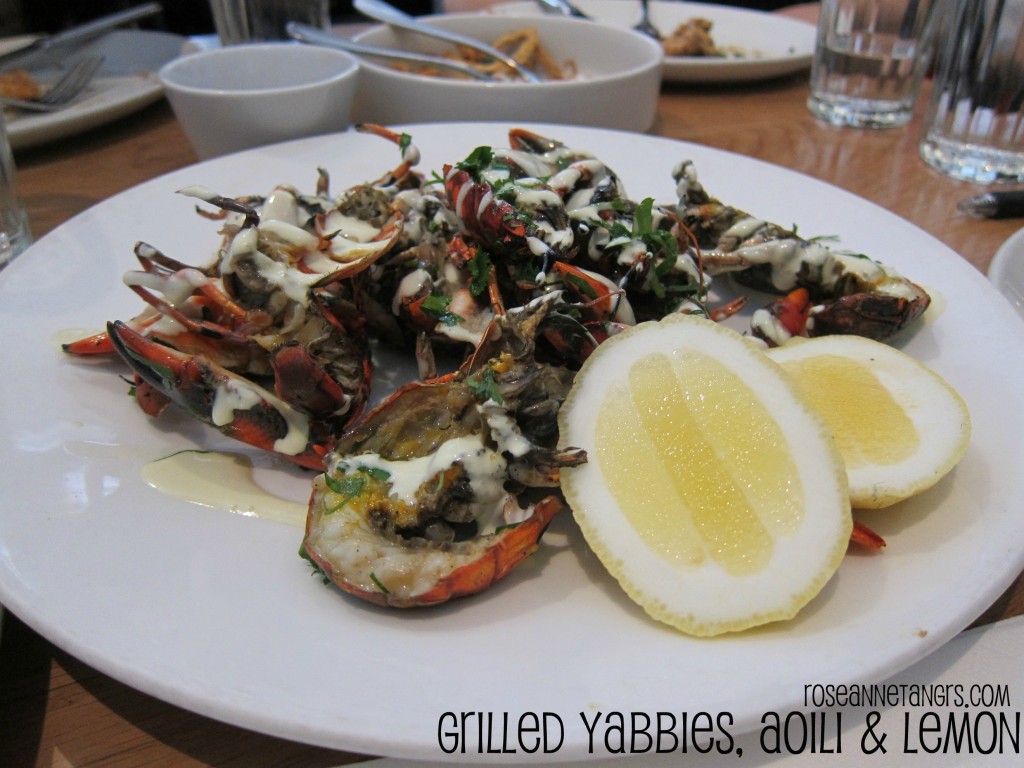 Honestly, I had no idea what a Yabby was until it came to the table. I thought it was a small fish but actually it's like a prawn trying to put on a lobster costume for Halloween. A yabby is a small freshwater crayfish that is native to Australia. Simply grilled, cut in half and drizzled with Aoili, or garlic mayonnaise, and then showered with a squeeze of fresh lemon, I would say that it personifies a simple and delicate meal. This was my first time eating a Yabby and don't expect much meat from it but the meat that you will consume is so delicate and soft that it should be savoured slowly than quickly swallowed. Fresh, slightly raw, I didn't get much from this dish but if you love fresh seafood, it might be something that you'd like to consider. Otherwise, I probably wouldn't order it again based on personal preference because it didn't do much for me. I'd like more flavour and more food and perhaps I'll appreciate its simplicity as my taste-buds mature.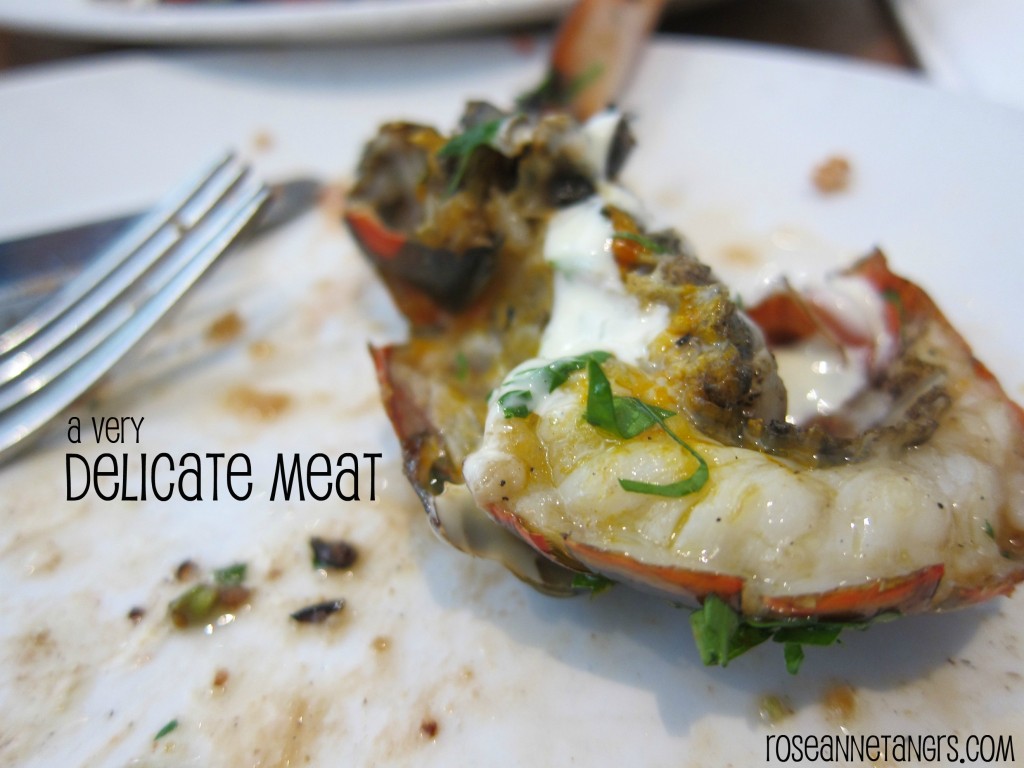 6. Buttermilk Jelly, Rhubarb, Honey Oat Crumble, and Mead Ice-Cream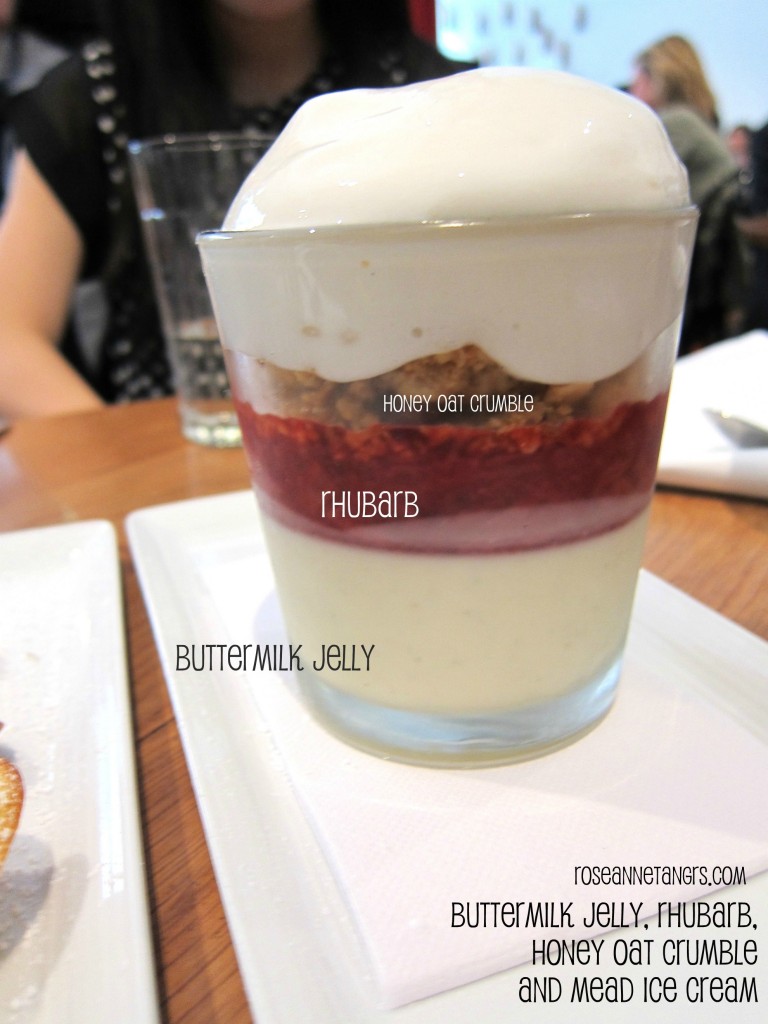 I honestly didn't expect it to come in a huge glass pot but boy is this so good. Your spoon first tucks into this slightly alcohol infused foam and then hits a layer of vanilla infused Mead Ice-Cream and then crashes into the honey oat crumble before sailing into the rhubarb and buttermilk jelly. When you take that spoon out and taste the combination of flavours, it is like a match made in heaven. The jelly is smooth, soft and very much creme brulee – esque and the sour strawberry tasting rhubarb complements it well. It was amazing. the ice cream is hidden in the foam and somehow stays really cold. It was great. I'd totally eat it again.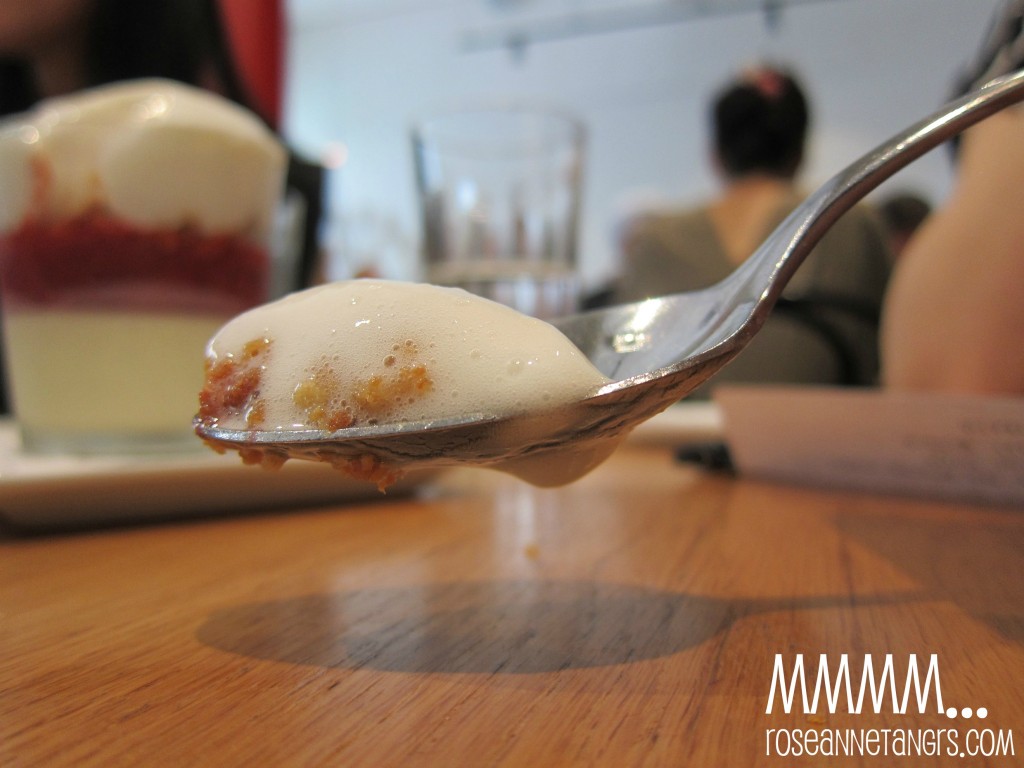 7. Madeleine, filled with Lemon Curd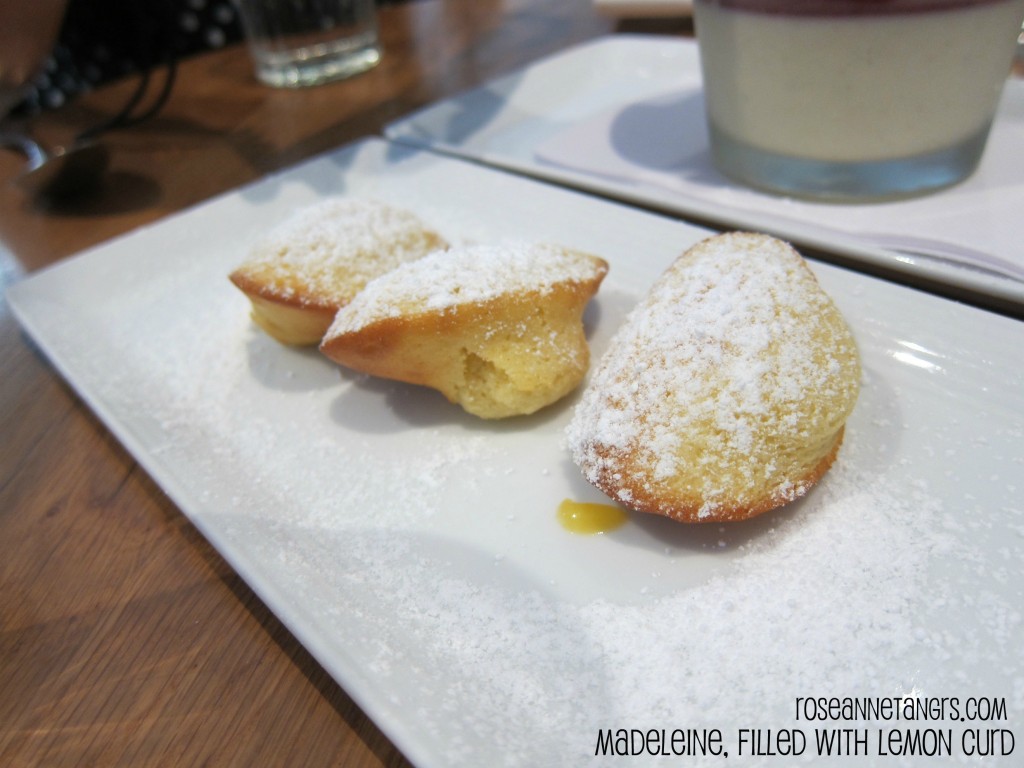 I haven't eaten that many Madeleines in my lifetime and  these were alright. I think a bit dry honestly but the lemon curd made it alright. It could be sweeter and probably wouldn't have been much if not for the powdered sugar.
So there we have it! Cumulus Inc is great for a special and unique dining experience. If you are going to Melbourne, this is a great place to try out if you want to experience I would say classic Melbourne fare that's a little out of the ordinary.
You can find Cumulus Inc @ 45 Flinders Lane, Melbourne 3000
Hope you enjoyed this post and remember to like, share or retweet to spread the word!
I'd love to read your comments as well!
Love,
Roseanne